Spiti Valley Day 7: Batal – Chandratal – Manali
Seemed like waking up early was a ritual we all performed with utmost dedication. Well, not me; but I tried my best. It gets hard to wake up early when you have to deal with constant snoring of a bear-sized human. I'm yet to forgive Saurabh for that!
Pro-tip: Always carry ear-buds when travelling with a large group of people. You never know when you have to spend a night with live orchestra of human nostrils.
It was going to be a long and eventful day (so is this story).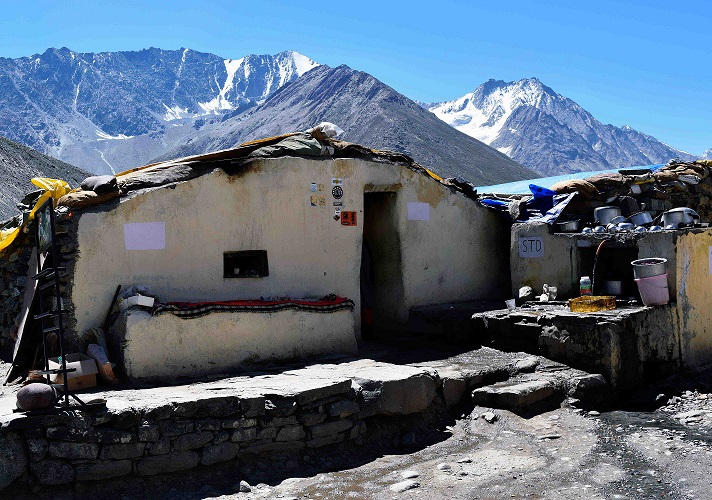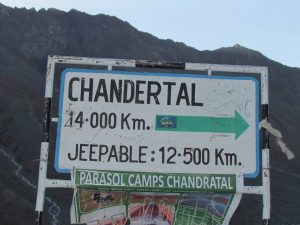 The plan for today was to see Chandratal and then reach Manali. Kaushal and Aashima were the first one to get ready and leave; I and Ravi were next. We were back on those treacherous roads again.  It took us more than an hour and we crossed three nalas (streams/small waterfalls flowing over roads) to cover a stretch of about 12 km. Ravi saw a board saying 'No vehicles beyond this point' and parked the bike there. It was just 2 km walk from there and we thought "We can easily walk that much." We were so wrong! The altitude increased exponentially and soon we both were out of breath, making stops at every ten steps.
Chandratal – The Moon Lake of Spiti!
A few meters more and we saw one of the most spectacular sights of our lives so far. It took me some time to believe that something as beautiful as Chandratal actually exists for real. Chandratal was a dream destination for Ravi and his sole reason to ride to Spiti was to witness this moment. His awe was evident in his silence. He didn't say a word till we reached Batal; didn't even click many pictures. For me, Chandratal came as a total surprise. Two days back I didn't even know about this beautiful lake. The calm-cold water of the lake reflected the mountains safeguarding it with all details visible to the human eye. Fun-fact: The water is so clear that it changes colour with the movement of the sun and clouds. Locals believe that fairies visit the lake during the night; I can't agree more.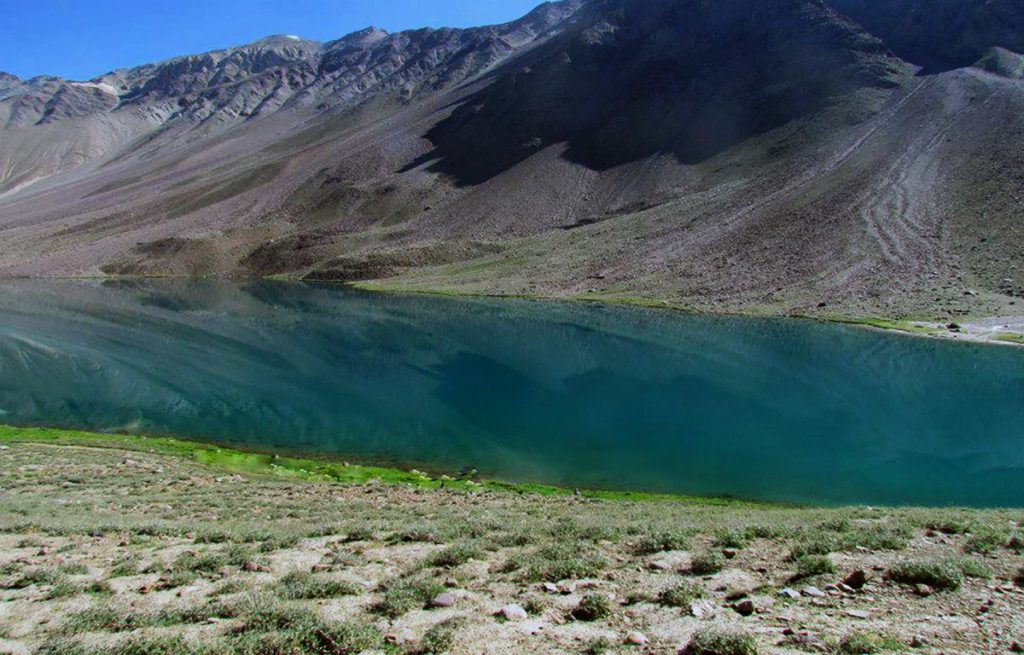 In spite of our meticulous planning, we couldn't spend much time there. It was cold and we were shivering. We saw Amit's and Saurabh's bike parked on our way back. We thought we will regroup with everyone at Batal.
Meeting The 'Uncle – Aunty' of Batal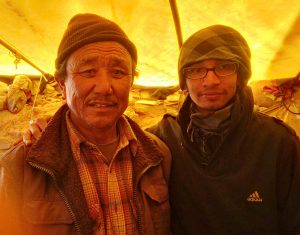 We reached Batal and were surprised to see that Kaushal & Ashima had already left. We ordered some breakfast at the 'uncle-aunty dhaba'. This small (and back then the only) dhaba in Batal is owned by Hishe Chhomo and Dorje Bodh, an elderly Buddhist couple. They are known to all the frequent travellers in Spiti.  Hishe Chhomo and Dorje Bodh can give you serious couple goals. They are funny and full of life. You will always find them joking around with each other and the people who come to their dhaba. The couple has also featured in various newspapers and is awarded by the State government for saving the lives of many travellers who get stuck in a bad weather or landslides. It was such a delight to meet them.
Sadly, Hishe aunty wasn't there at the time of the picture.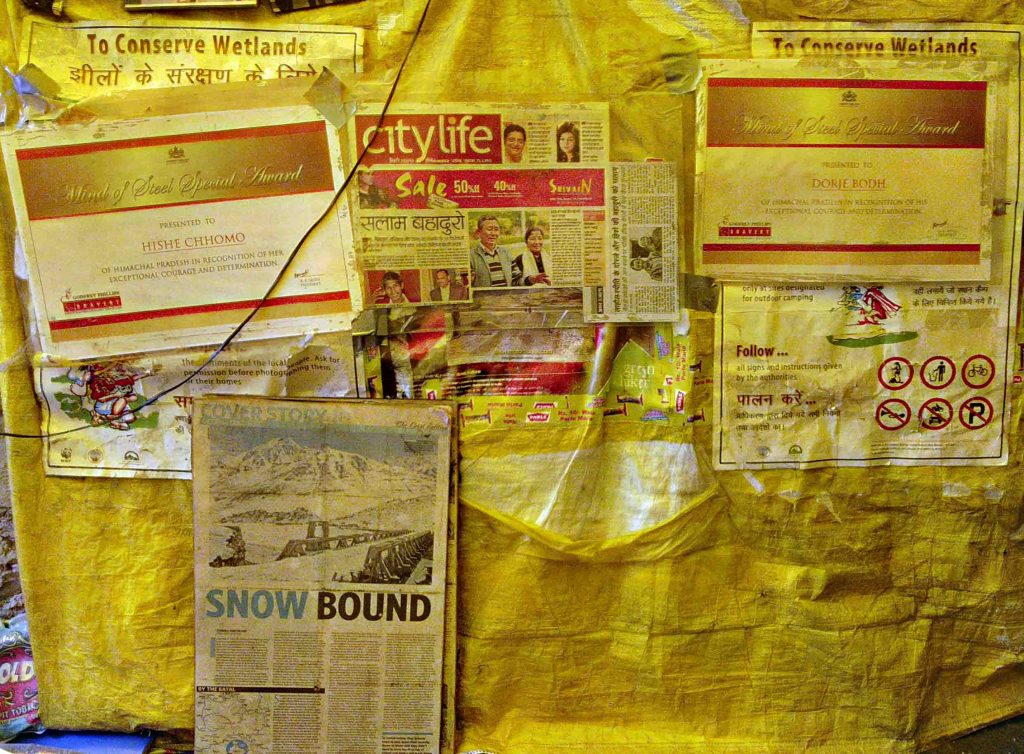 Us, Apache & Waterfalls
We were trying to get in touch with Kaushal & Amit but after two hours and numerous phone calls later, we decided to move forward. The network is a big issue in remote parts of the Himalayas. We thought eventually they will catch up. The road from Batal to Manali has many nalas and few of them have very strong current. At times bikers slip and it can lead to serious injuries. Crossing them alone was risky; especially the 100 meters long nala which comes after Gramphu. Also, as the day progresses the current becomes stronger. We couldn't wait any longer and started the Apache.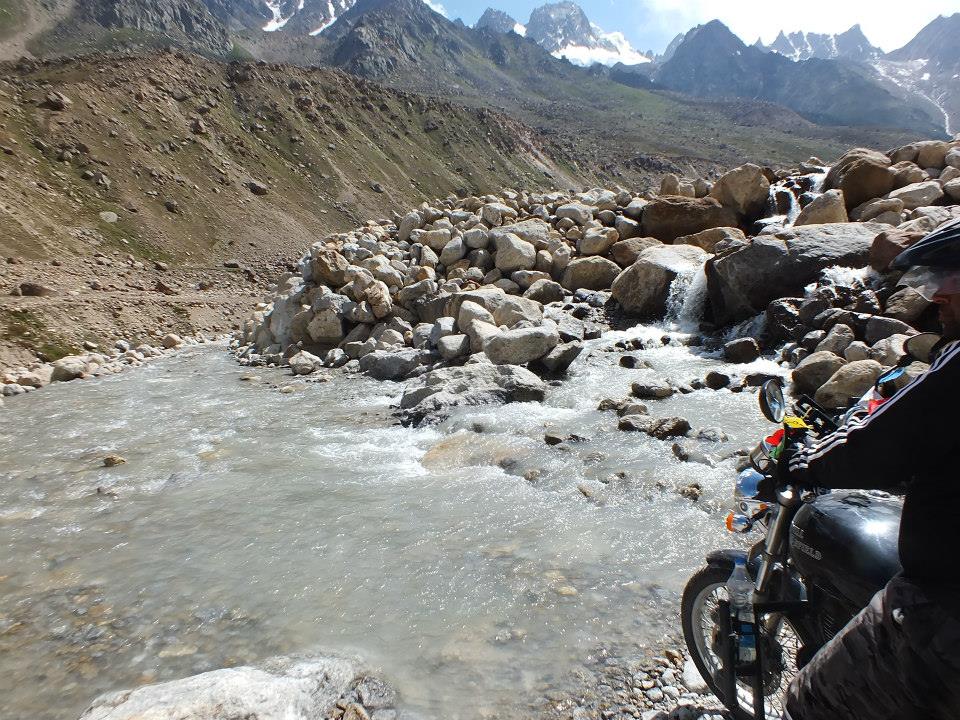 The saga of the fucked up roads followed us that day as well. Remember the vibrator thing I told you? It was getting worse and worse. We crossed tens of nalas. To cross a few, I had to get down from the bike so that Ravi can balance it properly. And then cross the nala hopping on the boulders. My back was killing me. Realizing my pain, Ravi stopped at Gramphu where we had our lunch and rested for a while. With still no sign of our other friends, we decided to face the demon of the day on our own – the Gramphu nala.
Demon of The Day
We didn't have to wait for long. After about 5 more kilometers on that precarious road, we were face to face with Gramphu nala. The current was so strong that it was difficult to hear anything. Even the depth was close to our knees for a few meters. I got down from the bike. Ravi told me to come and push the bike just in case it gets stuck somewhere in between the rocks. Luckily it didn't. Now it was my turn to cross the nala. I took off my shoes and tied them to my backpack, folded my pants and crossed it. The water was freezing cold. My feet were numb by the time I reached the other side. Ravi had his shoes and a good part of pants soaking wet in that freezing water. He was shivering. Without wasting much time we rode ahead to Rohtang Pass.
The road was getting better now. At the Keylong-Batal cut, we finally found concrete to ride on. We had left the dry and barren land behind and were in between the green Himalayas. We reached Rohtang. The weather changed drastically. With the sudden drop in temperature, came fog. We both were shivering and took a stop for tea. Wet shoes were not making it any easy for Ravi. His feet had turned blue. The only good thing was that we got the network there. Kaushal called and told us he is waiting for us at Marhi (outskirts of Manali). I admire Ravi's physical tolerance. He rode with numb feet, shivering, in close to zero visibility. Good road conditions helped and we made rendezvous with Kaushal and Aashima soon.
Reaching Manali
It was close to sun-down and there was still no contact with Amit and the rest. We found a hotel nearby Manali and decided to spend our last night together during that trip there. Finally, I got a call from Tina and I gave her our location. I was waiting for Baba on the road outside the hotel when Kaushal joined me. A conversation over tea and shared smokes can be very revealing. I came to know about the struggles Kaushal faced in life. He told me that his reason for riding in the Himalayas is because he loves to challenge himself physically and mentally. "Roads have a way of testing you; physically, mentally and even emotionally. And it's always a win-win situation." Kaushal said with a deep sigh. I smiled back offering him the cigarette in my hand.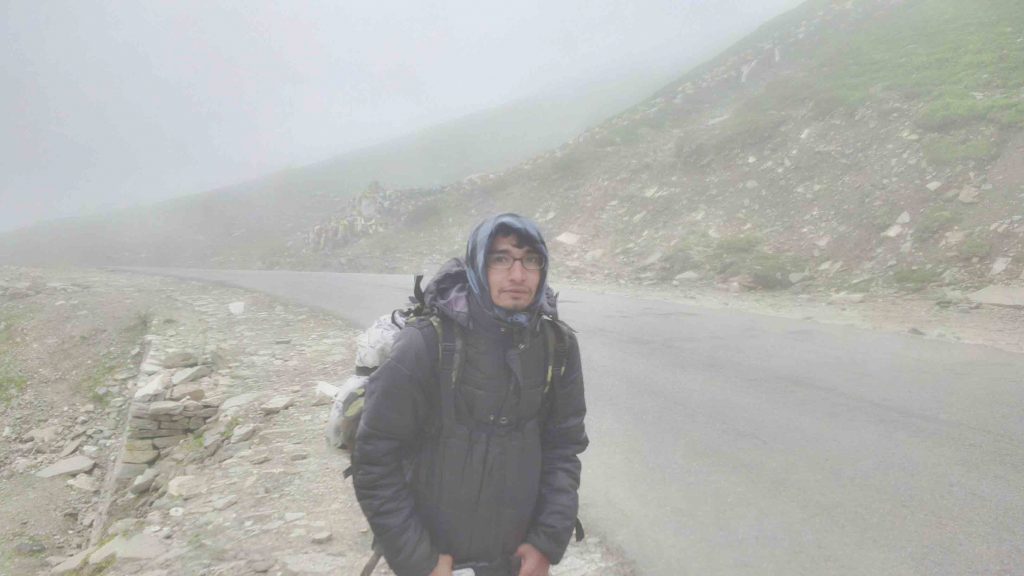 My phone buzzed. It was Amit. They couldn't find the hotel we're staying in and got a hotel in old Manali. We decided to meet the next morning. Kaushal & I went back to the room where Ravi and Aashima were waiting for us. We spend that evening sharing our favorite moments of the trip. I had nothing but words of gratitude for them all. We planned our next trip together before calling it a night.
Bitten by the bug!
That night as I laid down on the bed, I realized that within a short span of time, I've come really far. When I left home for Spiti, I had no itinerary and no plan. I was anxious and I panicked every half an hour. That night, the person who was trying to trace back his journey on the outskirts of Manali, wasn't the same person who started it. The thought of uncertainty of the road excited me. Somehow, I wasn't anxious anymore. I wasn't worried about tomorrow. That night, was the beginning of my journey. I knew I was bitten by the travel bug and feet won't rest – EVER.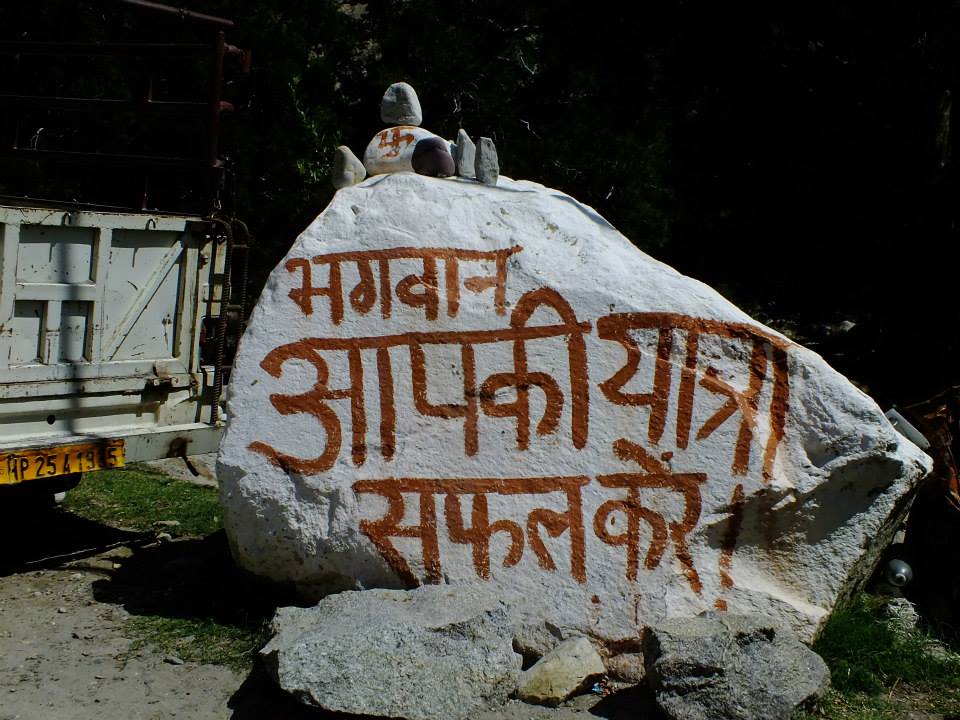 You can check out the entire trip account day wise from the following links:
Uncovering The Middle Land (Day 1: Fighting all odds and going on a solo trip)
The Day When Roads Scared the Shit Out of Me (Day 2: Riding the treacherous roads of Kinnaur)
The Day of Strangers Becoming Friends (Day 3: Got stuck in a landslide)
The Day of Body-ache & Sunburns (Day 4: Bike ride to Kaza)
The Day of Changed Plans (Day 5: Visiting the beautiful Key Monastery)
The Day of Fucked-up Roads(Day 6: Bike ride to Batal)
— X — X — X —
Back then I used to travel without a camera. All I had was a phone with a VGA camera. I'd like to thank Amit, Saurabh, Kaushal, Tina, and Ravi for sharing their pictures with me. And a warm hug to Ravi. Thank you, bhai, this trip, and this travelogue wouldn't have happened without your constant support.
Also, a big thank you to Manjunath Venkatesh for the cover picture.
Happy Trailing! 😀
Comments
comments