Spiti Valley Day 4: Tabo – Dhankar – Kaza
I was the first one to get ready in the morning. That's how excited I was to begin my first bike ride in the mountains. Me and Ravi on a glorious black Apache 160 RTR (with no back support!).
Ravi and I were discussing the route over tea. His bike runs on gas; Ravi on tea. Others joined us soon and started to fix the bags on bikes. Since there were not enough bungee-cords, we couldn't fix my bag on the bike and I had to carry it myself. I was carrying my rucksack the whole time others were fixing their bikes. I thought it was gonna help me become comfortable with its weight. STUPID. I know!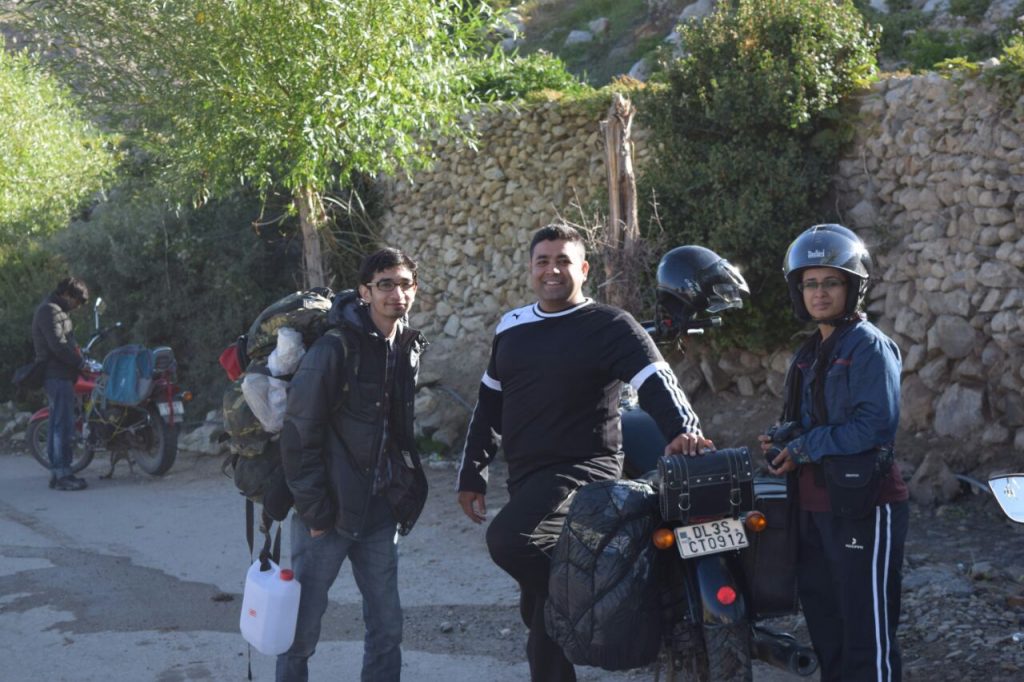 The First Ride
We started our journey an hour late due to all the drudging of fixing bags on bikes. It was my first proper bike-ride in the mountains and I was as happy as an unsupervised kid in a candy shop with an unlimited all-access card. My heartbeat was matching the rhythms of the engine, changing with each shift of gear. I had never felt the rush of the mountain wind in my hair like that before. Everything was clearer, closer and bigger. I was still lost in my wonderland when we took our first stop at Sumdo where ITBP checked our ID's. Lucky for us they had steaming hot samosas and tea. The eight of us stuffed like fifty samsoas. The credit single-handedly goes to Saurabh, the largest, funniest and the kindest person of our group. Nothing can be more Punjabi than Saurabh, not even sarson da saag and lassi!
Oomphs, Aahs & Body Aches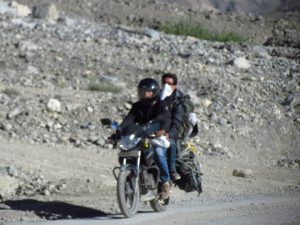 With our stomach full of samosas, we resumed our journey to Tabo. The roads were starting to change from concrete to metal. The jerks & bumps and the weight on my back started to take a toll on me. The sun was in no mood of showing any mercy either. We were not sweating but the sunlight was so sharp that it was almost blinding. Ravi told me that I'm stupid for NOT carrying a cap while travelling; couldn't agree more. Every few minutes Ravi would stop the bike to click some pictures. I was enjoying those moments more because that gave me time to rest. Because of our frequent stops (more because of Ravi's photography, less because of my huge back-pack – just so that we are clear!) we got secluded from the rest of the group. We reached Tabo Monastery about an hour after the rest of them. Our delay triggered the motherly instincts of Twinkle. I could see she was genuinely worried. Saurabh, being the best husband in the world, was trying to calm her down. As soon as we arrived, Twinkle came running and asked what took us so long. Are we okay?
"Yeah. Ravi was taking pictures." I replied.
"Okay, let's go inside now. I'm done waiting!" said Tina with lots of excitement.
I wonder how opposite siblings can be. Tina is full of life, impulsive and always excited about what's next. And Twinkle is always calm, passionate and at peace with the pace of life.
Tabo Monastery
To reach the main campus of the Monastery you have to walk through a gallery full of shops. The old small entrance made of mud and wood gives you a feel of stepping into a time machine. Tabo monastery was built by Buddhist king Yeshe O'd in 996 AD and is believed to be the oldest monastery in India and the Himalayas. The architecture is a mix of ancient and new styles, probably due to the renovations that happen over the time. The monastery is full of beautiful paintings, murals, and scriptures written on wooden planks. Most of the artifacts date back to 15th century. A legend says that the older temple (often called The Golden Temple) was once all covered in gold.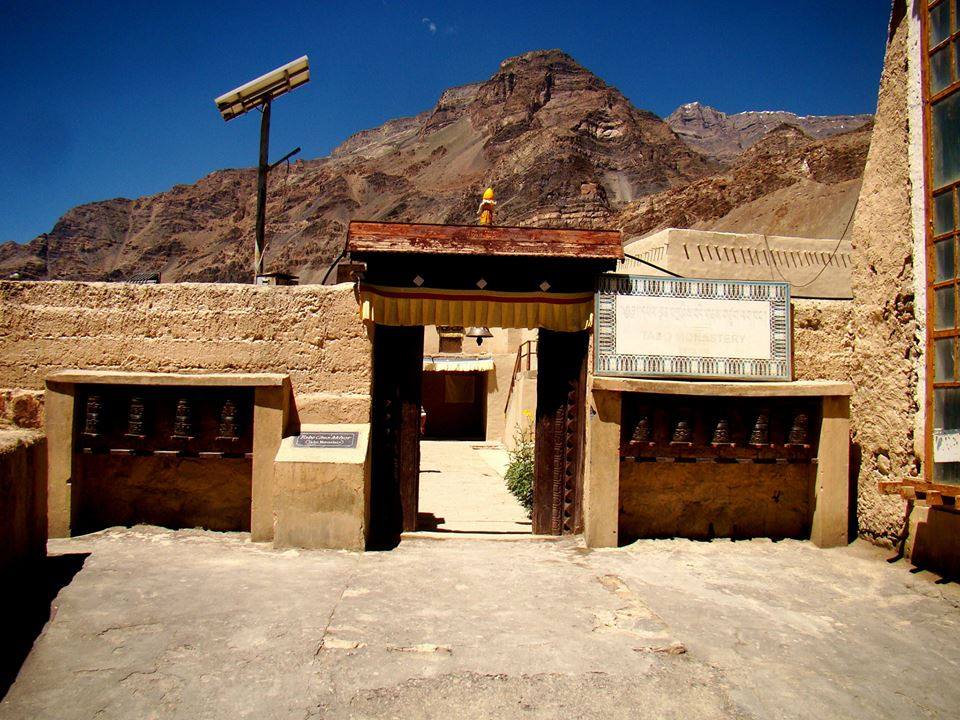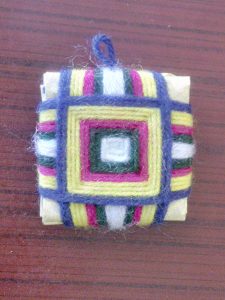 I was going through the various souvenirs on display when this Buddhist monk greeted me. Tabo Monastery runs a free-school as well and they make artifacts to generate funds. We got into a conversation about Buddhism and how religions are just guidelines to lead a cordial and peaceful life. He explained me the meaning of 'Om Mane Padme Hum' and gifted me a talisman to bring good luck and protect me from evils. As a gesture of my gratitude, I bought a souvenir for my sister.
Touched by his kindness I started looking for my friends to show off my talisman. To thank our stars, there was an eating joint just outside the monastery; and to thank them even more, it was operated by an alluring lady. I found them all sitting in the restaurant, collectively crushing on her. Ravi, Kaushal, Amit and I, fell in love with her at first sight. The fact that there was only thukpa and momo in the menu wasn't enough to budge our undying love for the girl we didn't even ask the name of. We had our lunch and came out blushing. And it was that legendary moment, my friends, when I decided that if the day comes and I have to, I will only marry a Himachali girl!
Pro-tip: If you ever come across a person who changes your perception of something as institutional as marriage, DO ASK THEIR NAME.
While I was picking up my bags, Twinkle came to me and took the day-pack bag which I was carrying in front to ease my load. I hugged her for her kindness. With the unwavering promise to self of marrying a Himachali girl and one bag less, I sat behind Ravi. Next stop – Dhankar Monastery.
Dhankar Monastery
Dhankar Monastery is an hour away from Tabo. Dhan (cliff) & kar (fort) means a fort on a cliff. Dhankar is also historically a rich sight. It was the ancient capital of Spiti Valley in the 17th century. It is over 1000 years old and due to the deterioration in recent years, a section of the monastery has been abandoned. We were greeted by a board reading "Only 3 people allowed in one go" at the entrance. Saurabh stayed back and visited it alone later. The monastery is known for the statue of Dhayan Buddha consisted of four figures seated back to back. It also houses beautiful thankas, few of which are dated back to 12th century. The amount of art and history these monasteries hold is spectacular.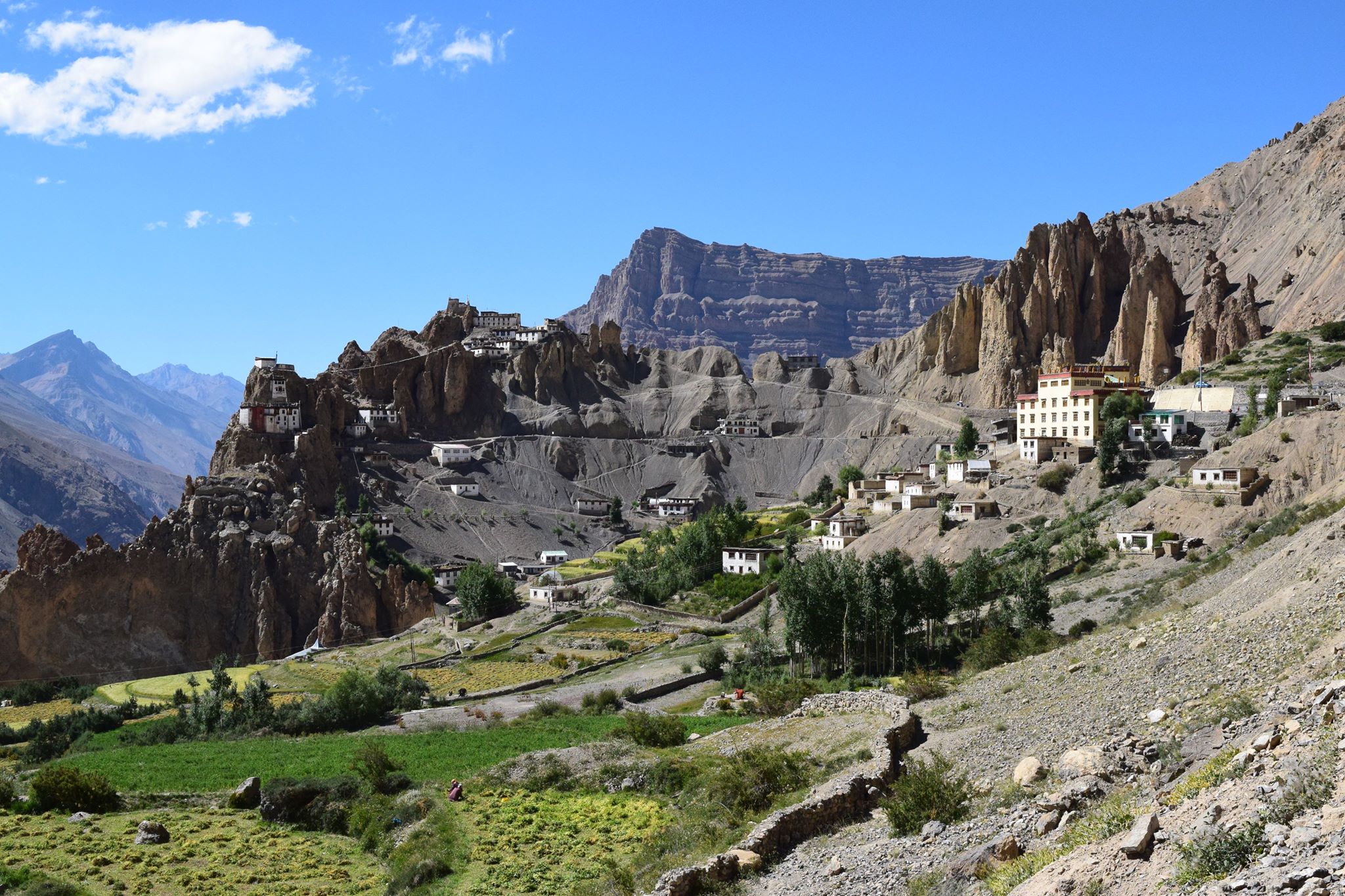 Strolling through the main hall, I climbed a wooden ladder and reached the roof of Dhankar monastery. You can see the confluence of Spiti river and Pin river from there. It was one of those moments in my life when I actually felt free. The maddening wind. The grey-brown mountains. The clear blue sky. And two rivers trying to fuse their colours into each other like lovers do with their hearts. It seemed like they are colluding to hide a divine mystery of a tragic love-story. I didn't care to look for what they were hiding underneath; I was more content to follow the trails they offered to my soul.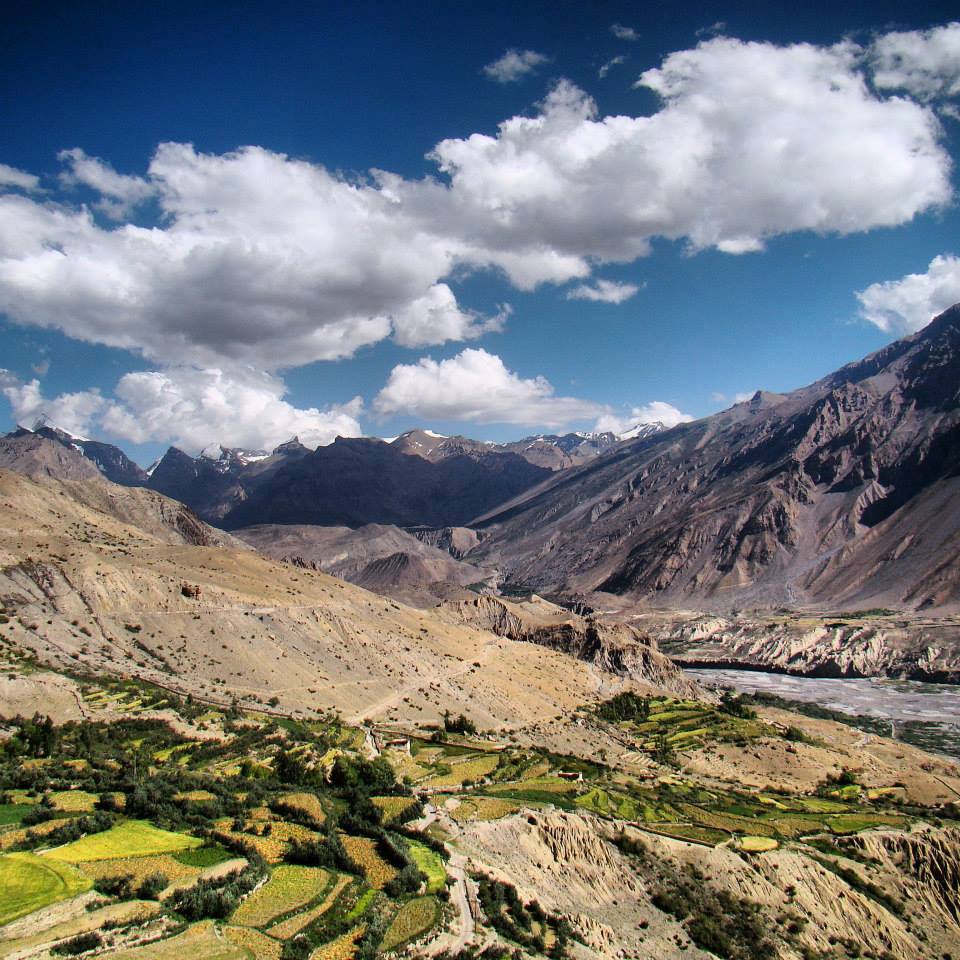 Tracing Spiti River
It was about 3:00 pm and the sun was at its peak. We continued our journey to Kaza. The road to Kaza was amazingly beautiful. And we had a constant companion in the form of Spiti River in all its glory. The flow was so vociferous that I couldn't even hear the sound of our bike engines. Its beauty was so calm and compelling that we took a dirt road to stop at her shore to pay our respect and wash away with its water the dust and mire of the earth that had clung to us.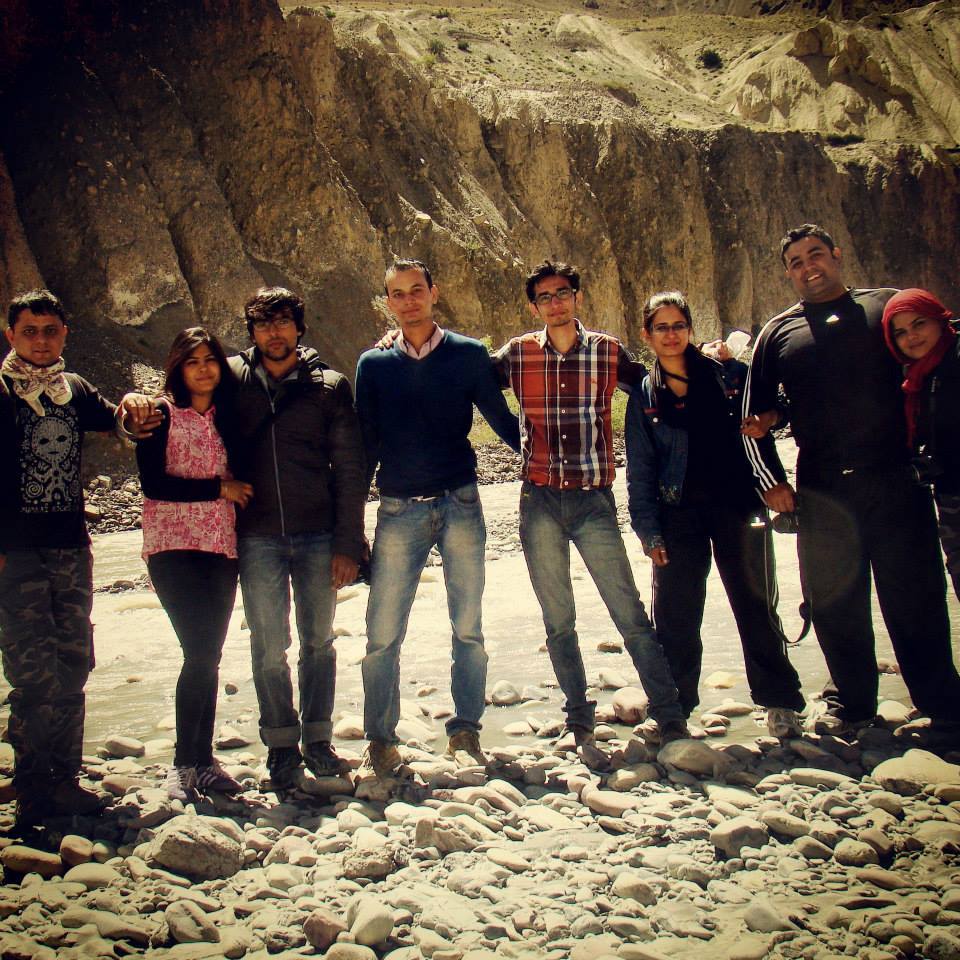 The sun was going down and that was our signal to move forward. We reached Kaza just after sunset. By that time I was half dead. My shoulders were killing me and my spine wanted to crawl back to the foetal position. And I don't even wanna begin on how red my bums were. My whole body was in pain and I had the first-degree sunburn on my nose and forehead. It was a long day and all I could think of was a cup of tea and a warm-cozy bed.
You can check out the entire trip account day wise from the following links:
Uncovering The Middle Land (Day 1: Fighting all odds and going on a solo trip)
The Day When Roads Scared the Shit Out of Me (Day 2: Riding the treacherous roads of Kinnaur)
The Day of Strangers Becoming Friends (Day 3: Got stuck in a landslide)
The Day of Changed Plans (Day 5: Visiting the beautiful Key Monastery)
The Day of Fucked-up Roads(Day 6: Bike ride to Batal)
The Day of Dream Destination Chandratal (Day 7: Visiting one of the most pristine lakes of India)
Comments
comments