Spiti Valley Day 5: Kaza – Komic – Kaza
I woke up looking like an alien. It looked like I had a nose upon my nose; courtesy of the nearly perfect spherical shaped star at the center of our solar system!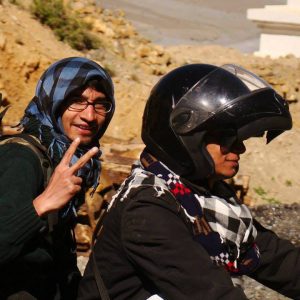 It was 6:30 am when I went to the other room to meet Amit. There was some issue at the Kaza gas station. Since we didn't have enough petrol for bikes, we had to stay one more day at Kaza. To be honest, I was more happy than worried after hearing the news. We now had the luxury to relax and explore the town.
While the rest of us decided to visit the main market for a sumptuous breakfast, Amit and Tina went to the river shore again. So, these two are like Fred Flinstone & Barney Rubble. They complement each other flawlessly. They remind me how your passion can help you bond with other like-minded people.
Exploring Kaza
The inkling that Kaza is a small town changed the moment we entered the main market. It was as colourful and vibrant as any other Himachali town, just with lesser crowd. It is full of small cafes & restaurants with comfy sittings and souvenir shops. We all sat in a rooftop Israeli café. The food, the music and the view, everything was adding a different flavour to our conversation. Later, we strolled the entire market and I & Ravi did something which we should have done before we'd left for Spiti. We bought scarves to cover our faces. While, we were busy exploring the market when Amit called Kaushal to tell him that petrol was available. We all regrouped at the hotel from where Amit, Ravi, Kaushal, and Saurabh left on their bikes, and rest of us stayed back at the hotel.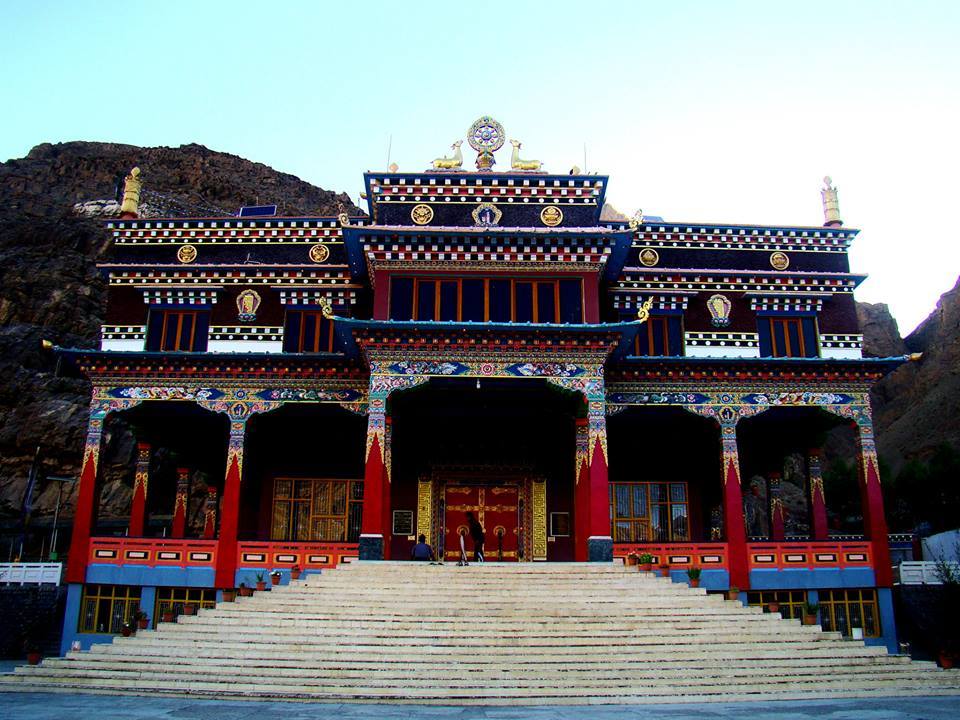 I thought it will be a quick affair, but after an hour of waiting, I went out to look for my friends. Before I could find them, I found the Kaza Monastery. Sadly, it was closed and all I could do was admire the artwork from outside. After making some quick photographs on my phone, I continued my walk towards Kaza gas station.
World's Highest Petrol Station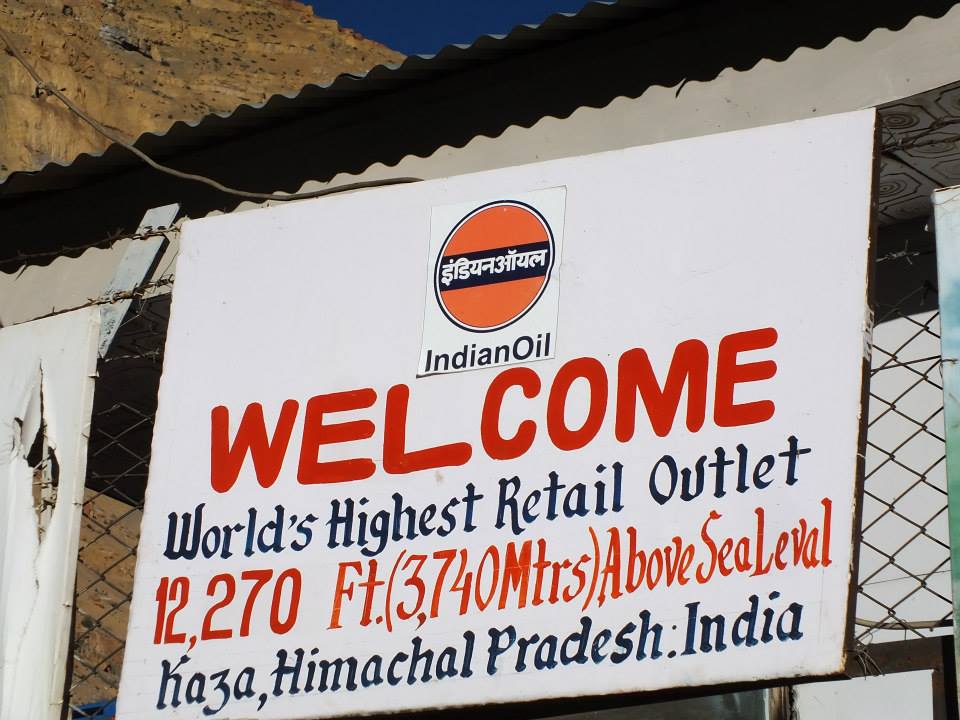 It is claimed that at 12,270 ft, Kaza has the world's highest petrol station.  There was a huge line and somewhere in the middle, I found my friends. There had been an electricity shut down since the past two days and the petrol vending machine wasn't operational. They were waiting for the Army generator's arrival Tired of waiting outside on a hot sunny day, people left leaving their bikes behind to save the spot.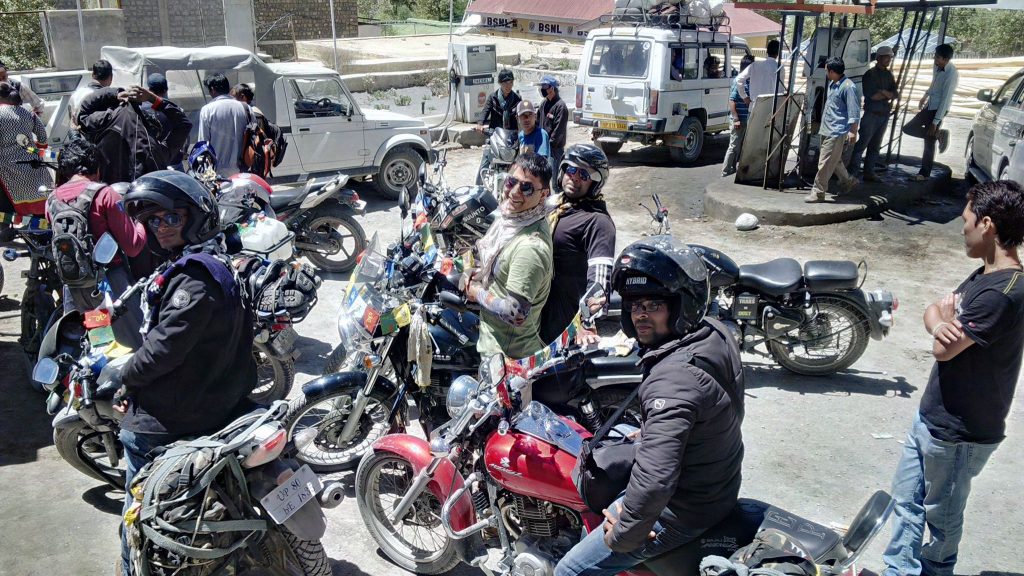 Ravi and his chai hunting tendencies got us in a revealing conversation with a Buddhist monk and two local boys in a roadside restaurant next to the gas station. They told us a lot about Buddhism and life in Spiti. Buddhism is entwined with the rich culture and history of Spiti. Life in this part of the northern Himalayas is difficult. The vegetation and agriculture are very limited and they fight hard to survive. For good one-third of the year, this region suffers a total cut-off from the outside world. Despite the hardships of Spiti, no matter whom I met, I always found them smiling.
In the middle of our enlightening conversation, the generator arrived. We got our bikes full and returned to the hotel. We were all set to explore the nearby destinations; Kibber monastery, Komic monastery, and the iconic Key monastery. Once again I was on the road. But this time I was enjoying more. There was no rush. And I was riding without my 100 kg backpack.
Komic Monastery & Beyond
A few kilometers outside Kaza, we got a glimpse of Key monastery – the poster boy of Spiti. We decided to see Komic monastery first and then on our way back, stop at Key. The roads were taking us uphill. With a change in altitude, the mountains and the scenery were rapidly changing. The colour changed from rusty brown to hues of pink and purple. The roads were better and smooth so much so that we decided to ride on it further up even after Komic. Suddenly we were in a totally different terrain. Finally, with some greenery to soothe our eyes and the cold breeze to salve our sunburns, we kept on riding till Amit realized that we had ventured too far on that unknown road.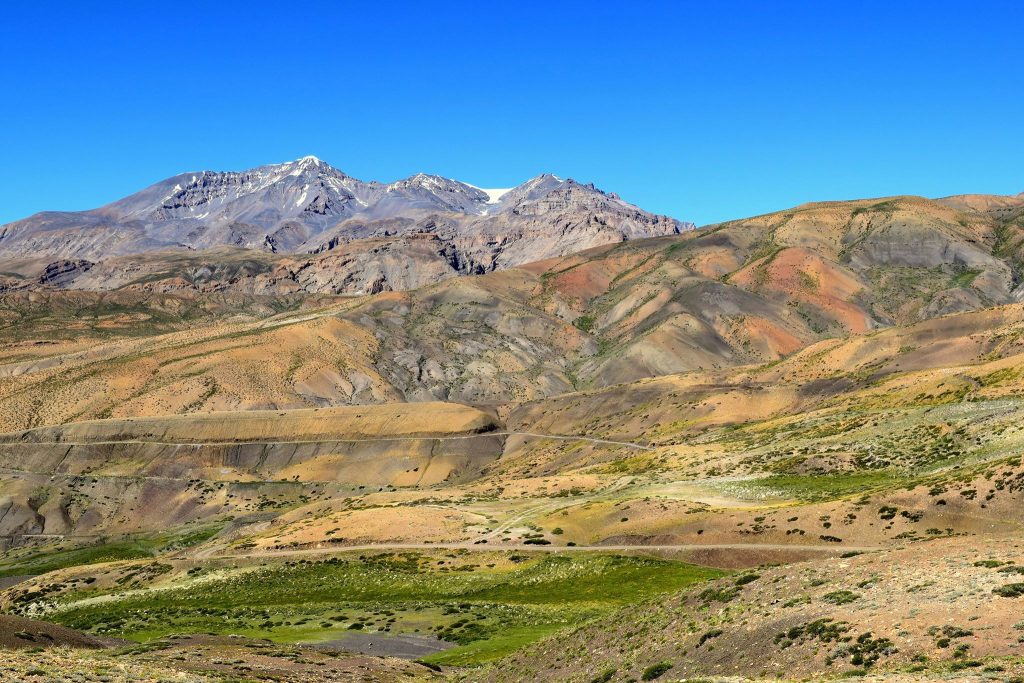 We returned to Komic monastery only to find it closed. Komic monastery is undoubtedly one of the most beautiful monasteries in Spiti. The vibrant colours inside the courtyard were mesmerizing. It is one of the highest altitude monasteries in India.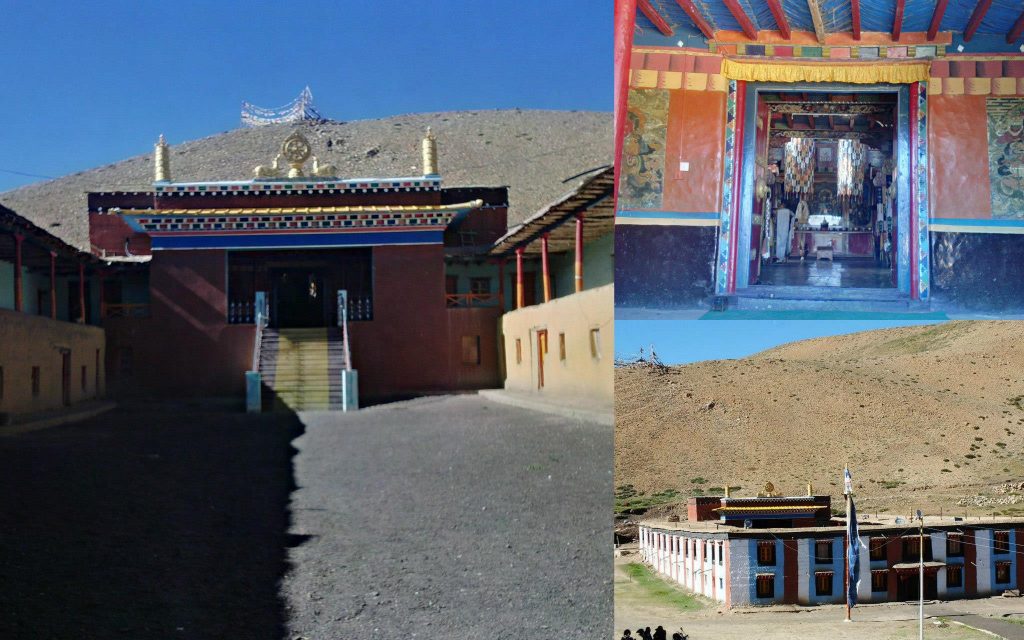 It was almost 5:00 pm and we all wanted to return to Kaza and visit Key monastery the next morning. But Ravi was adamant to visit it that very evening only. Ravi's whims annoyed everyone, especially me. Change in plans used to give me anxiety back then. I was in a split on whether to ride with the person who was kind enough to give me a lift or go with my friends. Finally, Kaushal, Aashima and I surrendered to Ravi's whim and decided to visit Key while others took the same road back to Kaza. Since we were in a hurry, Ravi was driving fast and it annoyed me further.
Closed Doors & Open Kitchen Conversations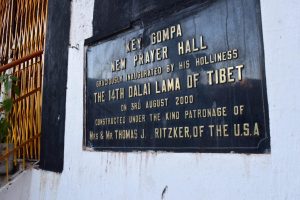 We reached Key monastery close to the sunset By that time, the main hall was closed. Looking at our disappointed faces, one of the monks invited us into the kitchen. His name is Anand. Lama Anand offered us butter tea and momo. In the kitchen, we met a volunteer from Hungary who was there for three months and was teaching the kid monks Computer. We had a very absorbing conversation. Before leaving we thanked Lama Anand and promised him to visit again the next morning. In the end, I think it was worth going to Key, even if just for the tea.
The Night of Celebration – Ladarcha Fest
We returned to Kaza and joined our friends with the entire town engrossed in celebrating Ladarcha Fest. It's an annual fest in Kaza and there were local artists performing and dancing on the stage. I was hungry and out of nowhere, Saurabh appeared with hot pakodas and tea. Naturally, he was the star of the night; at least for us.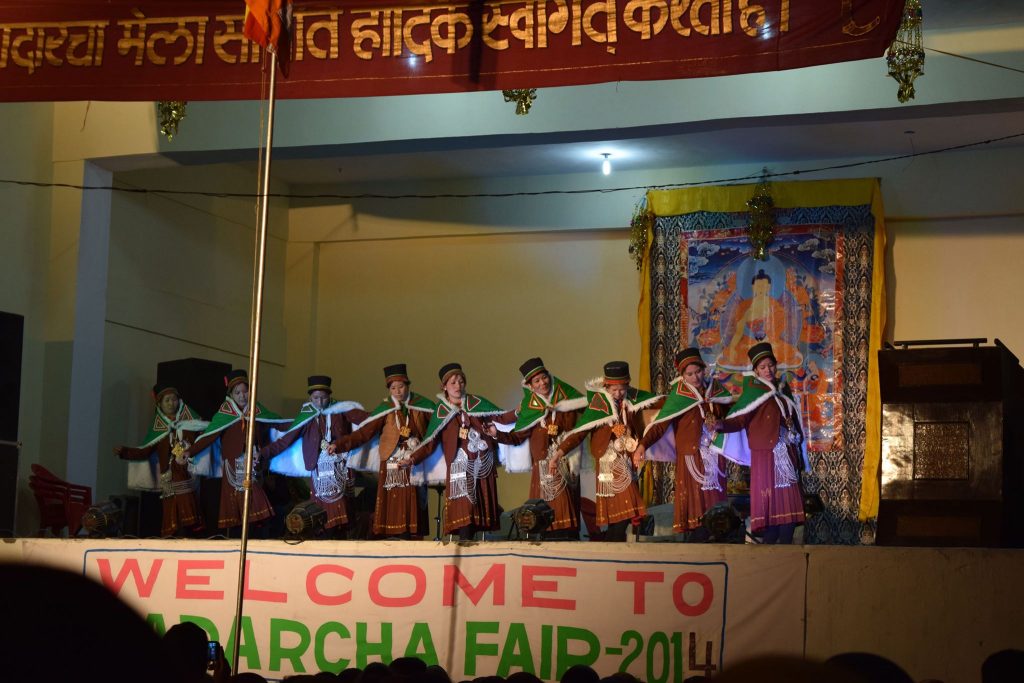 As the night progressed, the performance got more exciting and the crowd cheered more enthusiastically. Everyone around us was dancing. It was so infectious that soon all eight of us joined in too.
Pro-tip: Don't lose your shit every time something unexpected happens. Sit back, relax and let life take over. Just make sure that you come back with a story.
Also, Ladarcha Fest is best enjoyed a little drunk.
— X — X — X —
I find it funny that now whenever I think of that day, it only reminds me of the conversation at the petrol pump and the first sight of Key monastery; not the changed plans; not the closed doors; and definitely not the anxiety.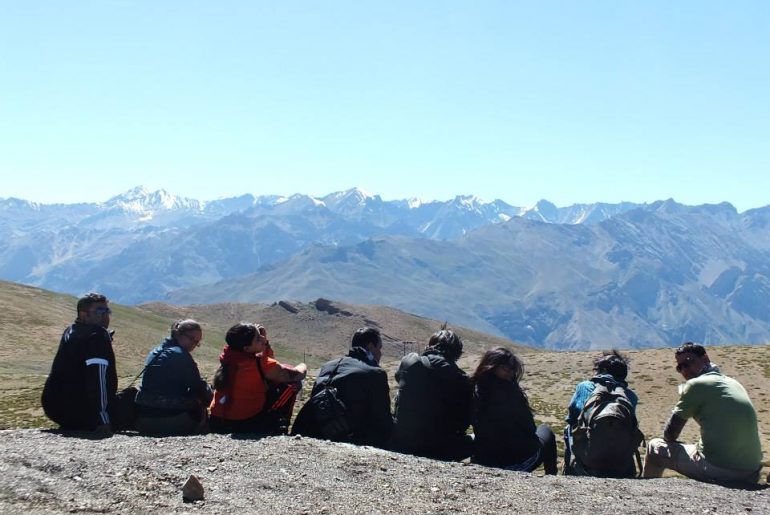 You can check out the entire trip account day wise from the following links:
Uncovering The Middle Land (Day 1: Fighting all odds and going on a solo trip)
The Day When Roads Scared the Shit Out of Me (Day 2: Riding the treacherous roads of Kinnaur)
The Day of Strangers Becoming Friends (Day 3: Got stuck in a landslide)
The Day of Body-ache & Sunburns (Day 4: Bike ride to Kaza)
The Day of Fucked-up Roads(Day 6: Bike ride to Batal)
The Day of Dream Destination Chandratal (Day 7: Visiting one of the most pristine lakes of India)
Comments
comments