Spiti Valley Day 2: Reckong Peo
I woke up to the sound of thunder in the middle of the night. My worst fear was coming to life. The fear of a bad weather. There was a huge jam on NH – 22 because of the heavy rains. I calmed myself down thinking there is nothing that I can do except sleep off the night. And that's exactly what I did.
It was close to 6 in the morning and the breeze had a sweet chill of November. I pulled down the blanket covering my face and the smell of pine cones and apples filled my nostrils. We were passing through the apple orchids of Narkanda. By that time, half of the bus was empty. Most of the people got down at Shimla. I slid the glass to open the window. I was with the Himalayas now. The mountains around me had all shades of green, brown and yellow; with sparkles of purple-yellow flowers spread here and there.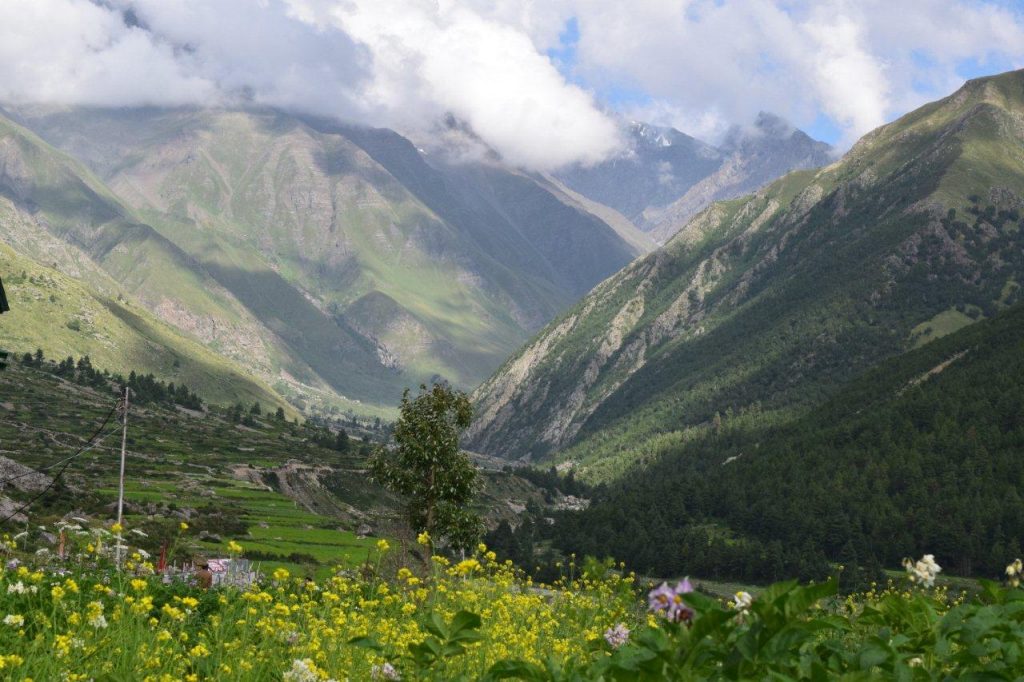 Visiting Rampur
I reached Rampur around 9. After a quick breakfast near the old bus stand in the main market, I visited the Rampur Palace. Rampur Palace was built in 1917 by Raja Padam Dev Singh and is also known as Padam Palace. The architecture is majorly influenced by European design with wooden galleries and conical roof. It is also known for its unmatched Belgium glass work and a rich library. I really wanted to visit the library but since it's the private residence of Shri Virbhadra Singh, you need prior permission to do so. Regretting why I didn't Google it before, I decided to move further in my journey and boarded a local bus to Reckong Peo.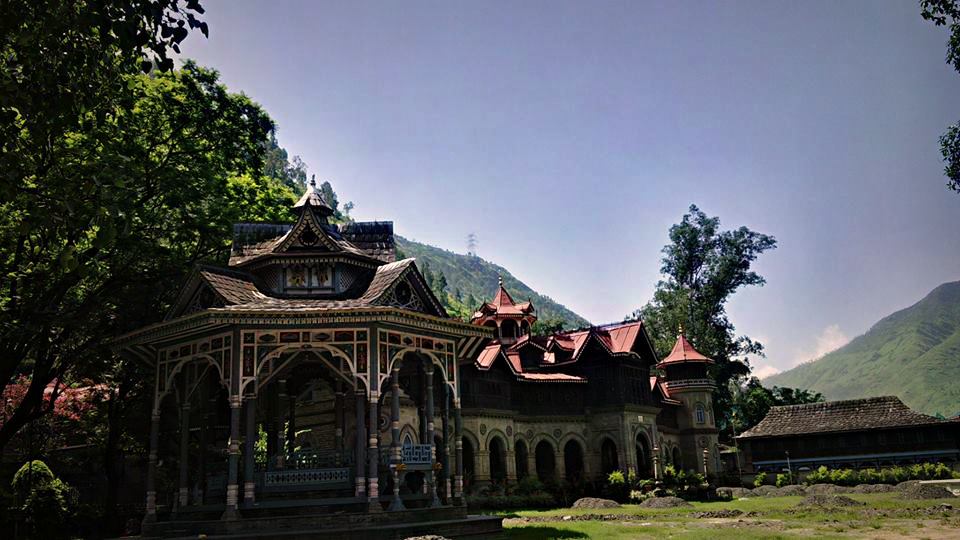 Road to Reckong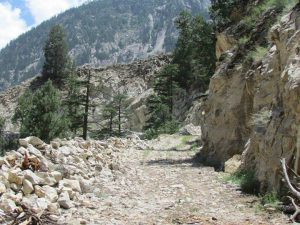 The twist and turns of a slow moving bus in the mountains is something I'm very fond of. It gives me a different kind of thrill. But this time, the roads had a surprise planned for me. The roads of Kinnaur are risky and it needs a skilled driver to map their contours. It's their daily affair to drive on those roads, passing other vehicles, making sharp turns and driving on the edge of the valley (literally!). But what comes naturally to them was making my heart come to my mouth!
We faced about 12 roadblocks and had to take 2 diversions because of the landslides – thanks to the heavy rains of past few days. There was a major roadblock after Rackcham because of a dam construction and the driver was forced to take another route to Reckong. There was no road and the bus was riding over rocks scattered over each other. I was reciting the Hanuman Chalisa under my breath and was wishing for the journey to end soon. One mistake and we will be tracing the depth of the valley. At one point the driver asked us to get off the bus to make a sharp turn. It was the first time when I noticed how skilled HRTC drivers are. After eleven consecutive recitations of Hanuman Chalisa, we reached Reckong Peo, safe and sound.
Pro-tip: When in anxiety, recite Hanuman Chalisa.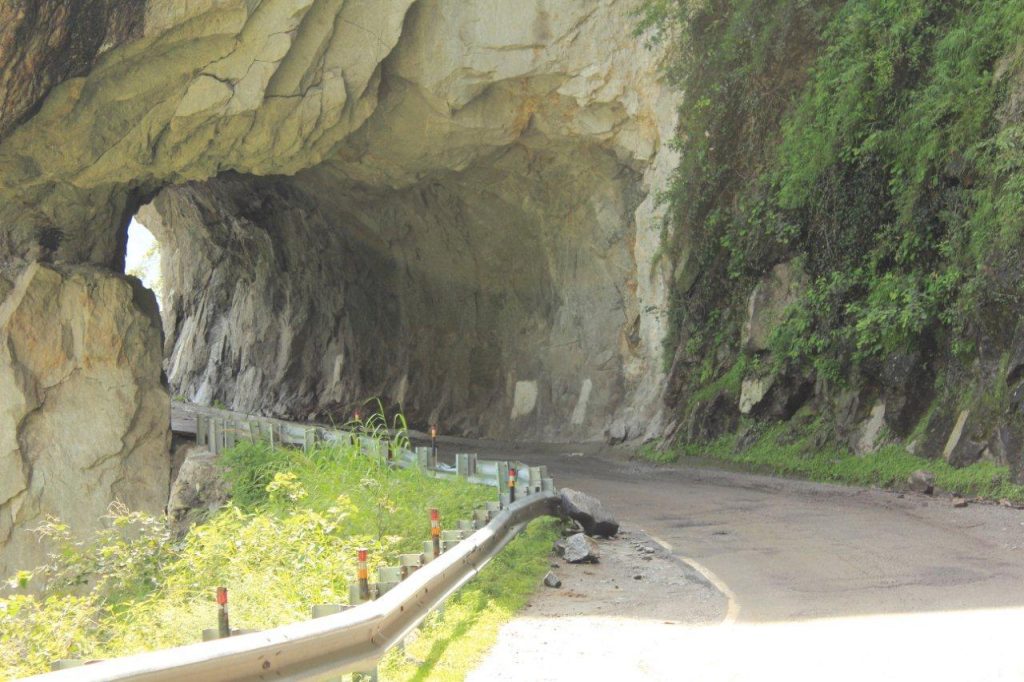 An Unexpected Encounter
The sight of snow clad mountains right over my head made me forget all about the journey and I took my time to admire the sight with a cup of tea before making arrangements for the night. When you see something as divine as the Himalayas in its true aura, you become grateful for things you never really noticed before. I was reminded of how I would have never experienced it all if Amit hadn't pushed me to travel solo. I called him to express my gratitude and ask for Kaza bus. Till now I was under the impression that Amit must be 2 days ahead of me in the circuit. I was surprised to know that they got stuck in Chail for 2 days due to heavy rains and are reaching Reckong in few hours. Amit asked me to look for a room for them also and that they will call me once they reach Reckong.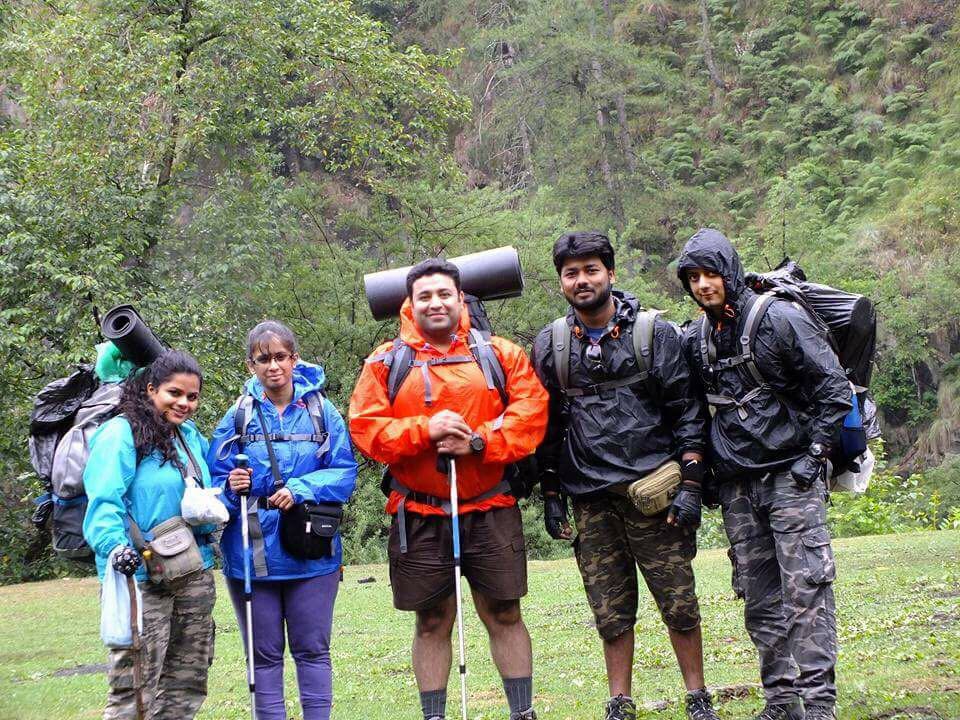 I met Amit, Tina, and Twinkle at an NGO which works for environment conversation. Twinkle is married to Saurabh and they can give the cutest couple in the world a run for their money. In about three hours I welcomed Amit, Tina, Twinkle and Saurabh with warm hugs. An unexpected meeting of your friends in a faraway place spikes your excitement level. We sat with a bowl of thukpa (mutton soup with noodles) for dinner. Thukpa was adding spice to our conversations. Plans were made about how I was going to travel in a bus and they were going to ride their bikes; we would meet at different destinations.
One day ago, I started off on a solo journey to a land I know nothing about with no plans and no itinerary. And by the end of the night, I not only had an itinerary and the routes to take; I had the company of my friends as well. Universe has this knack of helping those who take a leap of faith in strange ways. But this was just the beginning; I had a lot more coming towards me…
You can check out the entire trip account day wise from the following links:
Uncovering The Middle Land (Day 1: Fighting all odds and going on a solo trip)
The Day of Strangers Becoming Friends (Day 3: Got stuck in a landslide)
The Day of Body-ache & Sunburns (Day 4: Bike ride to Kaza)
The Day of Changed Plans (Day 5: Visiting the beautiful Key Monastery)
The Day of Fucked-up Roads(Day 6: Bike ride to Batal)
The Day of Dream Destination Chandratal (Day 7: Visiting one of the most pristine lakes of India)
Comments
comments