It was the sweet weather of March and I had an adventure planned for myself in Rajasthan. After having quite an eventful Holi in Udaipur, I & one of my traveller-friend, Priyanka, decided to hit the road. We drove to the nearby areas to uncover some folklore of Rajasthan. We were heading to witness the miracle of human will and architecture in the form of Kumbhalgarh Fort.
Kumbhalgarh Fort
Situated 80 km from Udaipur, Kumbhalgarh Fort stands tall amidst the thick forests of Aravalli ranges which is now converted into a wildlife sanctuary. In 2013, Kumbhalgarh fort was declared a UNESCO World Heritage Site along with four other hill forts of Rajasthan.
Built by Rana Kumbha in the 15th century, it is the second most important fort in Mewar after Chittorgarh fort. Constructed on a hilltop, Kumbhalgarh fort provided a strategic position to protect the Mewar kings against attacks of the enemy. This fort was used as a place to escape at times of danger. Prince Udai took refuge here during childhood when Chittaur was under siege. The inaccessible and hostility of the topography made in unconquerable and only fell once throughout its existence. It took the combined forces of Mughals, Raja Man Singh of Amber, Raja Udai Singh of Marwar, Mirzas of Gujrat and a shortage of drinking water to defeat it.
This fort is also of great sentimental significance for the Rajputs being the birthplace of legendary warrior Maharana Pratap.
Kumbhalgarh Fort Wall – The second longest wall of the world
The Kumbhalgarh fort is situated at an elevation of 1,900 meters above sea level. The fortification stretches across 36 km in diameter and is claimed to be the second longest continuous wall after the Great Wall of China. The perimeter wall is 15 m wide and it is said that eight horses can walk on the wall side by side. The fort wall is built of stone bricks and the construction and design have a notable alikeness to the Great Wall of China. It comes as no surprise that Kumbhalgarh Fort Wall is fondly known as 'The Great Wall of India'.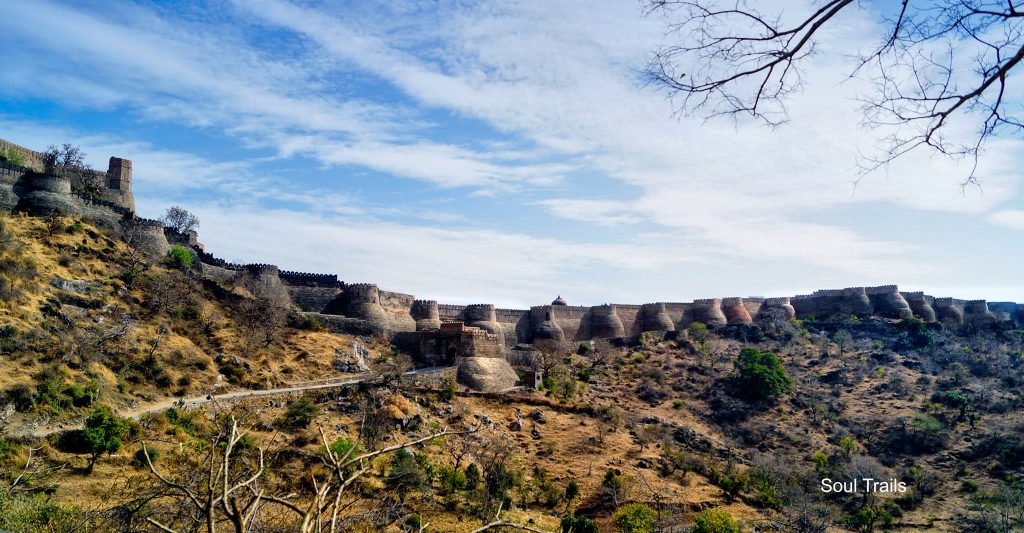 The story of its construction
Apart from many interesting stories revolving around this fort, I found the story of its construction most fascinating.
It is believed that when Rana Kumbha began the construction of this fort, he faced several difficulties. He was on the verge of giving up on the construction when a sage visited him. The sage told him that he will only be able to build the fort if a pure-hearted man sacrifices his life willingly. The king waited for a long time but no man came forward. The disappointed king went to the sage again after which the sage offered his own life. Before the ritual, he asked Rana Kumbha to build the entrance of the fort where the ritual was performed. Following his wishes, Rana Kumbha built 'Hanuman Pol', the main entrance of the fort. The palaces inside the fort are believed to be constructed where all his body fell after beheading.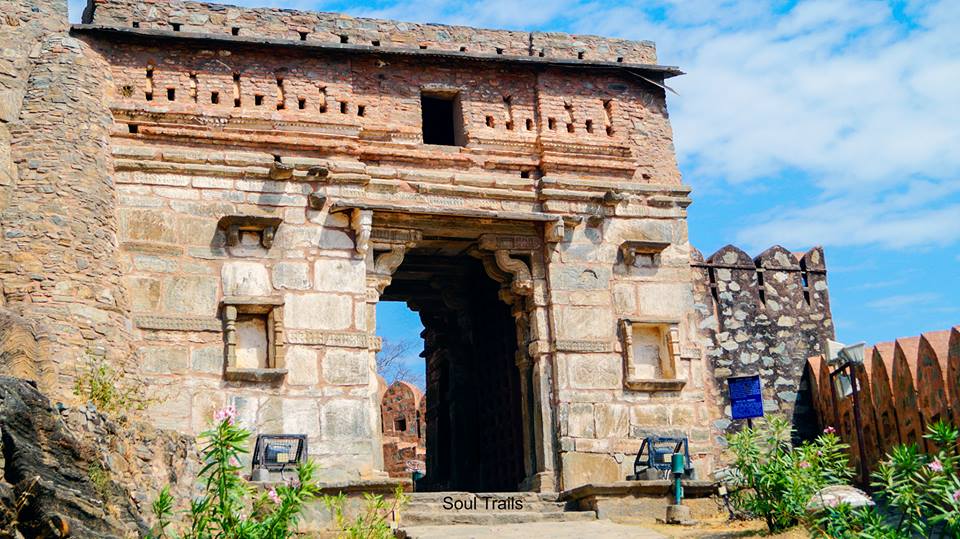 Inside Kumbhalgarh Fort
The serpentine road heading towards the fort will take you through five huge gates or Pols. Starting from Aret Pol in south followed by Halla Pol, Hanuman Pol, Ram Pol and Vijay Pol. Hanuman Pol is majorly significant as it embodies an image of Monkey God Hanuman brought by Rana Kumbha himself. To reach the inside palaces you have to cross three more gateways. There is one more gate in the east called Danibatta Pol which connects Mewar with Marwar.
The fort complex houses more than 360 temples among which 300 temples are ancient Jain and rest are Hindu temples. Ganesh temple, Neelkanth Mahadev temple and Golerao group of temples are among the major ones. Neelkanth Mahadev temple is famous because it enshrines a colossal 'Shivalinga'.
Kumbha Palace, the place of Rana Kumbha, is situated near Pagda Pol. It is a two-storeyed building, constructed in two different interconnected sections; Mardana (men's section) and Zanana (women's section). Kumbhalgarh fort is also known for its hilltop palace called 'Badal Mahal' or the Palace of Clouds. It offers an alluring view of the region and gives an impression of being roaming in the clouds. Badal Mahal is decorated with beautiful paintings and is painted in pastel colors to match the rustic look of the fort.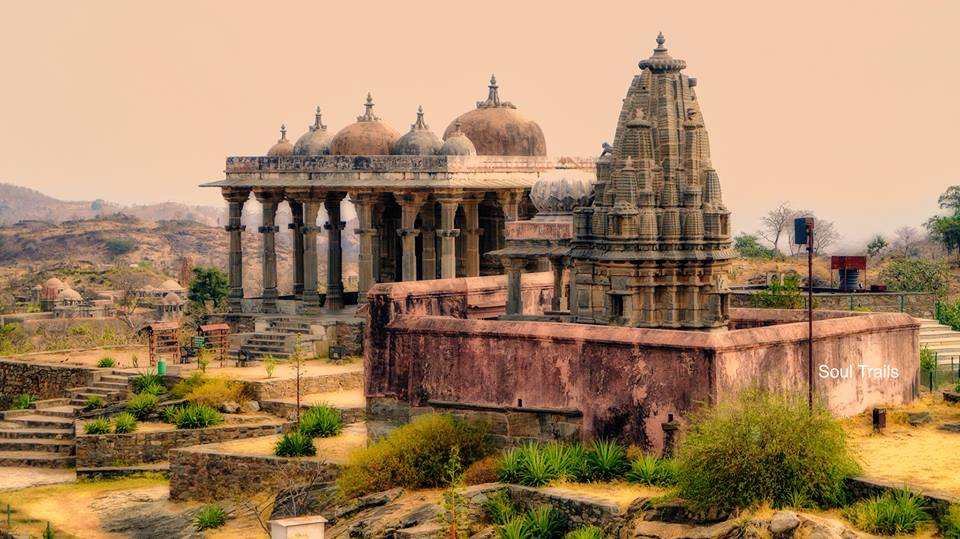 Things to do
Enjoy the astonishing panoramic view of Kumbhalgarh Wildlife Sanctuary from the top of Badal Mahal.
There is a special light and sound show every evening starting at 6:45 pm depicting the story of Rajput Royals.
Be a part of trekking trip to Kumbhalgarh organized by Youth Hostels Association of India once a year.
(Click here for more information)
A safari through the Kumbhalgarh Wildlife Sanctuary to spot leopards, wolf and golden jackal among many other animals.
Kumbhalgarh Festival
Rajasthan Tourism Department organizes a three-day annual festival as an ode to Rana Kumbha's passion towards art and architecture. Apart from musical concerts and dance events, many fun-filled activities like turban tying, tug-of-war, and mehendi competitions are also organized during the festival.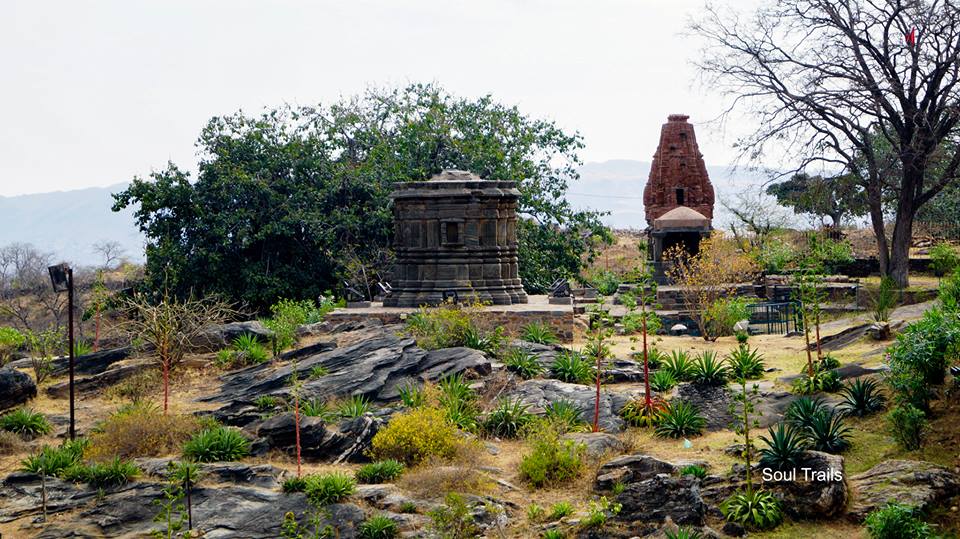 How to reach
The nearest railway station is Falna (40 km) from where you can hire a taxi. Rajasthan State Government runs regular buses (ordinary/deluxe) that stop at 50 km from the fort. One can hire a taxi from there to reach Kumbhalgarh fort. You can also hire a taxi for a from Udaipur, start off early in the morning and be back in Udaipur by evening.
Another (and Soul Trails' recommended) way is to book a two-wheeler from Udaipur and drive across the vistas of Aravalli to reach Kumbhalgarh.
Pointers
Time Required: 2-3 hours
Entrance Fee:
Rs. 10/- (Indians)
Rs. 100/- (Foreigners)
Light & Sound Show:
Timing =  6:45 pm (everyday)
Rs. 100/- (Indians)
Rs. 250/- (Foreigners)
The fort is a tad bit of walking. Don't forget to slip in your comfortable sneakers and carry a bottle of water. There are two restaurants inside the fort so don't panic if you forget the later.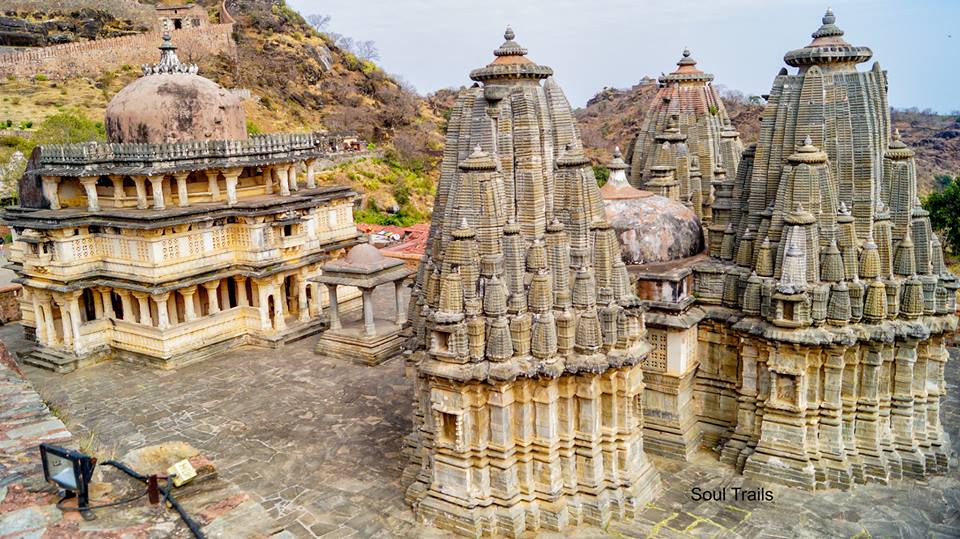 Planning to visit Kumbhalgarh? Add more to your trip by adding Udaipur – the city of lakes.
Comments
comments