Snowcapped mountains peeking from behind the curtains of thick white clouds, lush green meadows and plunging waterfalls from the sky. When the reality starts looking prettier than your dreams, pinch yourself as you are, in fact, in the Valley of Flowers.
Discovered by a British explorer Frank Smith in 1931, this valley was once a well-guarded secret of the nomadic shepherds of Gharwal. Now a UNESCO World Heritage Site, this trek is a paradise for nature lovers, botanists, and photographers.
Apart from the Valley of Flowers, this trek also leads to a serene lake named Hemkund, a holy site for Sikh and Hindu community. Situated at an altitude of 4329 m, the Hemkund Sahib Gurudwara is believed to be the highest gurudwara in the world.
After planning for almost 3 years, last month (August -2018) I FINALLY decided to visit the Valley of Flowers. Based on my experience, here's a guide to Valley of Flowers with all the information you will need to plan your trek to this vibrant paradise.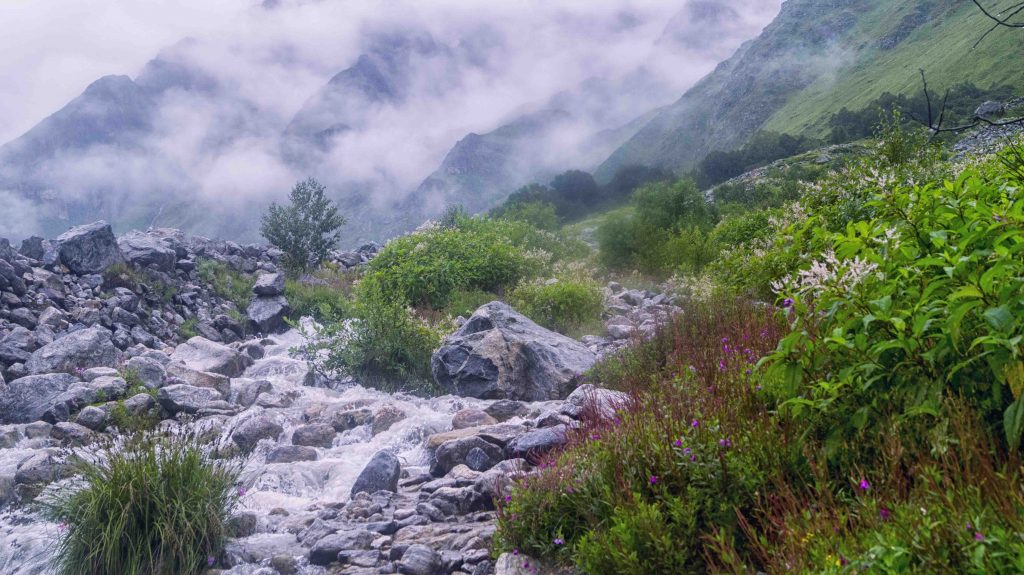 Location
Valley of Flowers is located in the core zone of Nanda Devi National Park in Chamoli district of Uttarakhand. Situated at an altitude of 3658 meters Valley of Flowers is a part of Bhyundar Valley. The closest major town is Joshimath (20 km).
How to Reach
Valley of Flowers is 300 km from Haridwar. You can either make Haridwar or Rishikesh your first stop to reach Valley of Flowers. Haridwar is a more convenient option in terms of transport connectivity. The last motor-able stop to reach Valley of Flowers is Govindghat on the Rishikesh – Badrinath highway.
Reaching Haridwar:
By Air – The closest airport is Jolly Grant Airport, Dehradun (20 km). From the airport, a 4 seater taxi to Haridwar will cost you INR 1500. Public transport is also readily available from Dehradun for both Haridwar and Rishikesh.
By Rail – Haridwar is well connected to different cities via rail. From Delhi, there are trains running daily which take approximately 4 hours to reach Haridwar. *Please make sure to book the tickets well in advance.*
By Road – Volvos, AC, and regular buses are available round the clock from New Delhi. The bus tickets can be booked online from Uttarakhand Transport Corporation website, while regular buses are easily available every 30 minutes from both Anand Vihar and Kashmiri Gate ISBT. It takes about 5 hours to reach Haridwar from New Delhi in a bus.
Or you can drive or hire a taxi to Haridwar (200 km) which will take you about 4 hours, depending on the traffic.
If you are a budget traveler like me, I'd suggest to take a morning bus to Haridwar and reach Haridwar by lunchtime. This way, you will have plenty of time to rest, enjoy the evening 'Ganga-Aarti' at the ghat and start your journey the next day early morning.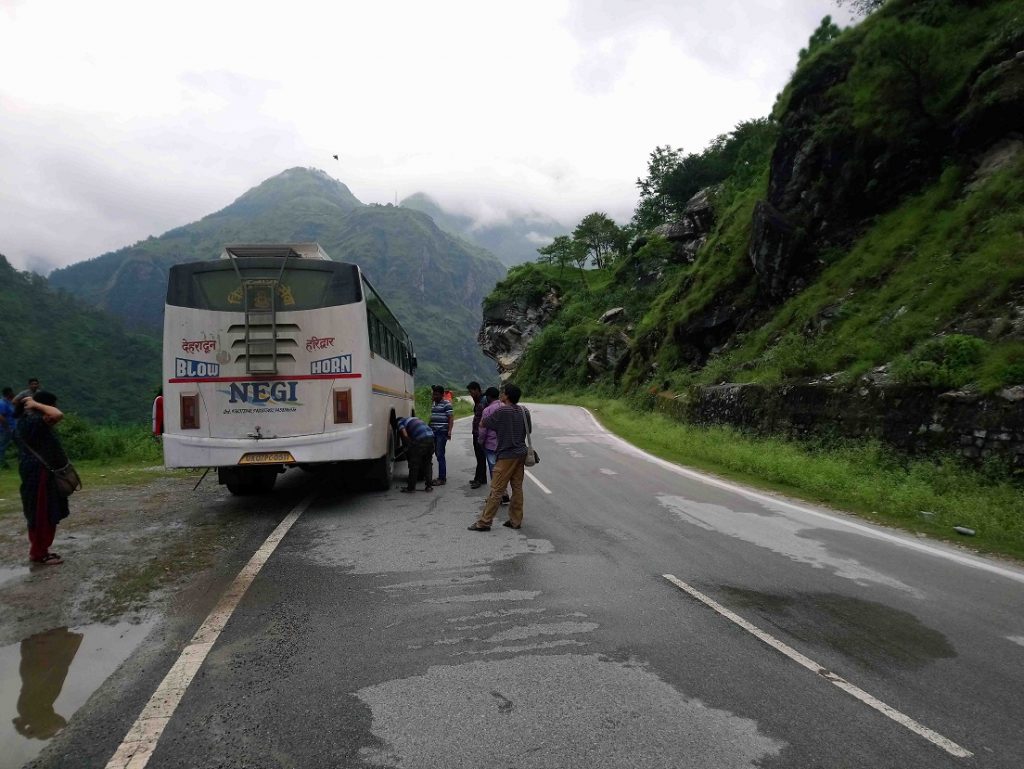 Itinerary
Now that you have reached Haridwar, your journey to Valley of Flowers has officially begun. Here's a detailed itinerary with distance, time, cost and stay options available.
Day 1
Reaching Haridwar
Day 2
Haridwar to Govindghat
Distance: 300 km
Time: 10-12 hours
Buses ply from Haridwar to Govindghat between 5:00 am to 7:00 am in the morning.
There are no AC buses and a regular bus ticket costs INR 420.
The other option is to take a taxi. Shared taxis (INR 650) are available from the taxi stand.
Start your day early and take the 6:00 am bus. A bus is a more comfortable and cheaper option.
Spend the night in Govindghat.
Stay options in Govindghat:
There are many budget/standard hotels available in Govindghat. It is advised to book them online in advance. The only deluxe hotel in Govindghat is Hotel Bhagat (INR 1500). I stayed in a budget hotel for INR 500.
Budget Hotel = INR 800 – 500 (depends on your negotiating skills)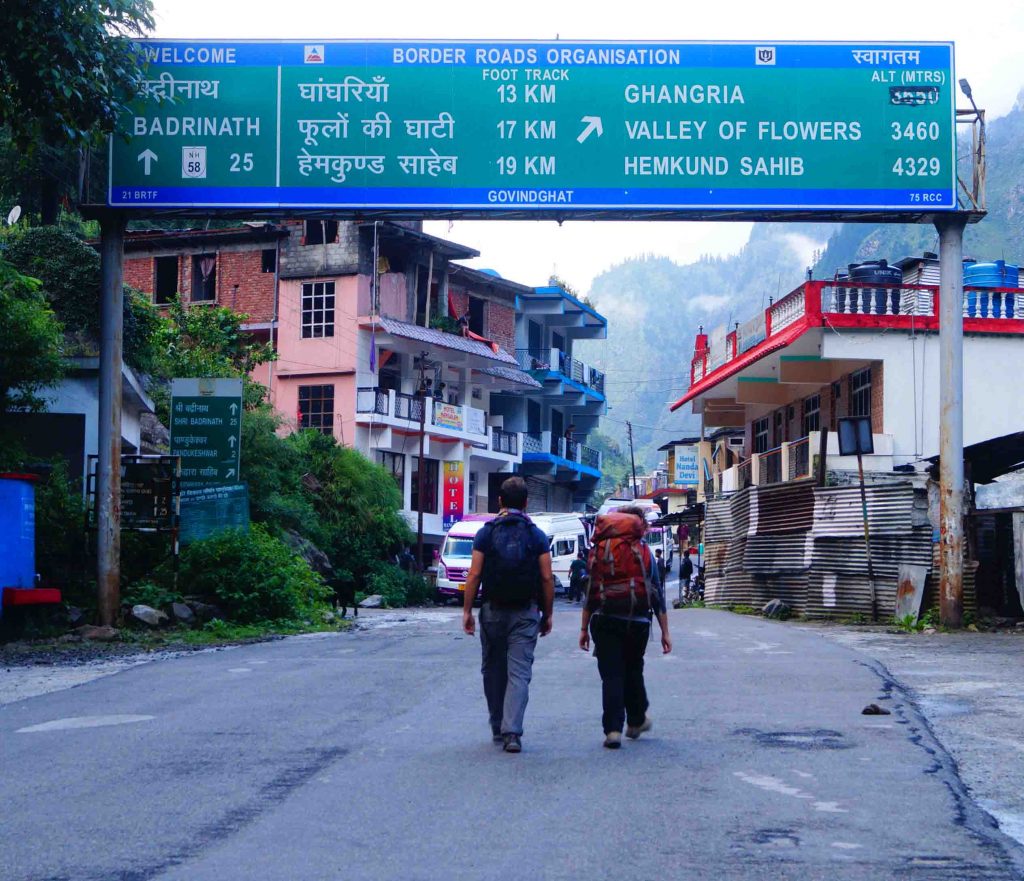 Day 3
Govindghat to Ghangaria (via Pulna)
Distance: 13 km Govindghat to Pulna (4km, motorable) | Pulna to Ghangria (9 km, trek/pony/porter)
Time: 6 – 7 hrs
At the altitude of 3049 m, Ghangaria is the base camp for Valley of Flowers & Hemkund Sahib.
Pulna marks the first village between Govindghat and Ghangaria. The road to Pulna is motorable. You can cover the first 4 km to Pulna in a shared taxi for INR 50 or hire sumo for INR 500.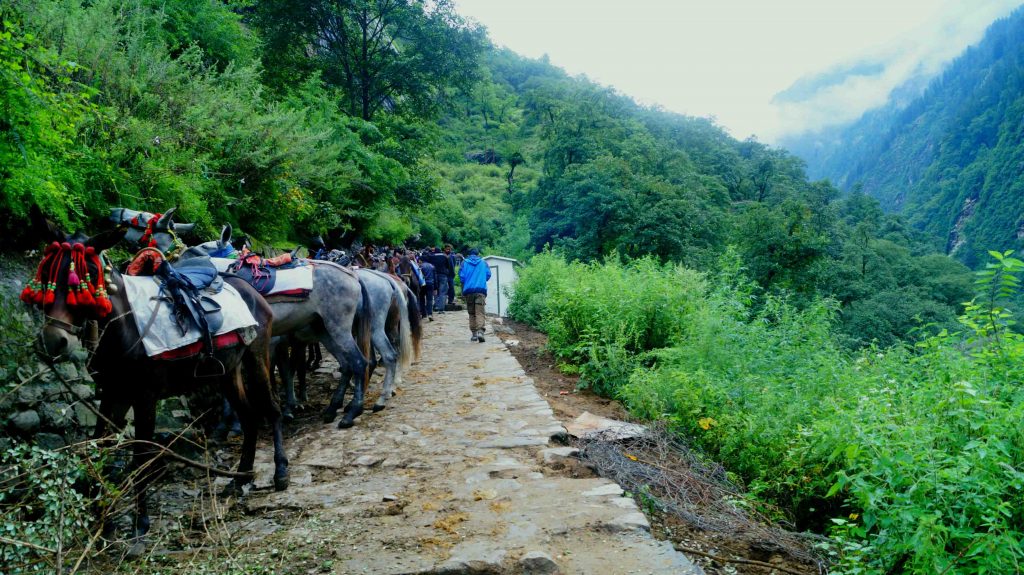 From Pulna, you can either trek 9 km or take a pony/porter to Ghangria. There are fixed charges and to assist you, there's a check post just a few meters from the starting point. Though you'll find ponies and porters throughout the trek. The cost of the pony/porter is on the weight basis. You can also choose to use the service only for your luggage. I noticed many people taking a porter or a pony mid-way after negotiating the cost.
Wake up early. It will be a long day.
It is a well-laden path with milestones and side railings so you won't get lost.
The first few kilometers of the trek is a gradient climb.
Bhyundar village is the halfway mark. After you cross the river bridge, it's a steep climb till you reach the Helipad area.
From the Helipad area, Ghangaria is just half a kilometer away.
There are restaurants and small shops every few meters.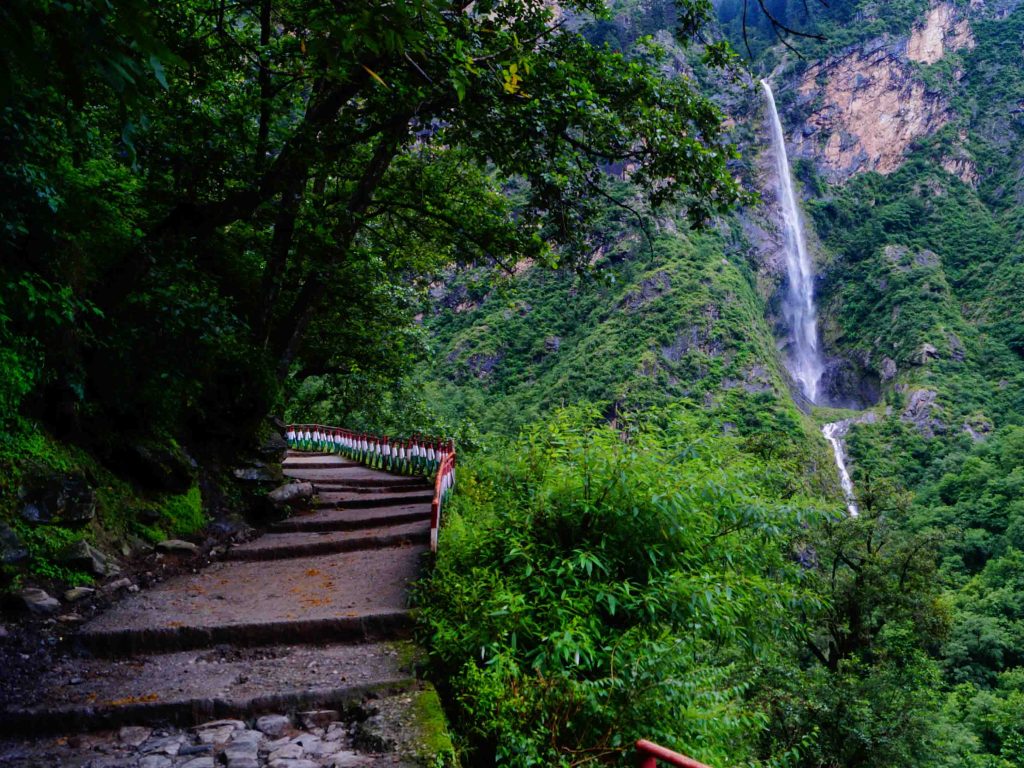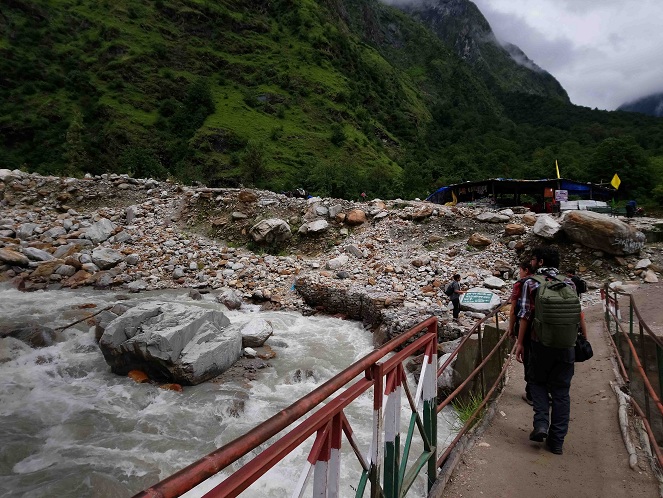 Another way to reach Ghangaria from Govindghat is by helicopter (one-way fee INR 2800). Though the flying of the helicopter is very weather dependent especially in the month of July and August. The helipad in Govindghat is right behind Hotel Bhagat (a prominent landmark in the town). You can book the flight online or arrange for it as you show up.
Stay options in Ghangaria:
There are many budget/standard hotels. There is a GMVN (State Government operated) guest house also, which can be booked online. (http://www.gmvnl.in/newgmvn/)
I stayed at Hotel Padim for INR 600 (for three people).
Other budget options – Hotel Deepak (INR 400), Hotel Ark (INR 300)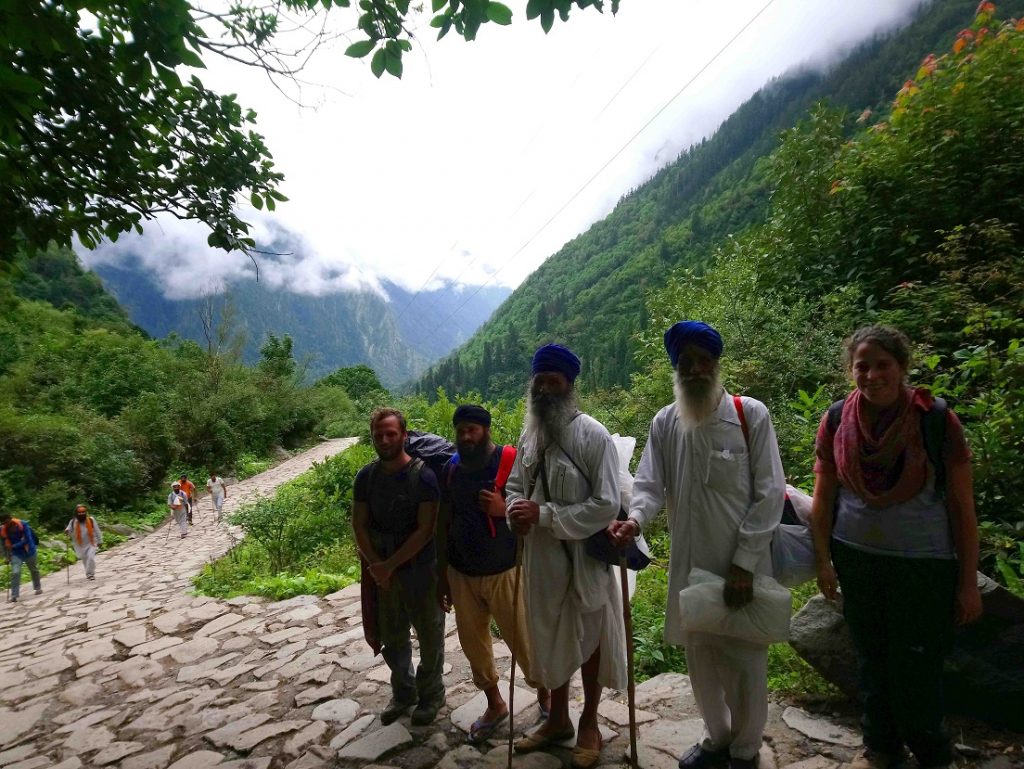 Day 4
Ghangaria to Valley of Flowers & back to Ghangaria
Distance: 4 km (one way)
Time: Depends on how much time you want to take to wander (Usually 7-8 hours)
Start your day early so that you get maximum time to spend in Valley of Flowers.
There are no shops on the trek so must carry packed lunch (easily available in all the hotels).
The trek starts from the other end of Ghangaria. You have to take the left-hand side trail which leads to the entry gate.
It's a well-laid trail so you won't get lost.
The first kilometer after the checkpoint is a gradual walk till you come across a bridge.
Once you cross that bridge, it's a steep climb till you reach a rock cut shelter at 1 km mark of the valley.
From there it's an easy flat walk into the valley.
The only shelter you'll find beyond it is a huge boulder which also works as a rendezvous point.
There are two landmarks in the valley – the Margaret Legge memorial and Pushpawati river bed.
Margaret Legge memorial is 2 km from the boulder and the river bed is 5 km
Legge memorial is 700 m off the main trail (there is a milestone at the trident)
The Pushpawati river bed is considered the most beautiful spot in the valley with the maximum bloom of flowers. To reach here you have to walk 4 km inside Valley of Flowers.
Ponies are not allowed in the valley but you can get porters.
Valley of Flowers Timing:
The valley opens at 7:00 am and closes at 5:00 pm. The last entry is allowed till 2:00 pm.
To make the most of your time, I'd recommend you to have an early breakfast and reach the Forest check post by 6:45 am. It is recommended to start walking back to Ghangaria from the valley around 2:00 pm so that you reach back by 5:30 pm.
Entry Fee:
Indian National = INR 150
Foreign Nationals = INR 600
The ticket is valid for 3 days.
No charges for still camera or a non-pro video camera.
You are required to have a Government issued ID passport, Aadhar Card, Driving License to show at the entry gate.
Day 5
Ghangaria to Hemkund Sahib & back to Ghangaria
Distance: 6 km (one way)
Time: 8-9 hours
Start your day early. The trek is a very steep climb and gets very exhausting.
The trail is well maintained and marked with signboards.
Since it's a steep climb, it is advised to walk slowly with generous breaks to avoid getting altitude sickness.
To know more about Altitude Sickness and how to avoid it, click here
There are two small shops on this trail where you can find snacks and tea.
Once you reach Hemkund Sahib, help yourself with tea and langar in Gurudwara.
Be careful on your way back. Climbing down on steep slopes is strenuous on the knees. Take your time and don't rush.
Ponies and porters services are available from Ghangaria on this trail.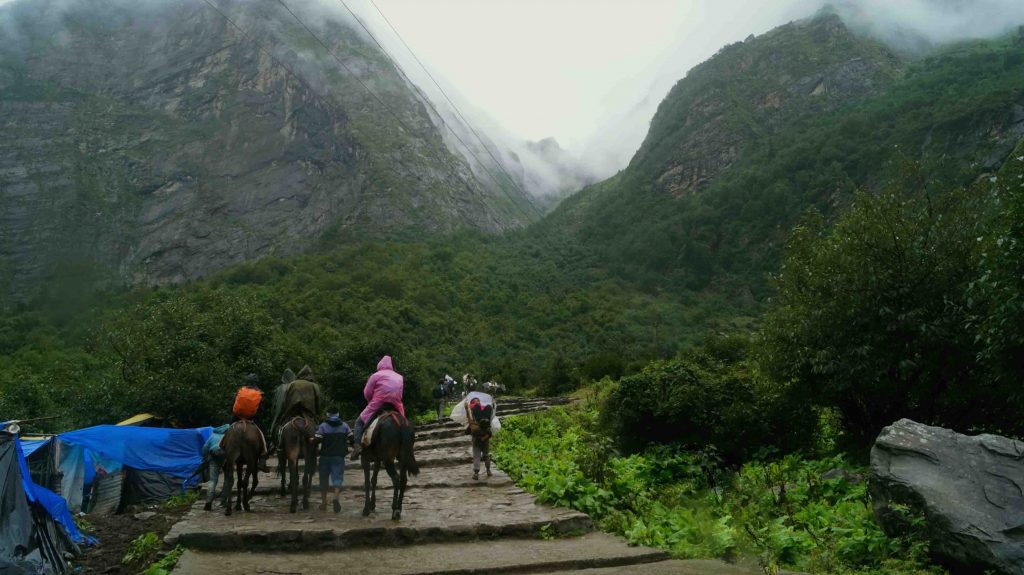 Day 6/ Day 7
Ghangaria to Govindghat
Take the same trail back to Govindghat.
Rest for the day and proceed to Haridwar the next day by taking a morning bus.
OR
If you start your journey early in the morning, you'll easily reach Govindghat before 11:00 am giving you plenty of time to reach Haridwar the same day.
Ghangaria to Haridwar
It might be difficult to find a direct bus or taxi to Haridwar if you reach Govindghat after 11:00 am. But you can still reach Haridwar via Joshimath.
Taxi to Joshimath is readily available all day from Govindghat.
Take a shared taxi to Joshimath for INR 50.
From Joshimath, you'll find a shared taxi to Haridwar for INR 600.
Getting to Haridwar the same day is a budget efficient thing to do as you'll save on your stay in Govindghat. If you are travelling from New Delhi, you can take a bus back to New Delhi the same night after resting for a while in Haridwar. Volvos, AC, Standard buses ply from Haridwar to New Delhi all night.
Best Time to Visit:
For the most part of the year, the valley is closed due to heavy snow. It opens on the 1st of June and stays open till last week of September. Different varieties of flowers keep coming and going throughout the season. Between July and August, blooming is at its peak. Ideally, the second week of July to the third week of August is the best time to visit Valley of Flowers.
June: Most of the snow is yet to melt and you'll find a lot of glaciers. Very fewer flowers.
July: A wide variety of flowers starts blooming starting from the second week of July.
August: Best time to visit. Maximum blooming in terms of variety and quantity. It is the time when Bhramkamal blooms in Hemkund Sahib.
September: The blooming starts receding. Won't recommend visiting in September.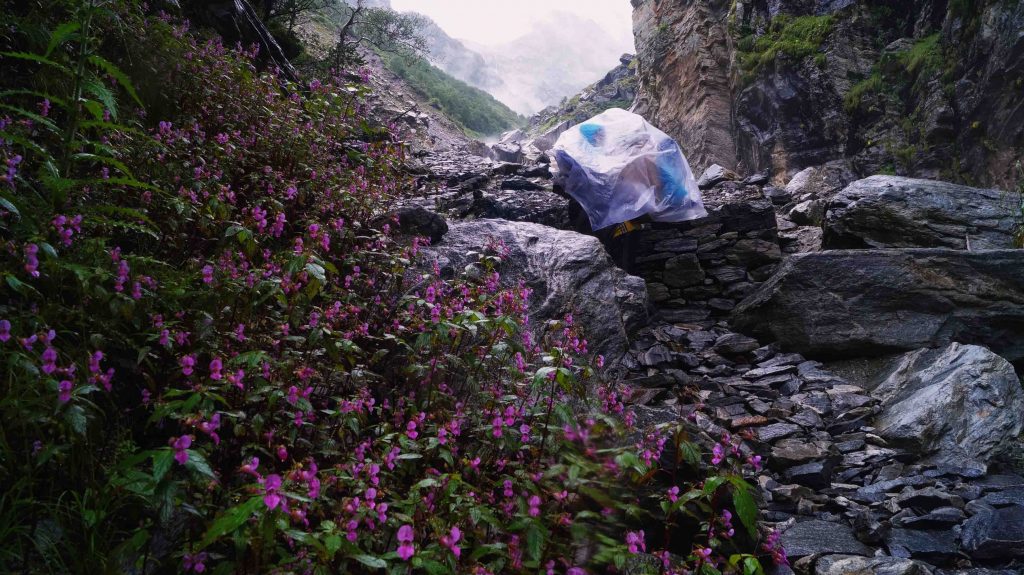 Cost Estimate:
The cost depends on your mode of transport and choice of accommodation. I'm a budget traveler and I spent only INR 4280* from Delhi to Delhi. I travelled in standard bus/shared taxi and stayed in budget hotels where I shared my room with my Israeli friend.
*also includes INR 400 that I spent on getting my clothes & shoes dry and INR 150 for valley entry fee
Tips & Hacks
The mule stables are at the extreme ends of Ghangaria. It is advised to take a hotel in the middle of Ghangaria to avoid the smell.
If you are a botany enthusiast, you can easily find a guide for Valley of Flowers. Just ask at your hotel reception in Ghangaria. Also, do ask your guide to take you to the core region of the valley.
The valley offers amazing vistas, no matter how deep you venture into the valley. So in case you don't make it to Pushpwati river bed, don't sweat much about it.
If you want to see the whole valley, I'd recommend going to Valley of Flowers twice. On day one you can take frequent stops on the way and walk till Legge memorial; and the next day to Pushpawati river bed and back to Ghangaria.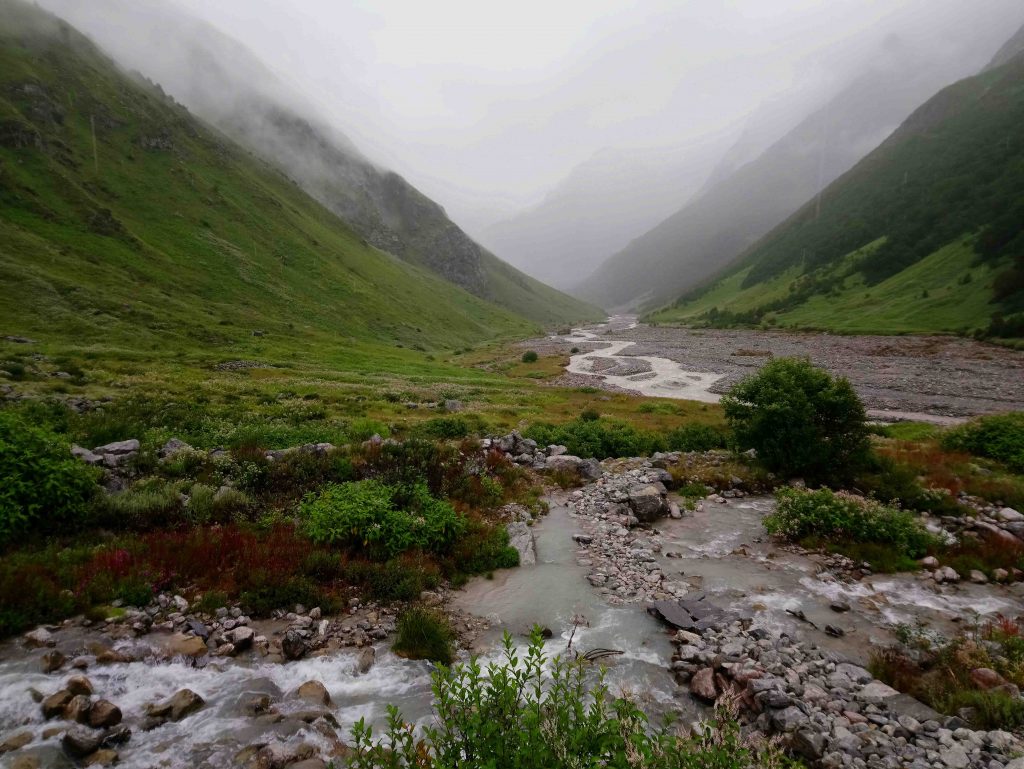 It's a monsoon trek which means you'll be crossing a lot of streams and you might have to walk in rain as well. Carrying a poncho and/or an umbrella is a must.
Take good quality trekking shoes and a pair of floaters. Keep a good stock of socks as well.
If your clothes and shoes get wet, you can get them dry at the laundry. You can ask about it at the hotel reception or walk to the GMVN. (INR 100 per garment; INR 150 for shoes)
You can also get an 'angithi' (makeshift oven with coal) and dry them on your own. That is also the only source of heat you'll find because no hotel offers an electric heater or blower in Ghangaria. (INR 800 – use your ninja negotiating skill; it's totally worth it!)
Hemkund Sahib is a steep climb which goes over 3000 m. It is advised to walk slow with short breaks and take Diamox to avoid chances of altitude sickness.
To know about Altitude Sickness and how to avoid it, click here
You can also stay in the gurudwara in Govindghat and Ghangaria.
As part of their community service, the gurudwaras offer free stay and food but it is always nice to participate in kar-seva, i.e, helping out in the kitchen, serving, and cleaning etc.
Please carry a sufficient amount of cash. The last ATM on the route is in Joshimath. Though, to be on the safer side, make your withdrawals in Haridwar/Rishikesh.
You might not find the network on your mobile phones in Ghangaria. But thankfully there are public phones available in a few shops in Ghangaria. One such shop is next to the GMVN.
Pack wisely for the trek. To know how and what to pack for a convenient trip, check out 'Top Tips to Pack Light' here.
Spread the love, share this blog!
Stalk me on Facebook & Instagram for real-time updates
Liked this blog? Want some more information? Have a question?
Leave a comment below, and I will get back to you
Happy Trailing!!! 😀
Comments
comments