Travelling has taught me infinite valuable lessons in life; from trusting my gut to believing in the kindness of strangers. Every minuscule experience drives me to a new insight about life, people, and most importantly, about myself.
This story is about how I learned the most important lesson of all – unadulterated love!
Toh plan yeh tha ki koi bhi plan nahi tha!
I simply boarded a bus to Manali at the worst time of the year. You guessed it right – it was mid-June and Manali was flooded with people, thanks to their annual 'garmi ki chutti' ritual. The nauseating, overcrowded Manali thrust in a desire to move away from itself.
I was walking on the Mall road when I met Tenzin, a taxi driver from Leh. He told me that he is leaving for Leh in a few hours. I did quick math of expenses in my head and readily gave him almost all the money I had to book a seat for myself.  (At times, I'm surprised by my stupidity, trust me.)
With just 400 bucks in my pocket, I reached Leh the next afternoon.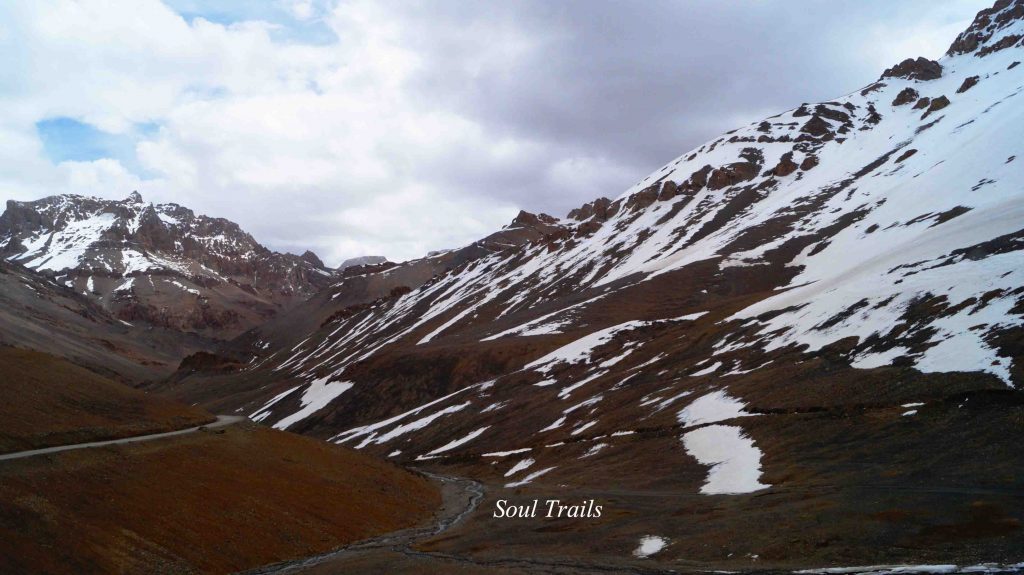 The realization of my sharp reflex kicked in soon enough. After three cups of chai and a justifiable count of smokes, I calmed myself down.
The 911 Call
I called up a friend who volunteered in Kargil the previous year to see if she can hook me up somewhere. She connected me with Yangchen Dolkar of Rigjung Public School, and things started to fall in place.
I spoke to Ms. Dolkar, the manager of the school. She was kind enough to welcome me as a volunteer teacher at Rigjung along with the address to a hostel where I was supposed to feel at ease. With the help of the locals, it wasn't tough for me to find the location.
I entered the compound expecting a lot of children, but to my surprise, I was greeted by an aimlessly drifting, ragged football, a nervous-looking dog and a smiling middle-aged woman achi Tashi. ('Achi' in local Bodhi language means 'mother').
She told me that the children are at school and will be back in the evening. She showed me my room and offered me some tea, which seemed to have the amount of sugar you'd need to feed an entire village for a week.
With my mouth this sweetened, I lay on the cozy-looking bed and immediately dozed off.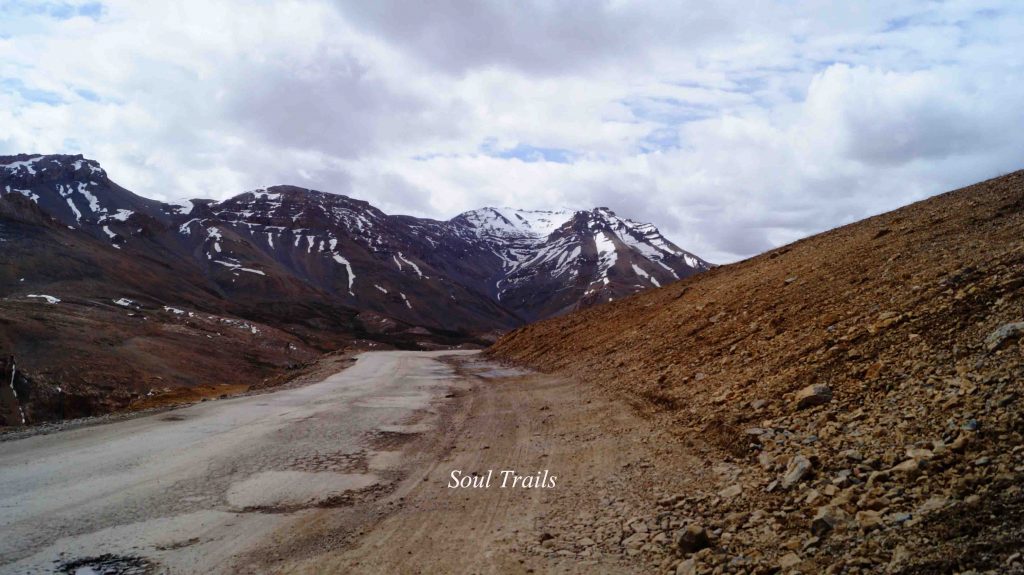 My seamless sleep was disturbed by what seemed like a mob-war outside. The kids were back from school!
Hello, kids!
I pulled my head out of the duvet and noticed three-pint sized creatures leaning over the window glass, trying to catch a glimpse of the alien inside. The moment they saw me waking up, they ran away giggling. This is what seemed to be my first "meet" with the kids of Rigjung Public School.
I did forget to mention, my room was on the first floor; so I went out in the gallery to take a mini stroll and noticed 7-8 adolescent boys playing football. The next thing luring me to itself was the view. The Stok Kangri range stood right in front of me, with all its pride and glory. The Indus flowing through the valley, silent from afar, and a bridge adorned with Tibetan prayer flags, stood in the valley with patches of green and yellow farms. I was glad that this would be the view I would be waking up to for the next few days.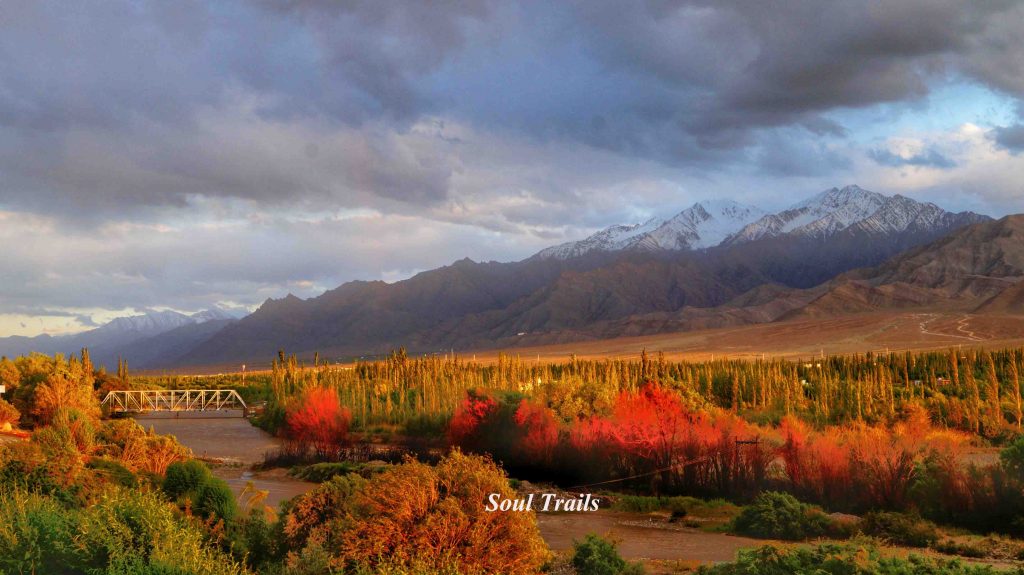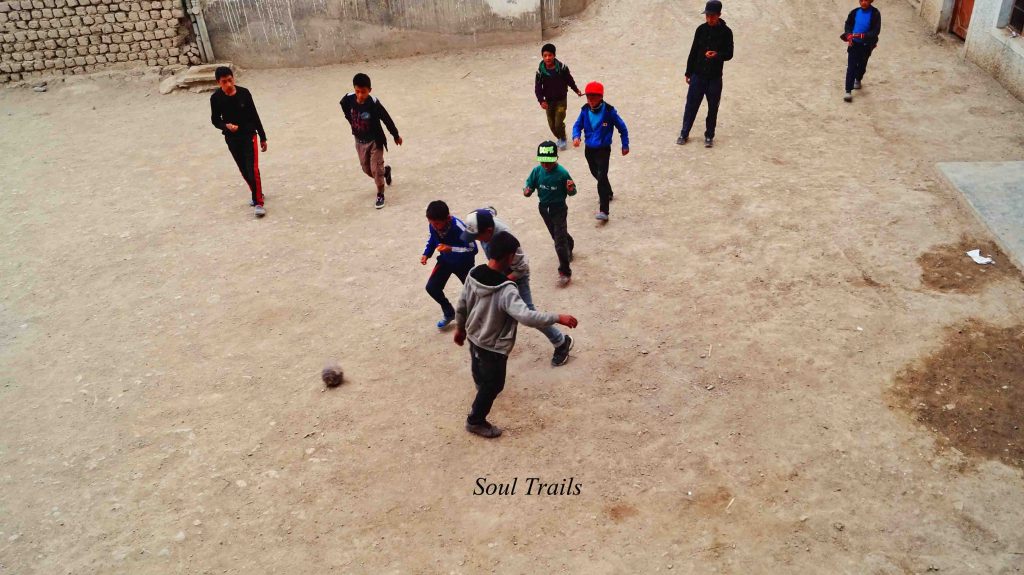 During the study-hour in the common space, I was the subject of curiosity for everyone. I was enjoying the attention from a corner; trying to act all busy with my journal (I can be quite dramatic at times).
At dinner, I bonded with Vijay sir, the warden and Hindi language teacher.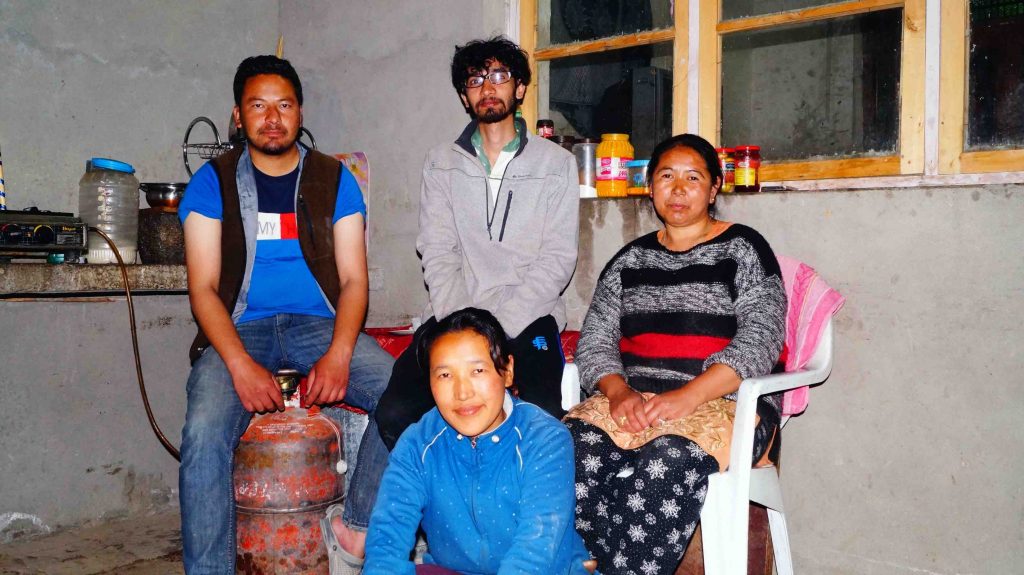 The next morning I was supposed to go to school and meet the vice-principal. Therefore I woke up early and got ready before the kids.
At about 8:30 in the morning, I sat in a rickety bus with Vijay sir on my left and 45 students stuffed in whatever space was left. It was a short ride; in 15 min we were at the gate.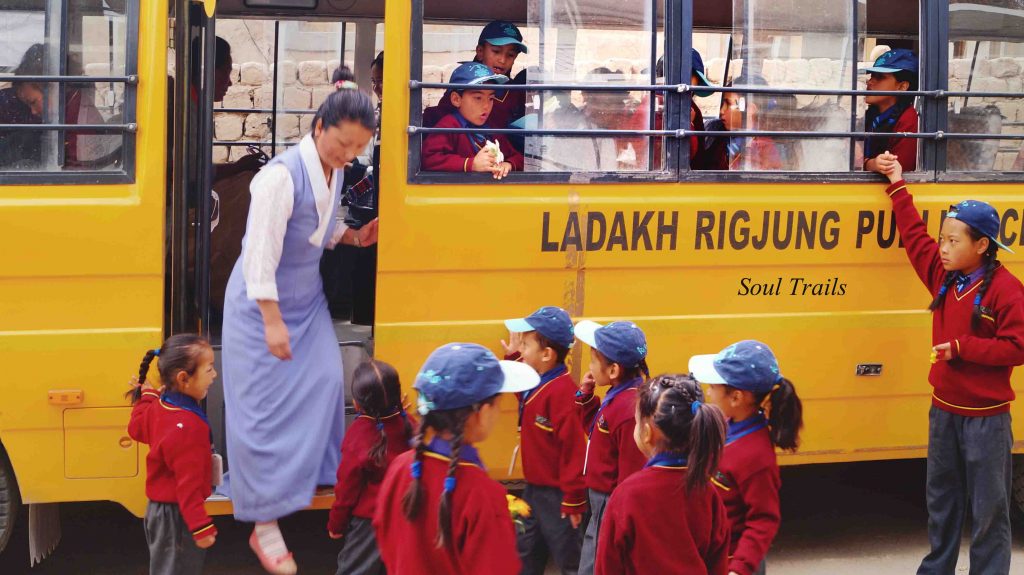 Rigjung Public School
Rigjung Public School has decent facilities in terms of infrastructure. It is surrounded by beautiful views of the valley. A picture-perfect place to sit back, relax, and read. I realized that no matter where you are in this part of Leh, the plateau offers a beautiful, forever-expanding background. I am still disappointed about not noticing it at the time of my very first trip to Leh.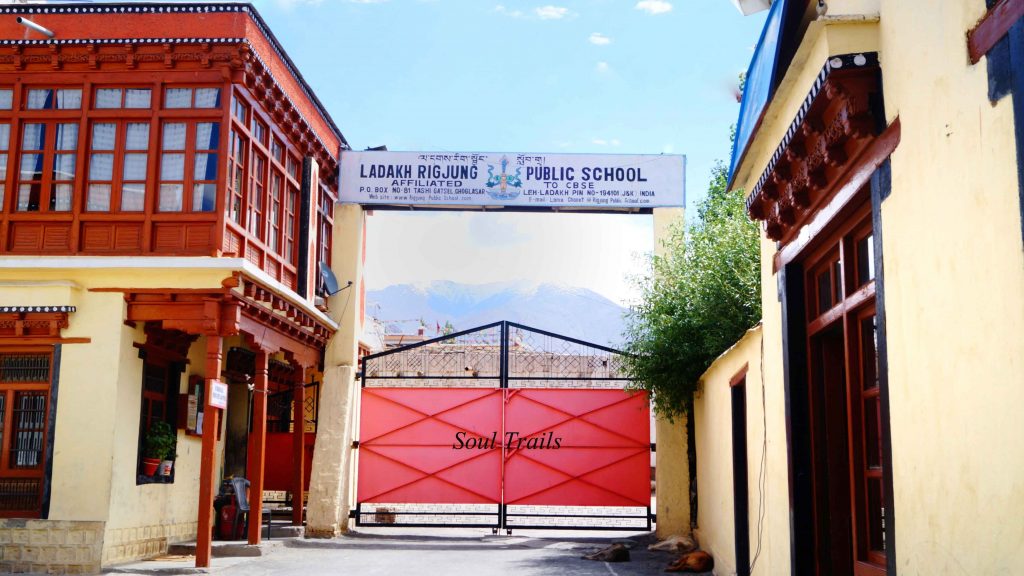 Later, I met the vice-principal, Ms. Dolma. She facilitated me with the system. With a headcount of about 200 students, Rigjung Public School is from nursery to class 10. The hostel had 45 students from grade 1 to 10. I was supposed to help them with any subjects of my liking for nursery to grade 9; in case the regular teacher is not available. I could stay and eat at the hostel for the duration of my association. The school requires volunteers to stay for a minimum of 10 days. Since that was my first day in Leh, and I was still dizzy due to the altitude, she advised me to take the day off and rest. And I did exactly that!
Day 1
The next day, Ms. Dolma formally introduced me to the teachers and students in the morning assembly. I was asked to say the customary 'do shabd' which were exactly that – "Thank you for having me here."
Somehow, I ended up taking four classes on my very first day. I wasn't very sure initially, but the kids really made it easy for me by laughing on every single joke that I cracked; even the lame ones.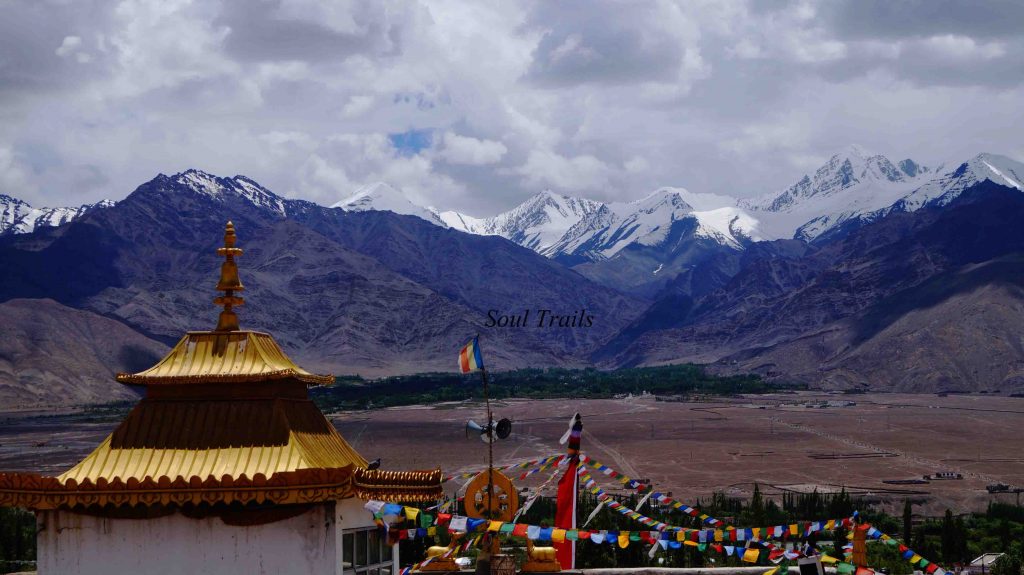 The lunch break brought a pleasant surprise wrapped with it. Vijay sir called me to the kitchen for lunch. There was a small table in one corner and a few chairs around it. Vijay sir, and a couple of other teachers welcomed me and we all ate together. Their hospitality and kind manners were so humbling.
A few kids from the kindergarten brigade walked into the kitchen and started playing with Vijay sir. If you look at his mammoth personality and Stallone like facial expressions, you won't be able to guess that he has, what I call 'the Julley spirit' in him.  Watching the ruckus going out of control, achi Tashi interfered and said something to them in Bodhi. They came and stood in a line in front of me and what followed is here for you to watch…
It was a formal welcome performance for me by the girls! It was such a joy to see them perform. We were laughing hysterically. I wish I had some candies or something to give them as a gift.
"Sir!! Meri bhi photo lelo"
Post the performance I was roaming around to click a few pictures. The camera attracted the kids like sugar attracts ants. The photography session turned into another fiesta altogether. They were posing for me like rockstars. I could see future Minazs and Montanas in the making. A few of them asked me to wait and ran to call their friends as well. For some reason, they thought that I was their new dance teacher. A few of them were very disappointed when I told them that I couldn't dance to save my life. The look they gave me reminded me of my parents when I had told them I had quit my corporate job to travel. Enough said, I guess.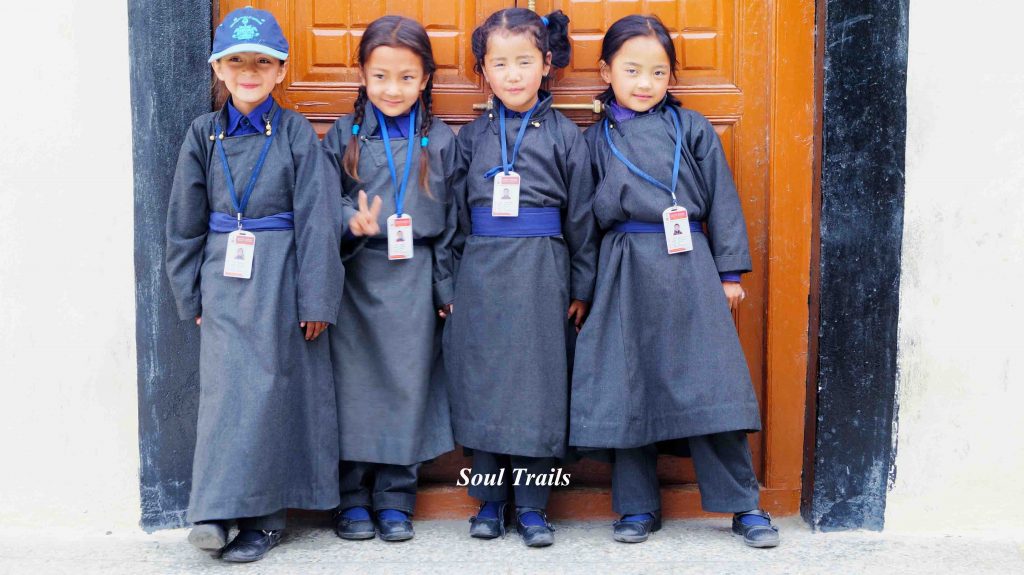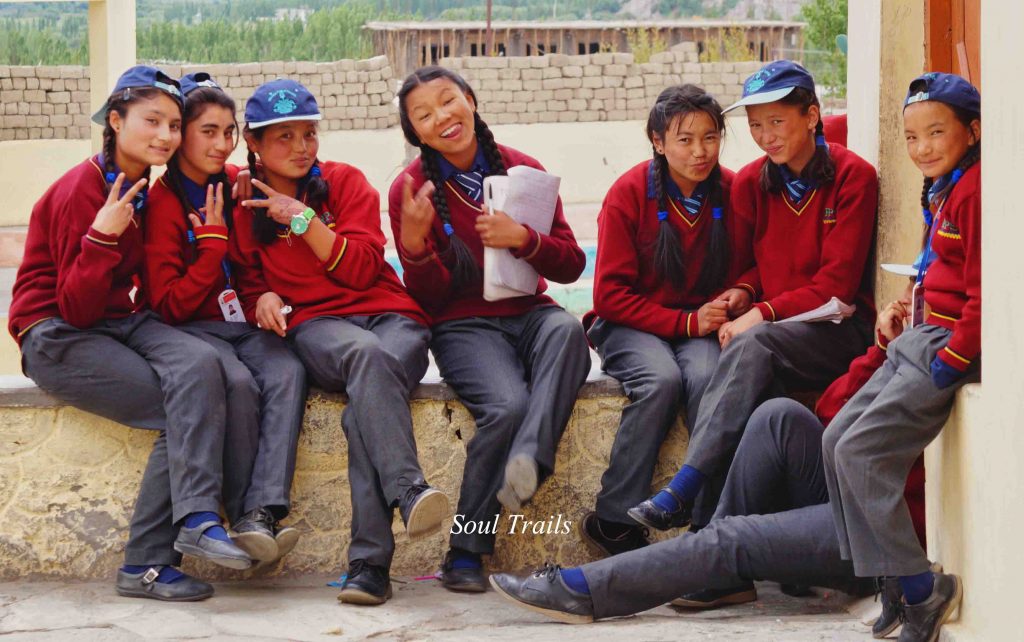 This was my first day at Rigjung. I wasn't sure how I would teach those kids. But I have never said no to a challenge. I had my doubts, but after such an eventful day, I knew that I was there because of some cosmic karma. The vibe of that place and those people were resonating with me, and I was sure that the Universe wanted me there to learn something I was yet to understand.
A Newfound Home
So Rigjung was my home for the next ten days. I would wake up early and admire the view from the gallery. Watch the kids getting ready and help each other in daily chores. I would spend the day in the school interacting with kids and teaching any class I could grab my hands on. I used to enjoy my lunch breaks with Vijay sir. In the evening, I would play football with the boys and then help them with their homework in the common room. After a few days, I got them a pair of rackets so that the girls could play badminton and feel more included. During dinner, achi Tashi and Vijay sir used to make me choke on my food with all the funny stories they had to share. In between all of this, a week passed by in a jiffy.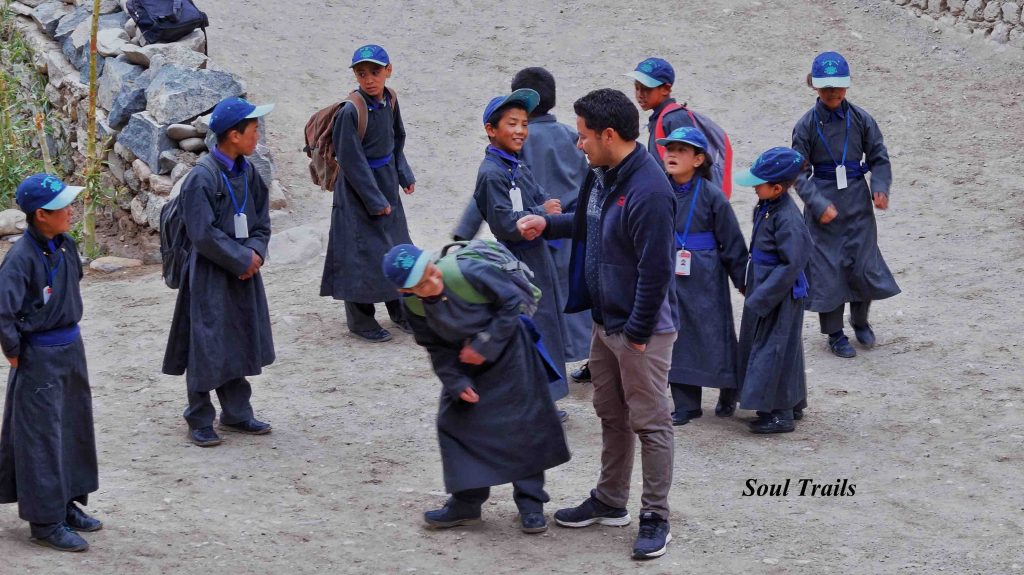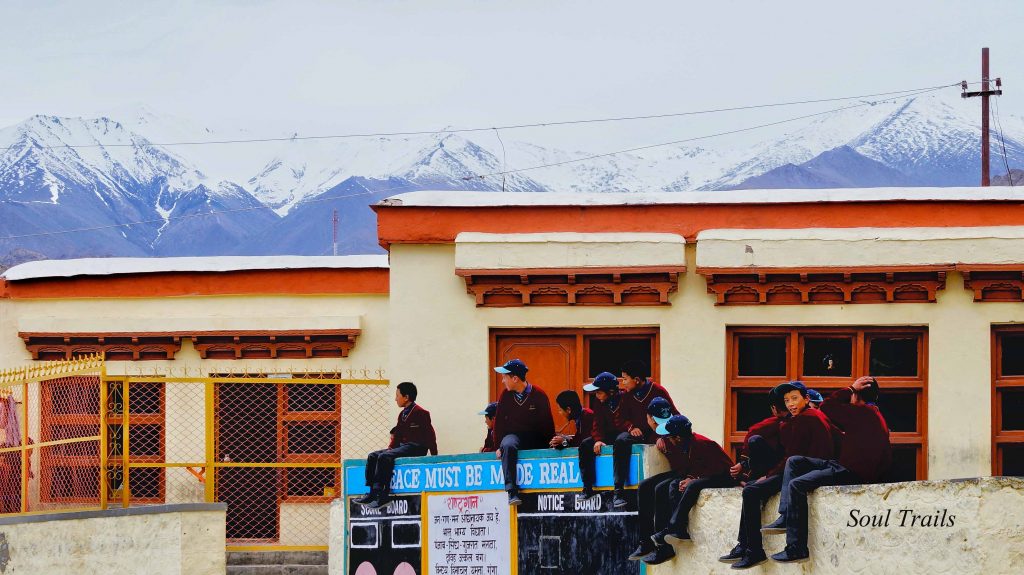 In the remote areas, most of the families come from a very humble background. At times, some of the kids had to leave their studies due to financial constraints. Rigjung is a monastery supported the school. The fee is elementary, but it was still an amount which most of their parents can't afford. The management tries to extend their help to promising students, but there is so much they can do.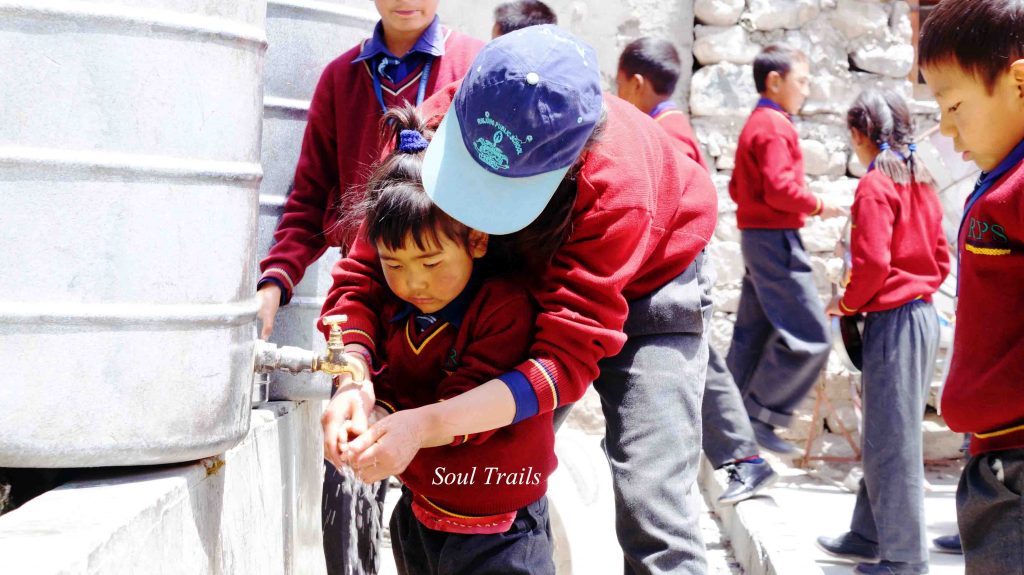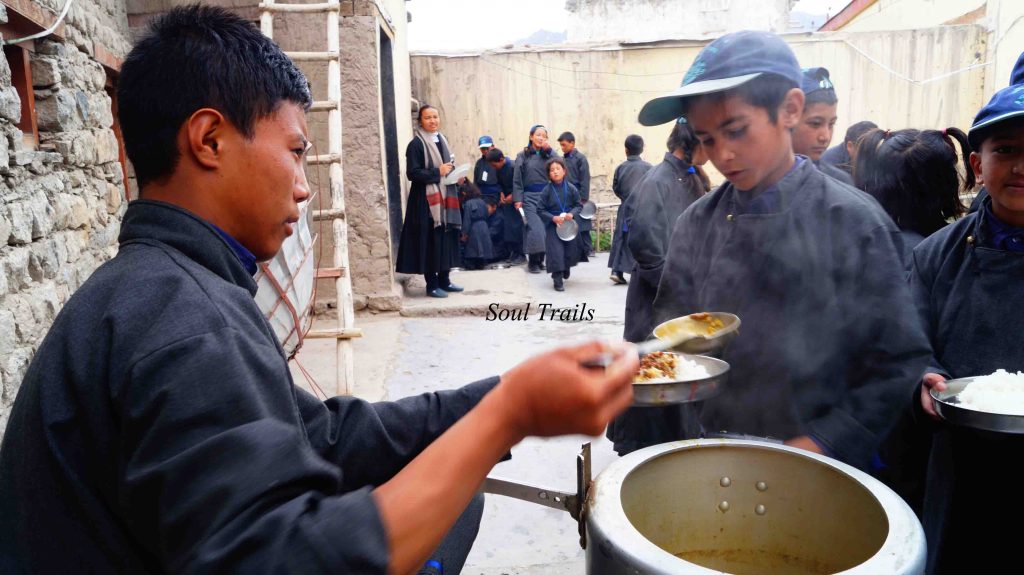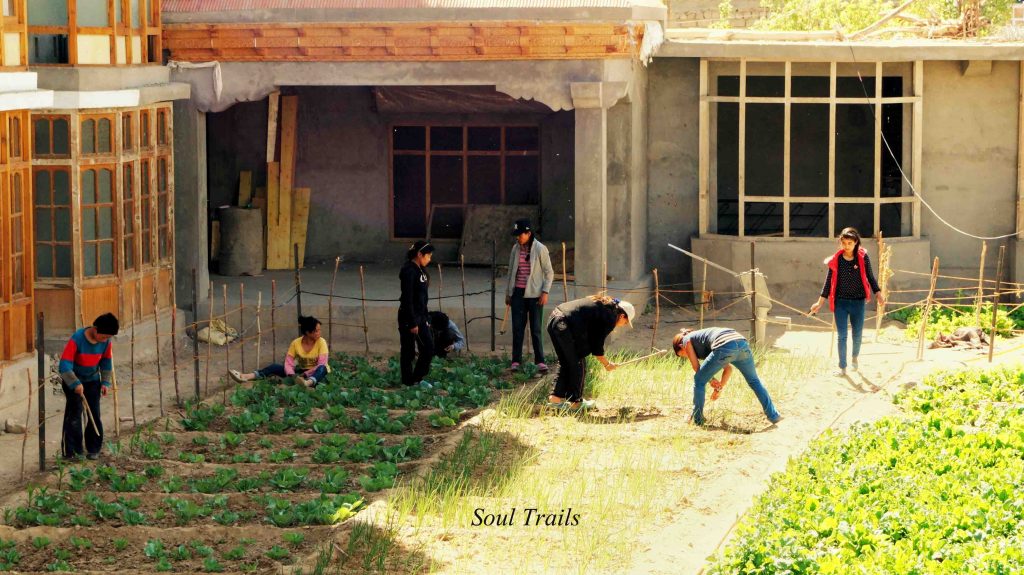 A Change of Heart
I was beginning to understand the kids and their stories. There was a bond forming which I never imagined when I came to Rigjung. I realized that ten days are not enough. I needed more time. With this request, I went to Ms. Dolma, and she said I could stay for as long as I want. The students loved my company and staff liked me to be around as well.
Ms. Dolma suggested that since they already have regular subject teachers, it would be more beneficial if I can engage the kids with creative workshops. After discussing it with other teachers, I realized that the students are brilliant, but they suffer from communication and expression.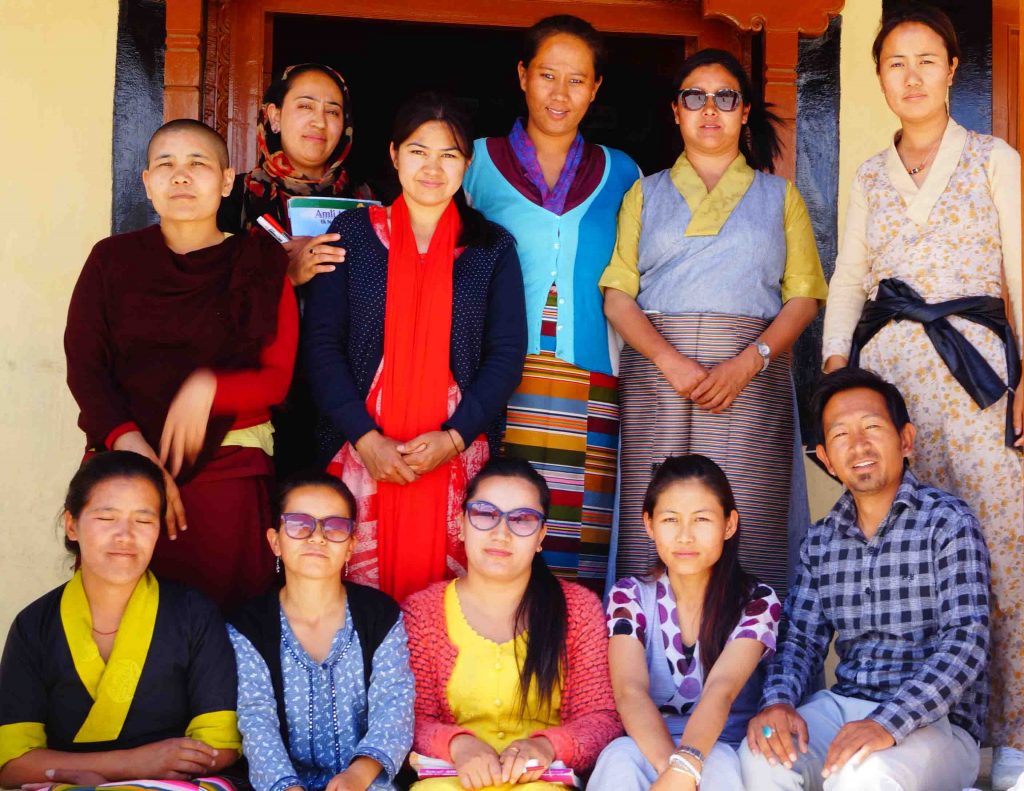 With a newfound mission, I dropped my initial idea of traveling the nearby rural areas and spent most of my time with the kids. I started focusing on how to create a safe space for them to lose their inhibitions and help them interact more creatively. Once I opened up the stage, I noticed their interest growing. They started to feel more confident around me, as well. I became their friend, confidante, and on a few occasions, a partner in crime as well.
Bonding over conversations & art
The kids had started to open up a little more with each passing day. They would come to me with their problems and complains. They would joke with me and often tell me cute stories. Some of them even asked me to stay until the end of the session. We would talk about everything under the sun. From school to their dreams, families to movies, from art to politics. All of this was so humbling and heartwarming. The little ones were the naughtiest. They would keep coming and peeking inside the room leaning over the window pane. And when I would look at them and smile, they would laugh and run away shouting something in the local language. It was somewhat a cute little game that the shy ones used to play with me. The clever ones would come to ask favors which they were afraid to ask Vijay sir.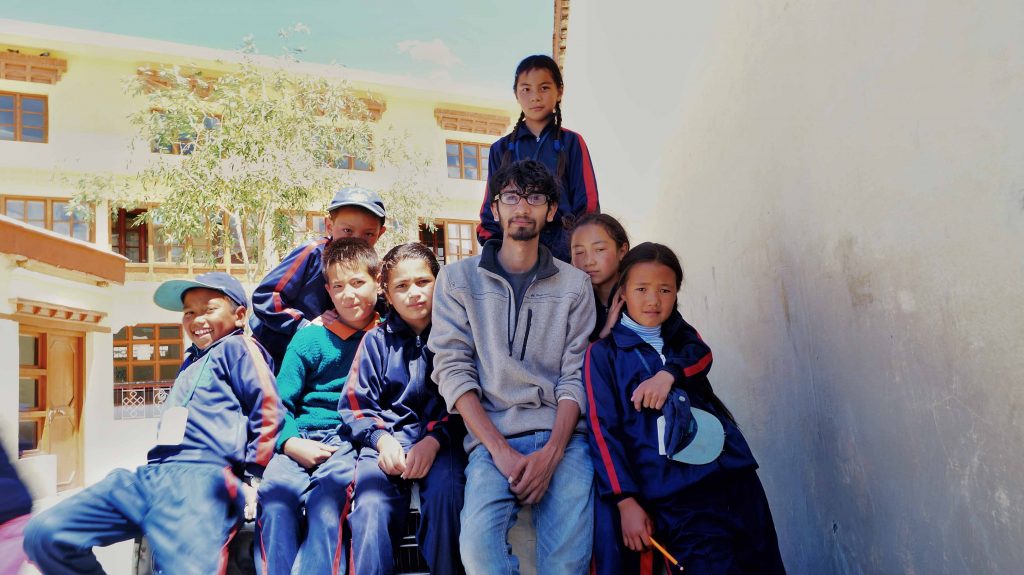 The kids and their gentle innocence, the 'julleys' and 'good evenings' made me wonder what I had done to deserve their unconditional love. Their simplicity and enthusiasm to learn inspired me to do my best. I tried different art-based activities like group discussions, found poetry, storytelling, etc. In a few weeks, the change was noticeable.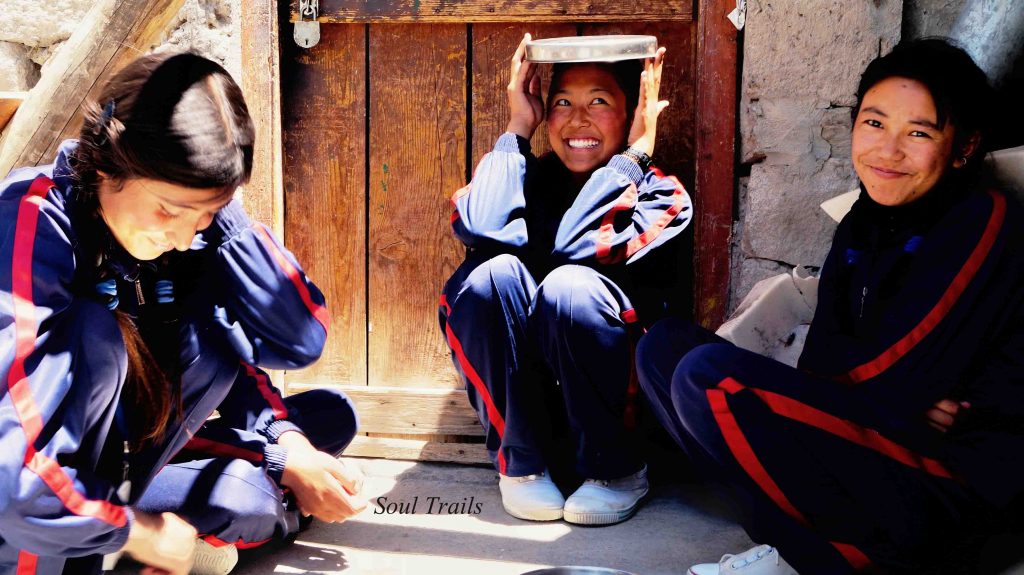 I saw a lot of potential in these kids. Their responses were soul-stirring. Some were quite funny and full of wit, and some used an out of the box imagination.
Letters from Leh
On my last day, I asked them to write a letter to an anonymous friend. In the letter, they were supposed to introduce themselves and talk about their life and dreams and ask that anonymous friend to be a part of their journey. I intended to carry those letters back with me and pass it on to hand-picked people. I knew it wouldn't be possible for me to be in touch with all of them, so I thought of calling in some support — people who will write back to them and can become a guardian angel. And what can I say; the kids pour their heart out. Each letter was a living testimony of their undeterred heart.
Some of them wrote a letter to me as well. Their messages were so pure that it made me cry.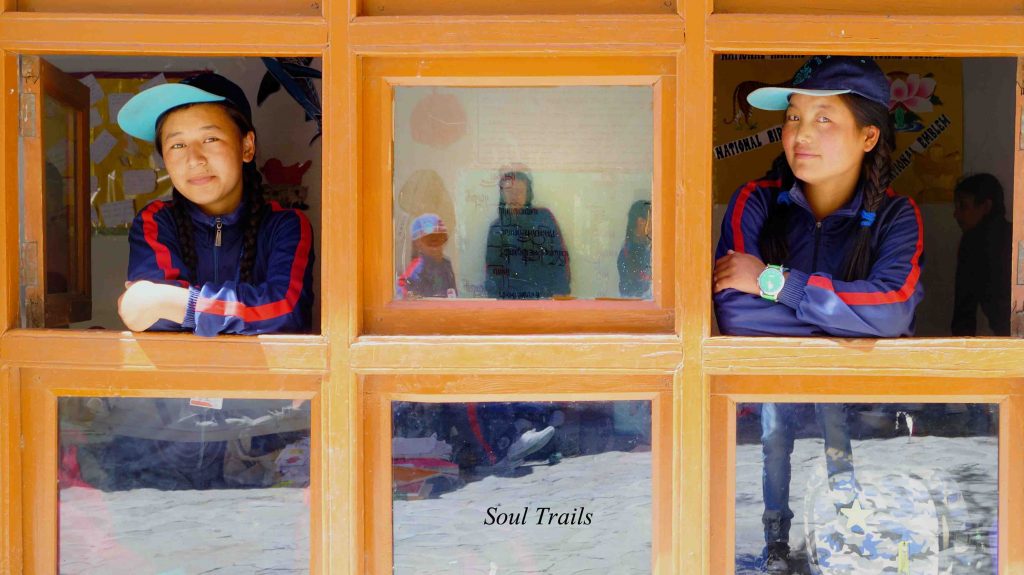 That 100 rupee note
Before leaving, we clicked lots of pictures. Goodbyes were said, and I was told how glad and grateful they were that I came to their hostel and became their friend; that they will always remember me and my teachings. While we were busy hugging each other and saying goodbye, this one student I was particularly fond of tapped on my back. I looked around to find Stenzin Lhamo of class 4. I sat on my knees to look at her eye to eye. She asked me to close my eyes, and when I did, she handed me something and ran away. I opened my palms to find a 100 rupee note in it. Confused, I looked at achi Tashi. She said it is her gift to me — Money for me to get back home safely.
Her kindness and love touched me. A 100 rupee note is a big deal for underprivileged kids, but it was an even larger gesture for a 10-year-old to make! That was probably all she had for the month. Holding back my tears, I looked at Vijay sir, and he understood my dilemma. He explained that Lhamo might feel bad if I return her gift. So I went to her room, hugged her, and then made her sign that note. I told her that that note is the most precious gift I have ever received and I will keep it forever. And then as a return gift, I gave her 100 bucks in change. I have that 100 rupee note till this day.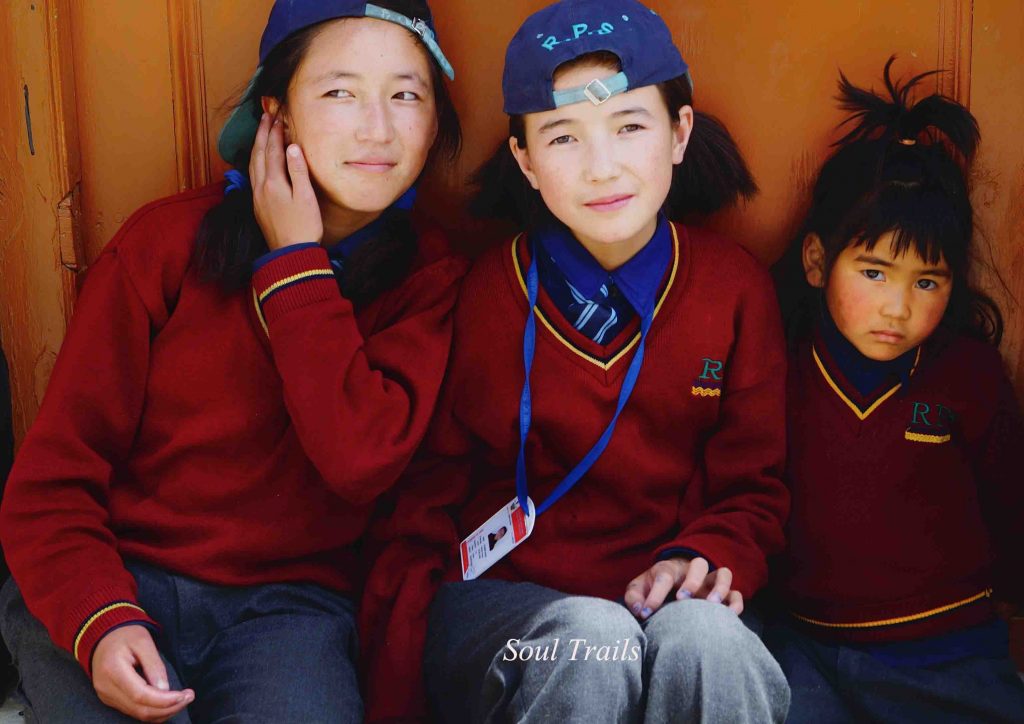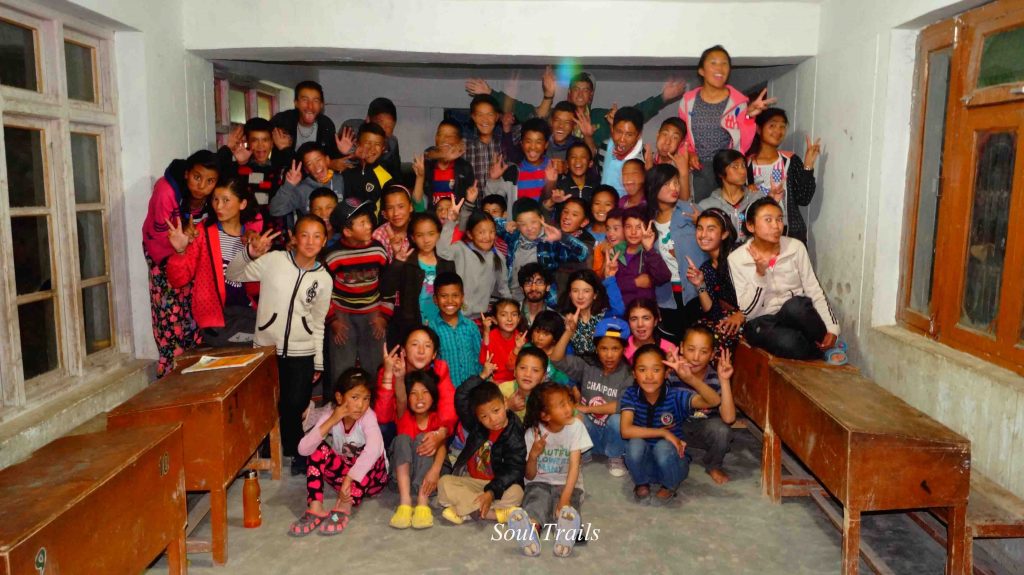 Learning Unadulterated Love
I ended up with them by a chance encounter. I went there to teach, but truth be told, I learned more from them then I could ever teach anyone. With them, I learnt the true meaning of 'little things.' They taught me that happiness is not measured by the resources you have but by the love you carry in your heart. I learned how important it is not to hold back and love everyone as they come. I discovered that when someone loves you for who you are without judgment or pretense…your heart awakens, your soul comes alive, your senses are stimulated, and you know true happiness.
And I learned that TEACHING IS EXHAUSTING (Now who would've thought that I bet, not me!)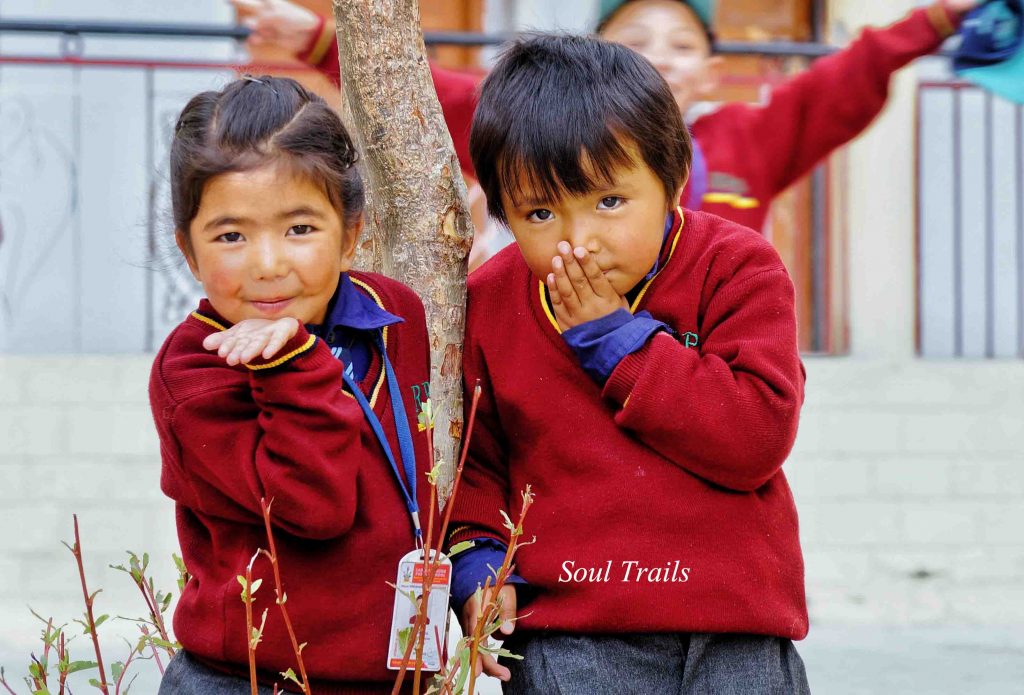 ❤️ Spread the love, share this blog! ❤️
I would love to know what you think of this story. Please share your views in the comments below  (":
Comments
comments