With a population of 6.9 million people, if looked from a distance, a metropolitan like Hyderabad may seem to have nothing more than a budding economy to offer. But if looked closely, in the hustle bustle of the city, there's a Shahi heritage that doesn't go unnoticed.
Hyderabad: A City of History & Heritage
Established about 400 years ago Hyderabad remained under Qutb Shahi dynasty for a long time. It was, eventually, passed on from one dynasty to another until finally, it became what it is now. That fact justifies the rich heritage of this city. Knowing all this, who wouldn't want to relish the things it can offer.
I visited Hyderabad with the purpose of attending my niece's first birthday. Deep down, I had been meaning to explore Southern India and the family function came as a perfect opportunity. But odds are not always in one's favour, and in my case, sometimes once in a blue moon so I get to feel favoured. By this I mean, the train was late. Being an impatient being, the wait seemed like forever. But eventually, I was on-board.

Day 1
After a 24 hours' long and exhausting journey, I was there in the morning. My arrival was followed by an equally tiring meeting and greeting session and you know what follows next. Food.
It was already pretty late and after some family time, I knew I wouldn't be able to explore much. I had to make a choice and what better way to interact with the soul of the city than by starting with the heritage monuments that had stood by time and witnessed the city changing. My sister's father-in-law suggested me to visit Golconda. I only had a few hours and instead of hopping through various places, I decided to explore the biggest heritage monument in Hyderabad – Golconda Fort.
Golconda Fort
It is the highlight of Hyderabad's medieval sultanate's architectural wonder and wealth. The giant structure is 10 km in circumference. It consists of a parade ground, a palace, mosques, and temples out of other establishments. But these aren't the only things that make this, now ruin, a masterpiece of the city's history. This fort was also the home of world's most famous diamonds and witnessed the conspiracy which shaped the present day's Hyderabad.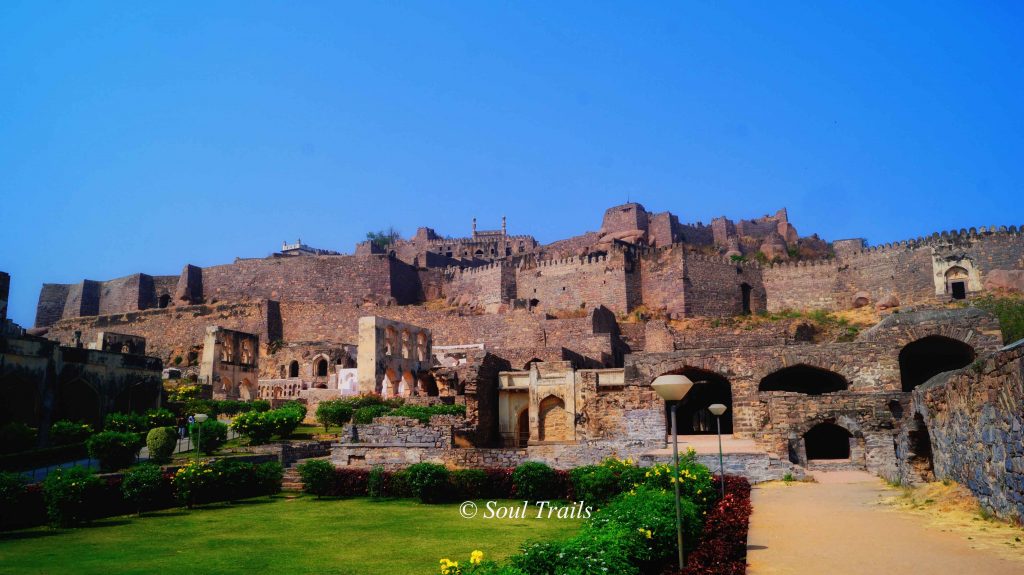 Duration: 3-4 hours
Timing: 8:00 am to 5:00 pm every day
Entry Fee: INR 15 for Indians | INR 200 for Foreigners
I couldn't attend the light and sound show which happens every evening at Golconda Fort due to time constraint but I highly recommend it.
Day 2
The next day was action-packed. I woke up early so that I could devote enough time to all the monuments I had planned to visit. I was still in the hangover of Hyderabad's heritage (and the beer I chugged last night). I had the whole day to myself and I was keen on making the most of it. My journey began with Charminar – a monument which symbolises the city of Hyderabad.
Charminar
Charminar or 'Four Towers' in Hindi was built in 1591 by the fifth ruler of the Qutb Shahi dynasty. It's a square granite structure at each corner of which stands a minaret with a double balcony. Each minaret has petal-like designs carved on its dome. The architectural style is Islamic, and has a mosque located on the second floor. When the Qutb Shahi dynasty changed its capital from Golconda to Hyderabad, this was followed by the construction of Charminar. If one goes by the theories, this piece of art is at the centre of the city and has a hidden tunnel that takes one all the way to Golconda Fort.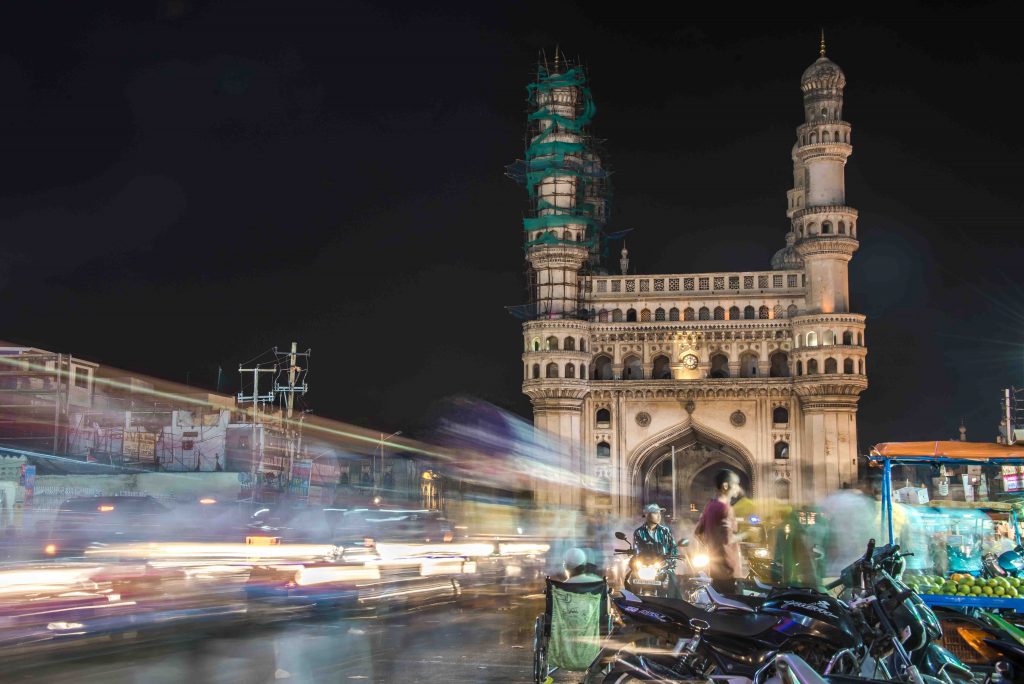 Duration: 1 hour
Timing: 6:00 am to 6:00 pm everyday
Entry Fee: INR 15 for Indians | INR 200 for Foreigners
Mecca Mosque
Just a few meters away from Charminar lies one of the largest mosques in India. The foundation of the mosque was laid by Muhammad Quli Qutb Shah who wanted the central arch to be built by bricks made from soil brought from Mecca – the holiest place of Islam. This is why the mosque was named Mecca Mosque.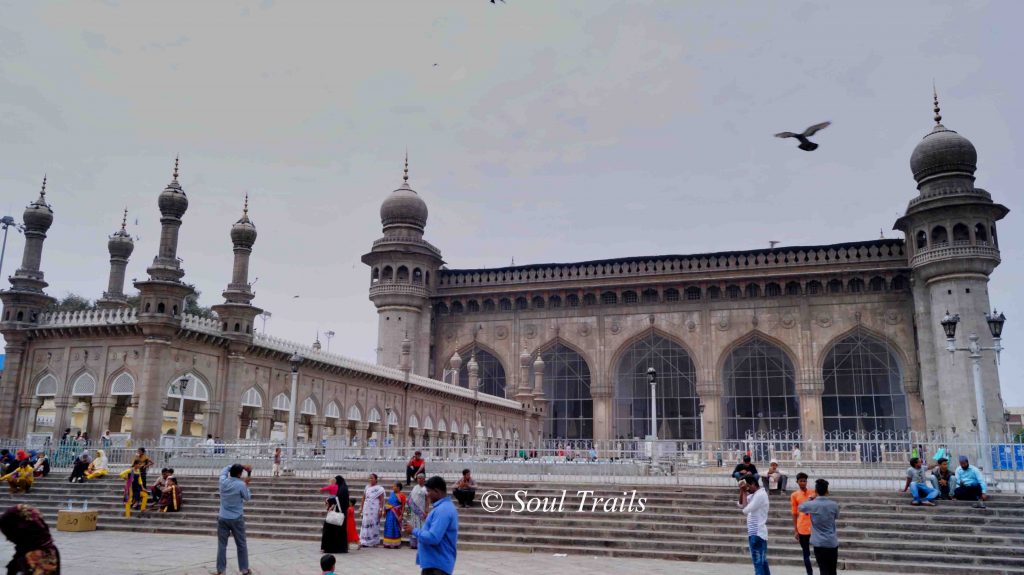 Timing: 4:00 am to 5:30 pm
After the Mecca Mosque, I was walking across the streets, soaking in the hustle-bustle of Hyderabad when I ended up at Laad Bazaar.
Laad Bazaar
This old and famous market is a paradise for shopaholics. Stretched across a street for over 1 km, Laad Bazaar is mainly famous for bangles. The word 'Laad' means lacquer which is the main material used to make bangles; hence the name Laad Bazaar. Though there are many legends claiming different origins of the market. Apart from bangles studded with artificial stones, I also found women shopping for pearls, jewellery, silverware, perfumes and saris with zari and embroidery work etc. This is said to be Hyderabad's 'wedding bazaar'.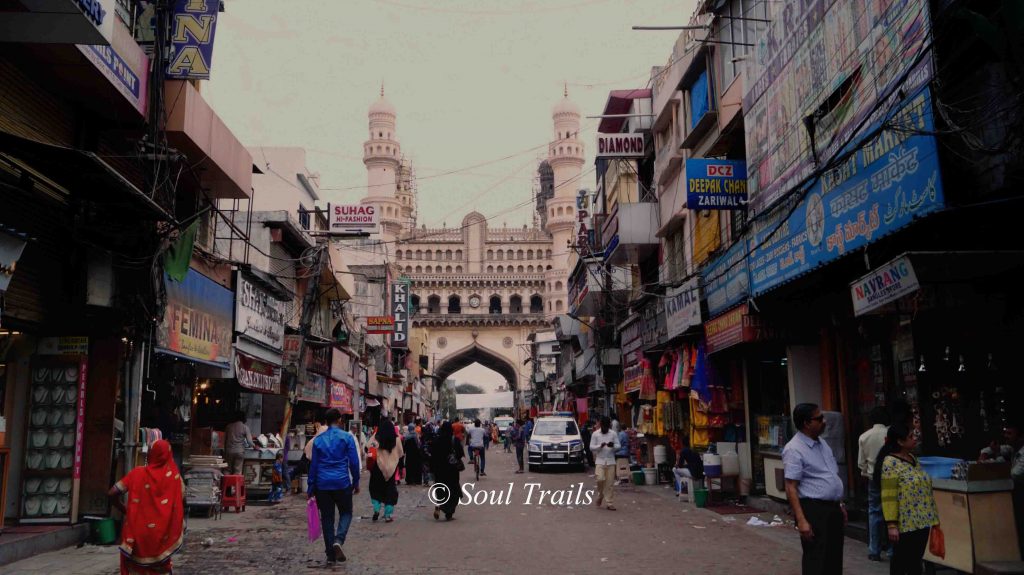 Duration: 1 – 2 hours depending upon your shopping list.
Timing: 10:00 am to 10:00 pm. The best time to visit is in the evening.
During my travels, I've come to realise that these old markets are the best place to depict the authentic culture of any city. And Laad Bazaar was no exception.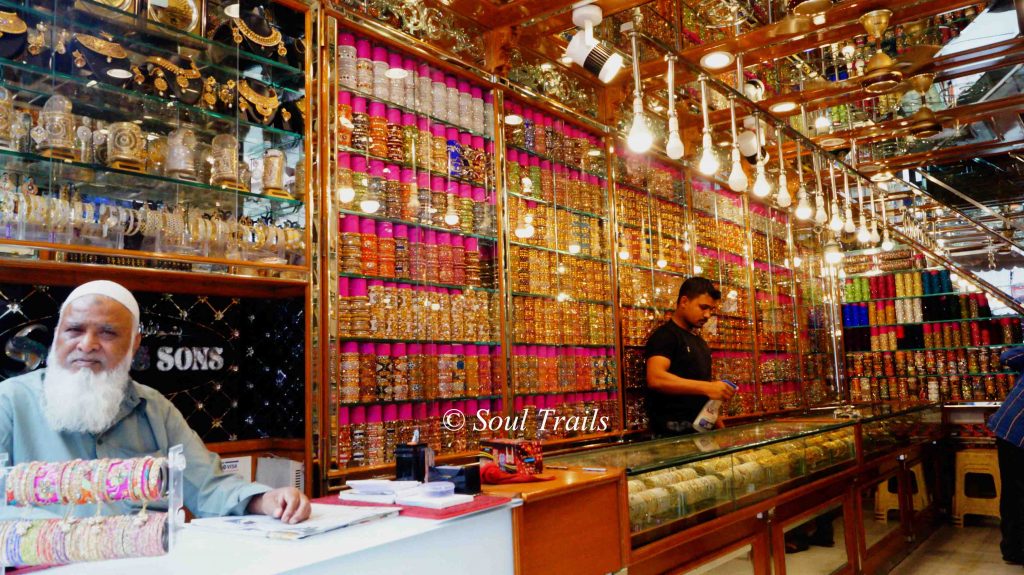 It was lunchtime and what better place to try street food of Hyderabad but at Laad Bazaar?
I tried a lot a street food from different small shops near Charminar and ate to my heart's content. Next destination – Chowmahalla Palace. For some reason, I was very intrigued by its name.
Chowmahalla Palace
This palace reflects the grandeur of the Nizam era in its true essence. The construction was started in 1750 and it took 119 years to complete. This palace was the residence of Hyderabad's Nawabs and their family. There are four palaces inside the compound. 'Chow' in Hindi means four and 'Mahal' is palace; hence the name Chowmahalla. Chowmahalla also showcases different artifacts from the Nizam era including some rare black and white photographs. The royal seat or 'Takht-e-Nishan' is also laid in the Durbar Hall of Chowmahalla.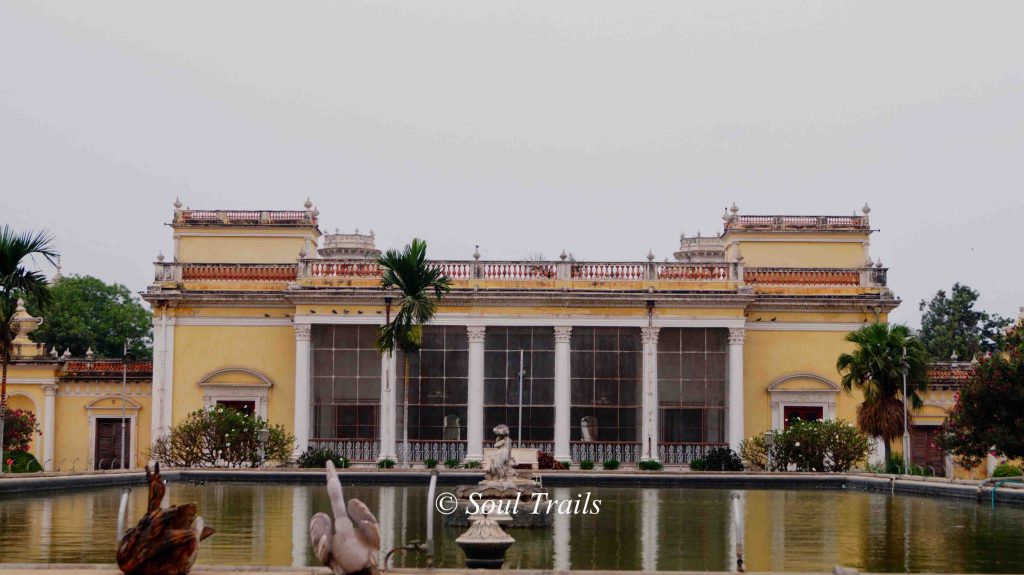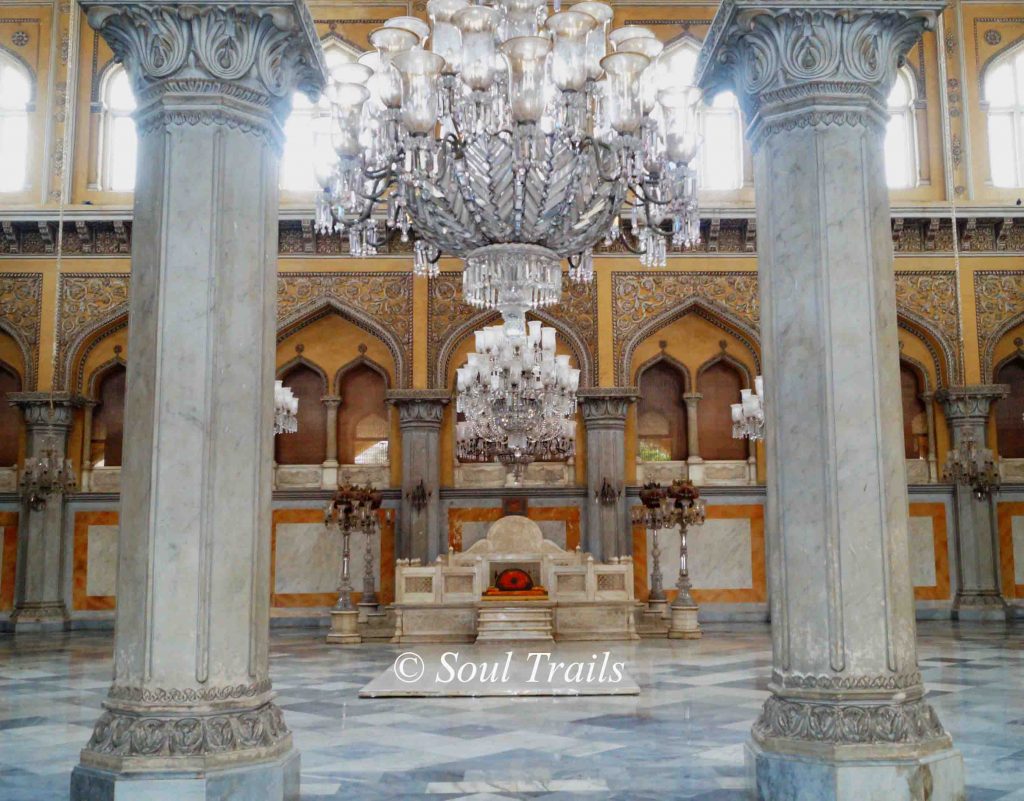 Duration: 2-3 hours
Timing: 10:00 am to 5:00 pm | Closed on Fridays and national holidays
Entry Fee: INR 50 for Indians | INR 200 for Foreigners | INR 50 for still camera
Google maps suggested that the closest attraction near Chowmahalla Palace on my list was Salar Jung Museum. Salar Jung is considered as the world's largest collection of artifacts by one man.
Salar Jung Museum
Nawab Mir Yusuf Ali Khan Salar Jung III was an evident art lover who curated the world's largest one-man collection of antiques. His collection is now India's third largest national museum, housing close to 50,000 art objects. The collectibles are divided into sections as Photo Section, Display Section, Chemical Conservation Laboratory etc.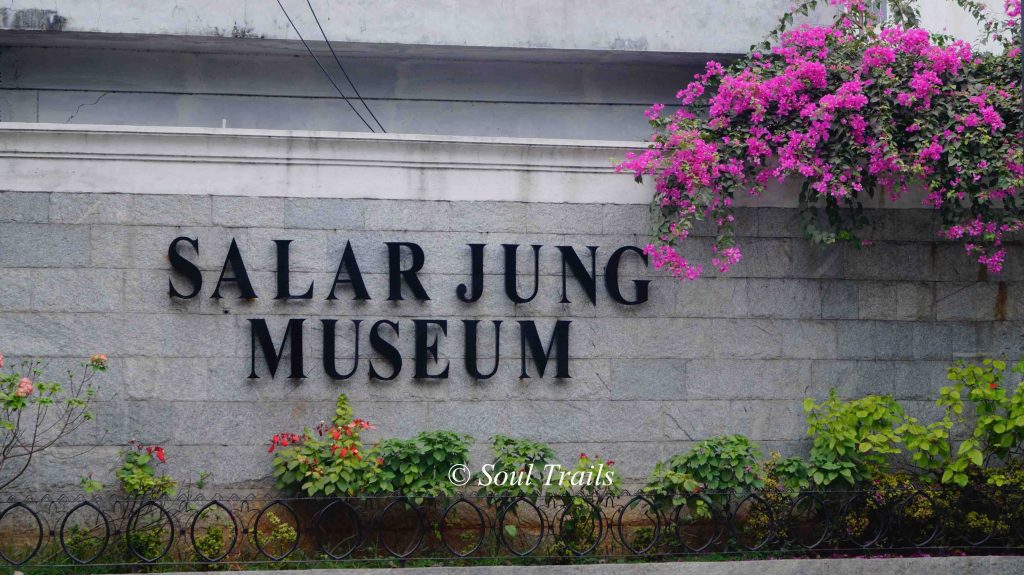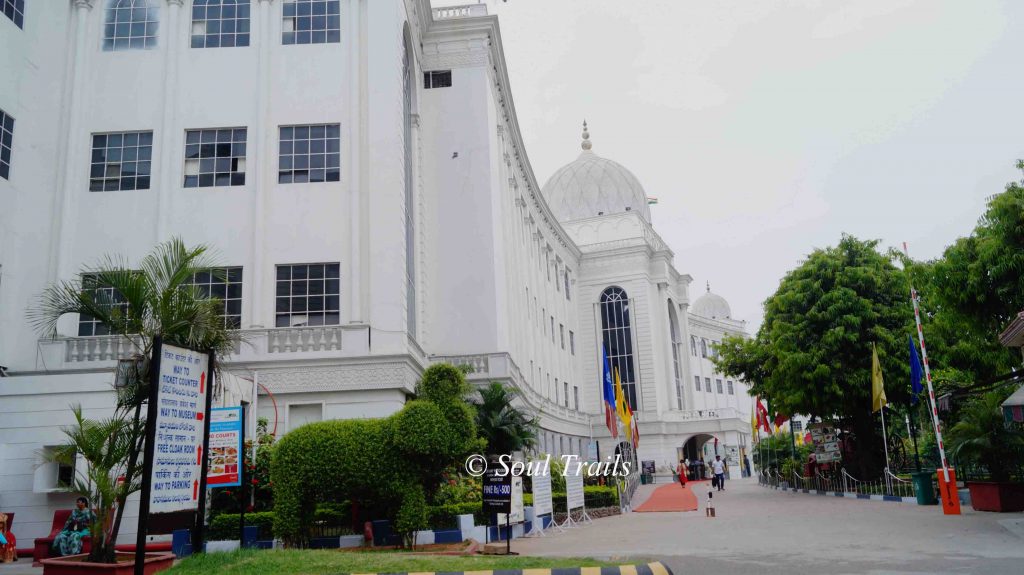 Duration: 2-3 hours
Timing: 10:00 am to 5:00 pm | Closed on Fridays and national holidays
Entry Fee: INR 20 for Indians | INR 500 for Foreigners | INR 50 for still camera
After a long day of wandering through the streets of Hyderabad, I booked a cab to my sister's house.
Day 3
It was a day to be spent with family and cherish the joy of having the cutest niece in the world. The birthday of my niece started with a few Telugu rituals. The rituals at home were followed by a visit to a temple (I don't remember the name of) and community service for the lesser privileged.
After lunch, the whole family went to Birla Temple.
Birla Temple
Situated at a hilltop named Kala Pahad, Birla Temple is one of the most popular places in Hyderabad. The temple is dedicated to Lord Venkateshwara (Balaji). This temple is made of bright white marble and offers a magnificent view of the city. The climb was worth it.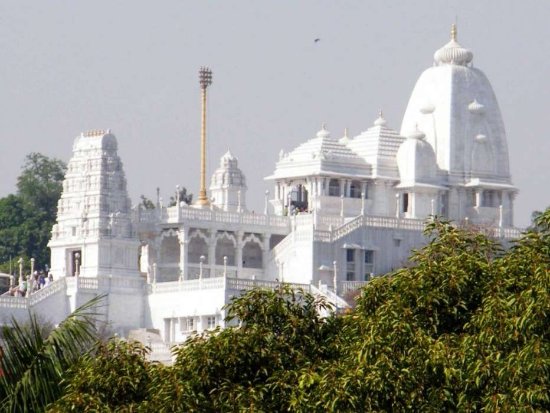 I wanted to stay till the sunset but we were getting late for the birthday bash.
The celebration went on till late night. On our way back, my brother-in-law took us to a drive to see the Hussain Sagar Lake. The view and calm of the night was a perfect end to this short but eventful trip.
The next morning I flew to Chennai.
Places I couldn't visit but you should:
I was in Hyderabad for a family function which didn't really give me enough time to explore the city the way I usually do. But guess what? I will be visiting Hyderabad at least once every year. So here's what I would definitely be doing during my next trip to Hyderabad –
Qutb Shahi Tombs
These seven tombs are dedicated to the royal family of the Qutb Shahi rulers. The graceful Indo-Saracenic style architecture of the tombs and the stonework attracts a lot of visitors to this place. It is just 1 km from Golconda Fort and is surrounded by Ibrahim Bagh gardens.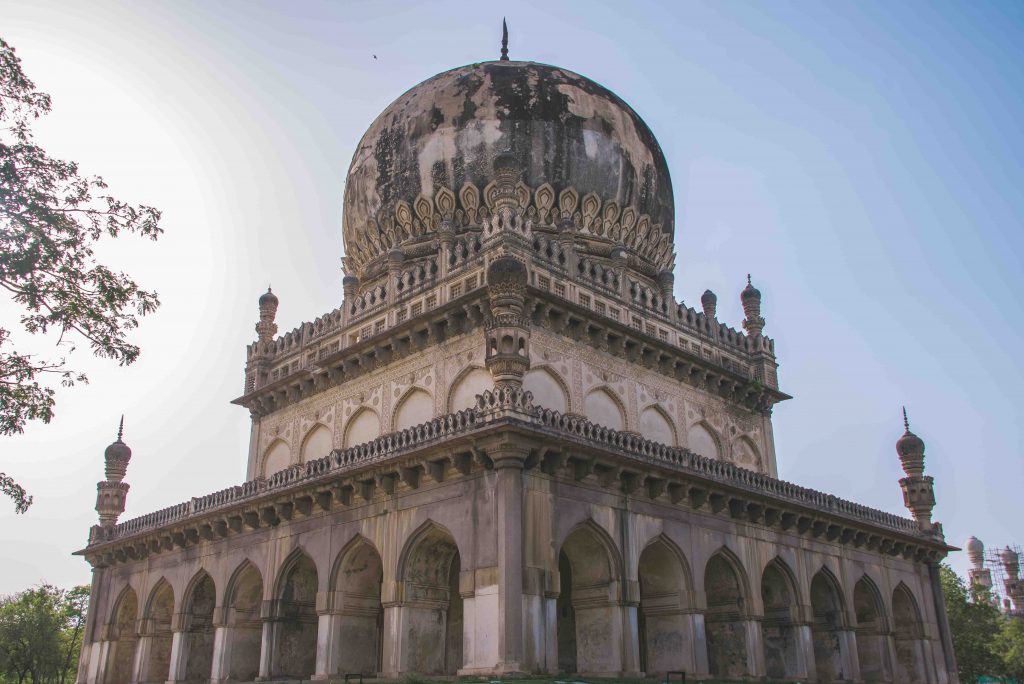 Duration: 1-2 hours
Timing: 10:00 am to 5:00 pm
Entry Fee: INR 10 for adults | INR 20 for still camera
Ramoji Film City
Spread across over 1800 acres, Ramoji Film City holds Guinness World Record of being the world's largest film studio. There are day tours available for the tourists at different package rates. Apart from various film sets, hotels, and restaurants, Ramoji Film City also has a Butterfly Park and a Bird Park which consists of many rare species of the birds. They also host various shows and fun rides for the visitors.

Duration: One day (4-8 hours; depending upon your choice of the package)
Timing: 9:00 am to 5:30 pm
Entry Fee: Starts with INR 1150 for adults & INR 950 for Children (3-12 years)
For more details, click here https://www.ramojifilmcity.com
 Hussain Sagar View/Lumbini Park
I moved past this iconic destination of Hyderabad city twice, but couldn't visit it. This beautiful lake is studded with a giant Buddha Statue in the middle of it. You can reach the statue via a boat ride from Lumbini Park. A drive along the necklace road which circumcircles the lake is one of the most memorable experience I had in Hyderabad.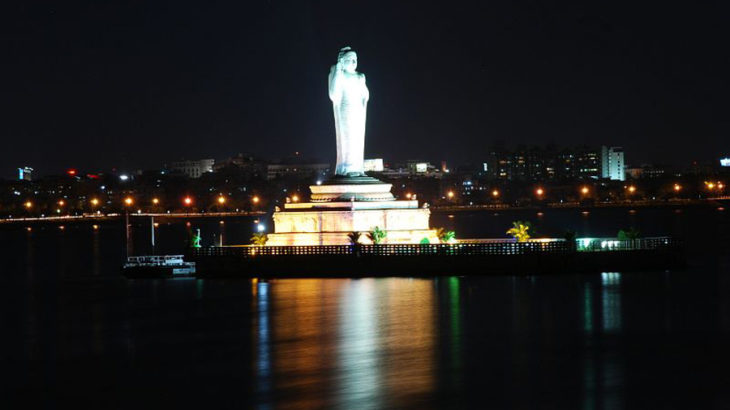 Duration: 2-3 hours
Timing: 9:00 am to 9:00 pm
Entry Fee: INR 20 for adults | INR 10 for children
Boat Ride: INR 55 per person (to and fro to the Buddha Statue)
Any trip to a city is incomplete without indulging in the cities signature cuisine, or as they call it 'Hyderabadi Ghizaayat' in Hyderabad. Since my sister's in-laws belong to a conservative Telugu family, I mostly enjoyed the Telugu vegetarian delicacies. But here's my wishlist which you should totally try in this flavour rich city –
Hyderabadi Ghizaayat 
Hyderabadi Biryani, Mirchi ka Salan, Dum Pukht, Hyderabadi Marag, Keema Samosa, Paaya, Maghaz Masala, Khatti Dal, Gosht Pasinde, Qaboli Biryani, Burani Raita, Lukhmi are on my wishlist from Hyderabadi cuisine. And honestly, I can't wait to visit my cute little niece and munch on these delicious dishes. Already missing them both!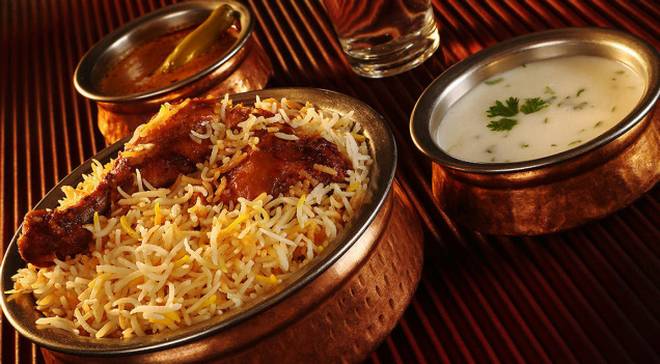 Did I miss something? Please drop in a comment to let me know (:
P.S: Can really use your help in locating the best joints to devour my wishlist of Hyderabadi Ghizaayat
Subscribe to Soul Trails for more such personalised itineraries and travel tips articles <3
Comments
comments