"From October 2017 to February 2018, I worked on an assignment for Mary Budden Estate, Binsar. Based on my personal experience while staying in the core region of the sanctuary, here's a short guide for Binsar Wildlife Sanctuary containing all the information one might need to plan a perfect trip to Binsar"
---
The calm of this place will make you grow thin from dreaming. The snowcapped mountains, the land shaded with trees, and the fresh breeze would make you want to live there forever. While in Binsar Wildlife Sanctuary, you will notice a different flavor of the dawn, morning, mid-day, and night, that only a realm of an isolated forest can offer.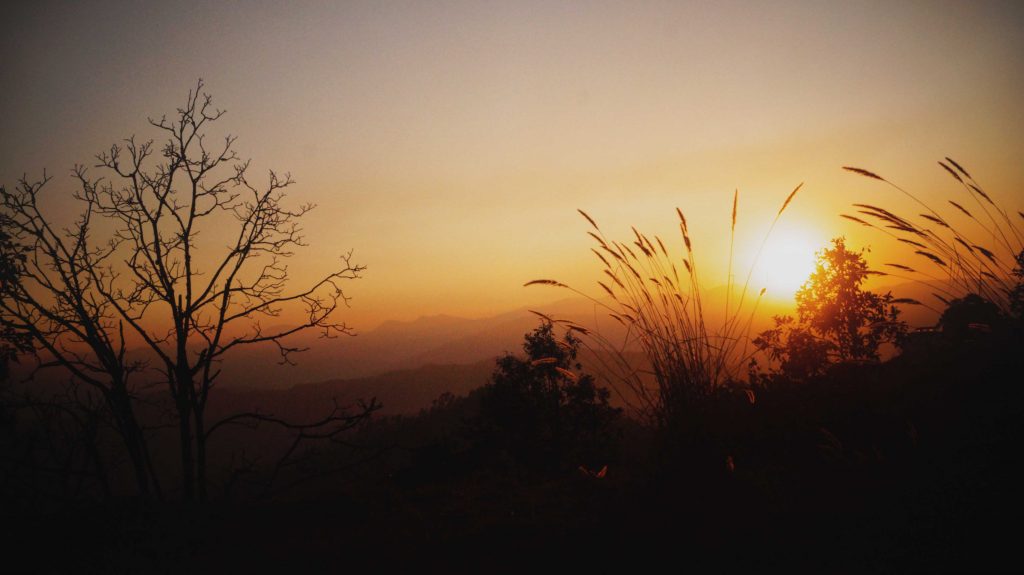 Binsar lies in the heart of Kumaon region of Uttarakhand, at an altitude varying from 1500 m to 2500 m, in the lap of the Himalayan peaks of Nanda Devi, Trishul, and Panchachuli. It is unique in its unparalleled beauty and breathtaking view of the Himalayas. Apart from the magnificent views, Binsar is also a home for many wild animals and over 200 bird species. It is the only wildlife sanctuary in India where walking is permitted on the 62 km of designated paths.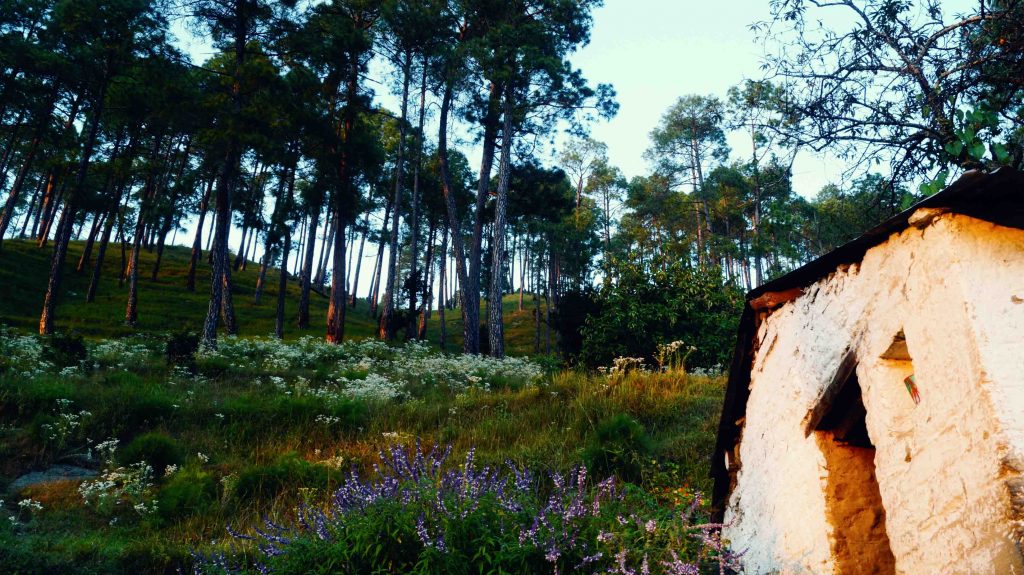 Did you know it was a capital once?
Binsar was once the ancient capital of Chander dynasty. The Chander kings ruled over this region between the 7th and 18th century. King Kalyan built a Shiva temple called Bineswar Mahadev which still stands high net to a stream in the middle of the sanctuary.
During the British rule, it became the summer district headquarters of Almora. Binsar was declared as Reserve Forest in 1880 and was upgraded to a wildlife sanctuary in 1988.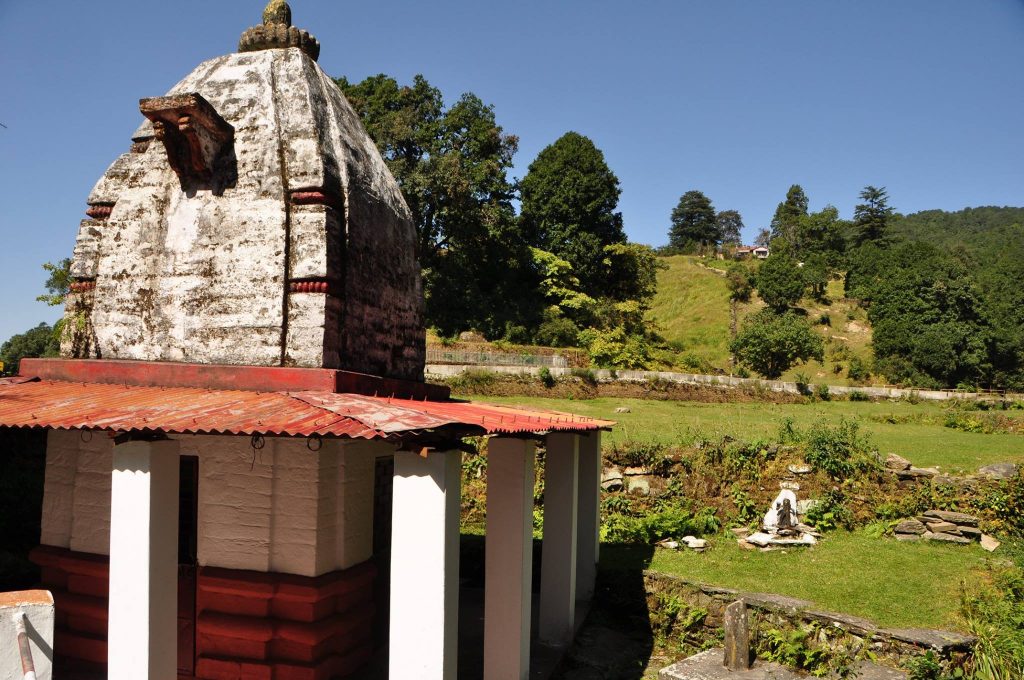 Know your peaks!

Binsar Wildlife Sanctuary is spread across 45 sq. km in the middle Himalayan range of Jhandi Dhar hills. The highest point of Binsar, Zero point, offers a stunning landscape view of the Himalayas. The range of Himalayan peaks visible from Binsar covers over 300 km. On a clear day, one can spot Nanda Devi, Kamet, Nanda Gunti, Trishul (1,2,3), Mrigtuni, Maiktoli, PanvaliDwar, Nanda Devi East/Sunanda Devi, Nanda Khat, Panchahuli Peaks, Nampa, Rajrambha, Chhanguch, KarchaKund, Chaukhamba, Neelkanta, and Pindari Glacier.
With the help of binoculars, you can also spot a few lesser known peaks of Western Nepal like Porbandar, Dangthal, Ralam Pass, and Nanglaphu.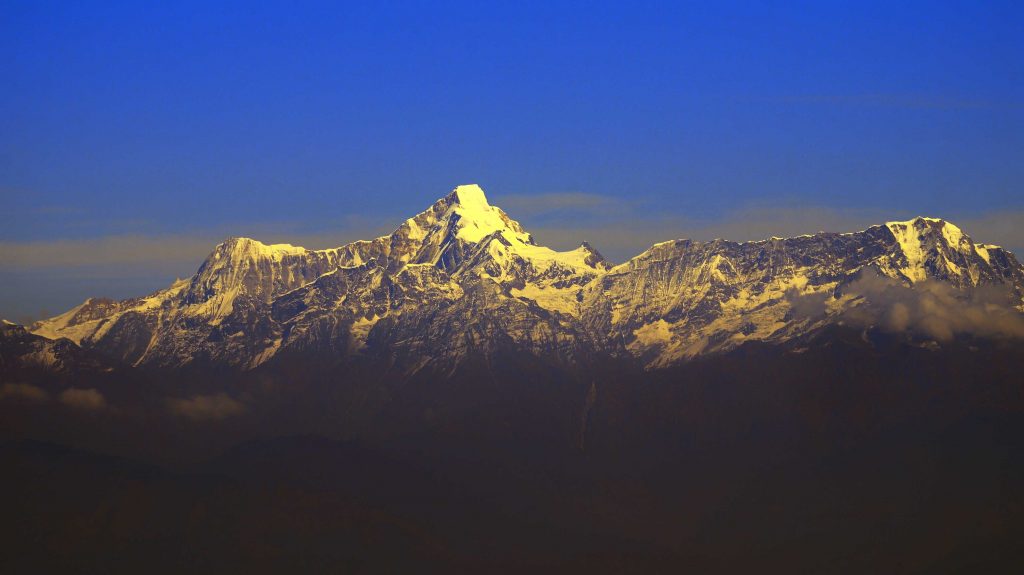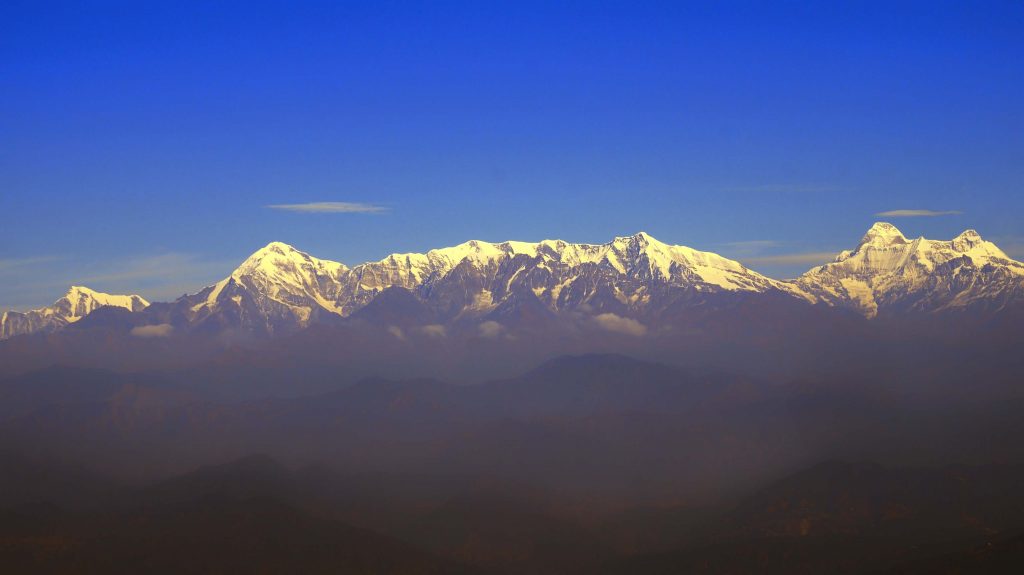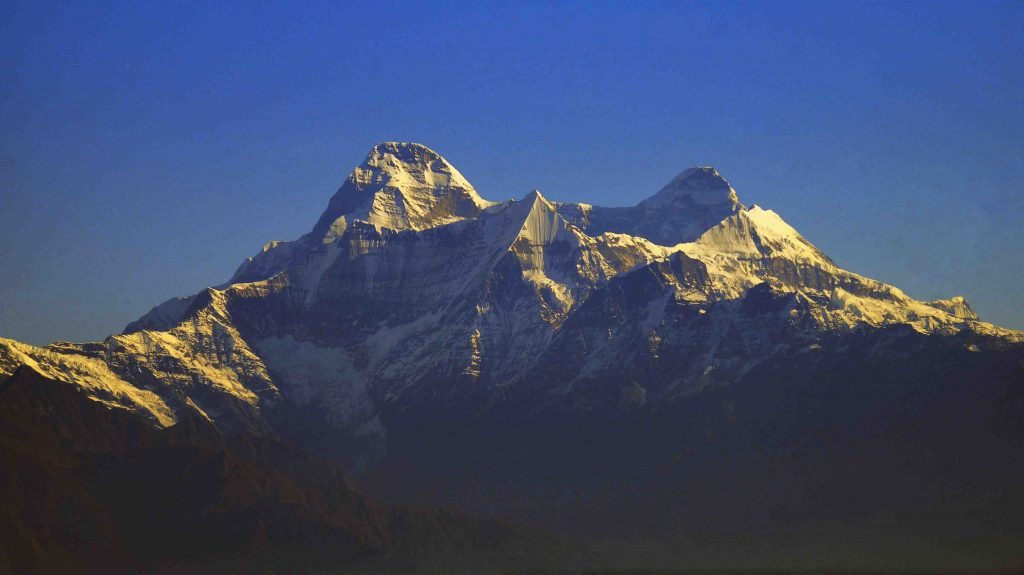 Certain things cannot be explained; only experienced. The captivating beauty of this view is certainly one of them.
The real inhabitants of Binsar
Binsar harbors one of the last remaining natural temperate broad-leaved forests in Middle Himalayas, along with rich forests containing three species of Himalayan Oaks, Chir Pine, and Deodar. The place teems with spellbinding birds and wildlife.
Binsar is a paradise for bird watchers. It was declared a vital birding area by BirdLife International. The sanctuary is famous for more than 250 species of birds including forktail, magpies, woodpeckers, monal, eagles, Jays, nuthatches, parakeets, Kalij pheasant, etc. 
The four-legged inhabitants of the sanctuary include barking deer, Himalayan Ghoral, wild boar, jackal, pine martin, langur, flying squirrel and porcupine. And if you're lucky, you might get a chance to see the magnificent big cats of Binsar – leopards, as well.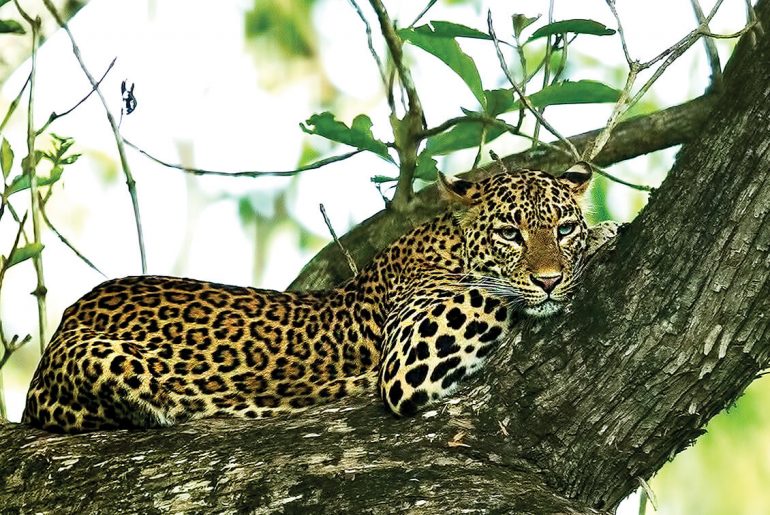 The higher altitudes of the sanctuary are covered with oak and rhododendron trees. Binsar is also known for its ruby red rhododendron bloom from March to April. Apart from different flowers throughout the year, in monsoon, you will find a wide variety of mushrooms growing in the nooks and crannies of the forest.
Diving in the layers of the Jungle
By Air: The nearest airport is Pantnagar Airport, which is a 5-hour drive from Binsar Wildlife Sanctuary.
By Rail: The nearest railway station in Kathgodam, which is a 4-hour drive from the estate. It is the most convenient way to reach Binsar.
By Road: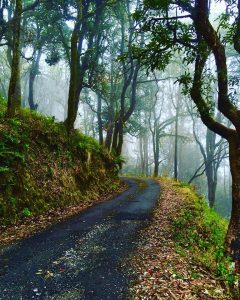 1) The driving time from Delhi to Binsar is 10 hours via Moradabad, Bazpur, Tanda, Kaladhungi, and Nainital. Then take the state highway to Almora via Bhimtal, Bhowali, on to Binsar Wildlife Sanctuary.
2) There are regular buses available from AnandVihar ISBT, Delhi to Haldwani. From Haldwani, you will get local buses and private/shared taxis to Almora. From Almora, you can hire a taxi costing approximately INR 1000-1200 to reach Binsar Wildlife Sanctuary.
You can stagger your journey by spending a weekend at Corbett National Park or by driving via Nainital to Binsar.
Welcome To The Jungle:
You have an option to stay inside the sanctuary in a variety of accommodation ranging from homestays in villages to Forest Rest House, KMVN guest house, or in one of the private estates.
If you are looking for an alluring view at a pocket-friendly price, Kumaon Mandal Vikas Nigam (KMVN) Guesthouse is the name. KMVN lies close to Forest Guest House. Both of them are located in the core zone of the sanctuary and since they are the only pocket-friendly accommodations, it is highly recommended for one to book them prior to their visit.
For backpackers, Simba Café & Lodge seems to be a suitable option. Simba is the only café in the entire sanctuary. It also has decent rooms with attached washrooms, along with camping options at your convenience.
If you tend to have a bent towards the café and its bookings, you could contact Harsh at 9410793473.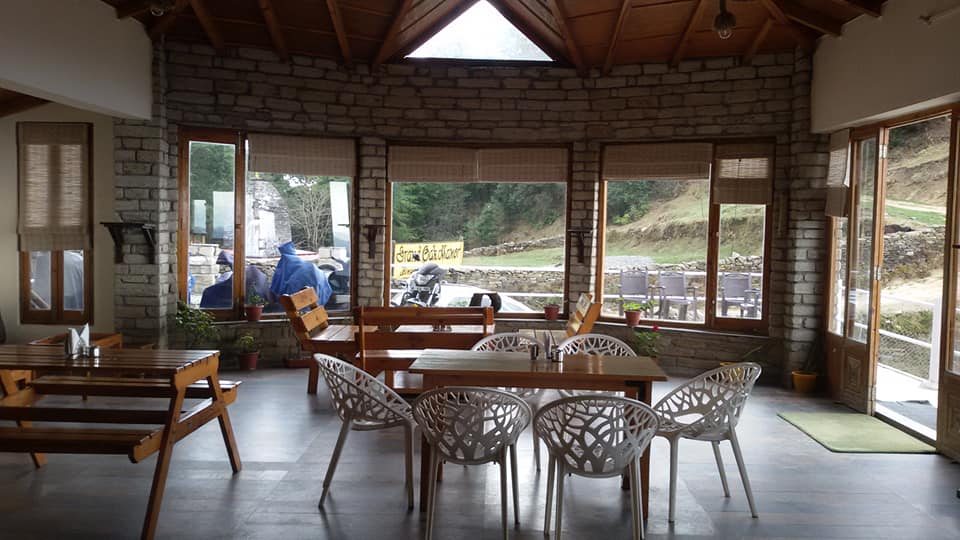 For those having a flair for luxury, Mary Budden Estate is the thing. The luxury heritage homestay offers a perfect blend of seclusion and privacy with impeccable hospitality.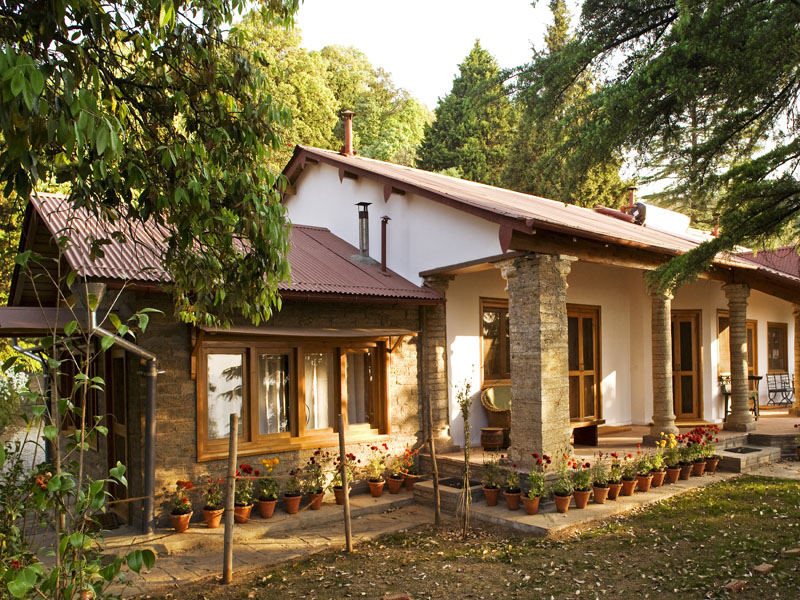 Some of the other options include Grand Oak Manor and Binsar Forest Retreat. Both of them are recommended for sunset & sunrise lovers, providing a variety of accommodation extending from mid-range to semi-luxury, available for the ones bitten by wanderlust.
For backpackers on a shoestring budget, the best option seems to be a stay in Kasardevi. Kasardevi is a small town on the Almora-Binsar road. It is just 13 km from Binsar. There are many homestays available in Kasardevi. You can also rent a bike to roam around nearby places including Binsar Wildlife Sanctuary.
Those who are interested can get in touch with Mahesh Homestay at 94567213474, with a price offer of INR 400/ night (approximately).
This one's for the bike enthusiasts, you guys can contact Harsh at 9410793473. In case there are no bikes available from an external source, you can ask for one at your homestay.
When to set foot
Binsar is a year-round destination with an exception of July, as the month is vulnerably affected by the monsoon. The average temperature of Binsar from August to October is between 10 to 20 degrees. March to May are remarkably pleasant because of the ruby red rhododendron bloom.
Binsar conceives an exceptional amount of snowfall during January of February as well. Just make a few calls before heading out, and this can be a perfect snowy getaway for your Valentine's Day surprise.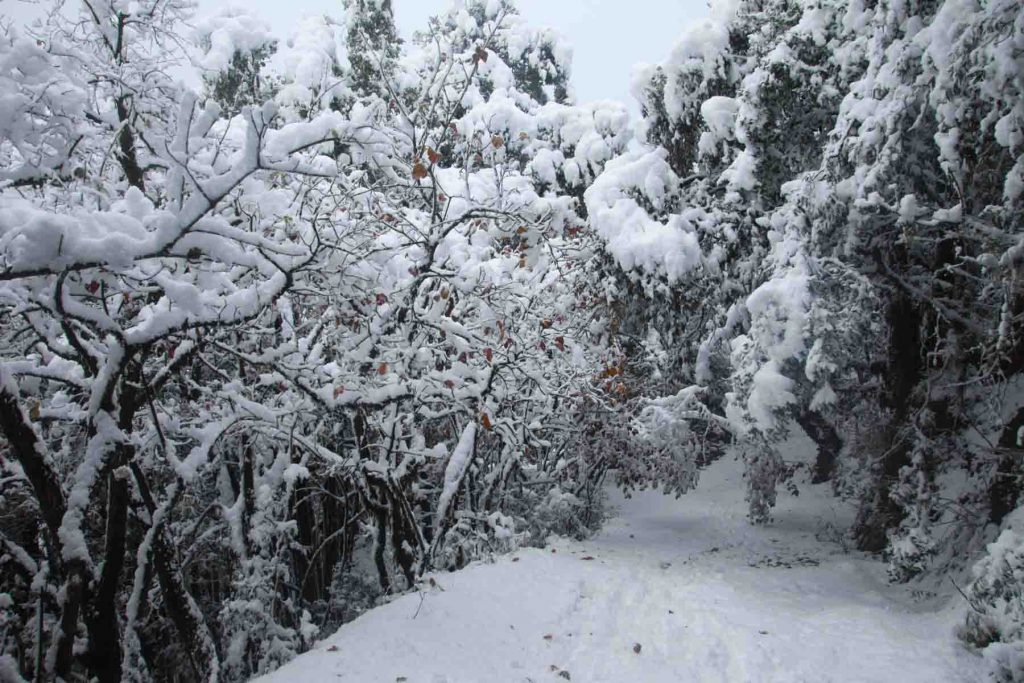 Talking money:
At the gate of Binsar Wildlife Sanctuary, you will have to pay a one-time sanctuary charge.
The entry charges are INR150/person and INR250/car. There is no entry fee for children below the age of 5.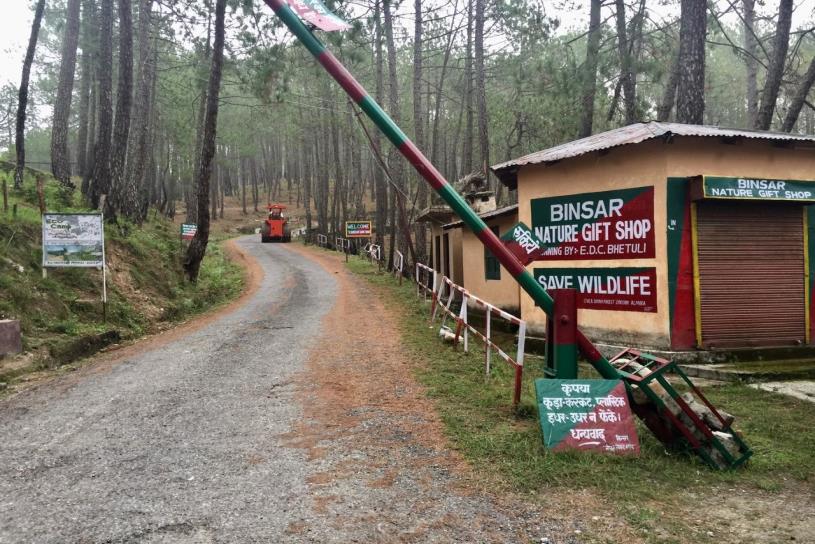 The sanctuary is open on all days of the week except for national and major regional holidays. The timings are from 6:00 am to 6:00 pm.
In case you like to explore more than the Zero Point walk, it is advised to tag a guide along. The guides can be arranged as per request at the sanctuary office.
Sanctuary Guide Charges for Half Day = INR 725/guide
Sanctuary Guide Charges for Full Day = INR 1450/guide
Here's the contact number of one of my trusted guides, in case he suits you as well.
You can contact Hemu at 9720439820.
Explore Binsar like a local
Binsar Wildlife Sanctuary is spread over 45 sq km. There are five villages within the sanctuary limits, namely, Dalar, Rasal, Gonap, Katdhara, and Dhaulchina. There is only one motor-able road which guides you to the entrance to KMVN Guest House.
All of these villages are accessible only by foot, navigating through the vast expense of this jungle.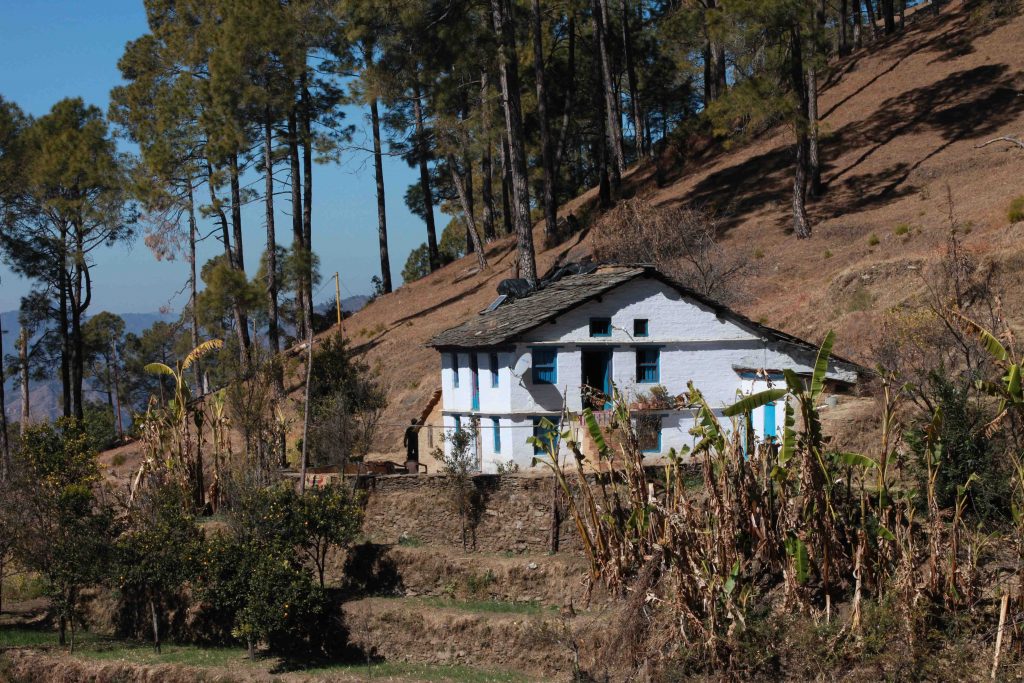 It is undoubtedly the best place for experiencing adventurous hiking, birding, and nature walks. There are several hikes inside the sanctuary, but the most prominent one is the hike to Zero Point, which offers a 300-degree view of the snow clad Himalayas.
Strutting down the trail of Zero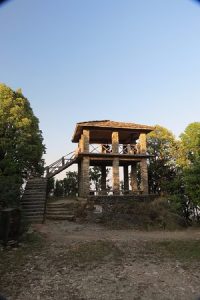 Zero point walk is best made during early morning/evening for sunrise/sunset and to spot animals and birds through dense Oak and Rhododendron forest. It is 2.5 km from KMVN; 1-1.5 hour walk, depending on how leisurely you wish to walk. Wild boar, barking deer and several varieties of birds are a common sight. On a clear day, awe-inspiring views of the snow-capped Himalayan range peep through the thicket.
P.S: If you are staying at the KMVN you won't find a very different view, but the walk through the jungle is worth it.
Since it is just a 2.5 km walk, you could make it a little more exciting by wandering off the path, mostly downhill through a wild jungle, only to be surprised and arrive at a large clearing at the 13th century Bineshwar temple. From here, you can either follow the concrete road or walking up the mountain path to KMVN. This will take about 3 hours.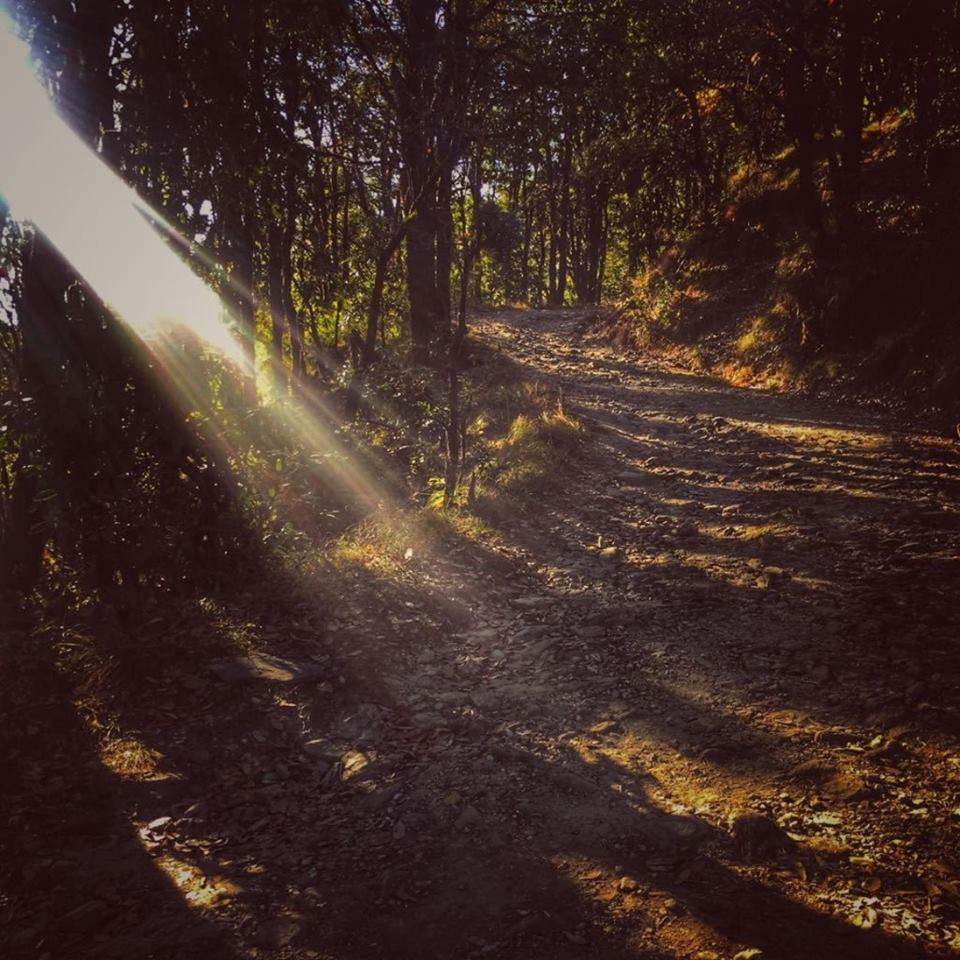 Similarly, you can walk to any of the villages in the sanctuary with your guide. Carry packed lunch because there are no cafes in these villages. Though lunch can be arranged at one of the village houses by asking the guide or your resort.
Bird watching on your wish list?
With both resident and migratory birds coming to the sanctuary, Binsar is a paradise for the bird enthusiasts. There are over 200 species of birds that I spent days trying to capture with my camera. Based on my experience, Dalar village walk is the best for birding.
Tasting the richness of heritage:
There are many amazing archeological sites around Binsar. You can start with the Sanctuary Museum to learn about the cultural history of the region. The most notable among them is the Vridha Jageshwar- believed to be the site of first of the twelve Jyotirlingas, NageshvaraJyotirlinga.
Places to wander off to:
Jageshwar
Chitai Golu Temple
Lakhudiyar Paleolithic Rock Paintings
Almora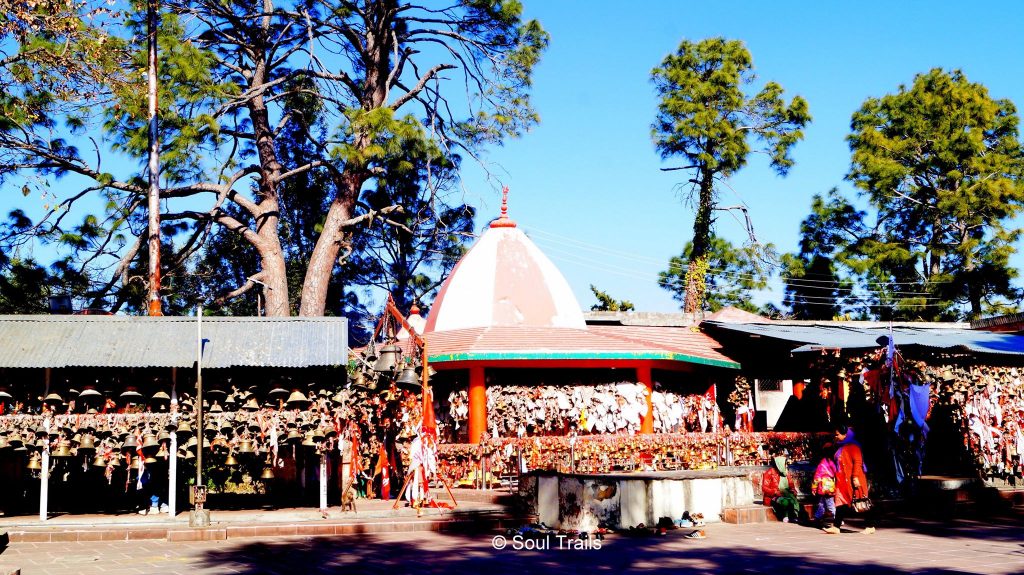 Click here to know more about the fascinating tale of the famous Chittai Golu Devta temple
Let's Travel Wise, Peeps!
If you are planning to self-drive to Binsar, make sure your vehicle is in good condition. The road till the sanctuary gate is a smooth one, but inside the sanctuary, you will face steep terrain and a few intense turns.
You do not need a guide for Zero Point walk. It is a straight trail leading up to a viewpoint with a watchtower.
For walks to the villages, you must hire a guide.
If you are planning to stay inside the sanctuary, do book your stay in advance.
Woolens and light jackets are required even in summers.
A good pair of walking shoes will prove to be your best friend in Binsar.
Carry a water-bottle at all times. You won't find natural drinkable water on most of the walks.
For the best view of the Himalayan range, reach zero point early in the morning. Later, the clouds and humidity might blur the picture.
The mobile networks are erratic in Binsar. The maximum coverage is till KMVN. Vodafone and BSNL work best.
The nearest ATM & petrol station is in Almora. Make sure you are carrying sufficient cash, and your tank is full.
Do not – and I cannot stress this enough – wander off into the jungle alone, especially after dark.
And an essential thing – DO NOT LITTER. Carry a waste bag with you and bring back all your trash for safe disposal — help in creating a clean, safe, and sustainable environment.
Happy Trailing! 😀
Spread the love, share this blog!
Stalk me on Facebook & Instagram for real-time updates
Liked this blog? Want some more information? Have a question?
Leave a comment below, and I will get back to you
Comments
comments