Mary Budden Estate, Binsar Wildlife Sanctuary
Putting you in the position of joyful contemplation, this place helps you reconnect with yourself. Mary Budden Estate makes you believe that to know yourself is the beginning of all wisdom. To catch up with family and friends. To go for long walks in the deepest part of the forest. To read the books you couldn't give time to. To be pampered and cared for.
Mary Budden Estate is located in a cozy corner of the Kumaon region in Uttarakhand. The estate sits on five serene acres of land, perched at almost 8,000 ft. above sea level. Lovingly restored for a comfortable and elegant living, it still retains its original charm. Being situated in the core-zone of the Binsar Wildlife Sanctuary, it offers a perfect balance of seclusion and privacy.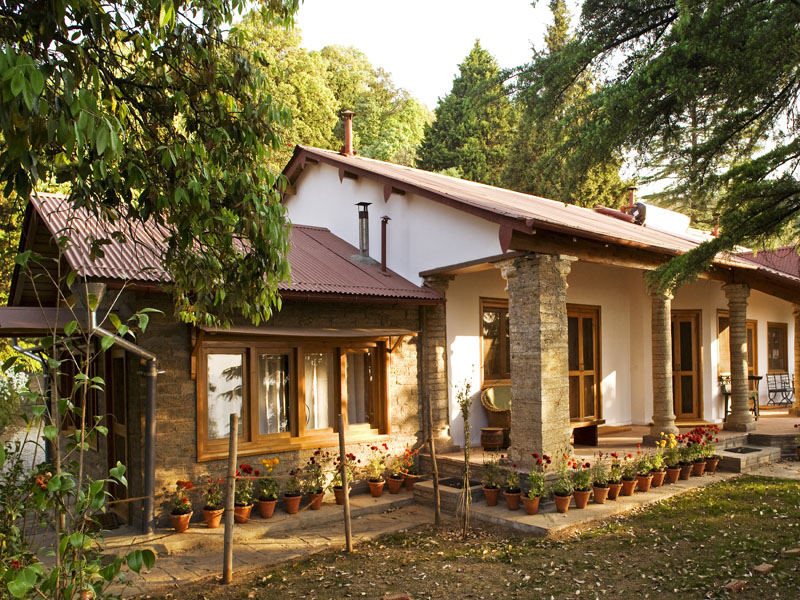 About the property
Named in the memory of its last known British inhabitant, Ms. Mary Budden, the estate was bought by its present owner Serena Chopra, who converted it to a luxury homestay.
Being in the middle Himalayan range, it offers magnificent vistas of snow-capped mountains. It is surrounded by dense Oak and Rhododendron forest of Binsar Wildlife Sanctuary.
It's a boutique homestay with two different cottages – the heritage cottage 'Mary Budden Cottage' and more contemporary newly built 'Rhododendron Cottage'.
Mary Budden Cottage has been luxuriously renovated in keeping with its original charm. All the three rooms are decorated in the spirit of elegant living. An intimate front porch, antique kilim carpets, rich pine wood, and numerous nooks add to the charm of the cottage.
Rhododendron Cottage is a beautiful, airy and romantic. It sits comfortably in the vicinity of Mary Budden Cottage. Though the cottage has been recently constructed, it never loses the magic of its old colonial predecessor. With a larger living room, a cozy library and picture windows to bathe each room in sunlight, this cottage has four tastefully decorated rooms. The cottage has a front porch, two levels, and an inner courtyard. Both the cottages enjoy privacy and provide residents with a unique experience.
Apart from the residential area, the property has many sit outs, spread over five acres. These sit outs are perfect for meals and high tea on a nice clear day, offering a tranquil view of the valley.
The lavish yet eco-friendly nature of this property has left me astonished. Here, the carbon footprint is minimal. The estate has its own solar power and rain-water harvesting system. Thus, the place runs entirely on solar power and harvested water.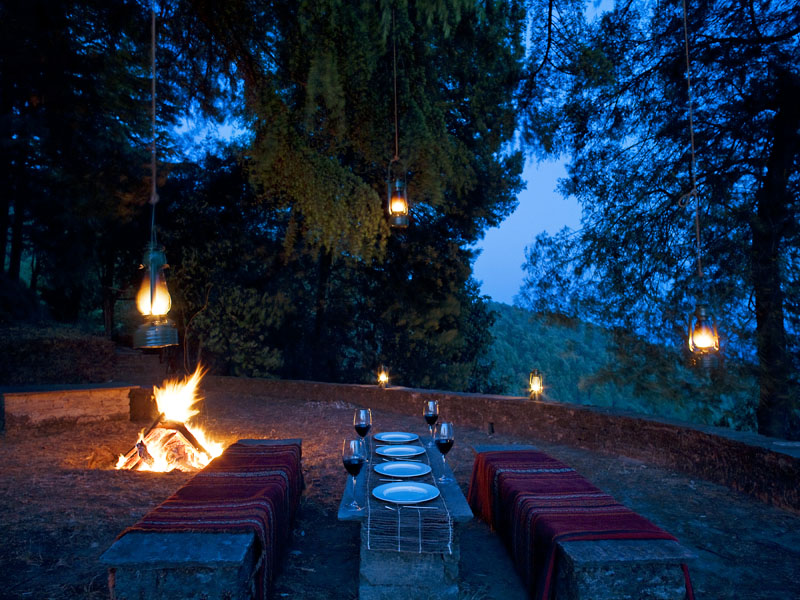 Food:
With a mix of Indian and Continental cuisine, this homestay has a wide variety of food to offer. Cooked with homegrown, garden fresh vegetables and herbs: the food is a piece of art.
There is also a dedicated tandoor area where you can enjoy bonfire and barbecue dinner with a warm, cozy and romantic setting.
Activities:
This place is a haven for the nature enthusiast. You can go for various guided walks and day-long hikes, within Binsar Wildlife Sanctuary. The sanctuary is famous for more than 250 species of birds – a paradise for bird watchers. Your walks are framed within a panoramic view of Trishul, Nanda Devi, Panchachuli and a few southern Nepalese Himalayan peaks. The sanctuary is also known to house a wide variety of animals like barking deer, mountain goats, wild boars, and leopards. If you're lucky, you might get a chance to see these magnificent animals as well.
By spending an evening with an expert in Indian cuisine, Chef Gobind, you can also learn to cook Indian cuisine.
Enjoy a bonfire and barbeque evening with music performance by the staff at Mary Budden. The staff plays the flute, and a make-shift drum and loves to regale guests with local Kumaoni songs and traditional dances.
You can also go for a day-long tour to the 8th-century temple town of Jageshwar. Jageshwar is believed to be the site of first of the twelve Jyotirlingas- Nageshwara Jyotirling. On your way back, you can also visit the Lakhudiyar Paleolithic rock paintings and the bell temple of Galu Devta (Chitai temple), a local dietary, in the beautiful valley of Chitai village.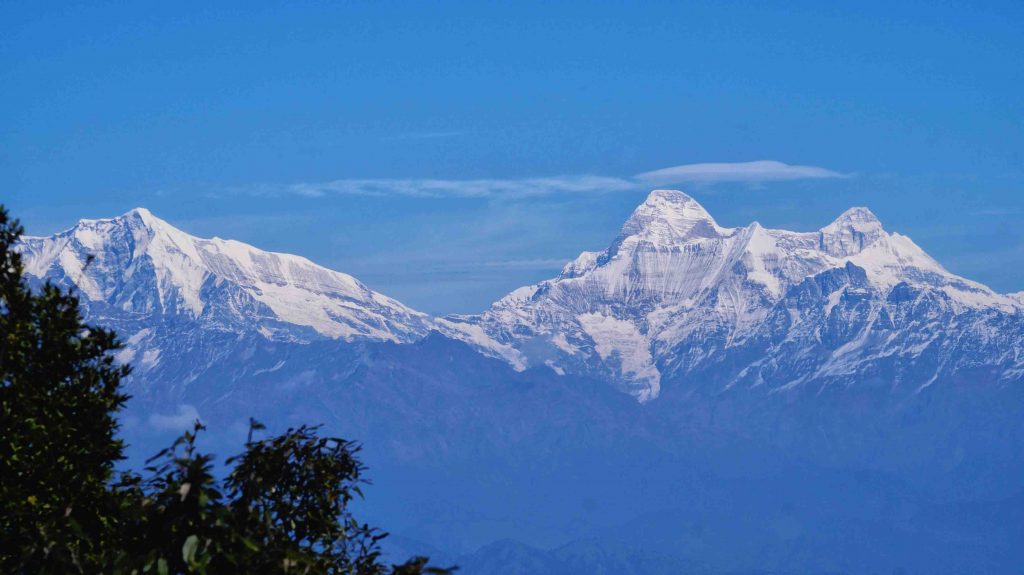 A signature experience that you shouldn't miss out 
A visit to Dalar Village
Dalar is one of the five villages hidden away in Binsar Wildlife Sanctuary at about 6500 ft. above sea level. There are 11 homes in this village and the Dalar Village Homestay offers an experience of living in a pine forest among 200 species of birds.
One has to walk for 02 km on a village path through the pine forest to reach the village homestay. It's a perfect place to experience the quaint village life, relish some amazing Kumaoni cuisine and at the same time have a good opportunity to spot the birds.
Prices
All the rooms in Mary Budden Estate are of one category and come with a living room, dining area, ensuite bathroom with all the modern amenities, bukhari/fireplaces. Some of the larger bathrooms have bukharis too.
Both the cottages are available through the year and can be rented as a single unit or rooms can also be rented on an individual basis.
The tariff is INR 27,560 per room per night on single/double occupancy. It includes all taxes, all meals, tea/coffee, and soft beverages.
How to reach
Mary Budden Estate is located in Binsar Wildlife Sanctuary, district Almora, Uttarakhand, India.
By Air: The nearest airport is Pantnagar Airport, which is 5.5 hours drive from Mary Budden Estate.
By Rail: The nearest railway station in Kathgodam, which is a 04 hours drive from the estate. It is the most convenient way to reach Binsar.
By Road: The driving time from Delhi to Binsar is 9.5 hours via Moradabad, Bazpur, Tanda, Kaladhungi and Nainital. Then take the state highway to Almora via Bhimtal, Bhowali, on to Binsar Wildlife Sanctuary.
You can stagger your journey by spending a weekend at Corbett National Park or by driving via Nainital to Binsar.
In case you are coming by Air/Rail and need assistance with your transport, your host at Mary Budden will be happy to arrange it for you.
(See here for more details)
Photos: Mary Budden Estate
Comments
comments