Spiti Valley Day 3: Nako
Okay. So this is gonna be a little long!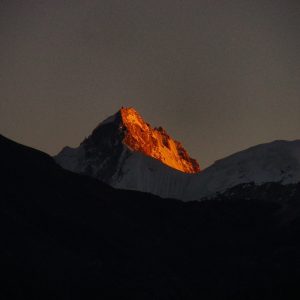 For the first time in a really long time, I woke up at 5:00 am in the morning. Everyone else was already up by then. I joined them on the balcony to witness one of the most beautiful sunrises I have ever seen. The first few sun-rays falling on the snow-clad 'Kinner Kailash' was making it glow like a bowl of gold filled with vanilla cotton candy. Like a vigilant soldier, I could admire that sight all day long. But the leash of time around my neck made me abandon the post right after the morning tea.
Amit dropped me off at the bus stand near the main market where I was waiting for the Kaza Bus. I was supposed to meet them at the first major stop of Kaza bus – the Tabo village. Amit along with Tina, Twinkle and Saurabh wanted to visit Kalpa (which is an hour away from Reckong Peo) before they move forward to Tabo.
Boarding the Kaza Bus!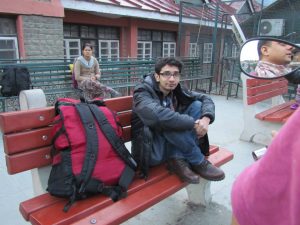 I was eagerly waiting for the Kaza bus alone at a deserted bus stand which within a matter of 15 minutes turned into some Beatle's Concert. The bus was delayed and I was getting anxious. All sorts of negative thoughts started clogging my head – what if the bus is cancelled? Do I have to stay in Reckong Peo another day? Will I lose the company of my friends? I don't even have the itinerary for rest of the trip?
The balloon of my anxiety was burst by the honk of a big, green bus with 'Kaza Bus' written on it in bolds. I smiled instantly, but as soon as the curve of my lips reached my cheeks; it turned into a straight face. The bus was jam-packed and there was no scope, not even for one more person on the bus. Determined to board the bus, I rushed towards the front door; only to be told by the conductor that entry is from the back door. By the time I reached back door, it was too late. There was a horde of people at the back struggling to enter the bus. I joined in the stampede only to realize that my lean body and the heavy backpack is of no help. I rushed back to the front door and hopped in the bus which was already on the move by then. The bus was in full swing and I was half in and half out of the bus. The conductor came to my rescue and shut the door; now I was half in the face of the person standing right in front of me. Silver lining – I could rest my back on the locked door of the bus.
Pro-tip: The Kaza bus originates from the main bus stand of Reckong Peo which is a few kilometers away (towards Kalpa) from the main market. To ensure a seat, board the bus from there.
Landslide – Blessing in Disguise!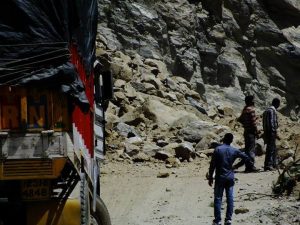 My legs were hurting real bad and I was hoping to grab a seat soon. Mother Nature heard my prayers and fate unfurled in the most unexpected way – a landslide. The bus had to halt for a good 2 hrs. I got a chance to rest and make friends with a group of three who were travelling to Mud. I called Tina to update them about the road conditions. One hour later Amit called me to inform that there's a change in plan and now I'm supposed to get down at Nako. Because of the landslide and the delay in Kalpa, they won't be able to make it to Tabo. This tiny change in plan planted a small seed of anxiety in my heart which kept me troubled throughout the day. The bus started moving again and this time, thanks to my new friends, I got to sit on a seat for three; sharing it with five other people.
The bus was cruising through the barren mountains of Spiti. There was no vegetation; none at all. The mountains showcased all the possible shades of brown and grey. The road was a series of patches of concrete and rough pot-holes large enough to engulf dragons. After about 4 hours and one short stop for lunch, the bus dropped me at the connecting road to Nako village. The sun was so strong that I got blinded by it the moment I stepped out of the bus. I walked on the narrow road for 15 minutes and reached Nako.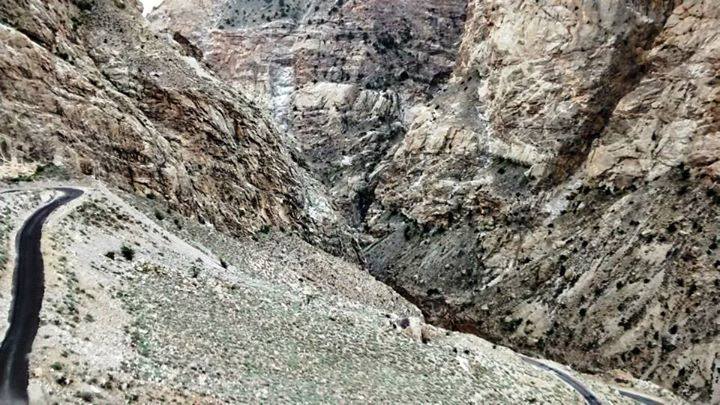 Reaching the first stop – Nako
I dropped my bags at the first restaurant I saw on the village road. I took out my phone to call but there was no network. I ordered tea and lit a cigarette. I was thinking what to do next when I heard a jolly laugh and noticed a girl standing at the local handicraft shop in front of the restaurant. She was coming towards me and I waved at her. We got into a conversation and she told me that she was riding with two of her friends – Kaushal and Ravi. Kaushal seemed like a happy go lucky type of person. He welcomed me to their table with a broad smile and a warm hug. To know Ravi, just imagine any regular boy next door from Uttarakhand, add a few inches to his height, put a straight face on top of all that and you have the first impression of Ravi Punetha. He just waved at me and went back to cleaning his camera. Aashima, Kaushal and Ravi were travelling on bikes from Haridwar and their heavily packed bags were reflecting they ride fully prepared. Turns out that they also planned to stay in Tabo but ended up staying in Nako because of the landslide in Pooh. Kaushal offered me his BSNL phone to call Amit but Amit's number was unreachable; so was Tina's. Tired of waiting, we all decided to roam around the village and visit the famous Nako Lake and the monastery.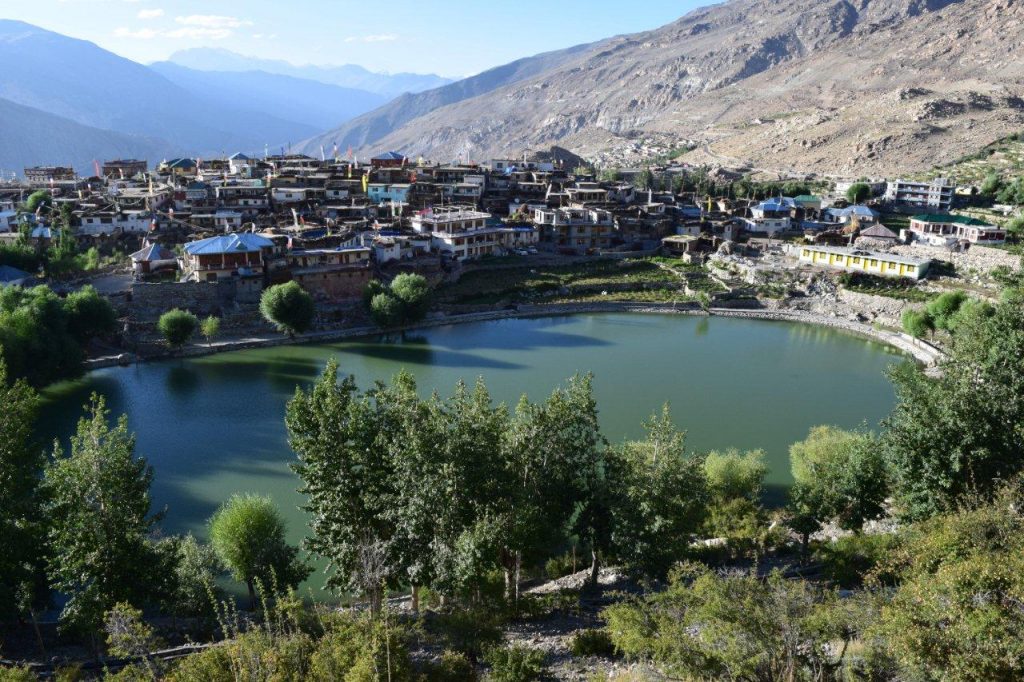 Nako is a beautiful tiny village and is often recognized as the first stop of the Spiti circuit when coming from Kinnaur. A beautiful lake borders the village at one side. The lake is surrounded by willow and poplar trees. Nako has a special place in Buddhism culture. Near the lake, there is a foot impression which is believed to be of Padmasambhava. There are several Buddhist chortens and prayer flags around the lake and the village.
Meeting New Friends
Kaushal and Ravi are photography enthusiasts. Their cameras kept them busy. Aashima is chirpy and she started talking to two village girls who became our guide for the day. Kaushal and Ravi always travel with some stationary which was our gift to the girls. I was impressed by their kindness. We reached back to the restaurant and it was already getting dark. It was 6:00 pm and still no sight of Amit and my other friends. The sun was going down and anxiety was starting to build on me. Thankfully, they all arrived soon.
We decided to stay the night in that same restaurant. The rooms were nice and cozy. Kaushal, Aashima and Ravi were staying there as well. Everybody met everybody during dinner. We shared stories and laughter and discussed our itinerary. It turned out to be the same. Everyone was there to visit the famous monasteries of Spiti Valley; except me. I had no idea what's happening; I just tagged along. We all were dead tired and soon after dinner, we called it a night.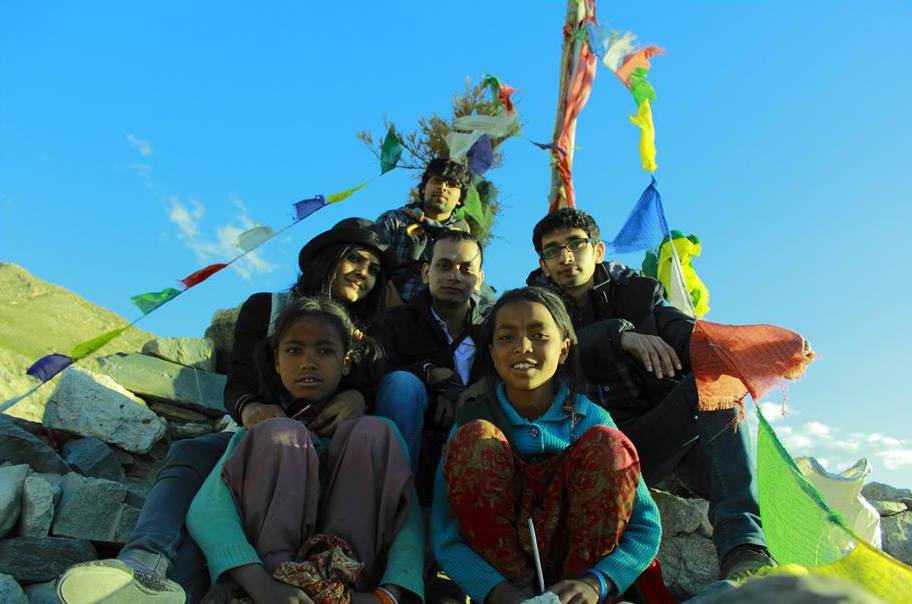 Making New Plans
Back at the room Amit & I were discussing my next day's travel plan when he came up with a brilliant idea. Since Ravi was riding solo and I had to spend half a day waiting for the Kaza bus (there is only one per day from Reckong Peo to Kaza), I can ride with Ravi. I really liked the idea and seeing no cons, I went to Ravi to ask if he's up.
"I don't have any problem but you have to carry one of the bags which I tie on the pillion seat." He said.
"That's not a problem. I'll manage." I replied happily.
I held the bag and took it to my room where Amit helped me to shove the stuff from my backpack into it. The collective weight of the bag was a little over than the idle weight you are supposed to carry while travelling but I was okay with it.
I spent the night looking out of the window next to my bed admiring the sky full of stars. The excitement of my solo journey turning in to a bike ride on one of the most challenging riding circuits of the country was overwhelming. I was wondering how a small change in the plan turned this solo journey into a bike ride. I'm pretty sure I had a smile on my face even while sleeping that night…
You can check out the entire trip account day wise from the following links:
Uncovering The Middle Land (Day 1: Fighting all odds and going on a solo trip)
The Day When Roads Scared the Shit Out of Me (Day 2: Riding the treacherous roads of Kinnaur)
The Day of Body-ache & Sunburns (Day 4: Bike ride to Kaza)
The Day of Changed Plans (Day 5: Visiting the beautiful Key Monastery)
The Day of Fucked-up Roads(Day 6: Bike ride to Batal)
The Day of Dream Destination Chandratal (Day 7: Visiting one of the most pristine lakes of India)
Comments
comments