This series on Spiti Valley is an attempt of tracing my journey which set me out as a solo traveller. Travel has always been a part of my life. But before, I used to seek company, make plans with people, change them as per their convenience or sulk when they got cancelled. I was cliche enough to consider my own company boring. Even after I started travelling solo, I used Google as my travel planner and I used to stick to every word of it. I lost my wits if anything differed from the plan, even slightly.
In August 2013, I set out on this beautiful journey, first of my becoming, leaving aside all of my anxiety and with only one line to guide me through the journey – "Catch Kaza bus from Reckong Peo."
Day 1 – When nothing goes right; go SOLO!
I was hearing a lot about this remote valley in Himachal Pradesh called Spiti. The name Spiti means the 'middle land' which refers to the land between India and Tibet. A cold desert mountain valley situated in the higher Himalayas, Spiti is a place of beautiful monasteries, phantasmagoric landscapes and magic beyond words – so intense that it can change you forever. Thankfully, about 5 years back, Spiti wasn't really as popular a circuit as it is now. I Googled the pictures of Spiti Valley and the iconic picture of Key Monastery left me in awe. I decided that Spiti Valley is going to be my next destination.
I called my 'Himalaya go to person' – Amit. His knowledge and love of the Himalayas is inspiring. And for all the things he has taught me, I call him Baba.
I called him to ask about Spiti Valley and how to reach there. He told me that he and his crew are going to Spiti Valley ten days from now and I can join them. There were seven people in the crew, two couples on bikes, and three in a car. I could join in the car. Sorted. I was delighted, so much so, that I applied for ten days of leave in office. My manager was furious but I was determined.
Planning The Dream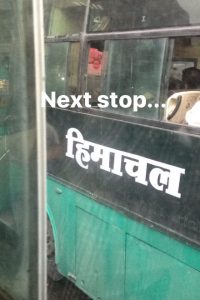 What followed was ten days of over-time at the office; plans changing every hour; people dropping out; long hours of coordination over phone calls and lots of day-dreaming while drooling over Google images.
Finally, one day before we were supposed to leave, Amit called me and told that the person who was getting the car has cancelled and Amit is leaving with his friend and another couple on their bikes. I was heartbroken. The next two days at the office were a drag. Finally, I called Amit again. They were in Chail by then. He sensed the disappointment in my tone and asked me "If you want to travel so badly, why don't you travel solo? Book a bus to Rampur, reach Reckong Peo and catch the Kaza bus. I will keep guiding you with the itinerary."
His words struck me like an epiphany. I opened the HRTC website and booked a one-way ticket to Rampur. I had only 4 hours to wrap up the work in the office, reach home, pack my bag, reach Kashmiri Gate ISBT and board the bus. I did it all in three and a half. But in my excitement, I forgot to ask Amit where to go next from Reckong Peo? Where will I get the Kaza bus? And a million other questions which I used Google for.
Pro-tip: Always research before you embark on a solo journey. Go Google! (Just don't let it heckle you)
For the very first time, I was betting on my gut. I was heading out with no itinerary in hand and the anxiety was overwhelming. My gut had never experienced a cocktail of anxiety, panic, and excitement like that ever before. I just knew one thing- I had to do it. I was sitting by the window seat, with the wind caressing my hair and eyes beaming with excitement. Thinking about all the places I was about to see and the people I was about to meet. Little did I know then that I was heading for an adventure of a lifetime; that this journey is not just going to change me as a traveller but also as a person.
You can check out the entire trip account day wise from the following links:
The Day When Roads Scared the Shit Out of Me (Day 2: Riding the treacherous roads of Kinnaur)
The Day of Strangers Becoming Friends (Day 3: Got stuck in a landslide)
The Day of Body-ache & Sunburns (Day 4: Bike ride to Kaza)
The Day of Changed Plans (Day 5: Visiting the beautiful Key Monastery)
The Day of Fucked-up Roads(Day 6: Bike ride to Batal)
The Day of Dream Destination Chandratal (Day 7: Visiting one of the most pristine lakes of India)
Comments
comments