The universe has a way of leading you to the things that you should do. A close friend once gifted me 'The Valley of Flowers' – a travelogue written by Frank S. Smythe, who discovered the valley in 1931. If that's not a sign then I don't know what is.  For a long time, I kept make believing myself that this remote but beautiful valley in Chamoli could wait. But after three years of me keep putting it off, on 8th June 2018, after finally reading the whole book, the explorer in me was ready to capture everything the valley could offer.
The Valley of Flowers is at maximum bloom during the month of August and that's when I decided to set foot into the unknown. But the monsoon had other plans for me. Due to bad weather, my plans got delayed and I found myself in the dilemma of whether to go or not to go. After following the news and weather forecast for ten days, I decided to trust the universe and hopped into an afternoon bus to Haridwar.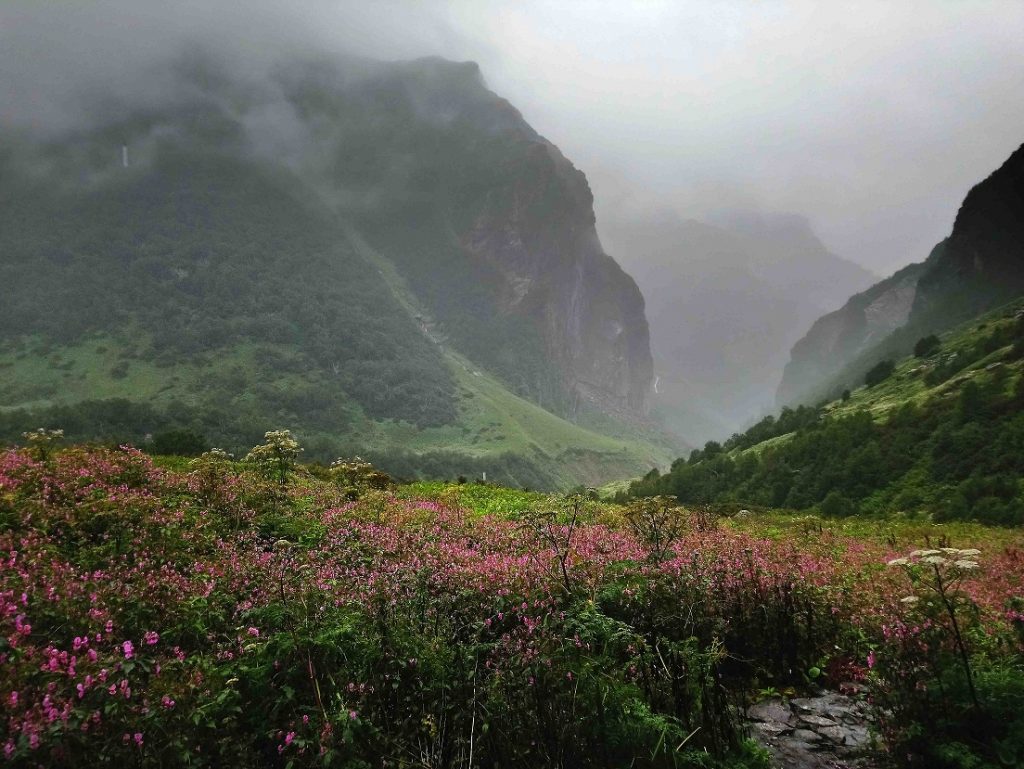 Check this post for the latest Valley of Flowers and Hemkund Guide
Meeting Old Friends in Haridwar
Being in Haridwar is always refreshing and it gets better when you have company, even if it's just for a little while. Before boarding the bus, I rang up my friend Ravi, a previous travel companion. This trip was also an excuse to meet him. Ravi always insists on hosting me whenever I'm in Haridwar. It was brought to my knowledge that Mr. Ravi was cooking dinner for us as well. But little did I know that we were going to catch up over some cooking. I realized that if there's something that can surprise you more than his confidence and simplicity, it's his skills of making perfectly round and crisp rotis.
Click here to read about how a landslide led me to become friends with Ravi in Spiti Valley
Haridwar to Govindghat
After a good night's sleep, I reached the bus station at 6 in the morning. Quickly, I found a bus which was going all the way to Badrinath. I was relieved by the fact that I  didn't have to change buses in Joshimath. The bus started rolling and within no time I had dozed off. I generally nap when I'm travelling in a bus or a train. That's one (of many) superpowers I've developed over time thanks to my nomadic life. But soon the city noises woke me up and I could see the landscape changing as we ascended towards Shivpuri.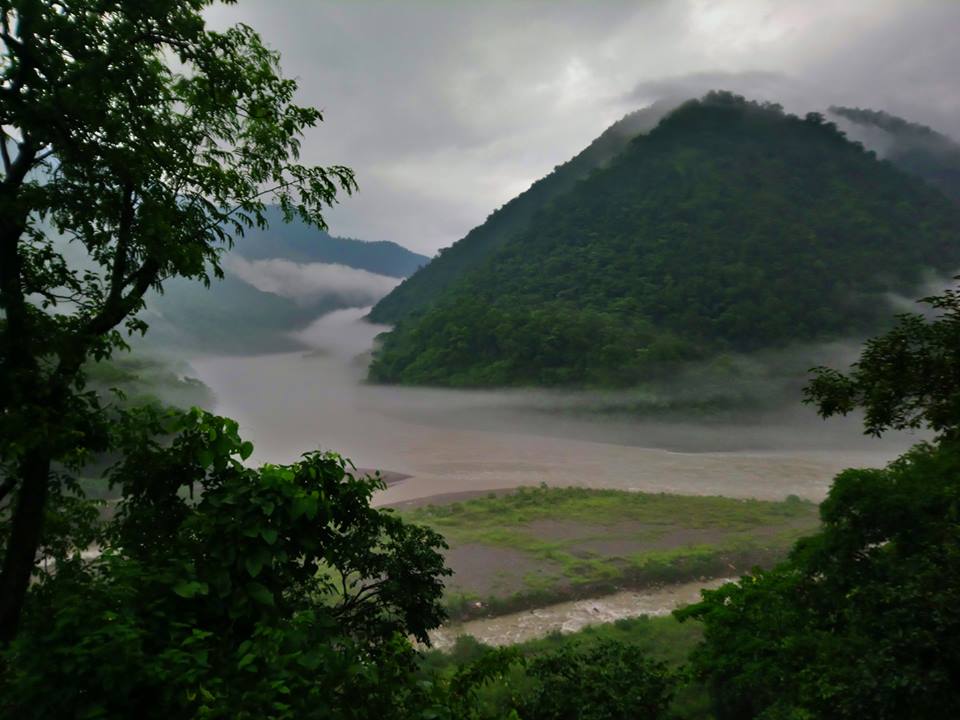 The roads were getting riskier. There were several patches where the aftermath of previous landslides was evident. Monsoon is a risky time in Uttarakhand. The frequent landslides and roadblocks make it difficult to commute during monsoon. To distract myself from the road conditions, I fixed my eyes on the scenic view outside the window. The charm of watching clouds coming and going on a mountaintop instantly calmed me down.
When the roads get rough, you sip some chai and make friends
The bus had just started moving after the half an hour lunch stop when I heard a thud followed by sudden stoppage of the bus. It was a puncture. I got off the bus to stretch my legs we waited for its repair. It was then that I met Shaked, a marine biologist, and Tani, a yoga instructor, my fellow bus passengers from Israel who were also travelling to the VoF. We were discussing our plans for the VoF when Poonam overheard us and joined in. Along with her family, she was also heading towards the VoF. Ashish, her husband, is a teacher of physics and Poonam is a homemaker, the two were travelling with their 12-year-old daughter Samhitha. By the time the bus started moving again, I was part of a group of 7 heading towards the beautiful VoF.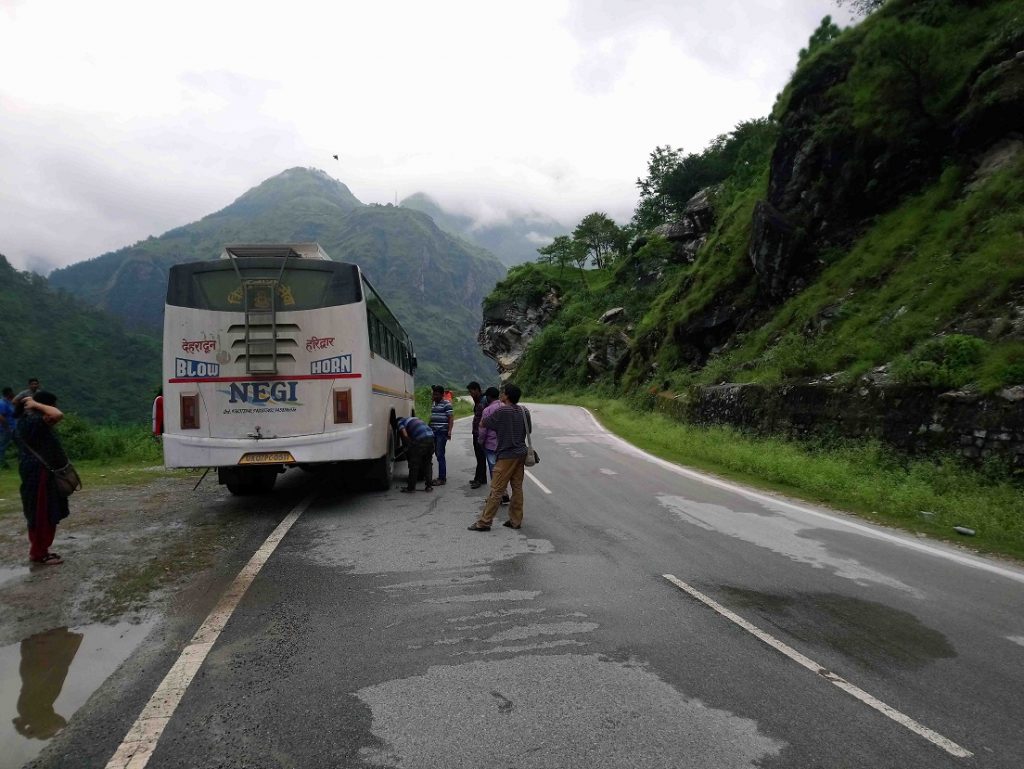 After that the bus stopped thrice – once because of another puncture and twice because of roadblocks; but none of it was for too long. I was relieved that we didn't encounter any landslides. We reached Govindghat around 8:00 pm. We had all decided to regroup the next morning at 7:00 am to start our trek to Ghangaria. Ashish and his family headed to the standard hotel they had already booked. Being backpackers, Tani, Shaked & I found a budget hotel for the night. We got a good room at INR 700 for three people. It was a nice deal because it was peak tourist season and all the hotels on the main road were sold out.
Govindghat to Ghangaria: Starting The Trek
We woke up to a beautiful morning. Govindghat is very different from Rishikesh and Haridwar. It is a transition point for people going to the VoF and Badrinath. This small town has that serene mountain tranquility which is missing from the so-called tourist spots. The cool weather added its own mystic charm to its serenity.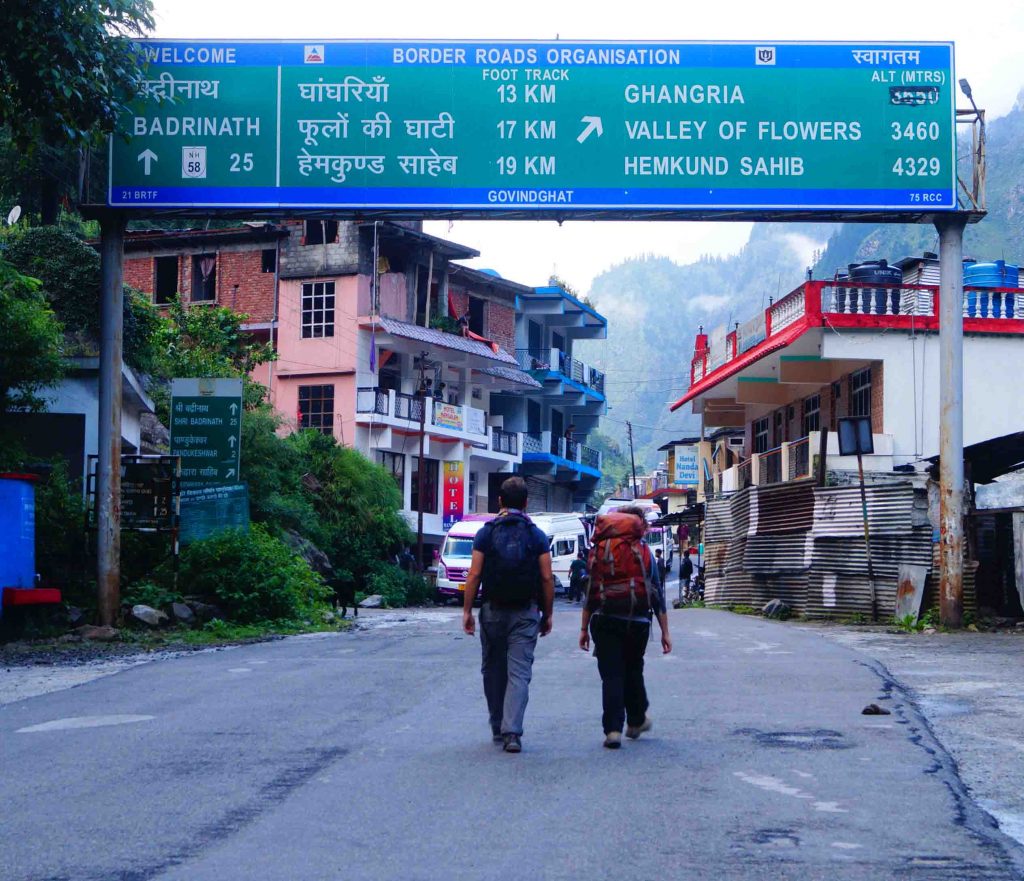 After a light breakfast, we met up and took a taxi to Pulna, which is the starting point of the trek to Ghangaria. This short stretch of 4 km is motorable and there are taxis available for merely INR 50. We all hopped in the taxi and our journey started.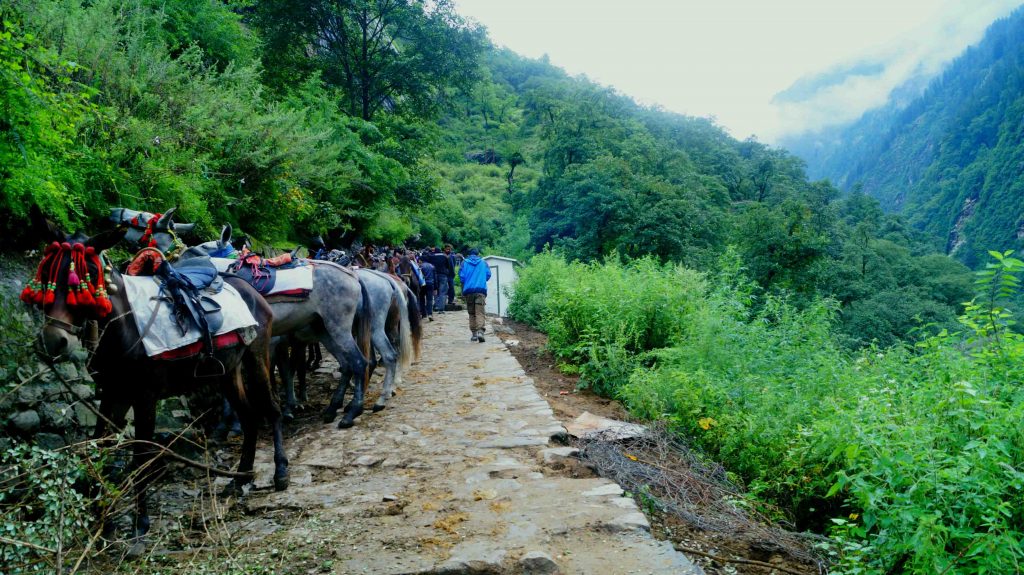 The first thing I noticed when we reached Pulna was the stench because of the mules lined up on the side. The local porters rushed to us trying to rent us mule and porter services for the trek. But for the experience, we wished to walk the whole trail ourselves.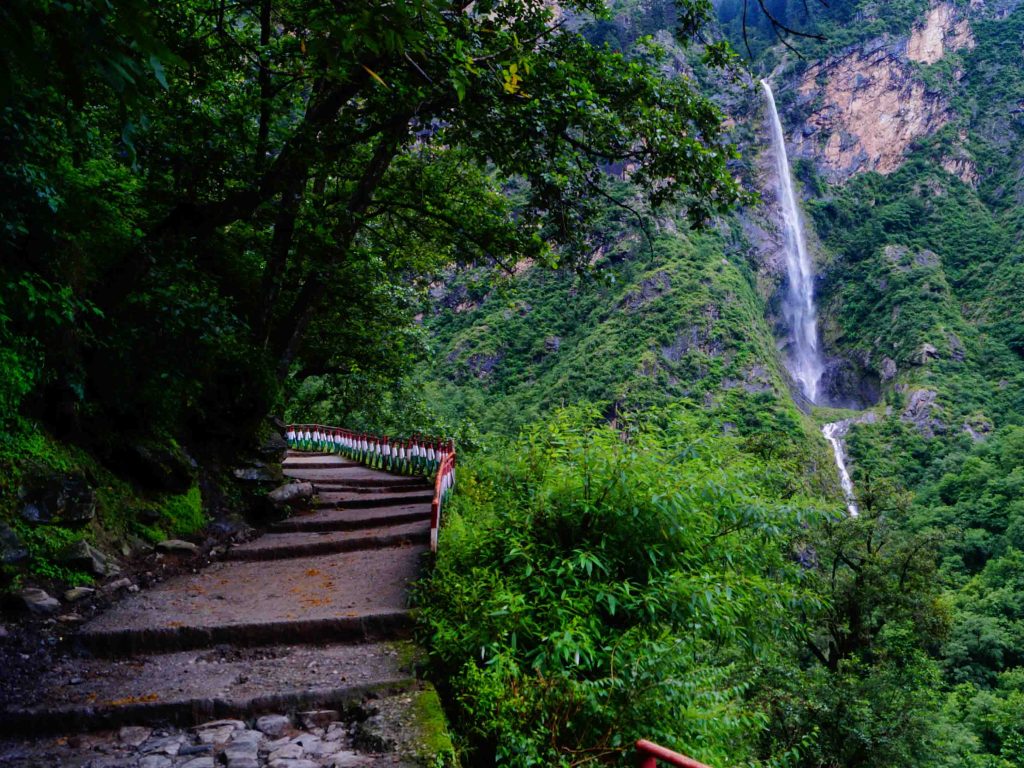 The trail to Ghangaria is well maintained. There are restaurants lined throughout the trail every few kilometers. You'll even find public toilets and sweepers cleaning the mule dung on the trail, courtesy of the Hemkund Sahib Gurudwara trust. Apart from the VoF, this trek also leads to a serene lake named Hemkund, a holy site for the Sikh and Hindu communities. Situated at an altitude of 4329 m, the Hemkund Sahib Gurudwara is believed to be the highest gurudwara in the world. I saw many Sikh devotees heading to take a dip in the holy Hemkund Lake.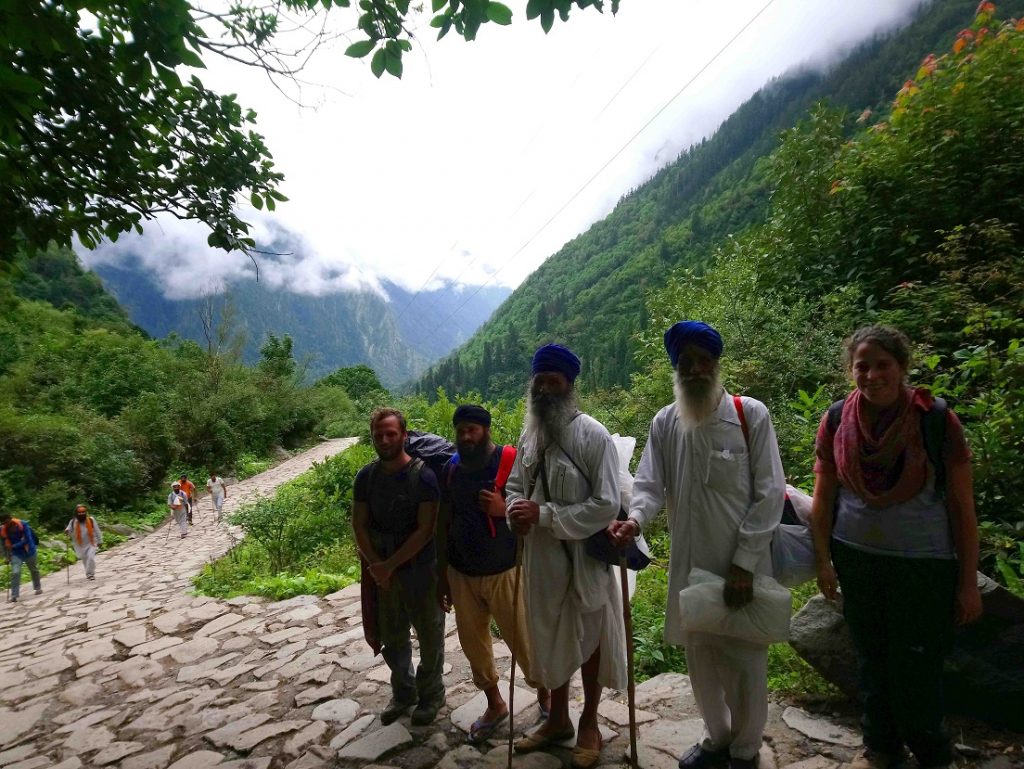 Reaching Bhyundar Valley
This part of the Garhwal region is known as Bhyundar Valley. The 9 km trail which starts from Pulna can be divided into two parts. The first part is a gradual ascent and a comparatively easy walk until you reach Bhyundar village. After that, it's a steep ascent.
It was just the start of the trek and I was feeling ecstatic to finally realize my dream of visiting the Valley of Flowers. I took my own time to soak in every vista Nature had to offer. The mountains in Bhyundar Valley are lush green and there are numerous waterfalls along the trail. This trail winds around the river Lakshman Ganga. I felt so content in that moment that even while writing this blog a month later, I'm smiling.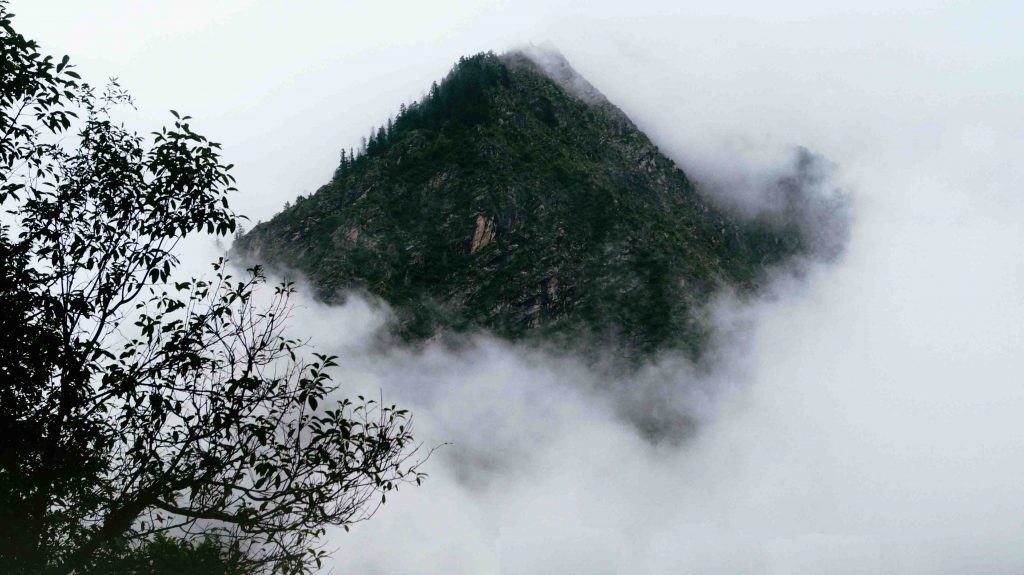 We kept getting separated throughout the trail but all of us somehow managed to reach Ghangaria within 6 hours. While Ashish and family, due to tiredness, hired a mule to carry their bags, Tani, Shaked & I worked our way up with our tempo varying on the basis of enchantment with the view.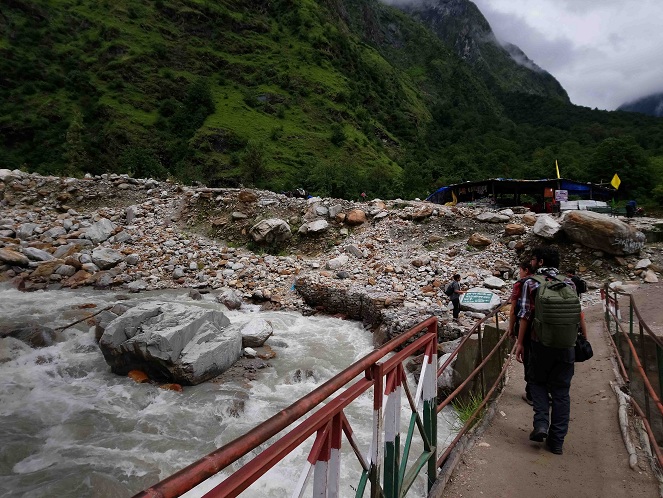 The trail beyond Bhyundar village is a steep climb. As soon as you cross the bridge over Lakshman Ganga, it's a 4 km steep ascent till Ghangaria.  I wasn't expecting the trail to be so difficult. After a few hundred meters, it started to take a toll on me, leaving me huffing and puffing. My 2 kg backpack started feeling like it weighed 50 kgs instead. I decided to walk slowly and take short breaks to catch my breath. It took me 3 hours to finally reach Ghangaria; dead tired. We were lucky that it didn't rain while we were trekking.
Ghangaria: The Base Camp
The small village of Ghangaria greets you with spectacular views and (warm)  the earthy stink of horse dung.  The entire main lane of the village is lined with hotels and restaurants. Along with Tani & Shaked, I found a perfect place for us in Hotel Preetam for INR 600 per night. After checking in, our hunger made us take a stroll in the village, whereupon we found Ashish and family. We were all famished, and quickly found a place with alloo paranthas so delicious we devoured enough to feed a small army. Ashish and Poonam also checked into Hotel Preetam after the meal. The group was now together. We decided to meet again at dinner and shuffled off to our rooms.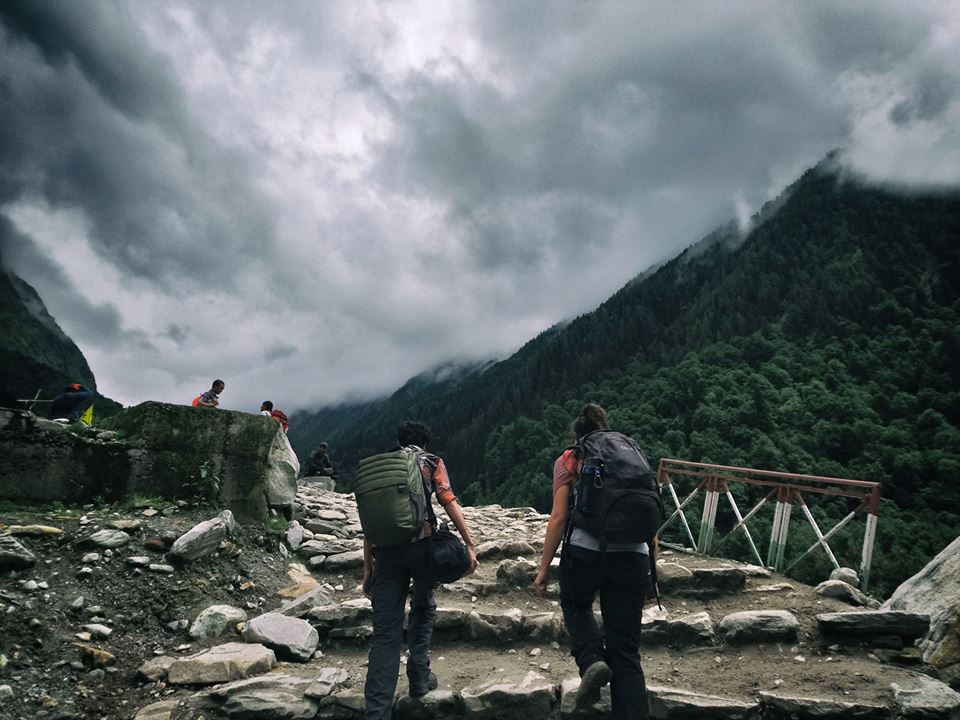 While entering Ghangaria, I had noticed a signboard that mentioned a documentary screening at the forest office regarding the VoF and I wanted to watch it. The screening was at 5:30 and I still had an hour in hand, so I decided to go for a walk and take some pictures, but the moment I stepped out of the room it started raining heavily. The clouds descended from the horizon of the colossal mountains in front of us and covered the whole village in mist and fog. It was surreal.
Planning The Next Day
Since my plan was washed away by the rains, I thought of resting in bed for a few minutes. Three hours went by in a blink and I woke up around 8:00 pm. I found Tani & Shaked in the gallery and they welcomed me with loud laughter, calling me 'sleeping beauty'. Tani was a little under the weather and she was very sure of the spicy food usually served in Indian restaurants. I took charge of what we should order and gave instructions to the cook on how to make it without any hot spices. It paid off and we had a great meal. On our way back we spoke to a few locals, asking them about the route and other questions to plan our next day.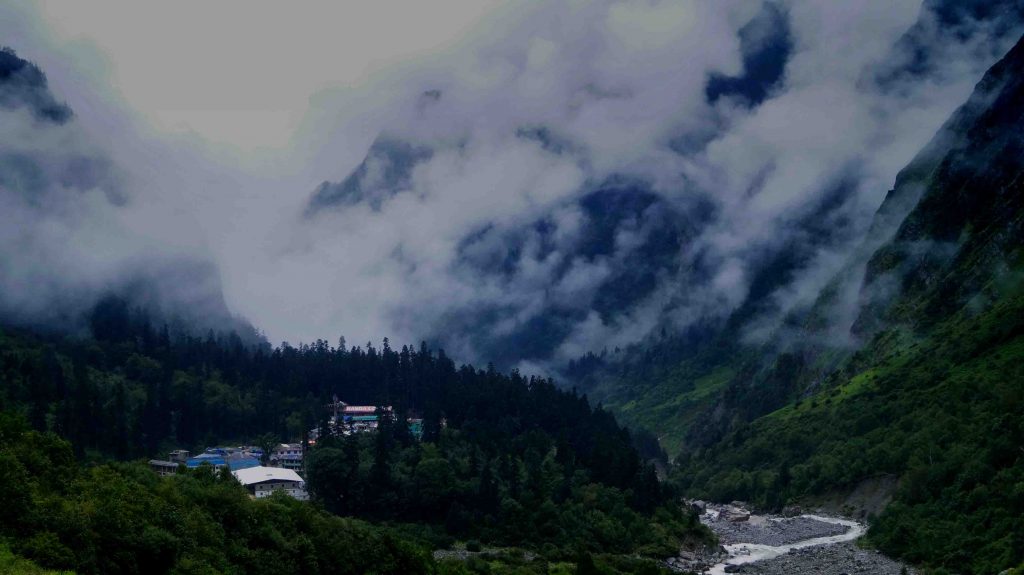 With our freshly acquired knowledge, we met the family. In between laughter and anecdotes, we decided to leave early in the morning for the trek to the VoF. Since there is no shop or dhaba in the valley, we had to take a packed lunch with us. Water is not a problem thanks to the numerous streams across the valley. With our plan set for the next day, we called it a night.
As soon as I lay down on that warm bed again, the thought that I shouldn't have waited three years to visit this beautiful place rushed into my mind. I consoled myself with 'better late than never' and closed my eyes.
Check this post for the next part of the story of Valley of Flowers – Part II
Check this post for the latest Valley of Flowers and Hemkund Guide
Comments
comments