When your dost from Mumbai asks you to plan her first-ever trip to the Himalayas, what do you do?
You look for a place which is easily accessible, not too tiring and offers spectacular views with a tad bit of adventure. I found my answers in Triund. Triund is a trekking trail in Dharamshala. It is a ridge beneath the mighty Dhauladhar range of the Himalayas. It is a popular trekking spot and is fairly easy. I wanted to go to Triund for a long time and this seemed like the perfect opportunity.
The adventure began even before we reached Dharamshala. Thanks to a series of stupid events, we missed our bus from Delhi. Adventure bitten travel enthusiasts don't change their travel plans so easily. We decided to eat some unhealthy junk food to get over our guilt of missing the bus and then board another. 13 hours later, we were in Dharamshala. A short ride in a taxi and we arrived McLeod Ganj. To support the local economy (and save a bombshell in our pockets) we opted for a homestay near Bhagsu. The day started with a short walk to the Bhagsunath waterfall, café hopping, followed by shopping. And ended with both of us getting high on the cocktails of Mcllo café; courtesy, their 'One on One' offer.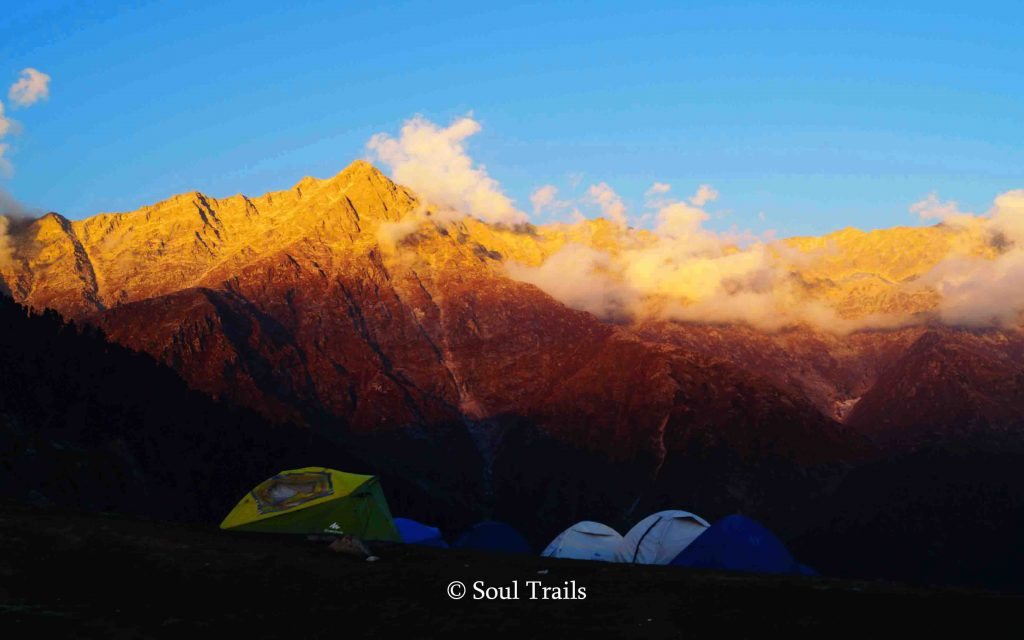 Next morning, I woke up to find a hungover friend all set to embark on her first mountain adventure. I was amazed to see her excitement and after a quick stop at Jimmy's Kitchen for breakfast, we started our trek to Triund hilltop.
The Route:
The trail to Triund starts from Gallu Devi temple. To reach the temple, there are two options:
1. Take an auto-rickshaw/taxi to Dharamkot Primary School and then take the jungle trail starting from the left side of the main gate of the school. It will take you an hour to reach Gallu Devi temple through this trail.
2. Take the auto-rickshaw/taxi directly to Gallu Devi temple. It will cost you more and the road condition is really bad.
3. There is an alternate route which starts from Bhagsunath waterfall. It's a shortcut to Gallu Devi temple from the backside of German Bakery. This trail is very rigid and will consume most of your energy. My suggestion – avoid it.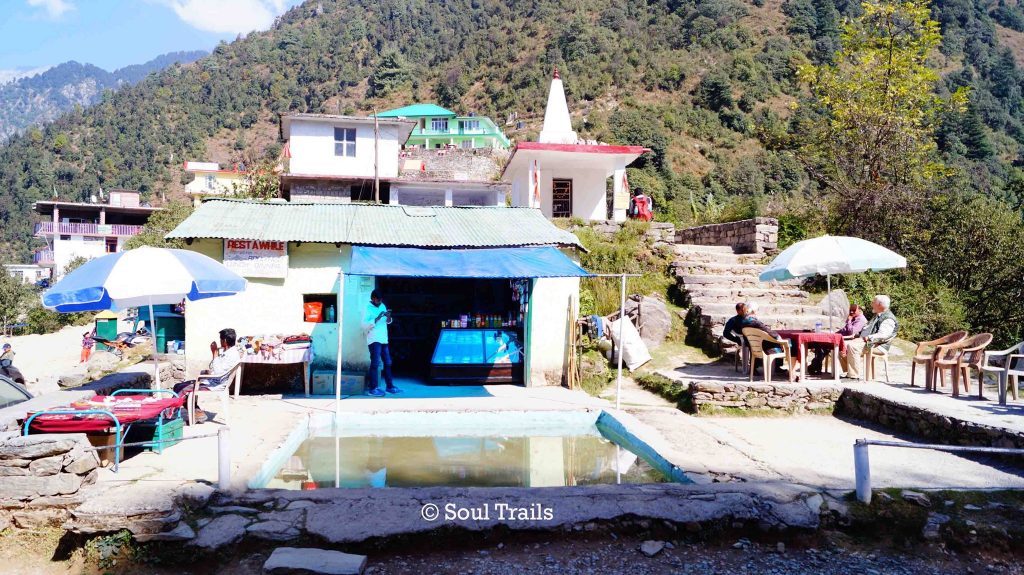 To contribute further to the local economy, we took option 2. Not that we were lazy or something.
The trail to Triund starts from the right side of the temple. There is only one trail there so you won't get lost. There are no wild animals in this area. Just a few doggos who will follow you all along if you keep giving them belly rubs and treats. There are many dhabas en-route for you to refresh with Maggie & tea.
Triund – A Place for Everyone!
The trail passes through beautiful mix forests of oak, deodar, and rhododendron leading to grass meadows. I noticed people of all ages walking on that trail. From families with grandparents and 8 years old, solo female trekkers, couples to teenage college-mutants; we met all the possible sets and sub-sets of tourists there.
The panoramic view of Dhauladhar ranges and the beautiful vistas of Kangra valley attracts a lot of adventure seekers. The gentle nature of the trail is easily accomplished by almost all age groups. And speaking from personal experience, even the hungover first timers. The star-studded night sky makes it a perfect spot for photography enthusiasts to capture the milky-way. Couples who are looking for some adventure can do camping and enjoy a quiet romantic getaway.
Moreover, your trek doesn't have to end at Triund. Experienced trekkers can trek further to Indrahar Pass through Laka ridge for that adrenaline boost.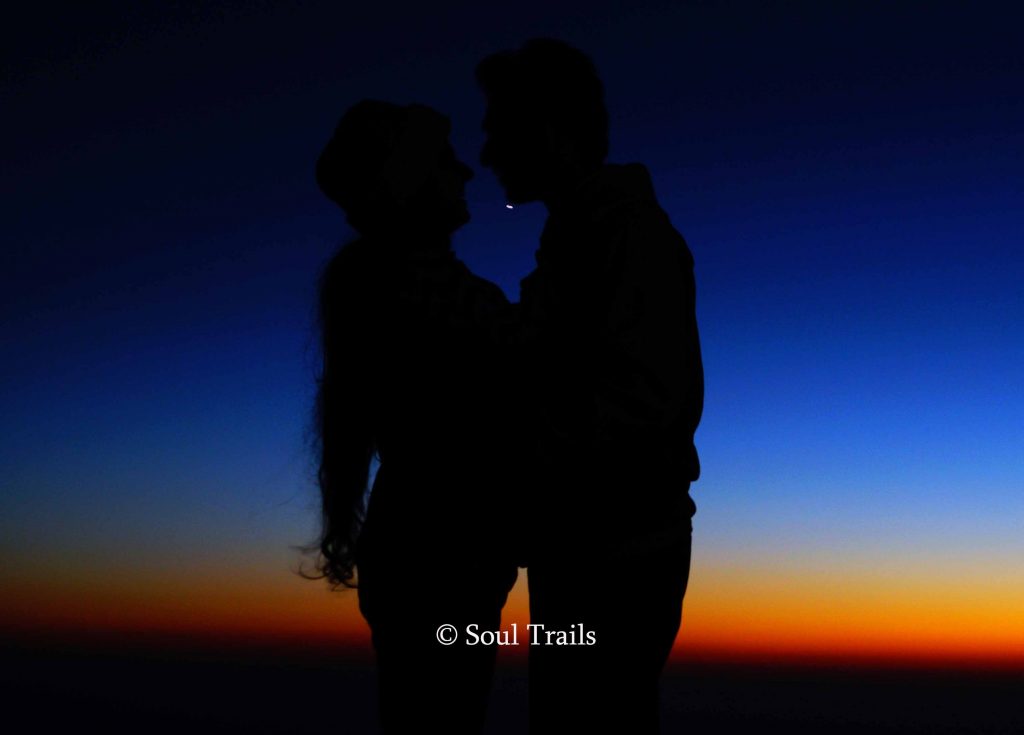 Distance & Duration
Triund is 7 km from Dharamkot and 5.5 km from Gallu Devi temple. It is normally a 3-4 hours trek. We took 5!
The View Is Worth It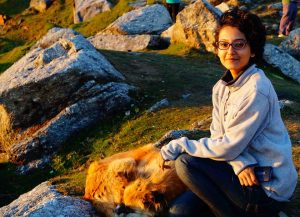 The initial trail from the temple is a gradual climb. But the last 1.5 km is steep with many sharp bends. For those 1.5 km, my dost sat at every 10 steps and cursed me for making her walk so much. This part of the trail is really crooked but it opens to a beautiful view of a grassy meadow and Dhauladhar range. When we reached the hilltop and witnessed the Himalayas basking in slowly receding sunlight, my dost thanked me with a hug.
Stay Options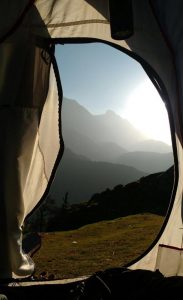 There are many dhabas at the hilltop which provide tents with sleeping bags and mats. The best part is that you can pick your own spot. My dost found this beautiful corner from where we could see the sun-rise from our tent. A tent for two with sleeping bags and mats cost INR 800. There is also a Forest Guest House which you can book from Dharamshala.
We found a quiet corner and witnessed the sunset in silence. At night we sat around the bonfire and drifted off to sleep finding countless constellations. The next morning, a cup of tea prepared ourselves to walk back downhill. The smiling face of my dost told me she too, is now bitten by the bug.
 Best Time
Triund is doable in all seasons except when the trail is blocked by heavy snowfall in January to early March and in monsoon.
Tips
1. Pack light. Just a day pack is more than enough for Triund.
2. Drinking water is scarce. Carry your own drinking water to avoid buying packaged water bottles and help the environment.
3. Start early in the morning so that you reach well before to see the sunset.
4. You will need a warm jacket after dark even in summers.
5. To book the Forest Rest House you can contact here:
Divisional Forest Officer
Forest Complex,
Opposite GPO, Dharamshala
Contact No.: 01892-224887
(Cover picture by Ambika Bhardwaj)
Comments
comments