No. I'm not a person who doesn't know the difference between figuratively speaking and literally speaking. But don't trust me just yet.
It was a tiring week of lots of useless meetings and presentations at the office and all my mind could picture at the end of my 9 hours shift on a Thursday was the mighty Himalayas. So I did what any sensible person would do, I packed my bag and flipped a coin to decide where to go.
Tail – Himachal. Head – Uttarakhand. It was head.
The next step was quite simple; to board any available bus from Anand Vihar Bus Terminal going towards Uttrakhand. I was about to leave my place when a friend called and asked me what I was up to. I told him that I was heading towards mountains and asked him to join me he readily agreed. Yes. I'm blessed with such amazing people in life.
We both reached Anand Vihar ISBT and the first bus available was to Haldwani. We boarded the bus, leaving the decision of our destination in the morning when we reach Haldwani. The moment the bus started moving we both plugged in our earphones and dozed off. We reached Haldwani early in the morning and after spending half an hour on Google map, we decided to go Munsiyari.
There is a direct bus to Munisyari from Haldwani but we were late for that, so we went to the taxi stand which is right outside the bus station and started looking for a taxi. We found a taxi going up to Chaukori, a small town on Bageshwar-Munsiyari Road. The taxi-driver was waiting for other passengers but it was getting late so my friend, Amitesh, made him an offer. Amitesh offered him to pay extra if he stopped waiting for the passengers and picked them up on the way. After a lot of bargaining and the persuasion from Amitesh, the driver agreed. The moving wheels and the feeling that we are getting closer and closer to the mountains with each passing minute made us both extremely happy. The whole sumo was ours for the moment and we made the best of it. Amitesh grabbed the middle seat and lied down and I was riding shotgun, with the windows all rolled down, of course.
Soon we were amidst of the divine beauty of western Himalayan peaks and the pine forest of Kumaon region. The Bageshwar-Munsiyari road was very smooth and filled our lungs with the fragrance of pine. We stopped for lunch in a roadside dhaba. The mutton cooked on fire-wood in a clay pot had a different, esoteric kind of taste. We ate mutton-rice to our heart's content and continued the journey. By the time we reached Chaukori, it was late and we missed the last taxi to Munsiyari. Amitesh's bargaining skills again proved to be the best asset we had then and Ramesh Singh Rawat agreed to take us to Thal, a small village from where we still stood a chance to catch some public vehicle to Munsiyari.
We reached Thal at around 6 pm and somehow got a taxi going towards Birthi. By now it was quite clear to us that we won't be able to reach Munsiyari by the fall of the night but we decided to go as far as we could just to save time the next day. The winds were pretty cool for an early October evening and by the time we reached Birthi, it was pitch dark. The taxi dropped us in front of Kumaon Mandal Vikas Nigam (KMVN) Guest House. We went inside to inquire about room availability and tariff and were surprised when we were told that there is no availability of a room. I walked out to figure out what to do next but Amitesh just never accepts a no easily. He came looking for me while I was having tea with the taxi driver and told me we have got a room. Amazed by his persuasion skills I picked up our bags and checked in.
When all the chaos had settled, we took our time to see around and observe this beautiful guest house like home with better beds than we had asked for.  I have stayed in many government guest houses and other KMVN guest houses too. But the one in Birthi is undoubtedly the cutest (YES, CUTE!) and the most well-managed guest house KMVN has. Our room was on the first floor and the floor has a big gallery, perfect for star gazing. We opened the balcony door in our room and heard the sound of a waterfall. Upon asking we came to know that there is a waterfall right behind the guest house, hardly a 10 mins walk away. We decided that we would go to the waterfall the next morning before moving ahead for Munsiyari. After dinner, we spent a few hours sitting in the gallery star-gazing.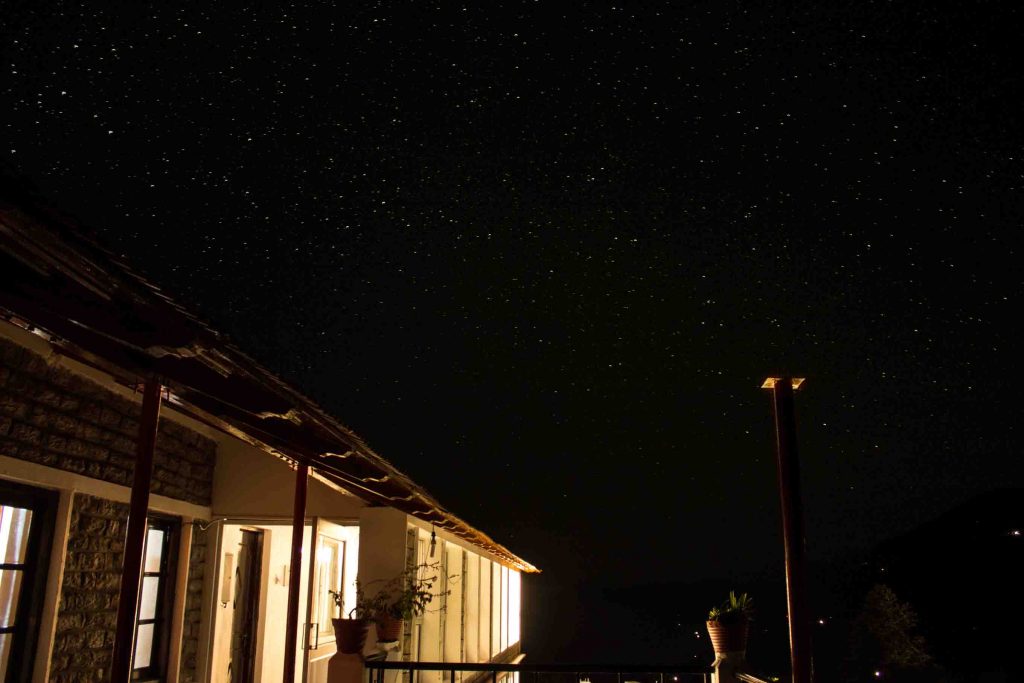 You know how our science books say there are billions of stars in the sky? In moments like these, you will realize how true and magnificent it is. Believe it or not but we saw three shooting stars in just a span of few hours. I don't know about Amitesh, but I made a wish and yes, it did come true. But let's leave that story for another day. The wind was cold and the moment so intriguing that we didn't say a word to each other. That night, we slept to the sound of a waterfall singing us lullaby. I had the best sleep in a really long time.
We got up early and after breakfast headed towards the Birthi waterfall. We had reached the guest house after dark last night so we couldn't notice but during the day, one can see the waterfall from the front garden of the guest house. After admiring the sight of our beautiful stay, we started walking on the trail leading to the waterfall which starts from right behind the guest house. In 15 minutes we reached cemented stairs which were leading right up to the waterfall. I sat there to soak it all in – the mountains, the trees, the melodious chirping of cuckoos and that majestic waterfall.
We started walking towards the waterfall. There is a platform a few meters before the waterfall with a couple of benches. I can spend weeks sitting on that bench reading all of my favorite books, twice. When we reached near the point where the water hits the ground, we saw one of the most beautiful and spell-binding sights of our life. There were two rainbows forming near the water-pool. Amitesh was so happy that he started singing at the top of his voice and I was so dumbfounded that I just stood there, numb. My whole body was in a trance. The colours were never so bright and fairy tales never so real. I was actually standing right under a rainbow. I stretched out my hand and it was in the middle of the surreal spectrum of colours. You know there comes a few moments in life in which the time ceases to exist and everything starts going blur. Your heartbeat goes down to zero and you travel through dreams and at the far end of it, you realize that something has moved inside of you and your soul would never be the same again. It was one of those moments for me.
We stayed there for an hour or so and then Amitesh dragged me from that place because the taxi was waiting. I never wanted to leave but that's the thing about travel, you can find such beautiful places out of nowhere, make yourself a home there for a while, see it, feel it and live it, but you have to keep moving. There is always something calling you, someplace, some people. But if you have lived the moment, soaked it all in, it's more than you can ask from life.
We reached the guest house and got a lift in a vehicle going towards Munsiyari. The great Punchachuli was waiting for us…
IMPORTANT TIP: If you are planning to stay in a KMVN or GMVN guest house, it is advised to pre-book it online. The whole list of Uttarakhand government guest houses is available online with all the necessary details.
Comments
comments