Everyone warned me not to go, but the heart wants what it wants!
This anecdote is about my journey to Kerala in August 2019 during the monsoon. There were predictions of red alerts due to heavy floods but my trusted sources (a friend who runs a hostel in Alleppey) assured me that it will be fine. He was there too. What you are about to read is a series of funny misfortunes that I had to face during my three-day-long journey from Delhi to Alleppey (Alappuzha).
It was raining heavily in Delhi on the morning of 7th August 2019. I had an afternoon train from New Delhi railway station. Luckily, the weather cleared around 11:00 am and I had no trouble boarding my train. Considering the time, distance and the equipment I was carrying, I had booked a 3-AC class ticket. I settled in on my side lower seat and thus started a 50-hour long journey to Kerala.
Now, you might call me stupid to travel to Kerala in monsoon specially after what happened last year. But it was an impromptu plan and I really wanted to see the famous Nehru Trophy Boat Race.
The Train to Alleppey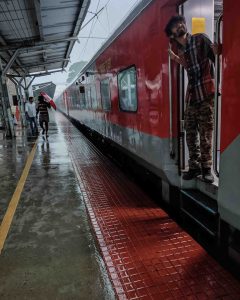 The train was fine and fellow passengers were nice. There was no one snoring and no crying babies in the vicinity. The cherry on top – the train was on time.
We crossed Bhopal in the scheduled time and reached Mumbai without any fuss. Thereafter it started taking long halts. The landscaped changed drastically from the second day and I was really enjoying the numerous waterfalls of Western Ghats.
On the third day, the train took a hault near Tirur, a small station 50km before Thissur and then didn't move for the longest time. 7 hours later the TT announced that the train was cancelled for the further journey because of the floods.
(Panic? No. Not yet)
Moments Before Panic
With no other option in hand, I had to make the rest of the journey on my own. I wrapped up my bags and jumped on the train tracks to reach the main road. It was drizzling and the whole town was there as spectators watching people jump on railway tracks and crossing a broken bridge to reach the main road like an adventure sport. Somehow I gathered a group of 5 people and collectively we took a taxi which got us to Thissur bus stand. It was a fish market there. The language barrier was another hurdle. The push of the crowd literally threw me in front of a bus and I boarded it without even asking about its destination.
You can compare the bus with those mini trucks they use to transport chickens to & from the poultry farms. It took the conductor about half an hour to reach me. "Alleppey" I asked and thankfully he replied, "130 rs" instead of "No Alleppey". It was 8:40 pm and I was finally in a bus taking me to my destination. It takes about 2.5 hours to reach Alleppey from Thrissur. When I asked the bus conductor about what time will we reach, he said "2'O clock in the night".
(L**de lag gaye started playing in the background!)
Reality Check – 1
It was 8:50 pm when reality kicked me in the balls. I instantly called my friend, Nishant, who was hosting me in Alleppey. He told me that the hostel is on an island and I will have to take a small boat to reach there. The last boat leaves at 10:30 pm. And because of the heavy rains and dark, he won't be able to send his boatman.
Waise main bohot sakht launda hun. Par yahan main pighal gaya!
I was holding my 100 kg backpack in my lap, sitting on a seat for three and sharing it with four other people. My clothes were all wet and my shoes all drenched creating that 'eww' feeling. I hadn't eaten anything since morning and my mind was craving for a cigarette.
I had no idea how will I reach and where will I crash for the night. There ain't no hotels in that side of town in Alleppey. And definitely not for budget travellers. With all these worrisome thoughts clouding my mind, I did the best I could at that moment and dozed off.
At around 12:04 am, the passenger sitting next to me woke me up and shouted "Utaro utaro jaldi. Alleppi aa gaya." She was also traveling to Alleppey with her brother so I trusted her judgment and just grabbed my bag and jumped off the almost moving bus.
It wasn't Alleppey.
At 12:10 am, I was at Cherthala, a small town 20km from Alleppey. I looked at the lady and she was as confused and irritated as I was. She made me talk to her husband for directions. 20 mins later we boarded another bus from Cherthala and finally reached Alleppey at 1:11 am.

I was contemplating how to spend the night. Sleep on the bus stand? Find a restaurant serving hot tea and cigarettes? Go live on Insta?
I was still in a dilemma when the same lady called me. Her husband was there to pick her and her brother. We shook hands and he invited me to their house for the night. He was a Railway employee and had a quarter next to the railway station. I'm so glad that he didn't take no for an answer and I had a roof for the night.
All's well when the end is well, I guess.
The next morning I bid them goodbye and reached to Nishant's place. He told me that the boat race has been cancelled due to floods. And I spent the next few days checking the water level every few hours. I couldn't explore any of Kerala and for four days I was stuck in Alleppey at that hostel on an island next to a canal. But guess what? I don't have any regrets. I spend a wholesome time with my friend, his three loving dogs and myself.
Though I wish I'd have clicked a picture with my kind host, Meenu Kumar, Priyanka, and Rakesh.
Comments
comments