This story is about how everything – even the mountains, the trees, the rocks, and waterfalls – could be your teacher if you just observe closely.
I woke up to a sunny morning. Only the people who have been to the Naga Hills of Kohima in monsoon can understand the importance of that. It was my fourth day at Green Wood Villa in Kegwima – a small town about 10 kms from Kohima- the perfect place to make a base for Dzukou Valley trek. Finally, after waiting for two days the weather got clear and I had my day.
During breakfast, I met a family from Guwahati who had arrived the previous night. They told me that they were also heading to Dzukou Valley. Naseem Ahmed, the head of the family and a veteran trekker told me all that I needed to know about the trek and also asked me to join them.
The valley is located on the border of Manipur and Nagaland. If you are in Nagaland, there are two trails to reach Dzukou, Viswema and Zakhama. I was told by the locals that I should take the trail from Viswema because though it's a little longer, it is easier to traverse with a little slope, while Zakhama is not a smart choice during monsoons as it is a straight climb over slippery rocks. To reach the starting point of the trek, you need to drive up to Viswema village on the Nagaland-Manipur highway and then further inside the village for 7 km off-road. There was no space in the car with the Ahmeds so we decided that I would meet them at the starting point and from there we would trek to Dzukou Valley together.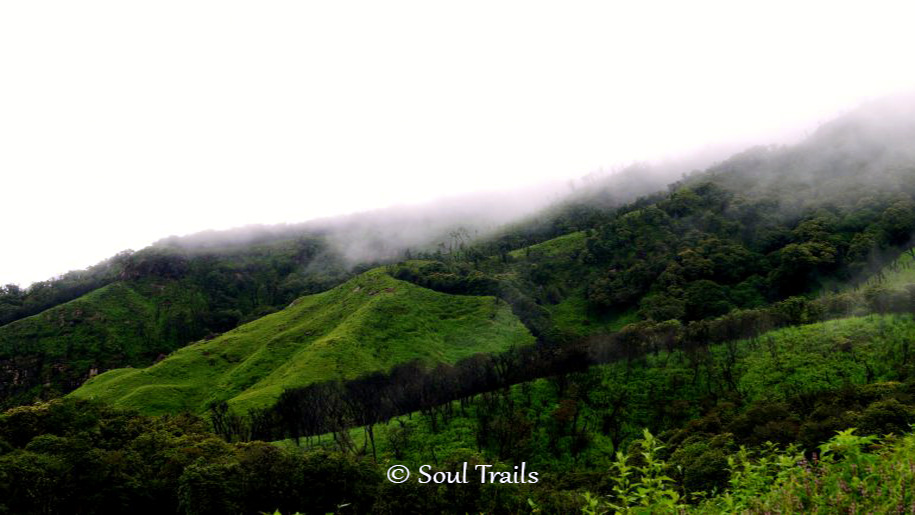 The first mistake!
I took a head start and soon got a lift on the highway in a truck. The driver dropped me at a cross junction and pointed towards a sign-board reading – 'Way to Dzukou'. I jumped off the truck as soon as I saw the board, thanked the driver and waved him goodbye.
You see, this was my first mistake of the day. I didn't inquire about the route I was taking and jumped off the truck as soon as I saw the board. But I guess that is a general tendency in us humans. We are always a little too excited and a little too anxious every time we set out to a new venture, and then our common sense takes a back-seat. And in my case, I usually kick my common sense, whatever little I have, totally out of the scene!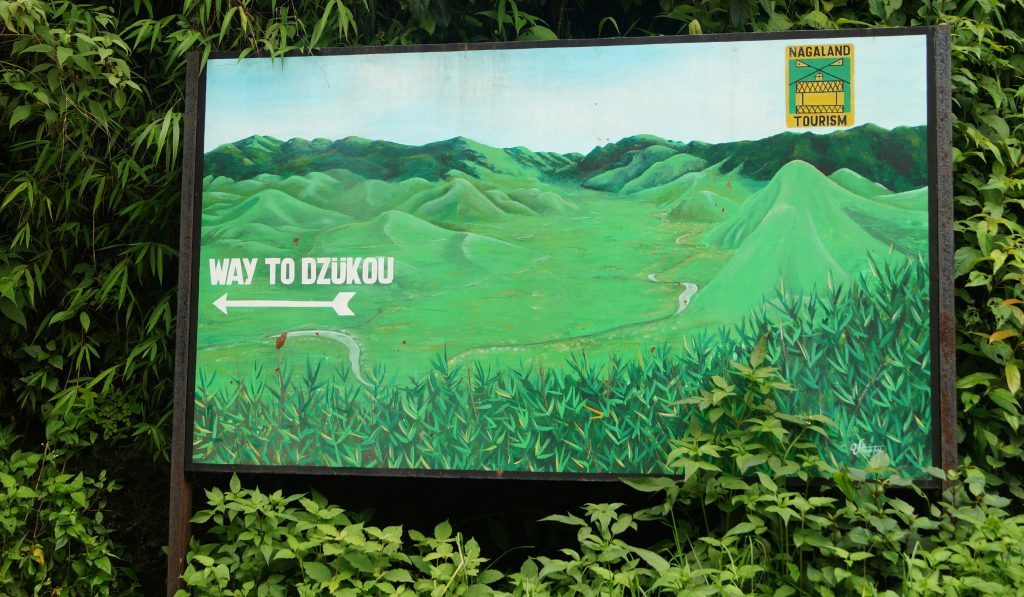 Shortly after I took that off-road trail, it started drizzling. Cursing my luck, I took out my poncho.
I saw some trucks moving and laborers knapping. I asked them if I was on the right path and they gave me a confused look. Then I pointed my finger ahead of the road and asked "Dzokou?" and they all nodded, almost simultaneously. I was sure that I have taken the Viswema trek route and I wanted to reach the starting point before Ahmeds so that I could rest for a while before starting the climb.
After half an hour I noticed a tin shade with another signboard pointing ahead reading 'Dzokou'. The off-road trail abruptly ended leaving me with a feeling that there has to be more, just like the next season teaser of 'Sherlock' last Christmas.
I waited for Naseem and family to come but then I started moving forward thinking they will eventually catch up with me. I kept walking, soaking in the beauty that the lush green forest offered. The trail was muddy and it was drizzling continuously. Half an hour more of the walk and I found myself in the middle of a thick dark forest. It's funny how things you love the most can look so divergent and scary once they get intense.
After a while, the trail vanished into the forest and it seemed it was way past sunset. Just when I thought I was lost, I saw two ladies coming from the other side.
"Dzukou?"
"Straight. Straight. Not far." – They answered in broken English.
I've trekked enough in the mountains to realize that 'not far' by local's standards means at least a good 3 hours trek for me. But a sign of assurance works as magic when you think you are lost in unknown lands. With this new ray of hope, I kept walking.
Realising it was a mistake
Soon it started raining so heavily that I had to take a stop in a broken shed marked as 'Rest House', courtesy of Nagaland State Government. I was finishing the last of my Parle-G biscuits wondering where Naseem would be and then it occurred to me that I've been climbing over big boulders for past two hours now and Viswema trail has a very short and easy climb.
"Holy mother of Bournvita!"
I had taken the wrong trail. Instead of taking the Viswema trail, I took the Zakhama one. My heart skipped a beat on realizing that I was all alone in this and no one was coming after me to guide through the rest of the path. The rain, the dark, and the slippery stones were not going to take it easy on me anyway. So I just kept walking.
Soon enough the forest and the mountains conspired together and threw me another challenge, a huge stream to cross. I had to take off my shoes and then my pants to cross that. Wet shoes and wet pants can lead to serious troubles in such environment. I had to cross it twice, first with my camera and shoes and then again with my day pack.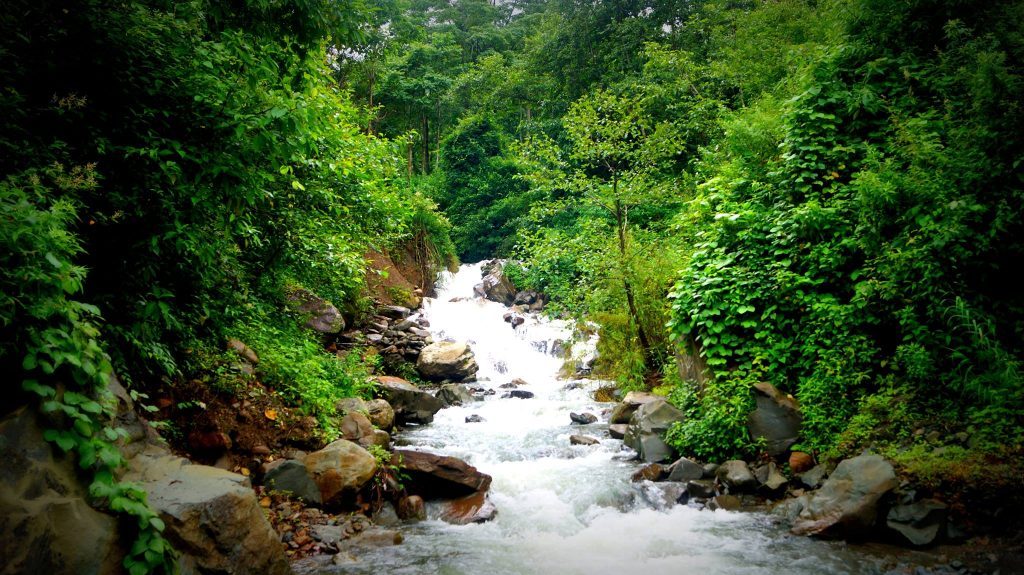 Once again I found myself in the midst of the forest. The climb was getting acute and the trail was so narrow that there was no place to sit and relax. It was getting dark and I was losing hope. I will be lying if I say that the thought of going back didn't occur to me a couple of times. And just when I was at the peak of my anxiety, I saw two guys coming down. They were local porters and told me that I was not far from the top of the mountain and from there the rest house was just another 30 minutes walk. They didn't forget to tell me how stupid it was to take that route.
Ahh! The first view!
After almost two hours of continuous climbing, slipping, cursing, self-pitying and occasional jumping, I noticed that I was just two steps away from the top of the mountain. My legs were shaking and I was exhausted. I climbed the last few steps only to find myself awestruck and numb by what was before my eyes.
The first view of the valley was mesmerizing. Teary-eyed, I dropped the bag off my shoulder. It still is one of the most beautiful sights that I've seen so far. I always say that the road is more beautiful than the destination itself. In that very moment, I found that statement losing its meaning.
I sat there trying to soak in every inch of that alluring sight when it occurred to me that I'd learned one of the many mysteries of life today. At times we think that we are on the right path only to later discover that we have misled ourselves into something else. The realization comes with a choice, go back and start afresh or keep moving forward. There is no rule against it and no right or wrong answer. But whatever we choose defines us as a person and has a deeper impact than what we realize at that moment.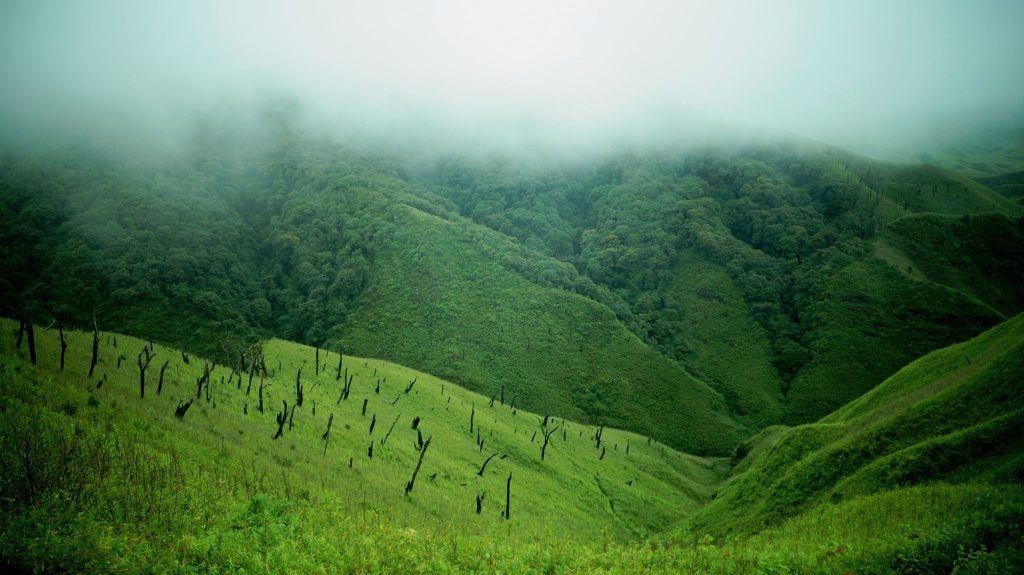 That day, I decided to see it through. Being a traveler, I've never called quits from a destination ever. I believe that's the whole point of it – to push ourselves, physically, mentally and emotionally. To put ourselves out of our comfort zone and challenge our limits. We emerge stronger and humbler than before. And just when we start to give up, someone will appear out of nowhere and help us through. The climb seemed never-ending and there were more than a few moments when I wanted to give up, but the view was all worth it. When I thought about how this journey unfolded, I understood it more than ever that after all; roads are more beautiful than the destination itself.
I was lost in these thoughts when I saw a familiar figure waving at me coming from the other side. It was Bana, Naseem's wife. I waved back while a curve found its way across my face, ear to ear. The rest house was near!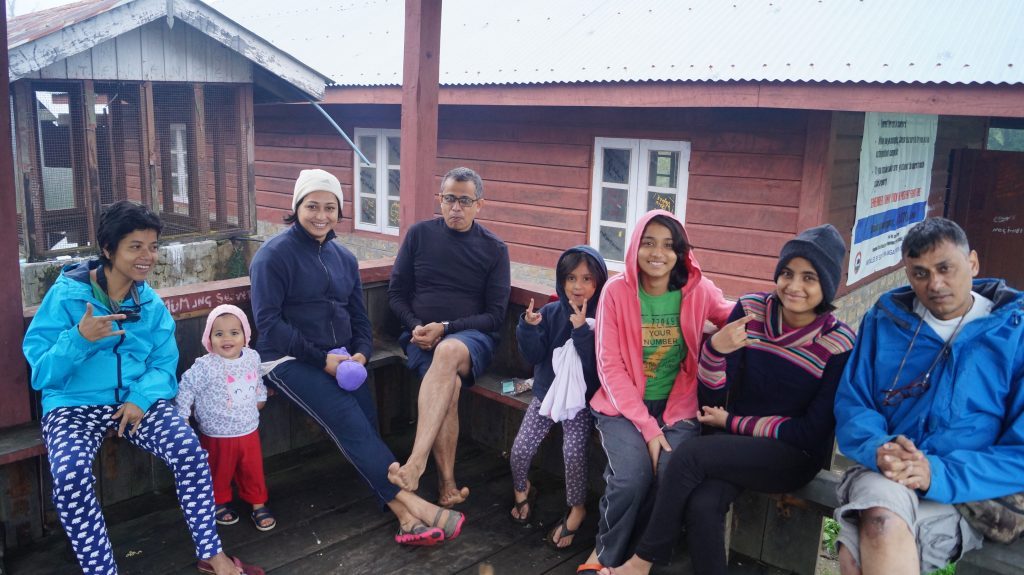 **Interested in Dzukou Valley? Click here to know all the myths and folktales of Nagaland's best-kept secret!**
Comments
comments