It was almost a month since I had been on the road. I was hungry, broke and a little lovelorn. Basically, I was missing home. The journey to Agartala was very intense. The highways in this part of India are probably the worst and monsoon was adding to the trouble. It was my third day in Agartala and seventh in Tripura. I woke up annoyed and decided to go to Neer-Mahal, the summer residence built by King Bir Bikram Kishore Debbarman of the Kingdom of Tripura in 1938. Known as the 'Lake Palace of Tripura', Neer-Mahal belonged to the Manikya Dynasty.
It took me an hour and a half and two buses to reach Melaghar. From there I walked (about 2 kms) to reach Rajghat from where you get ferries to take you to Neer-Mahal. The first sight of Neer-Mahal left me in awe. It looks like a beautiful red and white lotus carefully planted in the middle of a calm blue-green lake. I noticed that there was just one ferry on the lake shore. There were two old men and a woman sitting on the ferry, smiling at me. I waved them hi and they smiled back.
"Kemon achho, Babu? Kotha theke aaschho?" ("How are you son? Where are you coming from?" In Bangla)
"I don't understand Bangla. My apologies" I replied sheepishly.
"Oh! Do you want to visit the palace, son?"
"Yes, I do. How much is the fare and, sir, where do I get the ticket from?" I asked.
"Don't worry about that, we have booked the ferry. You can join us." said the woman sitting in front of the ferry. She had an innocent childlike face that emanated a warm glow.
I jumped on the ferry thanking all of them, excited that I had saved a few bucks and that finally, I have someone to talk to. It was a strange feeling for me – finding myself so comfortable with people more than twice my age. I grabbed a corner seat next to the lady and took out my camera.
"Will you click a picture of me, please?" she asked and thus started a beautiful conversation which I will cherish for days to come. Agartala was gifting me another story and I embraced it with a smile on my face and a camera in hand.
During our conversation on the ferry, I came to know that all three of them came from Bangladesh and were guests of the Government of Tripura. The couple, Abul Momen is a renowned journalist, a writer, and a poet and his wife, Shila Momen is a famous Bangla singer. The other gentleman, Uday Sankar Das is a theater artist. The amount of art and knowledge I was sailing with was so overwhelming!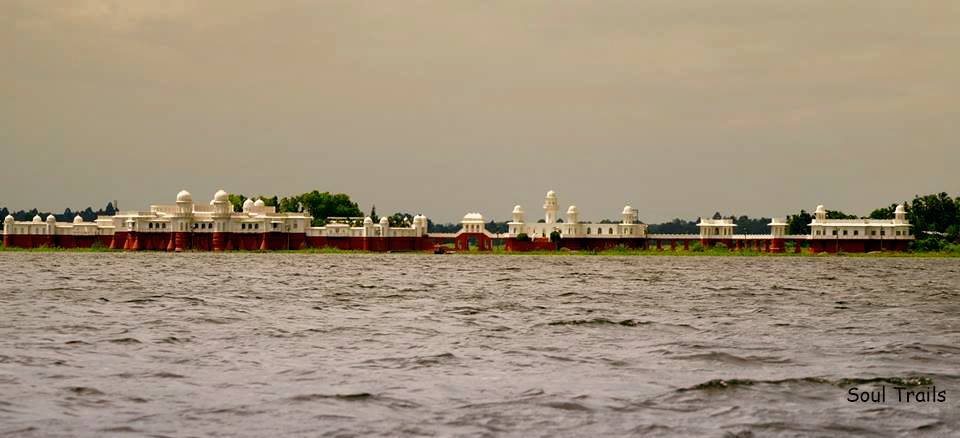 The palace is just a 5-minute ride. There are stairs leading to the front garden where they halt the ferries.
Neer-Mahal was constructed as a summer residence. It was Maharaja Bir Bikram's idea to build a palace in the beautiful Rudrasagar Lake and in 1921 he accredited the British company Martin and Burns to construct the palace for him. The palace is built upon the fascinating idea of blending Hindu and Muslim traditions and cultures. The palace is divided into two parts. The western side is known as Andar Mahal. It was made for the royal family. The eastern side is an open-air theatre where drama, dance and other cultural events were organized for the enjoyment of the Maharajas and their royal families. The palace has 24 rooms in total. It has two stairways inside leading down to a landing on the water of Rudrasagar Lake. The Maharajas used to go to the palace by hand powered boat from Rajghat.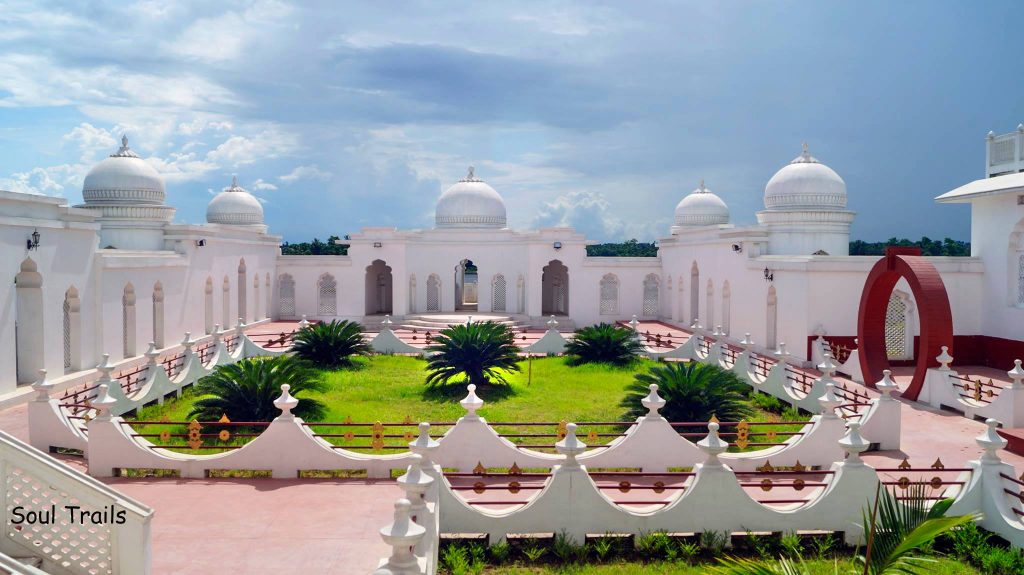 Momen Uncle, Aunt Shila, and Das Uncle asked me to click their pictures at different spots; in different poses. And even when the weather was very hot and humid and I was dripping wet in my own sweat, I was smiling. It made me really happy to click their pictures. People with a kind soul have this mesmerising aura that they spread happiness everywhere they go.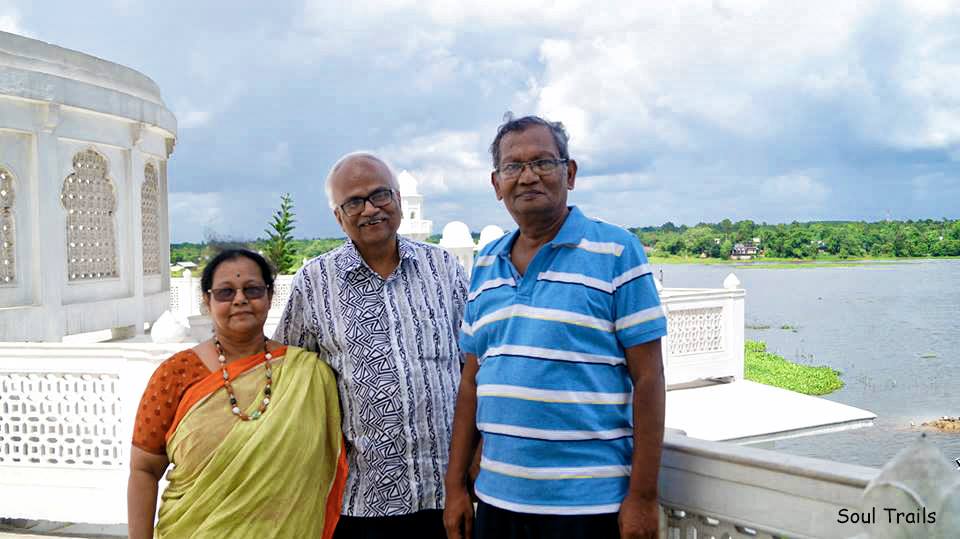 On our way back to Rajghat, Aunt Shila asked me about me and I told her that I quit my job to follow my passion for travelling. Somewhere, I was expecting the typical nod of disapproval but instead, I got a pat on my back. She smiled and said "You remind me of my son. You are so like him. Even my son is very passionate about his dreams." It does wonders to your self-confidence and strengthens your belief in your dreams when someone actually hears you out even when you are not able to explain yourself at your best and still appreciates your passion and motivates you.
We reached Rajghat and I thought it was time to bid adieu to these beautiful people when suddenly Momen Uncle asked me where I was headed.
"Agartala. I will go back to my hotel now."
"Okay. We will drop you back to your hotel in our car. Come with us." said Momen Uncle with a kind authority.
Always happy to be a freeloader, I hopped in.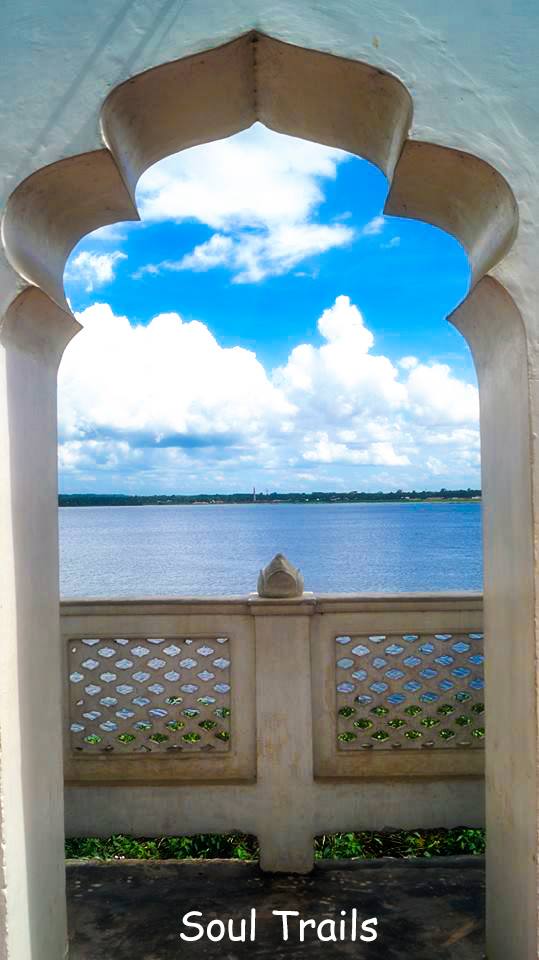 Before heading back to the city, we stopped at the main circle to have lunch. Das Uncle asked me if I ate fish and then he ordered something for all of us after my affirmation. The whole conversation between him and the restaurant lady was in Bangla and the only thing that I could understand was 'Bhhat' which meant whatever it was, there was rice with it. As expected, there was fish and vegetables with daal and rice. The variety of fish got tricky for me to eat. Aunt Shila noticed it and she took it upon herself to make sure I don't eat the fish bones. She ordered some other fish for me and started picking the fine fish-bones from my plate.
I was touched by her motherly love towards a stranger. She probably read it in my eyes and said: "You are like my son."
The lunch ended with 'Misthi Dohoi' (Sweet Curd). The very first bite made me realize that I was missing a piece of heaven on earth for so long in my life. The sweet memory of that misthi-dohoi served to be me by Aunt Shila will always make me hungry. After the lunch, I saw Momen Uncle heading towards the counter to clear the bill. I walked to the counter as well to pay my bill for the lunch as well but Momen Uncle didn't let me pay. "You are like my son. Till the time you are with us, you don't have to worry about anything" he said to me lovingly. I was awe-struck by their kindness wondering at all the kindness that there is in the universe.
We sat in the car and headed back to the city. On our way back we talked about almost everything; from politics to art, Bangladesh and India, Tagore to misthi-dohoi. I realized that how wrong and strange it is that we have divided ourselves into countries and castes and colour. People are same, more or less, everywhere. Their traditions, cultural and societal values differ, but the emotions they bleed are always same. It's an amazing world out there. And with all its beauty and magic, what really matters is the perspective with which we approach our differences. The Momen's adopted me as their own son for the time I was with them. I will always be grateful for their love and the things they made me understand just by their sheer kindness. I bid them goodbye at Nazirzila and bought a kulhhad (clay pot) of misthi-dohoi from the market to have after dinner. It wasn't as tasty as the one I had in Melaghar with Aunt Shila. Perhaps it lacked her motherly love.
The Momen Family

I sent an e-mail to Momen Uncle with this article and he replied with lots of love & blessings and a family picture alongwith this note – " We look forward to meet you again, preferably in Bangladesh, in Chittagong at your home." People like him restore my faith in humanity.
Comments
comments