Manas National Park – My first ever jungle safari!
"Please don't ever make these mistakes again. Ever EVER in life!" I mumbled to myself as I took a long look in the broken mirror next to the leaking tap outside the old, almost abandoned forest post. I was disgusted by the state of my body and clothes.
It was my first forest safari and I still had half a forest to cross before I could rest and reflect on my mistakes. But…
Let's begin from the beginning
The universe conspired the whole plan when I received an email from Ambassadors of Bodoland. I was invited by the Assam Tourism and Bodoland Tourism as an 'Ambassador of Bodoland'.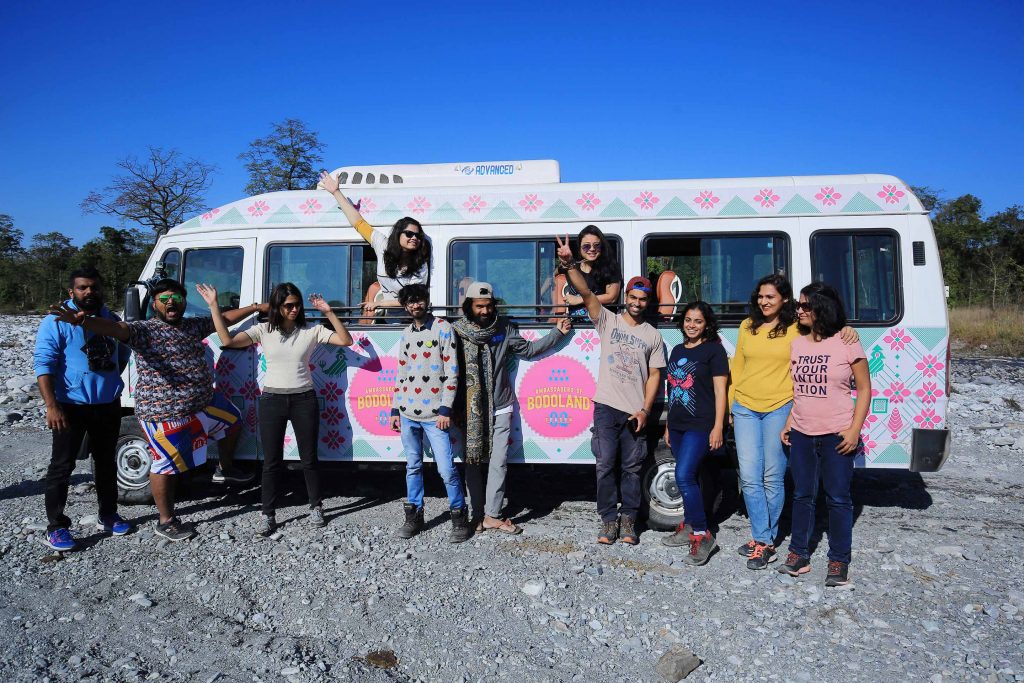 Ambassadors of Bodoland is an initiative by Root Bridge Foundation in partnership with Assam Tourism and Bodoland Tourism to promote and develop tourism in Bodoland. In this program, a select group of content creators travels through Bodoland, collecting purely local and authentic experiences. This year, I was one of the chosen 12 content creators under this campaign.
After having a delightful time at the Dwijing festival, we ventured further into the eastern side of Bodoland to Manas National Park.
Manas National Park
This 950 km2 UNESCO World Heritage Site is located in the eastern Himalayan foothills. Considered as one of the richest biodiversity sites in the world, it is studded with five conservation statuses – a Project Tiger Reserve, an Elephant Reserve, an Important Bird Area, and a Biosphere Reserve.
It was declared a sanctuary in 1928 and was officially established as a national park after adding several nearby reserved forests to its original area in 1990.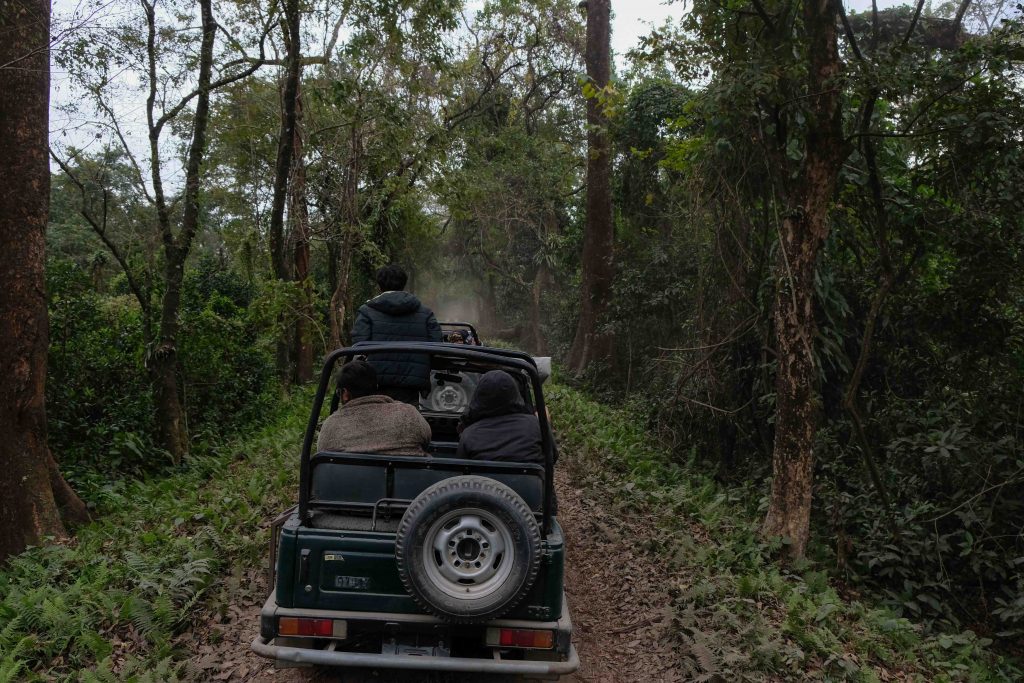 Of all my travels, I was about to go on my first ever forest safari in Assam. I have heard people say that Manas National Park is a life-time experience and I was very eager to tick it off my list. Little did I know that I was about to rain all over my own parade with my stupidities!
Arriving at the 'Smiling Tuskers'
We arrived at the 'Smiling Tuskers Elephant Camp' a forest resort in Manas National Park sometime around noon. It was our home for the next two days. We were starving and the good people of Smiling Tuskers won our hearts with their tasty food. To tell you the truth, a few north Indian ambassadors had tears of joy at the sight of round tawa rotis coming to us straight from the stove!
After a little rest, we planned to go for an evening walk.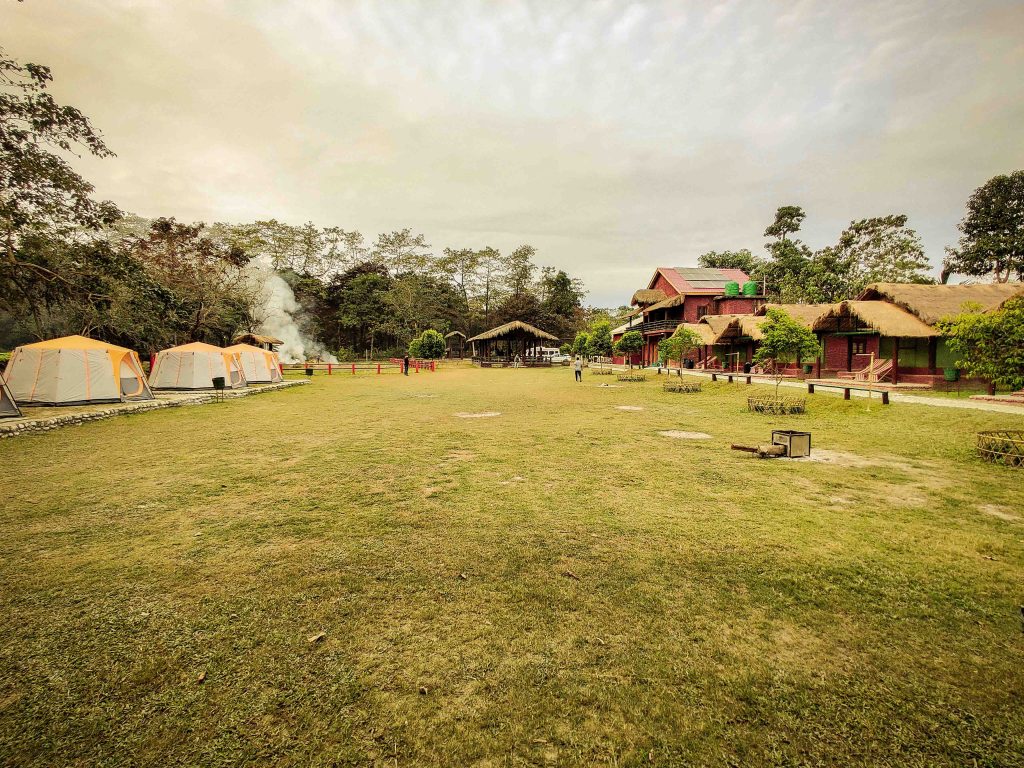 "Look there is a baby, too!"
As it happens with almost every group, a few were late for the walk. I, along with a few, was waiting for the others to come when we noticed a few locals stopping near the main gate. I don't know who heard it and from whom but 5 seconds later we were running towards the sound of "Rhino! Rhino!"
There was a Rhinoceros some 200-250 meters away from the fences across the road.
It was my first time to spot a Rhino out in the wild. I stood there for a minute to admire the slowly setting sun against the moody green tones where this majestic creature was grazing with no worry in the world.
The news of sighting travelled fast and soon all the ambassadors and a few other visitors joined us. The world around was at a stand-still. All I could hear were occasional distant chirping and the constant shutter sounds at burst mode.
Suddenly, Raksha shouted in enthusiasm "Look there is a baby, too!" And from behind that adult rhino (let us call her mamma rhino) came running a cutie-pie.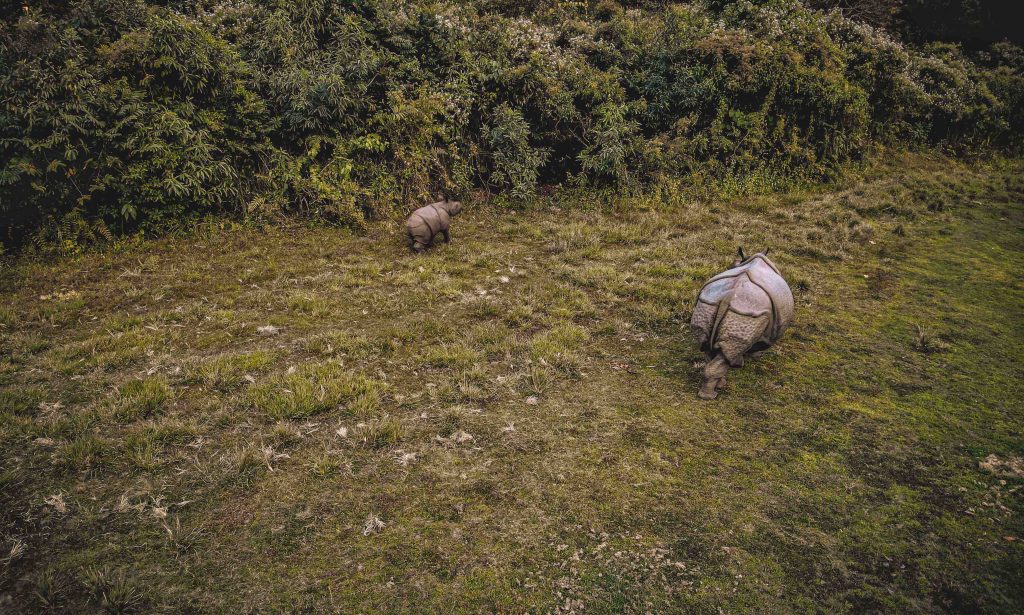 We stood there and kept clicking pictures till mamma & baby rhino were in sight. Such an up-close encounter with Rhinos is a pretty common occurrence in Manas National Park. My day was made. But there was something waiting for me at the end of the walk. So I continued with my evening walk in spite of being awfully tired. But let's keep that experience for later.
The long restless night
That first encounter with a Rhino was enough to spike up my adrenaline levels. I was imagining all possible 'Welcome To The Forest' scenarios in my head; from Tarzan to Dwayne Johnson, I played them all.
All of this excitement topped with the fear of snakes (we spotted one near my cottage earlier that evening) kept my ophidiophobic ass awake for most of the night. Of whatever sleep I got, I kept dreaming of the wildlife of Manas.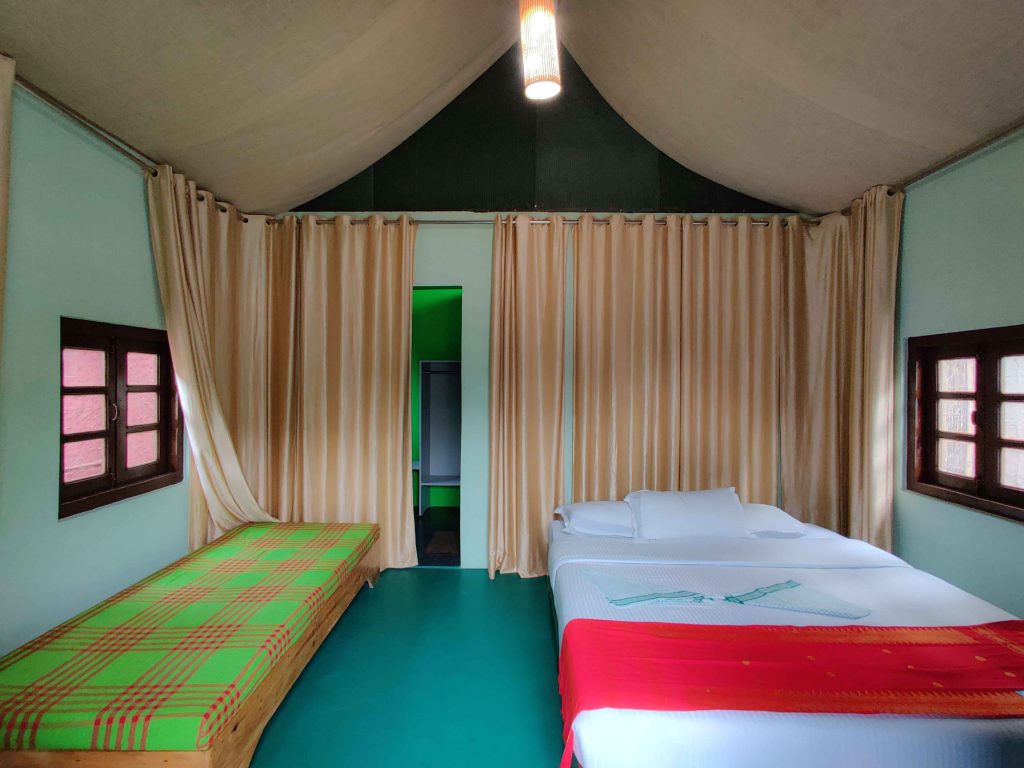 The Wilderness of Manas
Manas National Park is a mix of grasslands and forest biomes. Because of the Brahmaputra and sub-tropical Himalayan foothills, the diversity found in its wilderness is unmatched anywhere else in India.
Manas has over 55 species of mammals out of which 31 of them are classified as threatened. It includes elephants, rhinoceros, water buffaloes, barasingha, tigers, leopards, clouded leopards, Asian golden cats, golden langurs, hoolock gibbons, smooth-coated otters, sloth bears, barking deers, and black panthers, etc.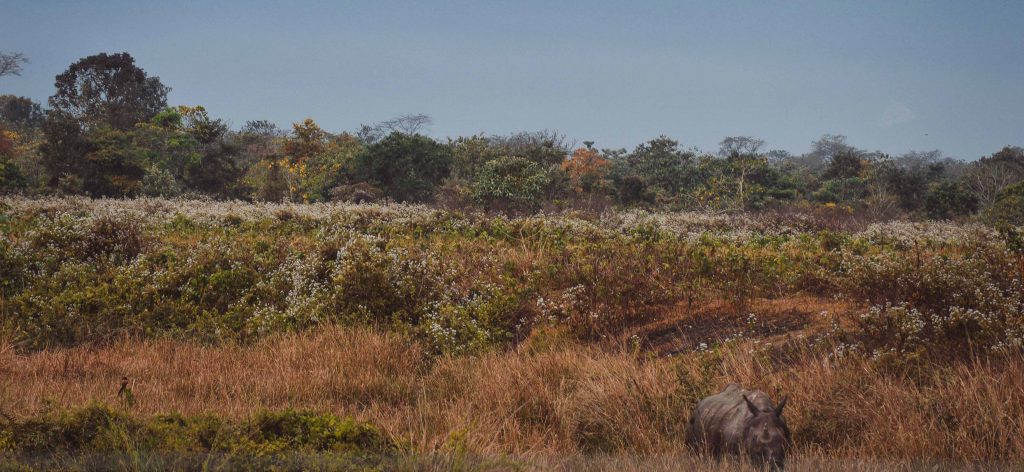 Manas National Park also has the largest population of endangered Bengal florican and the rare Assam roofed turtle which is found nowhere else in the world. It also hosts over 450 species of birds.
'Tis was the Day
The morning came and thanks to all the open-eyed dreaming of the previous night, I woke up late.
I knew that the day was going to be epic and I wanted to get myself clicked with the mystically picturesque forest in the background. So I skipped breakfast (mistake 1) and took a bath instead. I wanted to look my most sassy self so I put on my black jacket over a black tee (mistake 2). Cool stuff, right? NO. Not in a forest. But that I figured later.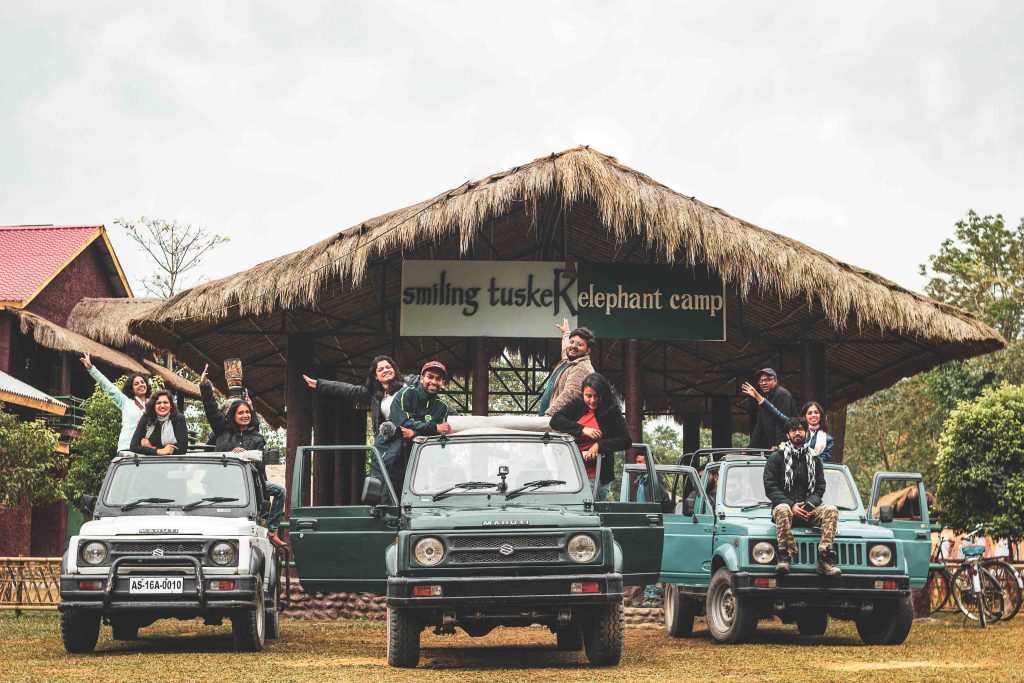 My First EVER Safari!
We sat in our open Gypsy and a chill went down my spine as soon as the wheels started rolling. The ride was smooth and I was enjoying the soothing cold breeze ruffling my already messed up curly hair. I had a smile on my face that whole time.
The smooth ride got over in like 20 mins. The forest started getting denser. All 12 of us were constantly moving our heads in all directions hoping to spot something.
Not long after we did. It was a beautiful rare bird. Like everyone else, I also took out my camera to click a picture only to realize that I had the wrong lens mounted on it (mistake 3). By the time I changed the lens the bird was gone.
"The safari has just started. It is okay, you will spot many." I told myself. But just then I remembered that I forgot to charge the camera batteries and it was at 19% (mistake 3). I had the whole day of exploring an exotic forest and I had no batteries for my camera – FML!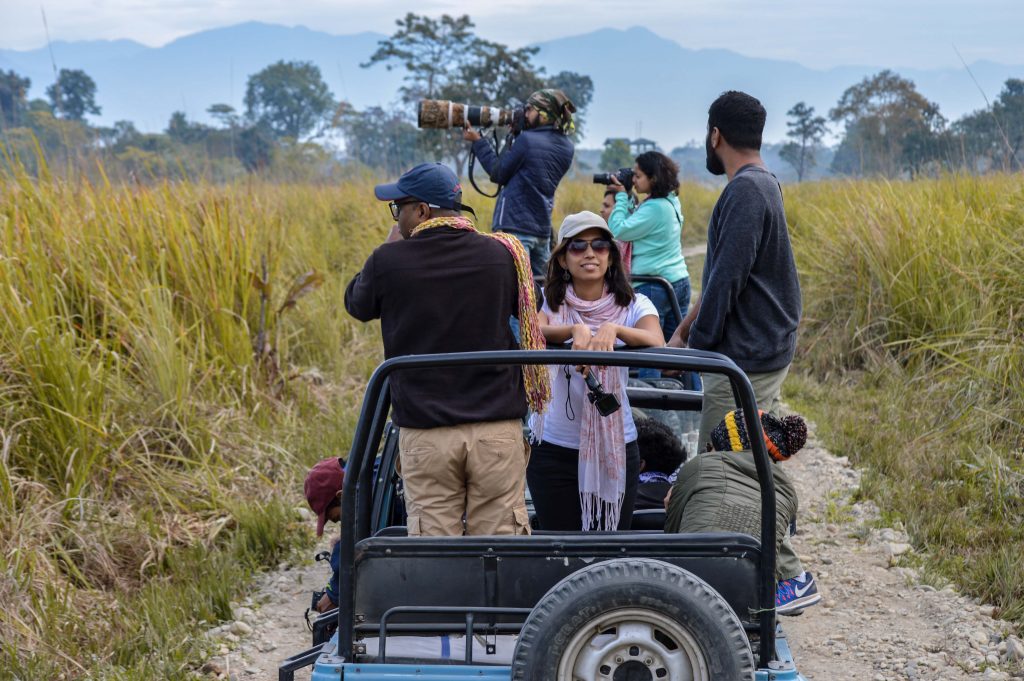 Further Into The Forest
The deeper we went into the forest, the bumpier the trail would get. It was so dusty that only the people in the leading car could have a clear view. The people behind could only see a big cloud of dust in front and drive past it closing their eyes and covering their mouth and nose.
I was all covered in dust all over; it just won't come off my black clothes. AND since I wanted to look all cool in the photographs and flash my curls, I didn't carry a cap (mistake 4). Halfway into the safari I was looking the prettiest blonde in the town. Even my beard turned brown by the end of it!
But that wasn't all. Even after 2 hours of dust gobbling, we were yet to spot a big cat or a rhino or any other rare animal. We spotted a few animals but no sign of the animals I was hoping for. To make the matter worst, hunger was making me really irky.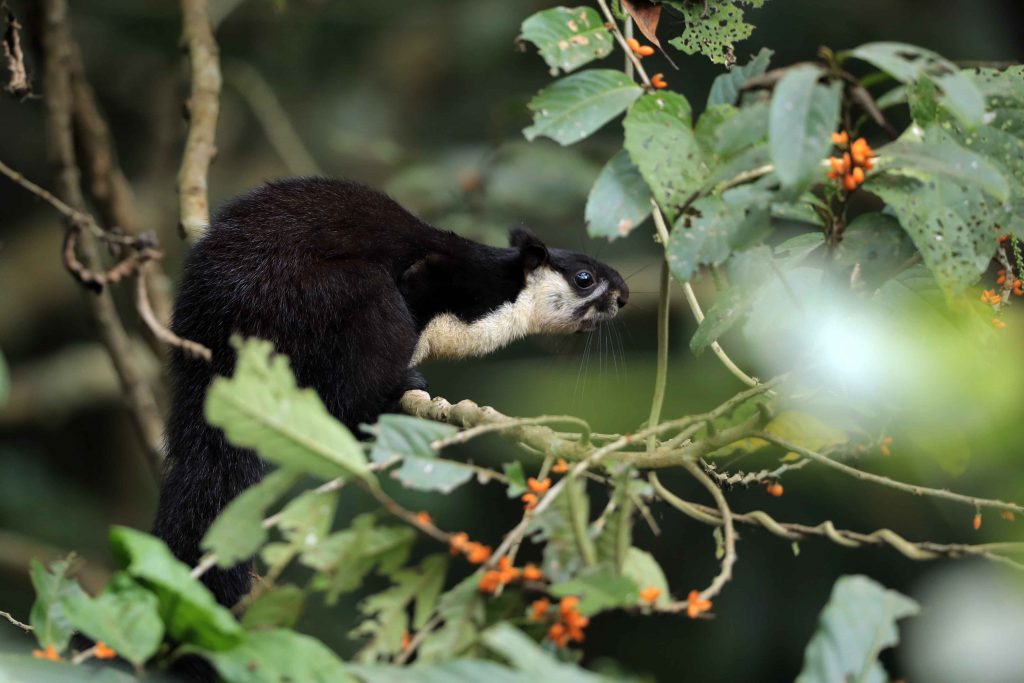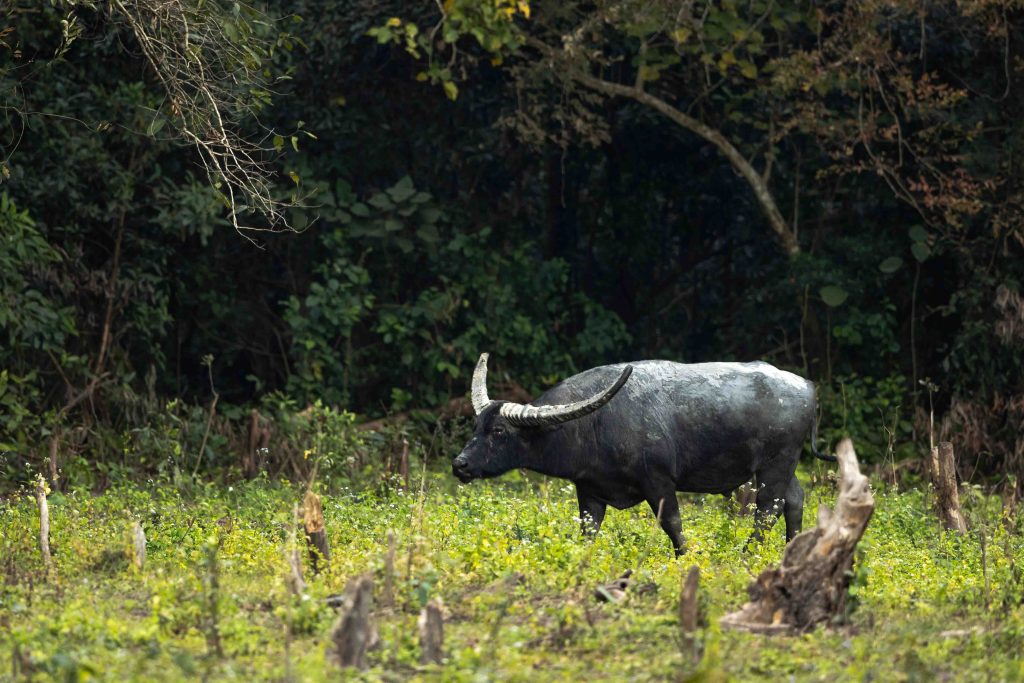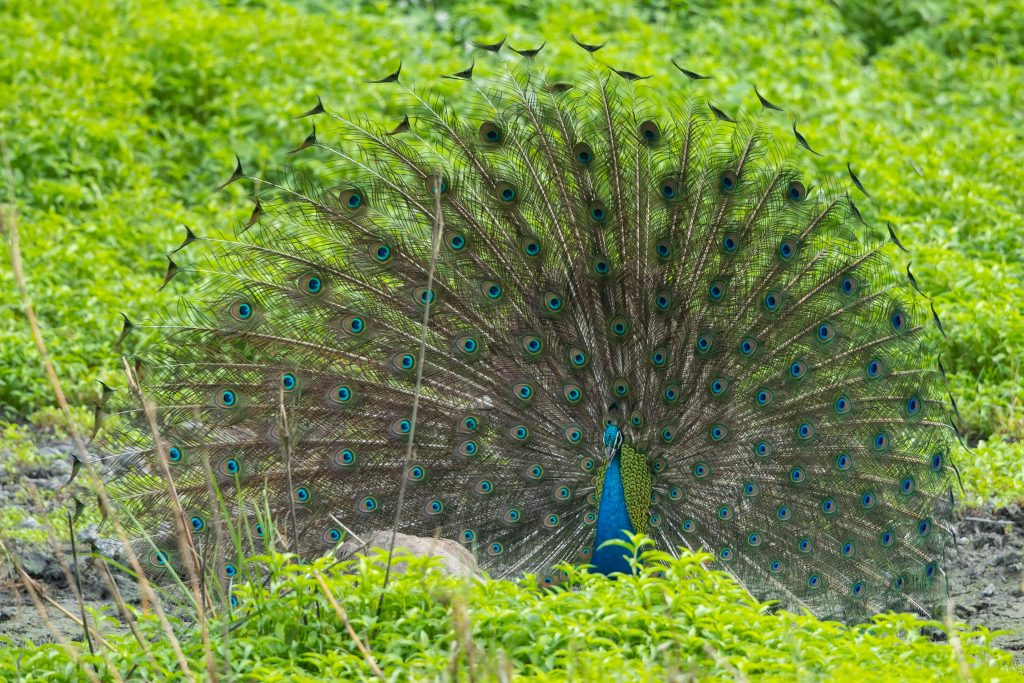 At The Border of Bhutan
Manas National Park is connected to Bhutan on the eastern side. The area of the park which falls under Bhutan is called Royal Manas National Park.
It took us about 3 hours to reach the forest check-post at the border of Bhutan. There was a tap in the backyard where I washed as much as I could. Luckily, we also found two local village women selling some juice and snacks. Packed Guava juice and Takatak never tasted so gooood!!!
It is always a strange feeling to see an International border milestone. They fascinate me. If you put one foot on either side, you are literally at two places at once. We clicked lots of photographs standing on that milestone making all kinds of funny faces.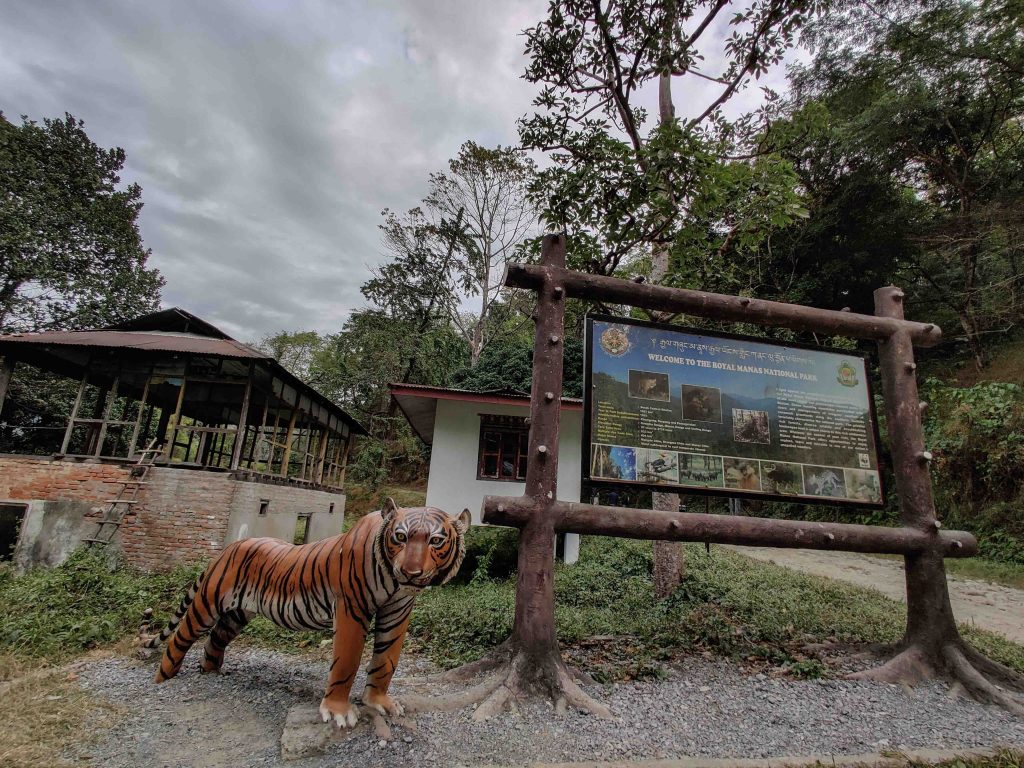 Fun Fact: Manas National Park is a UNESCO World Heritage Site but its Bhutanese counterpart called the Royal Manas National Park is not.
White sand, blue waters & a Mowgli
With a newfound glee, we were heading back to Smiling Tuskers. On our way back we stopped at the banks of Manas for a few minutes. The park is named after the Manas river that flows from eastern Bhutan to the northeast of India.
The sudden change in landscape caught us by surprise. The free-flowing blue water next to the bed of white sand looked like a doorway to paradise. We hopped on the slippery boulders to reach the river and touch the refreshingly cold water.
What was supposed to be a quick stop for a few pictures turned into a resting-point! Everyone was busy either admiring the view or taking photographs or videos. We tried it all – from selfies to fake candids to pretentious yoga poses. Bhagwan notched it up a little and went ahead to take a dip in the river. Whattaguy!
We also spotted a herd of Asian water buffalos but they were too far to pose a threat. Our Mowgli had stolen all the limelight anyway.
Alas! It was there!
Just when we were about to exit the Manas National Park and had lost all hopes of spotting any rare animal, we spotted a Rhino. It was so close that it was scary and unbelievable at the same time.
The rhino with his humongous physique and long pointy horn should look frightening. But instead, there was something so adorable about that Rhino. He was casually grazing in that little piece of grassland, completely unbothered by the humans around. A few birds were piggybacking on his back and every now and then he would swing his head trying to shoo them away. There was a certain calm about the whole sight, like different lives co-existing in perfect harmony. The Zen of the moment was surreal!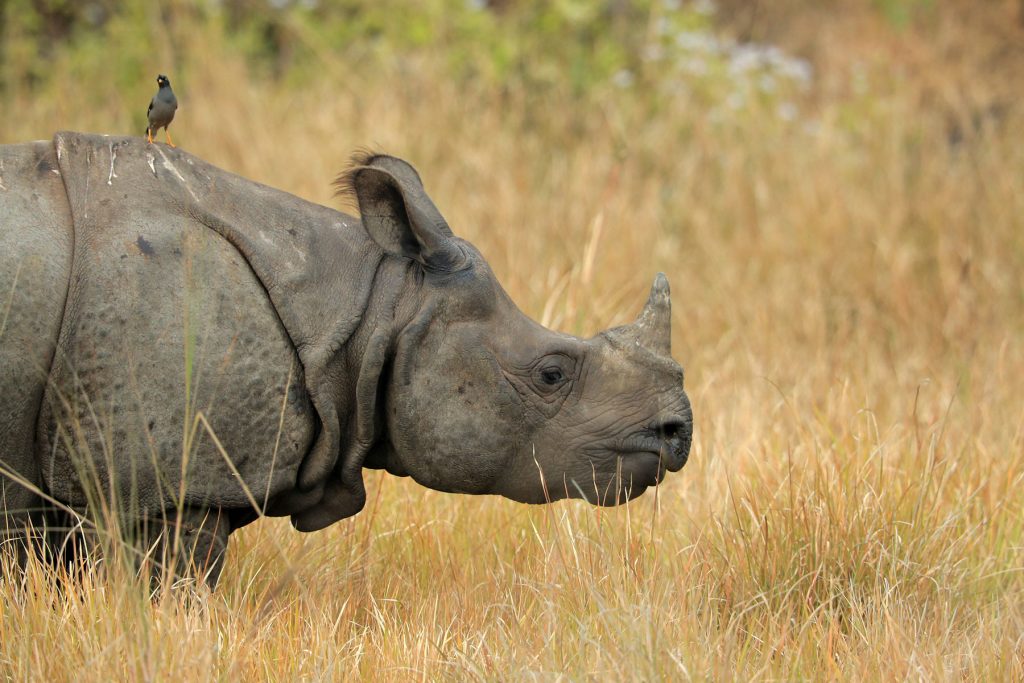 We stood there long enough to not just take photographs but also soak in the sight in all its details.
T'is was a good day, after all
It was a long day and I did make a lot of stupid mistakes. But no matter how much my minor slip of judgments irritated me while I was at the safari when I was finally getting off that Gypsy at the end of the day, I had a smile on my face.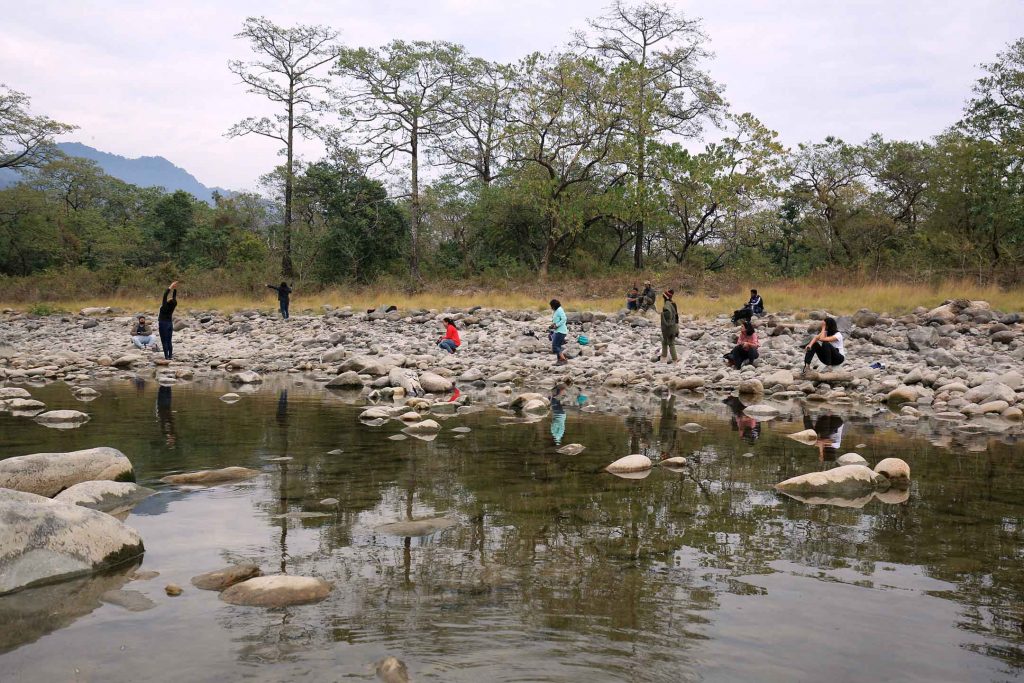 I got to explore one of the world's richest biodiversity areas. The landscape was gorgeous. I felt the strange joy of being at two places at once, literally. We spotted a few rare animals and birds. And I got to witness a moment which will stay with me forever. Not a bad deal after all, aye.
Have you ever been to a forest safari? What was it like?⁣
Collaboration with –

Big bear hugs & love showers to Jimmy Kamballur – the official photographer of 'Ambassadors of Bodoland, Season 2'. Thank you so much, Jimmy, for capturing and sharing such amazing photograhs. Please do checkout more of his work here – Jimmy Kambullar
Comments
comments