The everyday existence in a city is a relentless grind. Work, meetings, traffic and the constant buzz of mobile phones seem suspiciously designed to leave us listless. To break the monotony of this, we crave a respite- someplace scenic, serene and comfortable. Somewhere to curl up with a good book and a warm drink.
In search of that much-needed break, I decided to explore Jibhi, a beautiful hamlet in the Himalayan foothills of Banjar Valley, in Himachal Pradesh. If you are planning an idyllic getaway to the mountains, this beautiful homestay is the ideal place for you.
About the Homestay
Nestled next to a gurgling stream, Doli Guest House is a small settlement in the Himalayan town of Jibhi. Surrounded by alpine meadows, they offer two very different types of accommodation. One option is a traditionally built village house renovated with all the modern amenities and the other option is Swiss style boutique cottages.  The establishment also has a dining hut, a yoga hut, a bonfire area and a fully equipped kitchen, should the guests wish to use it.
The proprietor, B. S. Rana has added his subtle personal touch everywhere – experimenting with traditional architecture and contemporary décor. A retired army man and an organic farmer, Rana's passion towards environmental conservation and his respect for nature is quite visible in the practices he follows to run this place.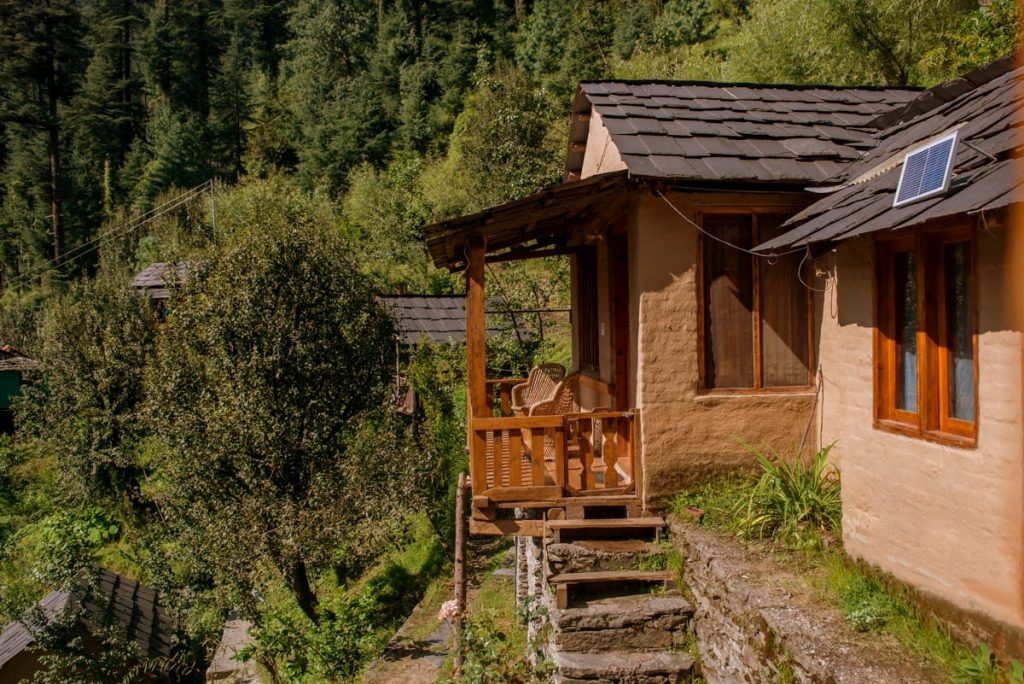 (Photos: Rana Swiss Cottage)
The one thing I loved most about this place is that even with all the required modern comforts, it still retains the rustic charm of a hill cottage.
Contact Details: B.S Rana – 9816058290/9418442122
e-mail – doliguesthome1956@yahoo.co.in
Stay Options
The traditionally built rustic homestay
Inner Rooms: INR 950 + taxes
Front Rooms: INR 1200 + taxes
Swiss style boutique cottages
Normal: INR 2200 + taxes
Loft Cottage: INR 2450 + taxes *Soul Trails recommended*
Food
The homestay offers a good variety of food on the menu. All the food items are freshly cooked using mostly the vegetables/herbs grown locally by Mr. Rana.
Getting Here
By Air – The closest airport is 48 km away in Bhuntar, Kullu. From there you can take a direct taxi to Jibhi for INR 2,500. Another way to get here is via Chandigarh/Delhi airport and then taking an overnight bus to Aut/Mandi.
By Rail – Not recommended due to excessive difficulty.
By Road – Volvos, AC & regular buses ply from Chandigarh/Delhi (Kashmiri Gate ISBT) to Aut. All the buses going towards Kullu/Manali can drop you at Aut. From Aut you can take a regular bus to Jibhi via Banjar. You can also arrange for a taxi from Aut to Jibhi for INR 1000. This is the simplest way to travel to Jibhi.
If you are a road-trip enthusiast, you can start early from Delhi and reach Jibhi in about 12 hours (510 km). Though the road gets fairly narrow and tricky to drive after Banjar; allowing only one vehicle to pass at a time.
For bus booking: HRTC
For a taxi from Aut: Kapil Sharma (9816347175)
You can also contact Mr. Rana for any assistance you need. He is always happy to help.
Best Time To Visit
Except for heavy monsoon (June-July), Jibhi is ideal to visit all year long. The snow season is between December to February and the temperature goes down below freezing after sundown. Nevertheless, Jibhi has exceptionally beautiful vistas to offer any time of the year.
But what makes travellers from over 85 countries to come to stay here is not just the beauty of this place but also the homely and comfortable hospitality of Mr. Rana.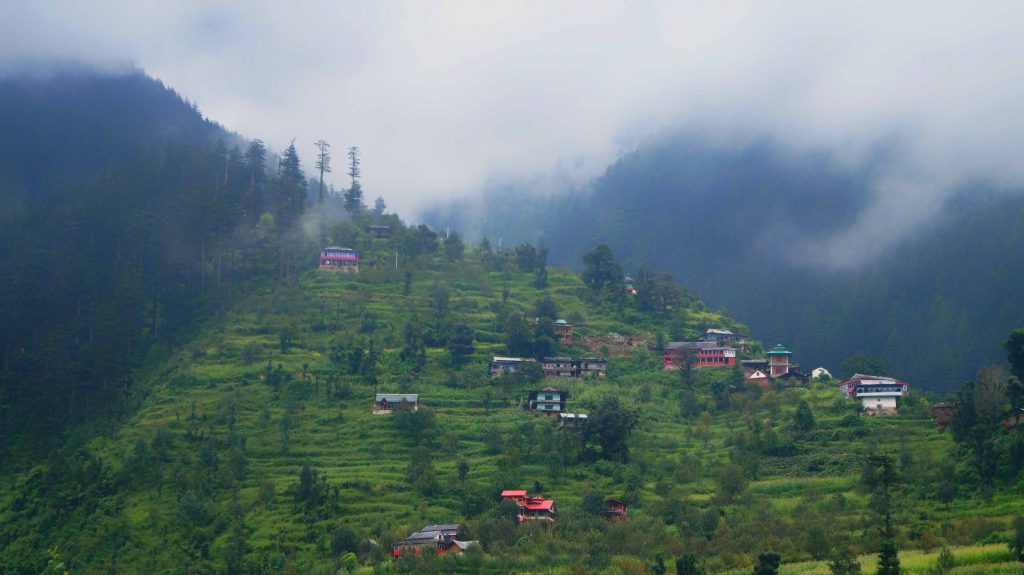 Soul Trails in association with Kshatra Adventures 
Comments
comments