Apart from a lot of other things, Mizoram offers a unique opportunity to witness one of many miracles of nature – Rih-Dil; a heart-shaped lake situated at the border of India and Myanmar.
To reach there you have to take a taxi from Champhai to Zokhawthar which runs from 6 am to 11 am at intervals of 30 minutes. Daily direct taxis are available from Aizawl to reach Champhai. From Zokhawthar, you can cross the border on foot and if you have time, you can walk further to reach Rih-Dil.
My plan of crossing the border on foot and walking to Rih-Dil was trashed by the sweet sleep offered by the comfortable bed-quilt combo. So I took the 9 am taxi instead of the 6 am one and thus started my ever-memorable journey to Myanmar. My first stop – Zokhawthar. Zokhawthar is a small town about 30 kms from Champhai. But don't let the distance fool you, the roads are so treacherous that it takes at least 1.5 hours to reach there, and for me, those 1.5 hours seemed like an eternity.
I reached Zokhawthar around 10 am. The locals in Champhai had told me two important things about Zokhawthar:
You can hire a motorcycle guy in Rs. 150-200 (to and fro) from the taxi stand to take you to Rih-Dil.
You should not forget to take the contact number of the motorcycle guy because at the times they drop you at the lake but then don't come back to pick you.
So the next task in hand was to hire a motorcycle to take me to Rih-Dil across the border. Crossing the border is the easy part; the tricky part is to get the motorcycle in reasonable rates. Due to rains and no availability I had to pay 300 rupees. I felt cheated but going that far and not seeing the lake would have been such a waste.
John, the motorcycle guy, told me that he would take me to Rih-Dil, I could stay and roam around for a couple of hours and then he would take me back.
India and Myanmar are separated by a river at this side of the border. There is a bridge which is a no-man's land. At the Myanmar side of the border I was asked to submit a photo id in original. The security guard gave me a puzzled look when I asked for a receipt for my id submission but John dragged me out of the office saying they don't give one and there is nothing to worry about. I came out of the check post thinking how differently things run here, yet I wasn't surprised.
John kick started the bike and I grabbed the pillion seat. From the border, it's just a 15-20 minutes ride to Rih-Dil. On our way to the lake, John told me an interesting folktale about Rih-Dil: A long time ago, there was a girl, Rih-i in the Mizo village of Natchhawng. Rih-i had a younger sister who was killed by their father because their stepmother didn't like her. Rih-i resurrected her sister with the help of a holy spirit. When her sister came back to life, she was tired and thirsty and to quench her thirst, Rih-i turned herself into a water body with the same magical spell. That water body is now called the Rih-Dil lake. The word 'Dil' (literal meaning: heart) represents the shape of the lake.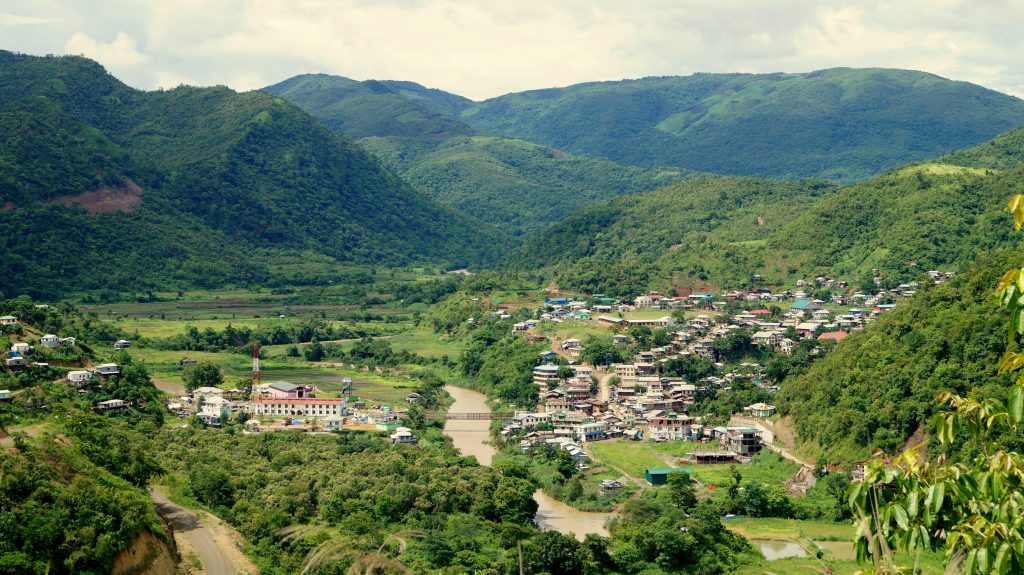 I took a stop to buy some water and there I met a middle aged man who told me another myth related to the lake. According to the ancestors of local Mizo tribes, this lake was a corridor to their heaven. Every soul travelling to heaven must pass through this lake. After listening to the lore, I felt lucky to have come this far in flesh and bones.
From that shop I decided to walk to the lake. With each step, the lake was getting closer but the view was restricted due to heavy vegetation on the lake side of the road. I was walking very carefully because the road was full of mud and was very slippery. I didn't even realize when I got to the lake.
The hills have parted to harbor this enchanting lake, secretly hidden by tall trees on one side and hills on the other.
The hills, the clouds and the pristine blue water triggered the daydreams I was holding onto for so long. That old wooden bench under the big tree right by the lake had its cracks filled with stories and daydreams. And without any hesitation, I added mine.  The moment was whole, but I wasn't. The lake reminded me of someone who had walked into my life recently. It reminded me of her deep, blue eyes. And there I was, sitting on that bench with my eyes chasing that lone duckling in the lake, giving words to our imaginary conversations. I wished she was there with me to hold my hands and we would talk about how fascinated she is by hydrogen clouds because star gazing is her favorite amusement during night-time and how Sylvia Plath inspires her to believe in her own story and how she secretly cries every time she thinks about Sylvia's tragic death and that chocolate chip cookies are the best thing that happened to humanity ever…
I was a thousand miles away from her but yet she was there with me on that bench. She was just telling me why she likes her chocolate donuts with a scoop of vanilla ice-cream when I heard someone calling my name, "Sunny! The last taxi to Champhai leaves in 30 mins. Time to go." It was John.
I picked up my daypack thinking about how things work in mysterious ways. I would love to see how this mystery unfolds. I asked John to let me drive and he was more than happy to switch seats. The moment I started the bike, John started telling me another story. I don't remember the story; I was lost in my dream.
What I do remember is that I looked back at that picture-perfect setting to bid good bye!
(A quirky fact for booze lovers out there, you would love the easily accessible joints about 100 meters before the lake. You can find cheap beer and cigarettes; so you can enjoy a puff while communing with the scenery.)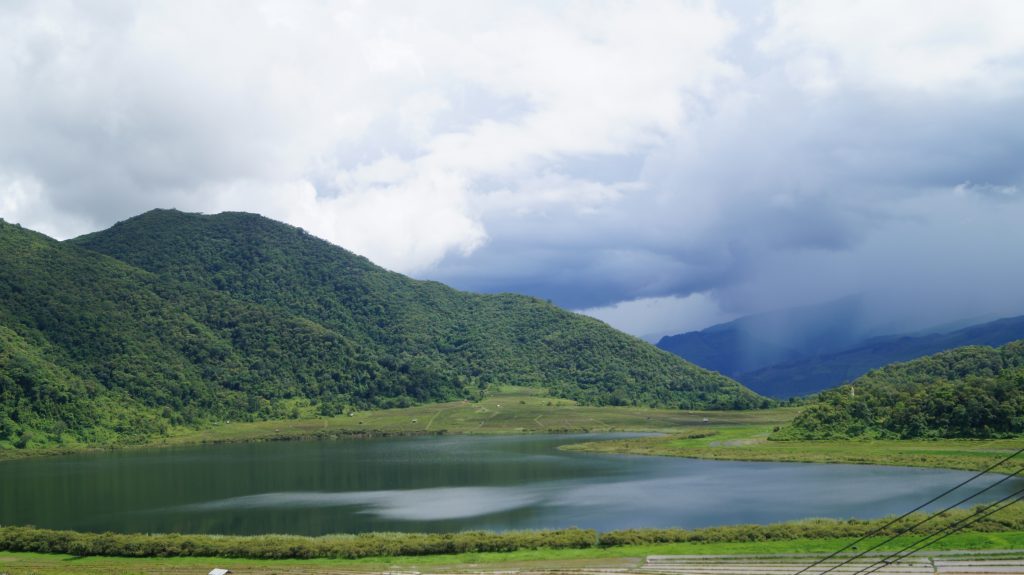 Comments
comments