David, the driver of the delivery truck transported meat and vegetables across town. The bag of potatoes and tomatoes never smelled so good before, like it did in that moment. He told me that he was making a drop at Riwai, a small village near Mawlynnong and then was heading back to Pynursla for the football match. He and his friend had got the best seats, and certainly the most expensive ones. The craze of football amazed me once again, this time without the pinch of fear. David and I kept singing various Hindi Bollywood songs throughout the drive. He in his broken Hindi, and I in my sheer joy. After all, the love for Hindi Bollywood song is unanimous throughout the country. Divided by culture and language, and united by music and sports. I'm so blessed to be born in this strange land!
David dropped me at Riwai. Riwai is one of the many sights of nature's and men's marvelous piece of work 'The Living Roots Bridge' in Meghalaya. Mawlynnong is just a few kilometers walk from Riwai. Riwai has the main parking lot and all the taxis take a stop here. So I decided to first take a walk to Mawlynnong and then come to Riwai and trek to living Roots Bridge. It would be easier for me to get a vehicle back to Shillong from there. Mawlynnong is just 15 mins walk from Riwai.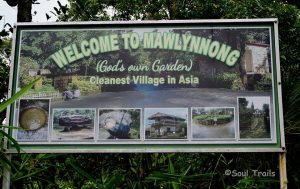 I was picturing a village with clean roads and nicely put houses but when I walked past the board saying 'God's own garden', I thought I was in suburbs of Iceland. The whole village streched like a beautiful garden with houses in the backyard. There were flowers everywhere and the roads were spotless. Each house had a big colourful garden in front of it and the backyard opened up to a beautiful view of Bangladesh plains.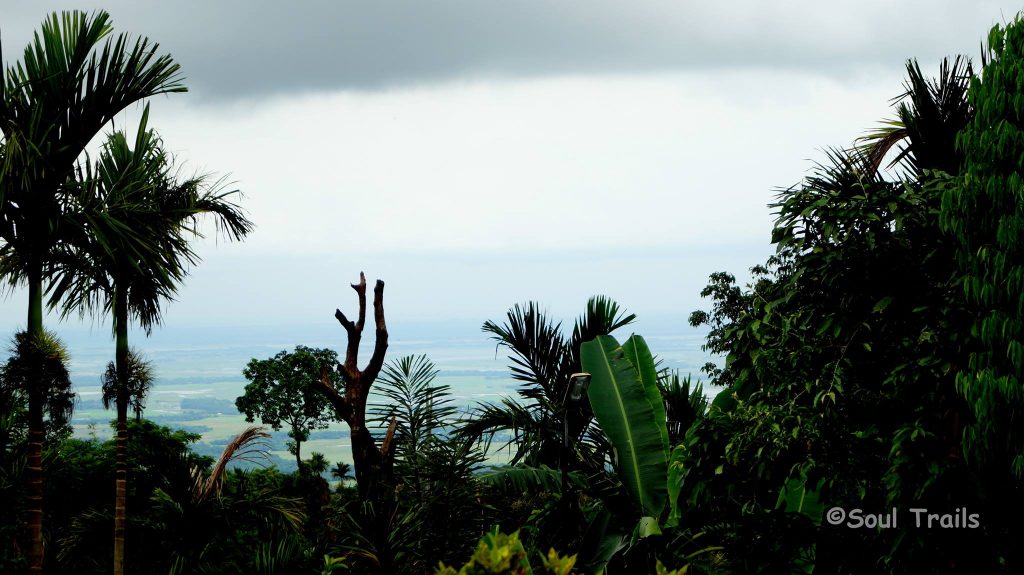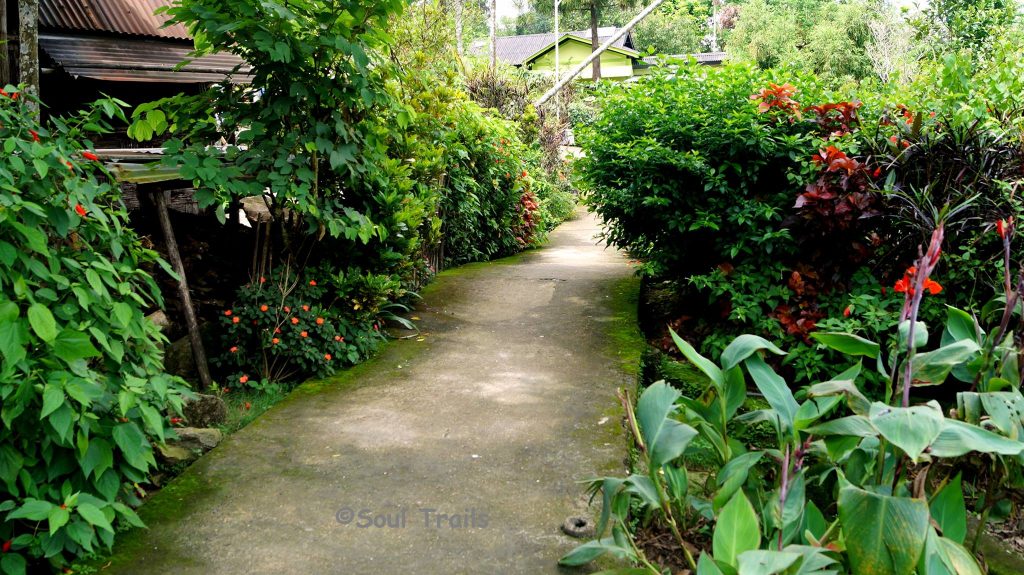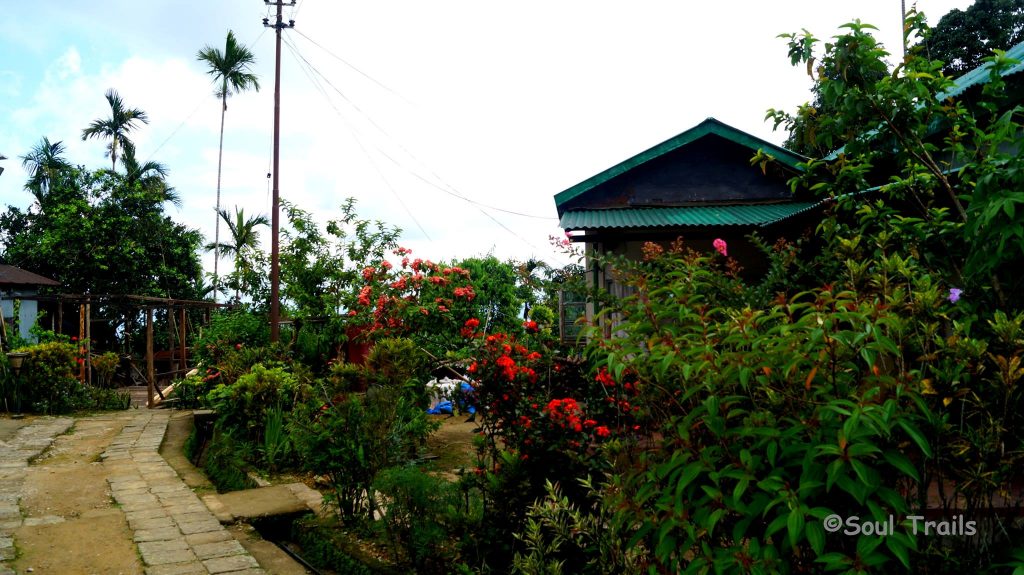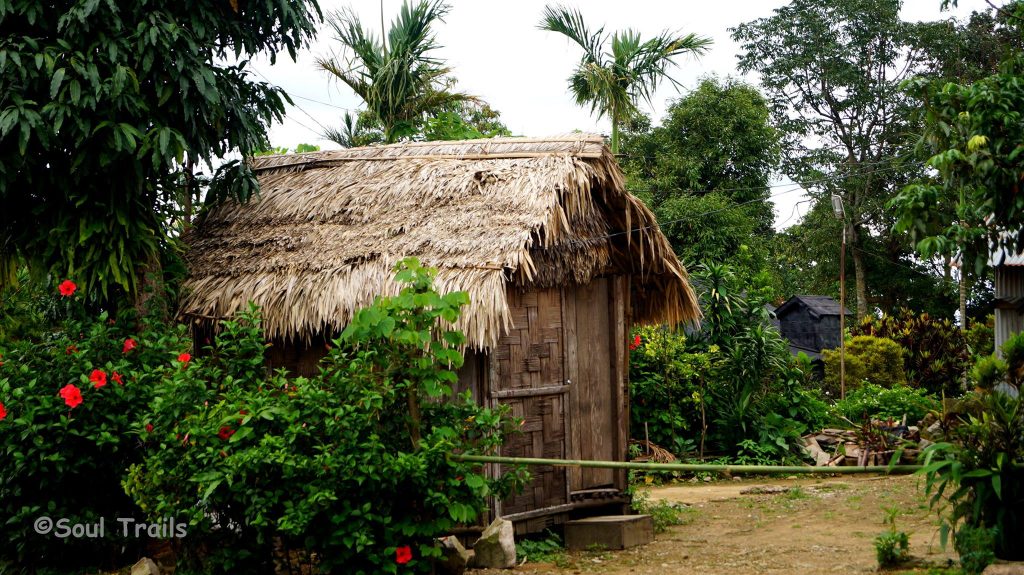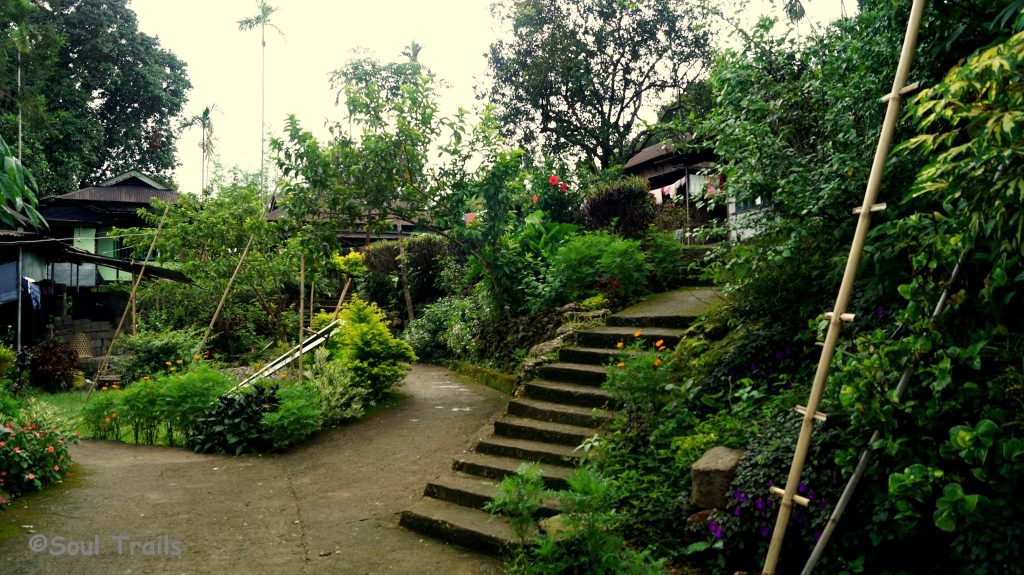 Mawlynnong, Asia's cleanest village.
I took a long walk across the village and then reached back to the main road to Riwai. You have to trek about 2 kms from the main road to reach a stream. Over that stream stands the living roots bridge. The first sight of the bridge left me awestruck. The tall trees and the vines entwined on to it as if a newborn holds her mother's bosom; the boulders looked like a giant troll in a failed attempt to hide himself from the sunlight; the mist carpeting the obstreperous stream trying to mild down the sound of maddening water. For a moment I felt like I had walked into the sets of 'The Lord of the Rings' and at any moment Gandalf will come to hand over me my Precious!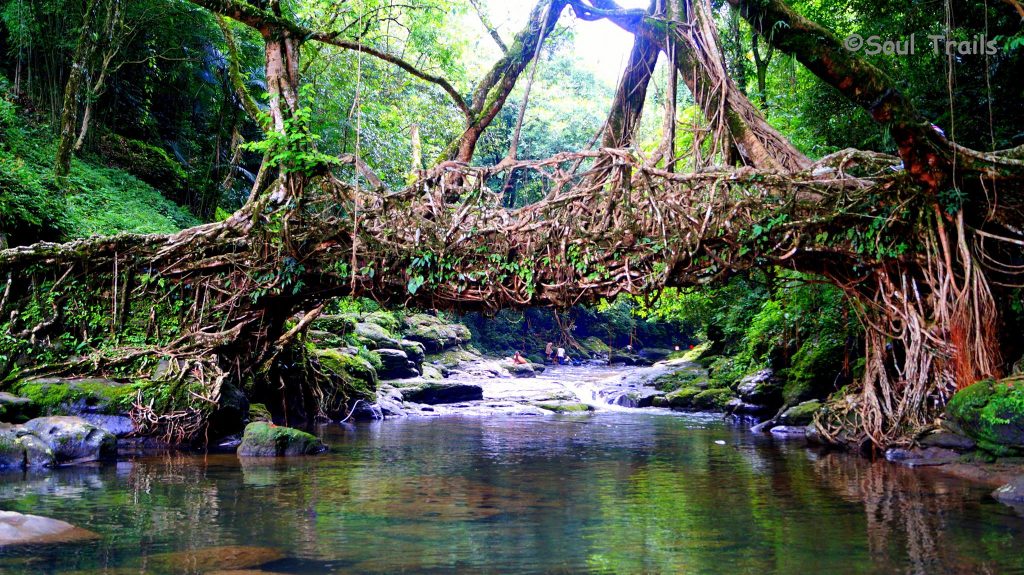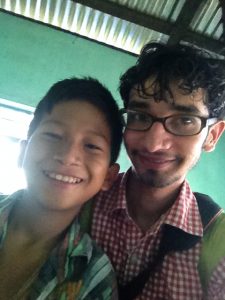 I sat next to the stream and spent a good time appreciating everything that surrounded me. And then I realized a truth about human existence- that hunger can ruin any peaceful moment. I hadn't eaten anything substantial since morning and I couldn't sit there any longer. I walked back to the main road and found myself a dhaba (road side restaurant). There I met this 11 years old kid, Iaithrang. Iaithrang got me tea with toasts and eggs. He started asking me all kinds of things and amazed me by his wit, intelligence and curiosity. He told me he wanted to be a doctor. He also told me that literacy rate is 100% in his village and almost everyone can read, write and speak in English!
Once I was free from the irritating shackles of hunger, my mind reminded me of the task of the day – finding a way back to Shillong.
I started asking around for a way back, but the story was no different than what David had told me. The locals there told me that there won't be any public taxis running today because everyone is going for the football match. I could either stay the night there at Mawlynnong or book a cab. Both the options were out of my pocket's reach and it got me worried. Once again, I was stuck in a place with no money in hand.
Watching it all from a distance, Iaithrang came to my rescue. He told me his uncle was a driver and I should ask him once. We found his uncle sipping tea inside the dhaba. Iaithrang's uncle, Bablu, told me that he was driving a couple from Shillong and couldn't take me with him unless they agreed to it. All the cabs there were pre-booked for either families or couples on honeymoon, so you can understand the odds of a solo male hitch-hiker getting a place with them. The families had no room in the cab and the couples were skeptical about sharing their personal space with a random male stranger.
Bablu had my number and he called me when his passengers returned from the roots bridge. They were a young couple Vivek and Nikita, fortunately for me, not on their honeymoon. I approached Vivek and told him that I was stuck and it would mean a lot if he would just let me drive with them to Shillong. Initially, Vivek was hesitant and he politely declined. But then Bablu talked to him and explained him how I wouldn't get any vehicle to Shillong then and how there was no place to spend the night there.
I was sitting at the dhaba with a long face trying to figure out what to do next when Vivek came up to me and apologized and then asked me to join him and Niharika. I've been so lucky thorough out my not-so-sane decisions and all the adventures that I can't thank some strangers enough, who acted as Godsends. Just when I thought that I had nowhere to go and I was stuck, I got a helping hand. And it is the most beautiful thing to happen with anyone. Honest selfless moments of kindness from total strangers.  It's a blessing!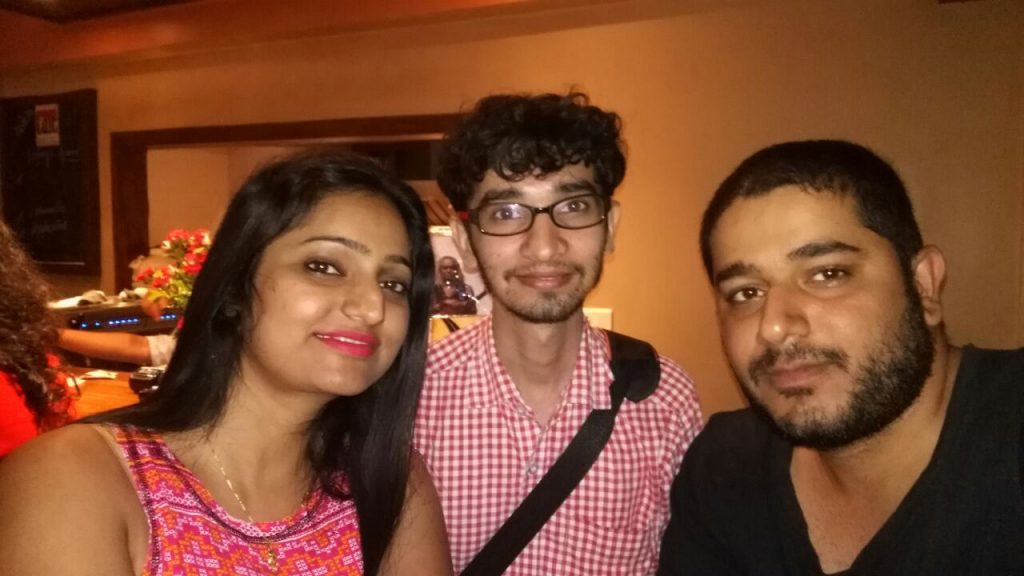 The ride back to Shillong was beautiful. Vivek and Nikita were very kind and I entertained them with a lot of my stories. Even Bablu had a lot of strange stories to share. Finally I got to cherish the beauty of nature spread all around this time because I wasn't sleeping. We took many stops on random places and I clicked a lot of pictures of the couple. That was the least I could do for them. En route Shillong, I witnessed one of the most beautiful sunsets of my life so far.
The day was so interesting and eventful that it still gives me goosebumps every time I think about it. I had never thought even in my wildest dreams that I can get stuck somewhere, that too in the interior regions of Meghalaya, because of a football match. But somehow I got help whenever I needed it the most and in the most unlikely manner, be it David, Iaithrang, Bablu or Vivek and Niharika. God has been merciful. The vibrant fragrance of the kindness of random strangers followed me back to my hotel room. That night I had the most peaceful sleep in a long while!
(Click here to know how I ended up in a delivery truck with David)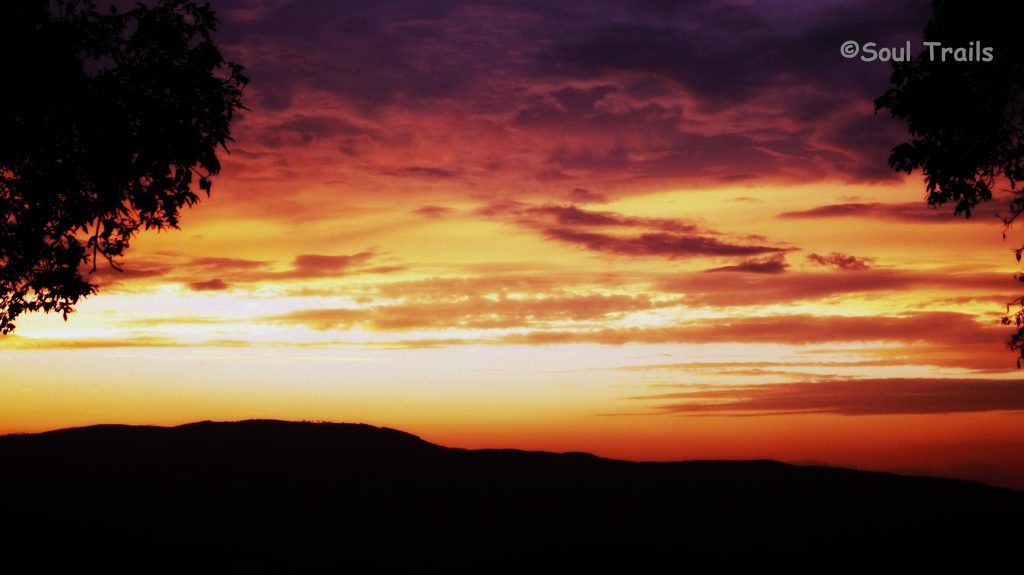 Comments
comments