What all reasons come to your mind when you hear someone say they got stuck somewhere?
Usually it's a flat wheel or snowfall or a curfew. But have you ever heard a story where someone got stuck due to a football match? And no, I'm not talking about Brazil or some European country; I'm talking about our very own India.
It's a story of how I got stuck in Mawlynnong, Asia's cleanest village, due to a football match!
It was a beautiful Sunday morning in Shillong and I had decided to visit Mawlynnong. Mawlynnong is a quiet and serene village situated in East Khasi Hills of Meghalaya. Just 90 kms away from Shillong, this beautiful village is located at India-Bangladesh border and offers a wide 270 degree view of Bangladesh plains.
I went to the main transport center of Shillong called Anjali Complex and was amazed to see how lonesome and abandoned it looked. I was there a day before and it was no less than a fifth standard classroom left unattended during arts and crafts period. There were hardly 6 taxis. One of the drivers told me – "Its Sunday today and on Sunday there are no cabs and no markets. People here rest on Sunday. If you want to go to Mawlynnong, you have to hire a cab. I can take you there in only 3000 rupees."  Little did he know that I would have to sell my kidney for that amount of money, so I did what I do best and found a public taxi to Pynursla. Pynursla is a small town 30 kms from Mawlynnong and there are regular taxis available from there. The public taxi had a capacity of 8 but there were 12 passengers in it. I was given the prestigious seat between the driver and the gear box. I had a big smile on my face when I came to know that the fare from Shillong to Pynursla is only Rs. 70 in public taxis.
The road to Pynursla is smooth and is blessed by Mother Nature all around. No wonder people refer to Mawlynnong as 'God's own garden'.  When the breeze calmly caresses your hair, it's hard to resist sleep. I didn't know when I dozed off and woke up to a strange voice. It was the driver. I noticed that we were parked in middle of nowhere and I was the only one in the taxi. He asked me where I was heading to and I told him Mawlynnong. He smiled and told me he was going only till Pynursla and from there I had to change taxi. I smiled back and gave him a thumbs up.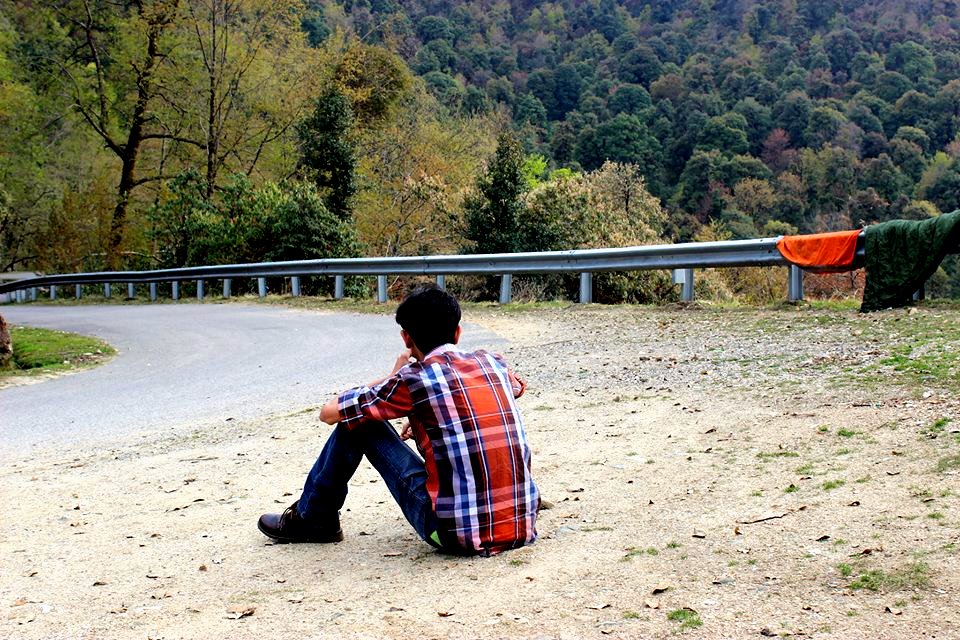 We reached Pynursla in another half an hour. The driver dropped me at the main circle and I started to look for a public taxi to Mawlynnong. The taxi stand was deserted. All the shops were closed and there was no one around. I started walking towards the only road that I saw. After a couple of meters I saw an opened restaurant. I walked in and asked about getting to Mawlynnong. The owner there told me that I had picked a wrong day to visit Mawlynnong. A football match was happening that day and a local football star was coming for the match. Everyone had taken an off and there wouldn't be any public taxis available. I could book a cab but even that wouldn't be easy. Though I'm a brave-heart, but this scared me a little. I didn't have enough money to book a cab and there was no public transport available. On top of that I had my belongings back at the lodge in Shillong. That meant even if I stayed at Pynursla for the night, I would end up paying twice the amount I should have. I had no idea that football had enough craze in India to shut down towns. Even a usually bustling town can look really haunting without its residents and shutters closed. The mist and the breeze lost its lovely charm for a minute and turned scary. Still under the process of digesting the fact that I was stuck in some far away town with little money where no one understood my language, I started walking down that lone road aimlessly. The emptiness that surrounded Pynursla was disturbed by the most beautiful sound that could possibly happen at that moment – a honk!
A delivery truck passed me by as I waved my both hands to it to stop. It slowed down and stopped with a sound of tyres screeching on the road a couple of meters ahead of me. I ran to the vehicle.
"Mawlynnong?" I asked the driver, panting.
The driver smiled and asked me to hop in.
"Khublei" (Thank you in Khasi).
I thanked him with a long sigh and grabbed a seat next to the driver, still breathing heavily. 'I'm not going to get stuck after all', I said to myself. Little did I know then, I said it way too early!!!
(The day wasn't over and the old legends of Khasi had planned more surprises for me. That and some more to cherish On Meeting Beautiful Strangers)
Comments
comments